All parents want to protect their kids from harm but as they begin to grow up it's not always possible to constantly watch over them. Trusting younger children to walk home alone from school without wandering off can be worrying. Allowing them to go a couple of blocks to play with their friends is fine until they don't show up for dinner especially if it's getting dark early. Even on a family day out they can become lost amongst the crowds.
However, by issuing your kids with a GPS tracking device you can quickly discover their exact location. A GPS device also provides your kids with the reassurance that if they ever get into difficulties they know you'll discover where they are. Investing in reliable tracking devices for kids buys both you and your children additional confidence and peace of mind.
Considerations When Choosing a Kids GPS System

There are many different styles and features to choose from. Some models are compact enough to stash in a bag or coat pocket but these items can easily be put aside or become lost. A kids GPS watch is an ideal way to actually keep the device on your child. A lightweight gizmo watch that has a few inbuilt games, camera and stop watch will provide enough enjoyable features for them to have some fun while wearing it.
Check out battery life as many need recharging regularly. Safety features include an emergency SOS alert, geofencing and a flashlight for when daylight starts to fade. Compatibility with iOS, Android and Bluetooth connectivity provides you with flexibility of access and use. GPS tracking is highly accurate although some tracking devices include an additional Local Base Station (LBS) system for increased positional identification.
Best GPS Trackers for Kids in 2023
1. Personal GPS Tracker
Small tracking devices are versatile for being aware of the exact location of everyone in the family and not just your kids. This compact version measures 2.7 x 1.50 x 0.9 inches which easily fits into pockets or purses. It emits strong, updated signals every ten seconds allowing you to accurately follow progressive movement. You can easily discover the routes your child is traveling by accessing the maps contained in the app through your PC or tablet. There is a customizable geofencing facility which instantly notifies you if your child steps outside of the boundary.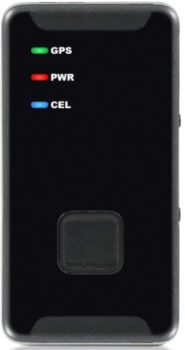 2. Kids Smartwatch with Phone

This kid's watch has multiple functions and is available in various shades of pink and blue. It has a host of interesting features your kids will love. The watch includes a camera complete with a photograph album, two-way calling that lets you stay in contact and a stopwatch for timing their games. There's also a flashlight and an alarm clock. The emergency SOS alarm is easy to use and sends rotational alerts to three contact numbers. You get the benefit of real time maps and tracking that uses GPS and LBS (Local Base Station) systems. You can check the location of your child whenever you want through Android or iOS apps, website or SMS.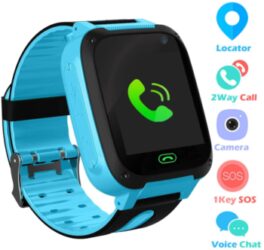 3. TKSTAR Mini GPS

This compact child tracker measures just 1.85 x 0.94 x 0.7 inches and weighs 3.2 ounces making it convenient for concealing inside satchels or pockets. The anti-lost feature is also ideal for tracking possessions such as bags, coats or keys. The device is simple to activate and is ready to operate through the 3G T-mobile network in both GPS and LBS modes. You can use the free app or access Google Maps to show the precise location of your child in real time. The 600 mAh battery needs to be recharged at least every five days to maintain full working order.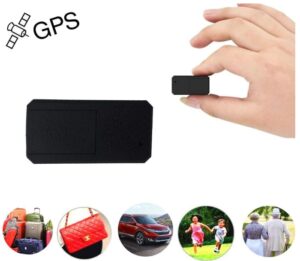 4. Themoemoe Kids GPS Tracker Watch

This stylish GPS watch is available in pink or blue colors with contrasting trims. Your kids will enjoy using the camera and holding two-way conversations with you. The square, full color screen measures 1.44 x 1.44 inches which is a size that will suit older children. Parental control is easily accessible through Google Play's Attracker App. The watch functions on both GPS and LBS systems in conjunction with the T-Mobile network. If ever your children need help the SOS alarm is activated by holding the button for three seconds. Alerts are then sent to their list of contact numbers.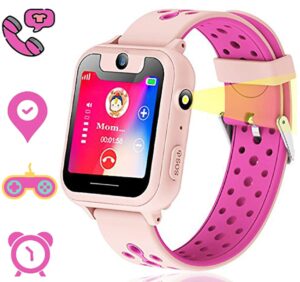 5. Samsung SmartThings Tracker

This neat, square device measures 1.7 x 1.7 x 0.5 inches. You can use the attached loop to fix it to your child's belt or backpack. It's even small enough to use on your pet's collar or your set of keys. A waterproof rating of IP68 means the device can withstand being dropped in water for up to thirty minutes. It's the perfect tracker if your child likes to play near the local river or if you live by the coast. It also includes customizable geofencing and is fully compatible with Samsung phones, iOS and Android. A notification system indicates when and where your kids want you to collect them.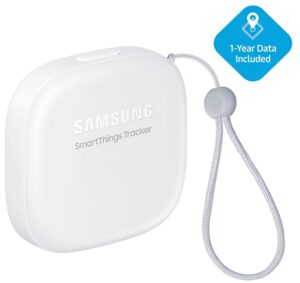 6. Garmin Vivofit

This GPS watch for kids encourages your children to be active for at least an hour while helping you with chores by using a pedometer to record the number of steps they've taken. In return they earn customizable rewards including fun to play games. You can send them alerts to complete tasks such as their homework assignments. The watch screen is 0.39 x 0.39 inches which is ideal for smaller wrists. The battery doesn't need recharging and provides one year of power. The watch has Bluetooth connectivity and you can check on your child's location through Android and iOS.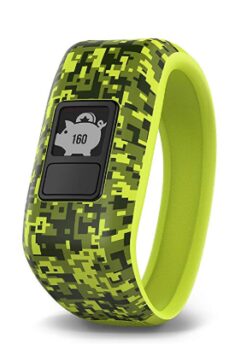 7. OJOY Kids Smart Watch

This smart watch is compatible with Android and iOS systems and accurately locates your children through a combination of cellular location, GPS and WiFi. It uses both 3G and 4G networks enabling them to speak to you or send a message. It encourages your kids to take an interest in fitness with a calendar for recording their activity levels and a pedometer to make exercising fun. The watch also has a two million pixel camera and a two-way conversation mode. The watch is available in pink with a purple trim or two tone blue. The large display screen measures 1.4 x 1.4 inches.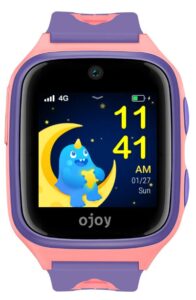 8. 3G WiFi Smart Watch

Ready for use with the 3G network, this watch has useful features which are ideal for adults as well as kids. It's available in a great choice of colors including grey, black, pink and blue. The SOS emergency alarm is easy to activate and instantly sends alerts to a list of contact numbers. The customizable geofencing function sends you an alert whenever your child strays beyond the permitted boundaries and also records all the locations your child has visited in the last three months during those episodes. A silent facility can be co-ordinated with school hours to prevent disturbing class studies.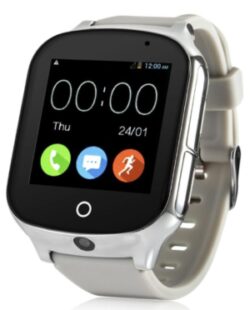 9. SZBXD Kids Smartwatch Phone

The watch is available in a range of colors including pink, turquoise and blue. It includes a camera and sports stopwatch. The device operates through dual LBS and Assisted GPS (AGPS) systems. It enables you to accurately locate your child in real time and provides directional mapping information. If your kids feel they are in danger they can activate the SOS emergency alarm. By holding the appropriate button for three seconds an alert is then distributed amongst three contact numbers. A customizable silent mode prevents the watch causing a disturbance during the school day.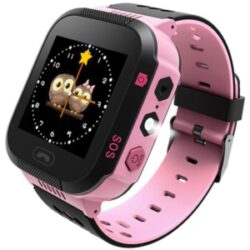 10. Tile Generation 2

This compact device connects to Bluetooth for increased versatility. It locates your children or possessions by simply attaching a small tile to clothing, keys or bags. The easy to use app then locates the tiles through the last recorded map position and sound waves. The tiles never need recharging and provide peace of mind for up to one year before they need replacing. The device operates through Android Bluetooth 4 and Apple iOS. The tiles are resistant to water which makes them suitable for children who enjoy playing out with their friends even during poor weather.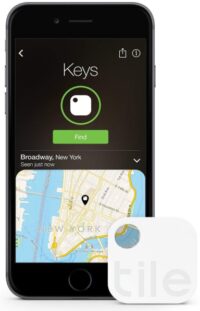 11. Themoemoe Smartwatch with SOS

Suitable for children up to the age of twelve years, this versatile watch will keep them safe and entertained. Features include a two-way conversation mode to enable them to stay in contact with you, a camera, various in-built games and a stopwatch. It is available in six different colors including pink, blue and pink with a purple trim. In an emergency the SOS alarm is simple to use and instantly transmits alerts to three designated contacts. The device provides extra reassurance when your children are out on their own by using location positioning on LBS and AGPS systems.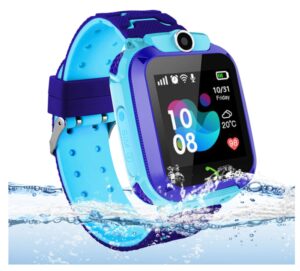 12. 3G GPS Waterproof Watch

This versatile, pale blue watch offers accurate location of your children through signals transmitted by WiFi, LBS and GPS. The easy to activate alarm setting repeatedly alerts three family contact numbers until someone replies. The watch is water resistant which is beneficial for kids who love to play outside. You can program a schedule for their day to help motivate your kids. The built in pedometer is fun to use and encourages them to be active. There is also a setting which displays how many calories they have used up.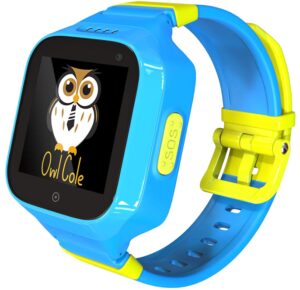 Overall Best Buy
All of the devices have worthwhile features but the best GPS watch is Number 2, Kids Smartwatch with Phone. As a caring parent you'll appreciate the reliability of LBS and GPS systems for accurate real time tracking of your children. The effective SOS alerts are a reassuring safety measure. You will have no difficulty persuading your kids to wear this tracker as it's available in bright colors and includes fun features such as a camera and an album where they can store photographs. The two-way phone helps you and your child stay in contact.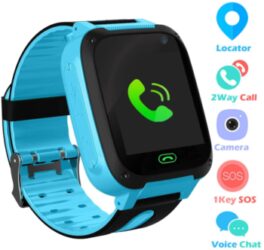 What are the Different Types of GPS Tracker?
Global Positioning Satellite (GPS) technology uses signals from satellites orbiting around the earth to calculate the location of your child's device. A Local Base Station (LBS) system utilizes the mobile phone network and relies on regional cell towers to provide the precise information on where your child is to be located. Bluetooth enables you to make a connection between a tracker and other devices such as your laptop or smartphone. However, for effective tracking it needs to be within a range of 800 meters. WiFi operates in a similar way.
When Can My Child Use Their GPS System?
Your children can use the tracking system at any time. It's particularly useful on unaccompanied journeys to school as you can check on your laptop or mobile that they have safely arrived at their destination. If you are late returning home the system provides reassurance that they are already in the house. When your kids play at their friends' homes you can be sure that they are where they're supposed to be. With geofencing restrictions in place they cannot sneak off to locations you disapprove of without your knowledge.
At What Age Are GPS Trackers Suitable?
GPS systems can be used by children of any age. Some manufacturers suggest a lower age limit of three years. Devices for toddlers are ideal when in busy shops or amusement parks as they enable you to quickly locate your children if they've suddenly disappeared from view. Older children enjoy the extra freedom a system provides as they can play further from home. Trackers can be used by anyone including the elderly who find the SOS alerts reassuring. The devices are perfect for keeping track of anyone who may be vulnerable.
Additional Tips to Keep Kids Safe Outside

Younger children should be taught their full names and addresses and to seek help from people such as police officers. Inform your kids of the dangers they face from traffic or strangers. Explain why you consider certain areas in your district are out of bounds. Ensure they realize these limits are for their safety and that trust has to be earned. GPS for kids should enhance your parental role not replace it. Devices such as a Verizon kids watch with GPS provide additional safety for you and your child.