When choosing a high chair, there are many features you have to look at, such as adjustable height, reclining seat, wheels, harness system, ease of use, and in most cases, the price too.
However, if you try to buy a chair that comes with all these features, you're not likely to get the right one for your baby. Except, of course, the chair is of high quality.
Screening all these features down to one is a great idea. And it'll help you make an informed decision, and quickly too.
When you are looking for the best high chairs with wheels, you have already narrowed them down to a few and screened out thousands of others.
This is a good thing, especially if you are looking to cut down on the time you want to spend researching and buying the most suitable model.
---
Benefits of High Chairs With Wheels
---
One of the great things about choosing this type of chair is the flexibility that comes with it.
You could put your baby on the high chair and wheel him/her from the room to the dining room. And to the kitchen, and back to the room.
All of these depend on what you're doing at the time (meal prep, eating, having fun, etc.).
If you have limited space, you probably will enjoy a seat that affords your efficient use of the real estate.
Some HCs, even with their wheel on, can still be folded so you can always roll it to a corner in the room and pack it there.
If you don't want to use the same area for feeding your baby all the time, which can happen when you're extremely busy, having something to push around can be a lifesaver.
Now that you know some of the advantages of this kind of chair, let's look at some of the models that fit the bill.
---
Best High Chair With Wheels (2023 Reviews)
---
1. Ingenuity SmartServe 4-in-1 High Chair with Swing Out Tray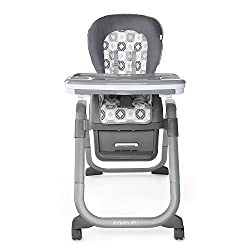 The Ingenuity SmartServe High Chair is one of the best chairs out there when it comes to those with wheels. It's easy to move around the kitchen or dining room, using the 4 swiveling wheels on the legs.
So, if your baby likes to participate in the table or kitchen island or even watch you prepare the meal, this high chair provides an opportunity to do that.
It'll keep him happy, comfortable, and secure seeing you do all these things.
One-Hand Tray Operation
The HC has a one-hand tray operation, thanks to the easy-press button on the unit. The tray is light so you can easily take it out for any time you want to clean it.
There is a cover that goes over it completely, which helps in preventing scraps of food from getting into the tray itself.
There are no divided sections on the tray so there is no way water can go in too, all of which makes cleaning easy. Finally, the tray has different positions to suit a growing baby.
The Seat
The seat is in-between upright and reclined. What this means is that your baby is going to feel completely comfortable while on the seat, compared to an airplane seat.
It's often upright and uncomfortable for most people.
The seat reclines back so it can accommodate a sleeping baby. And if your baby is using a sippy cup that requires tilting the head, the design of the seat aids that.
One thing that fascinates most parents is how the tray sits flat on the table, a great feature that's absent in most high chairs.
Seat Pad
There is a cushion on the seat too. Unfortunately, the mention of this might send shivers down the throat of any well-meaning parents.
This is because of how messy high chairs can get due to the seat pad. However, the one on this model is easy to remove and put back on, so washing it isn't going to be difficult.
But, that's still going to add more washing time compared to one that doesn't have that. It's all about making a tradeoff between your child's comfort and that of your own.
---
2. Graco DuoDiner LX Baby High Chair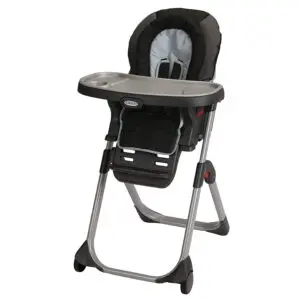 Just like the Ingenuity SmartServe High Chair, the Graco DuoDiner High Chair is a great contender if you are looking for a quality high chair with wheels.
There are a lot of lovely features on this HC and one of that is the wide tray on it. It's very large such that it helps in prevent food particles from dropping to the floor when your LO is feasting.
The detachable cover on the tray can make your life easier. It takes on all the food remnants so that when taken off the tray, it leaves it clean. So, you only have to wash/wipe the cover.
Two Wheels
There are only two wheels on this model though, compared to the four on the first one above. That doesn't reduce the efficiency of this chair though.
You can still roll and move it around using only the two seats on the front. Moreover, it has more stability than The Ingenuity SmartServe High Chair, especially during use.
And it can be great for containing your baby if they rock or sleep off in it.
Height Positions
The multiple height options on the HC ensures that you can bring it to the table and have your baby eat together where you eat.
While most people use only one setting most of the time, there might be a need for adjustments as your baby grows older.
Downsides
One of the negative things about the chair, like The Ingenuity SmartServe High Chair, is the cushion on the seat.
As you know, most of this material is don't get cleaned with a wipe. So you may have to remove them for wash, which means spending more time with it.
The same thing with the straps, which might even require you soak it in water.
Verdict
Overall, this is a great product to have for your baby. You can stroll your baby around the house with ease and let them enjoy their mealtime with the comfortable cushion on the seat.
---
Final Words
---
When you are thinking about buying a high chair for your baby, the first thing that comes to mind is the price.
At least in most cases. But in this case, you've identified a vital feature that the high chair should have, wheels.
Having a chair such as this means moving it from one room to another is going to be a lot easier than one without this feature.
Some even have brakes on them, which makes it extremely easy to use. even though you're only using it indoors.
However, it can be handy if you just want to roll the high chair around the house to have some fun with your baby.
Consequently, the other feature that you shouldn't forget about is the durability of the wheels. The wheels should be sturdy and suitable for most floor types.
As long as it is strong and durable and can roll on different floor types, you'll be able to choose the best high chair with wheels that really satisfies your need.
If these weren't enough, check out some other picks from Amazon also: