With the release of the new Jurassic World movies, toy dinosaurs are more popular than ever. There are many different types of dinosaur figures for kids, such packs of smaller figures, as well as giant dinosaur toys which move and make realistic noises. Here we have rounded up a few of the best dino toys for boys and girls of all ages – you're sure to find something your child will love here.
Considerations when Choosing a Toy Dinosaur for Children
There are a few things worth thinking about when searching for the perfect toy dinosaur for your child. Here are some of the most important things to keep in mind:
Age – Some toys are not suitable for children of all ages. Certain toys have smaller parts which are not ideal for babies or toddlers so keep this in mind to ensure there are no dangerous accidents.
Brand – You might wish to look for a toy from a well-known brand so you can be sure it is of the highest quality. Officially licensed Jurassic Park toys are a good choice, but there are plenty of other reputable toy companies making high-quality dinosaur figures.
Features – It's worth looking at any extra features the toy has. Older children will probably appreciate toys which move and make sounds, as it will keep them interested for longer. They might also like toys which are a bit more realistic and detailed, whereas younger children and toddlers will probably be happy with something a bit more simple. Parents know best what their child prefers to play with, so you're sure to find a toy which will suit them perfectly.
5 Jurassic World Toys and Games for Kids
Jurassic World Chomping Indominus Rex Figure
This Jurassic World Indominus Rex toy is ideal for children over the age of 4 years old. It comes with a gyroshpere vehicle as well as an action figure who can sit inside. There is also a projectile disc, which can be launched from the top of the vehicle. The dinosaur's jaws can chomp up and down, and it has a wound on its side which can be closed or exposed, for kids to pretend it has been injured in battle!
The Indominus Rex toy stands at around 10 inches tall, whilst the vehicle measures around 4 inches high. Overall, it is a great interactive playset for any young dinosaur lover.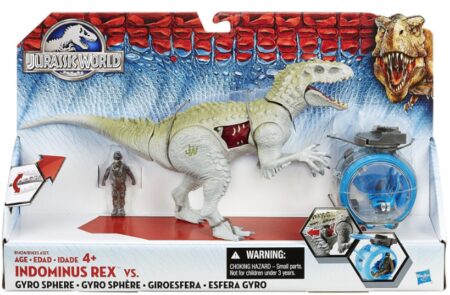 ZipBin Dinosaur Collector Toy Box
This green and blue dinosaur toy box are ideal for any young child who simply loves dinosaurs! The box comes with 2 5″ dinosaur figures, and a bonus bag of 12 assorted dino figures ranging from 5-8″ in size. The box can be unzipped to transform into a island themed playmat, complete with rivers and mountains. It's perfect for use with dinosaurs, animals, boats and just about any other figures you can think of!
Parents will love how the toy can be used as a handy storage box for their child's dinosaurs and other figures. Kids might even enjoy tidying up by themselves – they will love seeing their playmat transform into a box and back again!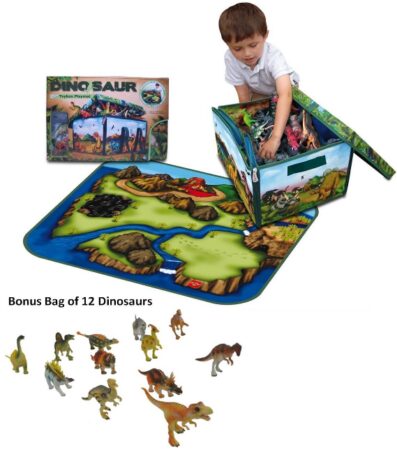 LilPals Jurassic Toy Bundle
This plastic dinosaur toy set is great for starting or building your child's dino collection. It includes a range of different types of dinosaur, in different colors. Therefore, it is ideal for teaching your child about different kinds of dinosaurs, and where they lived and what they ate.
Each dinosaur figure stands at around 4 inches tall and 6 inches long, although there is some variation between the different types. There is also a little tree included, to help your child build a whole prehistoric world! The figures are really durable, so are perfect for toddlers and preschoolers – they are sure to last for years without getting damaged.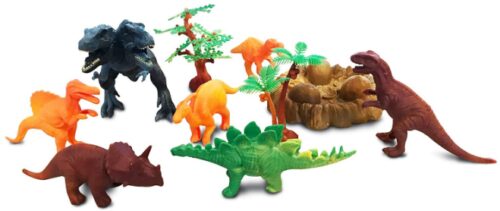 Blagoo Plastic Dinosaurs
These plastic dinosaurs are realistic looking and even have moving parts, making them great for fun, interactive play. The figures come in a pack of 4, each representing a different type of dinosaur. They range in size from 5 to 10 inches across, and up to 4 inches tall.
The dinosaur figures are made from durable plastic, and can even be used in the bath. The models can stand on their own, and the legs, arms, tails, and wings can be moved and posed into different positions. They are ideal for kindergartners or young children who are just starting to become interested in dinosaurs.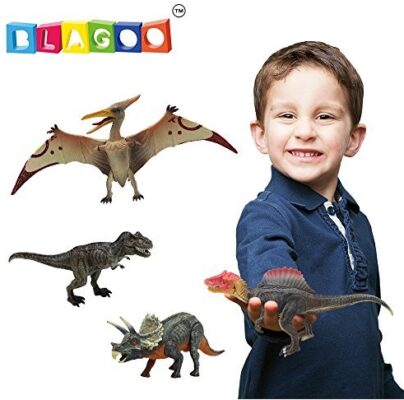 Lifeliko T Rex Toy
This giant dinosaur toy measures an impressive 12 inches long, and 5 inches tall. Despite its size, it is lightweight enough for young children to enjoy playing with it. The toy has a moveable jaw, so kids can pretend to make him roar and eat.
The T Rex toy has a realistic look – it has the correct proportions as well as authentic skin scales and coloring. The figure also comes with a booklet with some facts about the Tyrannosaurus Rex. This product is ideal for children of all ages, and even teenage and adult dinosaur collectors will love having it on their desk.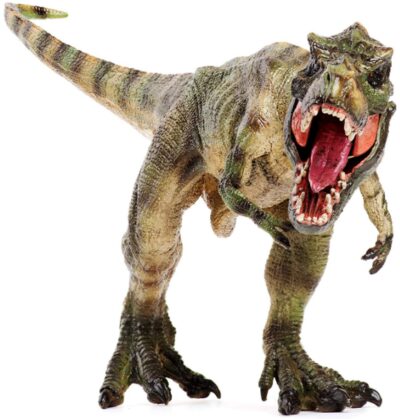 Jurassic World Tyrannosaurus Rex Toy
This talking dinosaur toy features chomping jaws, makes roaring sounds and also stomping noises, although it doesn't walk independently. Pressing on the tail activates the roaring noise and pressing its back makes the stomping sounds. The T Rex is great for using with other Jurassic Park toys – kids will love to create a battle between two huge dinos!
The Jurassic Park action figure is ideal for children over the age of 4 years old. It will continue to be loved and enjoyed for years, and makes the perfect addition to any dinosaur collection.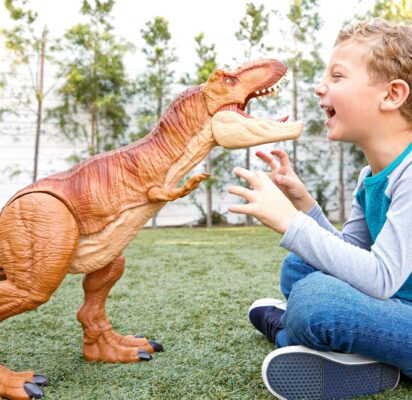 Overall Best Jurassic Park Toy
The Indominus Rex figure is the perfect toy for young children who love role playing with the dinosaurs and other figures. It has fun interactive features, and the gyrosphere and action figure are a great addition. The playset will give years of fun and entertainment to any young boy or girl who loves dinosaurs.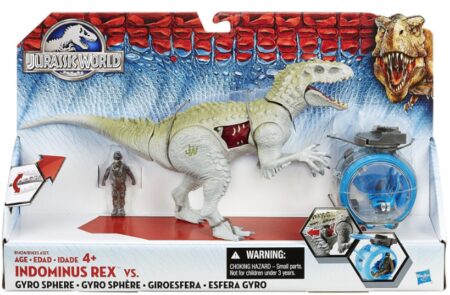 Best Budget Dinosaur 
The Lifeliko T Rex figure is great for those looking for a giant dinosaur on a budget. It offers great value for money, as it is a large size and has moving parts. It is ideal for children of any age and is sure to be played with and enjoyed for years.