If you would like to introduce a child to the pleasures of playing an instrument, one of the best things to buy is an accordion. It is easy to get a musical sound from an accordion and youngsters quickly learn how to produce a tune. The push and pull action is simple to achieve, and as a child gets more interested, they pick up how to work the keys to create chords and tones.
Kids of all ages can learn how to use a children's accordion, and adults will want to join in as well. There are quite a few different models of accordion available and the prices range from budget-friendly to high-end. No matter what your needs are, with a little research, you can select the best accordion for beginners.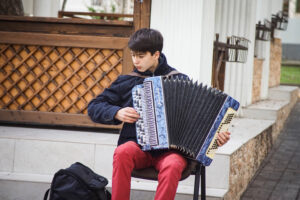 Considerations When Choosing a Kids Accordion

Accordions produce a sound when air is forced over a set of reeds inside the body of the instrument. This is the same whether the accordion is a mini size or full size. The smallest and lightest 7-key instruments will be perfect for younger children to begin with. The larger models are more suitable for older children and teenagers.
There are two types of keys – button keys and piano keys. If a beginner has already learned to play the piano or organ, it is best to go for the piano keys. The button keys are smaller and closer together so are more suited to smaller hands.
Accordions come in 7, 17 and 22-key versions. The instruments with a greater number of keys will produce a wider range of tones but they are more tricky to master and more difficult to hold.
When looking at the price, the cheaper models will be less durable but make an excellent choice if you are just experimenting with the instrument. For someone who is more enthusiastic or perhaps widening their playing skills, the more expensive models are a better option.
Best Picks in 2023
1. Musicube 10 Keys Accordion
The Musicube 10 keys accordion has been designed for children aged 7 and up. With 7 button keys on the right (notes C,E,G,C,E,G,B) and 3 on the left ( Bass, Chords and Air Valve) youngsters can produce a simple tune with ease.
The faux leather straps can be adjustable to fit children's hands snugly, and a closure strap protects the accordion when it's not in use. Manufactured from non-toxic, red resin, the body is sturdy. The bellows have been made from kraft paper. This is a simple instrument for kids to enjoy as they discover the accordion for the first time.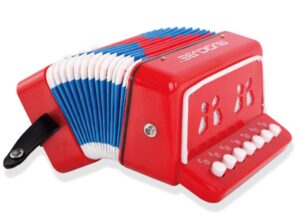 2. Mugig Accordion 10 Keys
Suitable for children aged 3 years and over, the Mugig Accordion with 10 keys is a fun instrument for young beginners to learn with. There are 7 button keys on the right – D, F, A, B, d, f, a – and 3 on the left – Chords, Bass and an Air Valve.
The body has been produced in a white colored ABS resin with red and blue leather, kraft paper bellows. The hand straps fit snugly keeping the instrument in a comfortable playing position. A snap-shut strap keeps the accordion neatly closed when it is stored away.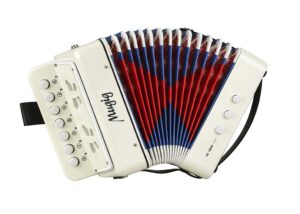 3. PowerTRC Child's Accordion
The PowerTRC Child's Accordion has been made from high-quality plastic for durability and it comes in a choice of cheerful colors. For the right hand there are seven button keys for the notes D-F-A-B-d-f-a and for the left hand are three keys for the Bass, Chords and the Air Valve.
This smaller version of a full-size accordion has been produced to imitate the actions and sounds of an adult's instrument. The lovely tone will encourage youngsters to learn to play. A closure strap keeps the bellows neatly closed when not in use to protect the instrument.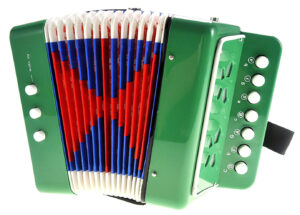 4.  Hohner Toy Accordion
Hohner is well known for making full-size instruments and this Hohner Toy Accordion is a scaled-down version with enough functions for a beginner. With 7 button keys on the right for notes D-F-A-B-d-f-a and 3 button bass keys on the left, little ones can produce a simple tune easily.
The sturdy plastic body has a hand strap on one side and a thumb strap on the other to keep the accordion in position while playing. This toy instruments has been certified for children 4 years and up and comes in two colors. A song book and instructions are included in the box, making this possibly the best toy accordion for younger children.

5.  Andoer 17 Key Accordion
The Andoer 17 Key Accordion has an ABS plastic, marble-effect body that imitates a traditional full-size instrument and is perfect for a child's first accordion. With 17 piano keys on the right, there are 8 bass button keys on the left. A long, adjustable strap for the neck is supplied to make carrying the accordion easier.
This mini accordion measures 23cm X 22cm X 9cm which is suitable for smaller hands. Weighing 1.6 kilos it is light enough for youngsters to learn on. There is a closure strap that keeps the bellows neatly together when the instrument is not in use.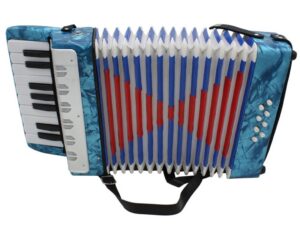 6.  Schylling Kids Accordion
Designed for children aged 7 years and older, the Schylling Accordion imitates the actions and sounds of a full-size instrument. Schylling is a well-known toy supplier that specializes in toys that stand the test of time. The seven button keys on the right and the 3 bass keys on the left have enough range to produce simple tunes that youngsters enjoy playing.
This well-built accordion is constructed from wood with a smooth plastic coating. The included songbook helps beginners learn recognizable tunes quickly to encourage them to practice. A thumb strap for the right hand keeps the instrument in position, and a closure strap clips the bellows tightly together for protection during storage.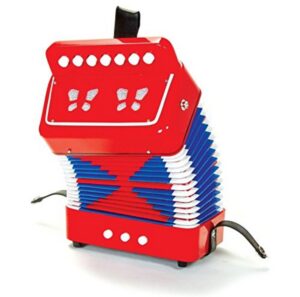 7. 17 Key Children's Accordion
A 17 Key Children's Accordion has a lovely sound is a great instrument for youngsters to learn with. The included manual helps beginners get playing this amazing instrument in no time. Constructed from durable ABS and celluloid this item is tough and lightweight.
On the right hand side there are 17 piano keys and on the left are 8 bass keys for a range of tones and chords. A neck strap makes carrying the accordion easy and there are four feet on the bottom to stand the instrument upon. A strap closes the bellows with a snapper to keep the accordion protected when not in use.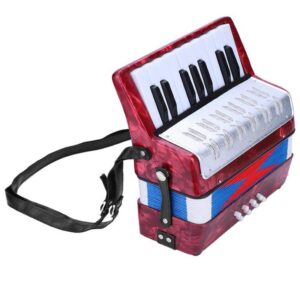 8.  Andoer Mini Accordion
Children will enjoy learning with the Andoer Mini Accordion. It is a small scale version of the full-size instrument with many of same features and tones. Manufactured from ABS and celluloid, the accordion measures 23cm X 22cm X 9cm and is just right for smaller hands.
There is an adjustable neck strap which makes carrying and playing the instrument easier and more comfortable. The 17 piano keys on the right and 8 bass keys on the left offer a full range of notes and chords. Simple tunes can be mastered quickly with the included instruction booklet that explains everything beginners need to know.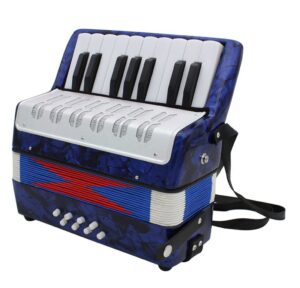 9.  Ammoon Kids 7 Key Accordion
The Ammoon Kids 7 Key Accordion is the perfect size for younger hands. There are 7 button keys on the right for notes D-F-A-B-d-f-a, and 3 on the left – two are bass keys and the third is an air valve. The range of sounds that can be produced with this instrument will keep any child interested for a long time as they learn.
A thumb strap on the right and a hand strap on the left keeps the instrument on the correct playing position. Close the accordion with the bellows' strap to keep the instrument protected when it's not in use.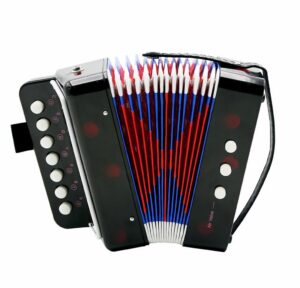 10. Beginner's Accordion – 22 Keys
This beginner accordion has been beautifully constructed from maple with a durable, anti-corrosive coating. This is a premium instrument that has been made using quality materials. With 22 piano keys this accordion is for a dedicated beginner to learn on or for a student to further develop their skills.
Eight bass keys give a range of chords and tones that produce a rich and enjoyable sound. A fully adjustable neck strap offers ease of carrying and a close strap ensures that the bellows are protected when the instruments is stored away. Measuring 32cm X 28.5cm X 15.5cm this is a mid-sized accordion, and it comes with a cleaning cloth.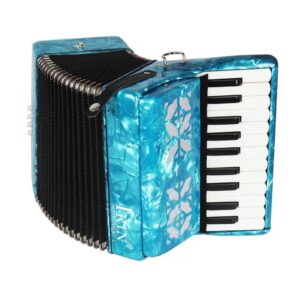 11.  Juvale Accordion for Children
Recommended for youngsters aged 3 years and over, the Juvale Accordion for Children is great for little ones to learn on. There are 7 button keys for the right hand (notes D-F-A-B-d-f-b) and 3 for the left hand (2 bass buttons and an air valve) offering plenty of musical tones for new players.
A hand strap on the left and a thumb strap on the right ensures the correct playing position is achieved. Made from robust stainless steel with ABS coating, the instrument has been made to last. A strap that closes the bellows when they are not in use ensures the accordion is protected.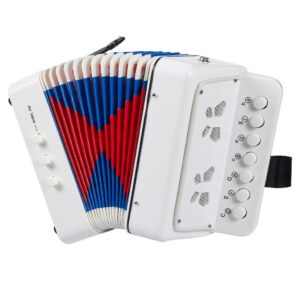 12. Rossetti Beginner Accordion
A Rossetti Beginner Accordion is the perfect instrument for a beginner or an improving student. It comes in a pearlescent finish that has been beautifully embellished with golden, Italian-style decoration. There are 22 piano keys on the right and 25 bass buttons on the left offering a wide range of chords and tones for a lovely sound.
A sliding air valve feature allows for a faster intake for players who prefer this. The luxury shoulder strap is padded and made from crafted leather for a comfortable fit. A strong storage case is included to ensure this lovely instrument is fully protected when being stored or transported.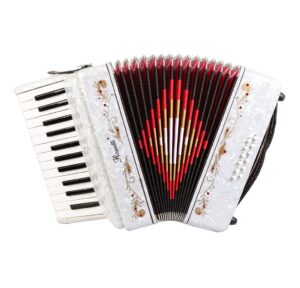 Read Also: Best Banjo for Kids
Overall Best Buy
The best accordion for beginners is the Andoer model with 17 keys. It has many good features, making it stand out from the rest. It comes with a mid-range price ticket so it is affordable and built to last. The white and black piano keys are large and easy to press and the neck strap makes it more comfortable for youngsters to carry around. The strap also makes it more difficult to accidentally drop the instrument during practice.
The rich sounds produced by the Andoer encourage learners to continue with their practice and perhaps to advance to the next stage. The bright color is attractive and the finish gives the instrument a traditional accordion look. It is beginners' accordion that offers the scope to progress to the next level.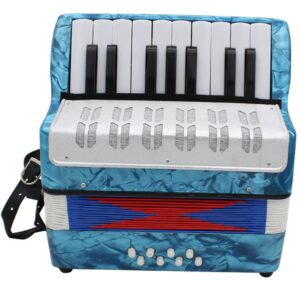 FAQ
What are the Different Types of Kids Accordion?

Children's accordions come in button key and piano key versions. The buttons are better for smaller hands and are preferred by some experienced players too. The piano keys are wider apart and suit beginners who have had previous experience with a piano or organ.
The smallest accordions come with 7 keys on the right side and these are great for very young children who are just starting out. They offer enough variety to keep a player interested, but they are not too difficult to master.
The 17 and 22 key accordions are more complicated to learn but offer a greater range of notes and chords. These models are better for older children or young adults who have larger hands. All the accordions produce satisfying sounds that are easy to achieve with a push and pull action.
At What Age Can a Child Learn to Play Accordion?

Children can learn to play the accordion from as young as 3 years old. At this age they will need the smallest and lightest child size accordion. Pulling and pushing the bellows will produce a musical sound that young children enjoy.
They can begin to push in the note keys to achieve different notes, and then they can be shown how the bass keys alter the tones. Older children can master the 17 and 22 key accordions as their hands are larger and they are more able to carry the heavier weight of the larger instruments.
Tips on Starting With a New Accordion
When you first receive a new accordion, you should not try it until it is at room temperature. A cold accordion may become damaged more easily.
The bellows of a new instrument will be quite stiff and hard to push and pull at first, especially for little children. Using the accordion and operating the bellows a few times will loosen the instrument making it much easier to play.
Take a look at these models also: