Fox costumes for kids have always been a popular option for dress up events, with so many of these little red critters featuring prominently in kids TV and books, such as The Fantastic Mr. Fox.  In this list, you'll find all kinds of kids costumes for all different budgets and sizes – there's something to suit everyone here!
The Review Top Fox Costumes for Kids
Unisex Fox Onesie
Aren't these little fox onesies just adorable?  Whether your kid is looking for a cool Halloween costume or a set of pajamas, these will be perfect for both.
It is made of polar fleece, so it will be nice and warm, and you won't have to worry about your child catching a cold on Halloween night.  They can also easily slip this on over their clothes and take it off if they get too hot.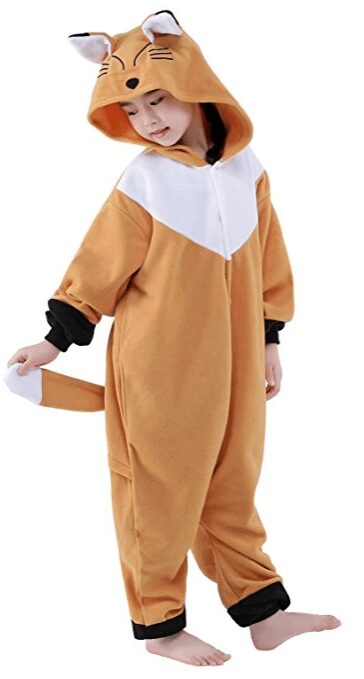 Kids Fox Costume for Tweens
If you've got an older daughter in her tween years who is looking for a cool fox dress up set for a costume party, then look no further.
With this stylish set of leg warmers, headpiece and furry mittens, your little princess will be the bell of the Halloween ball.  Whats really cool about this is that it easily goes over her clothes, so she can wear whatever she wants underneath.  This will be a cool present for a tween looking to dress up as a fox.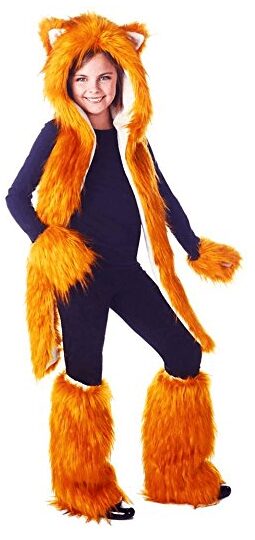 Kids Halloween Fox Costume
This cute little costume is brilliant for both boys and girls.  This all in one jumpsuit will be easy for them to get into or out of thanks to its handy front zipper.  They can also slip it on easily over their clothes, perfect for cold nights out trick or treating.
This is made of polyester, so it has a really cool fur texture to it that will feel warm and cozy for your little one.  They might get a little too hot, especially if dancing at a Halloween party, but they can easily take it off if they are.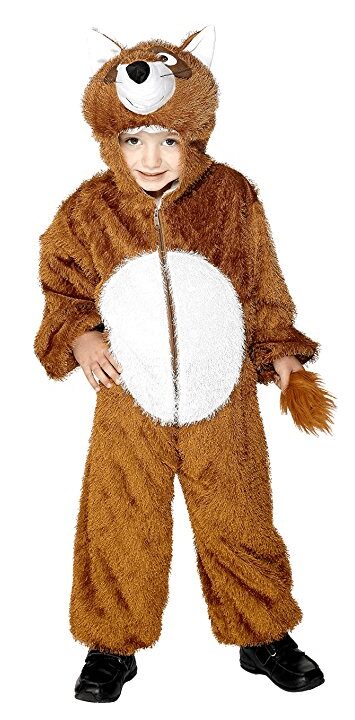 Kids Fox Costume For Girls
If your little girl wants to look stylish and glamorous, this awesome outfit will easily make her the best-dressed kid at the costume party.  She'll feel warm and snug in this furry costume.
Comes in both medium and large sizes.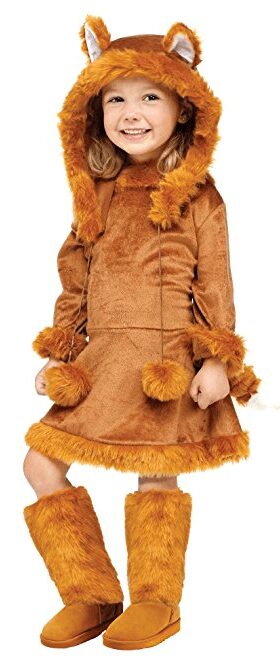 Nick Wilde Zootopia Costume
If your kid is a big fan of the Zootopia movies, why not let them dress up as the favorite fox in this cool Nick Wild costume?  This fox outfit for kids comes with a top, pants, tail and hat that will transform them into this lovable Disney rascal.
Best of all, this comes in 3 different sizes,, so we're sure you can find the right one for your child no matter how tall he or she is.  It is also made of polyester, so it will be durable and warm.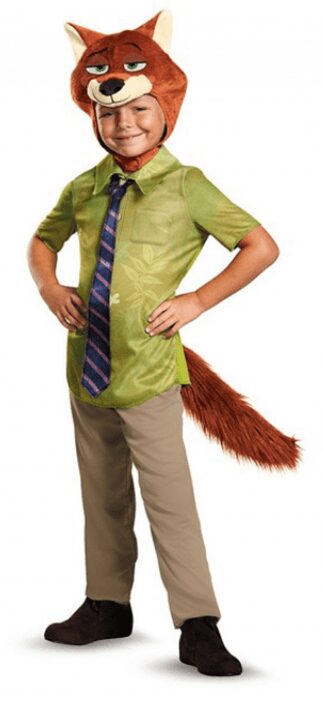 Toddler Fox Costume
There's no reason why your toddler should miss out on all the fun with this cool fox dress up set.  This toddler costume comes as a full body suit, so no need to worry about losing different pieces of it.  It is made of 100% polyester, so it will be nice and warm, and your kid can easily get into or out of it from the zipper at the back.
Your little toddler will be irresistibly cute with this cool outfit.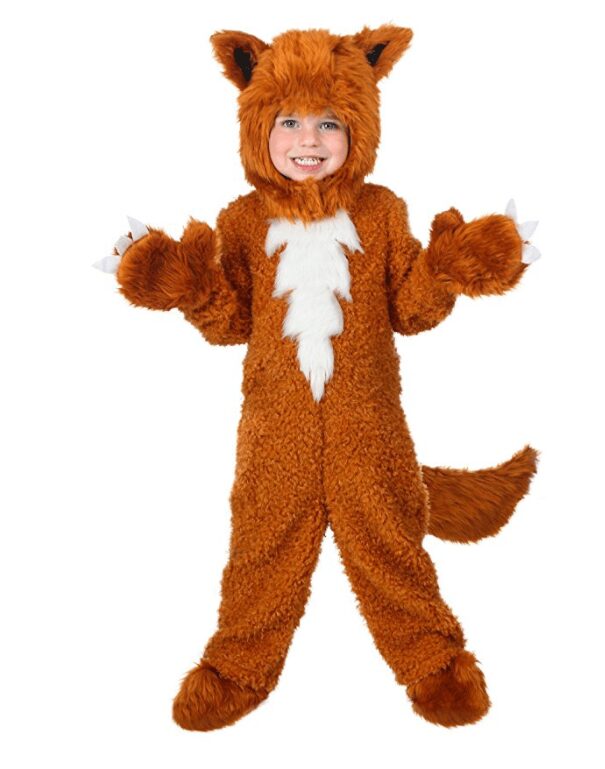 Budget Picks
Fox Ears and Tail Set
For those who are looking for a quick and easy kids fox outfit that isn't going to burst the bank, we have some very cool options for you.  This cool set of ears and tail will make a cool little Halloween gift for a child wishing to dress up as a fox, or maybe as some accessories for another costume.
This is 100% acrylic and fully machine washable, so you can throw it in the washing machine if it comes back from a trick or treats run covered in candy.
While this does advertise as being suitable for kids of all ages and even for adults, judging by the sizes, we think this is probably best suited for ages 8 and under.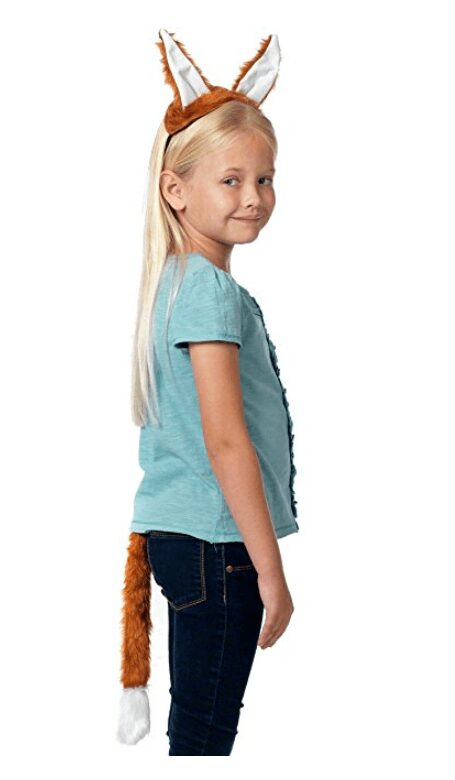 Kids Fox Mask
Sometimes all you need to complete the perfect kid's costume is the right mask.  This high-quality kids fox mask looks really cool, and its half face design means that it won't mess with your child's breathing.
This will be great as an accessory to a fox outfit, or even as part of a unique bespoke costume you are helping your child make. It is very soft and easy to wear, but it might be a bit too small for teenagers.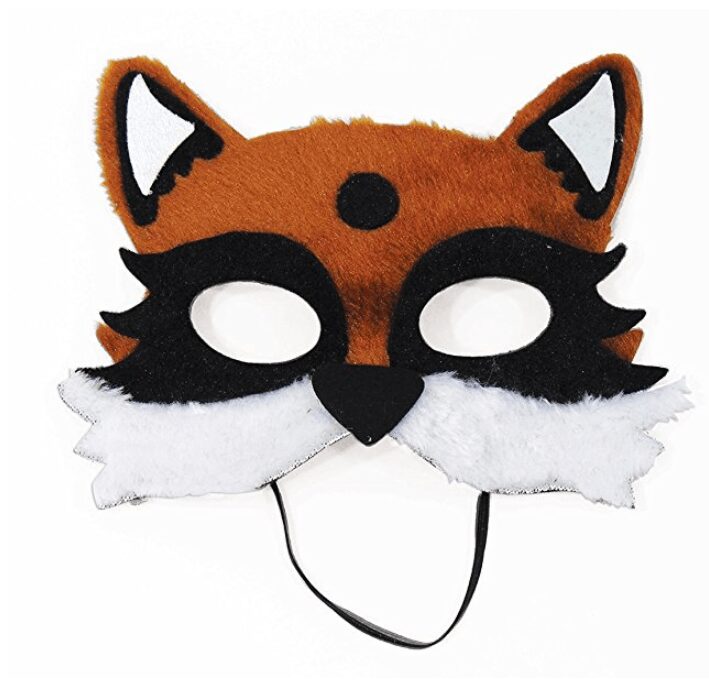 Fox Halloween Costume Kit
The perfect kid's costume for your little party animal, this plush set comes complete with fuzzy headband, ears, and a matching tail, and they will look amazing with this and a little bit of creativity.
We really like this set as it is so easy to just slip it on over your kid's normal clothes, so you can make sure that they are wrapped up nice and warm if they wear this out on a cold October night of trick or treating.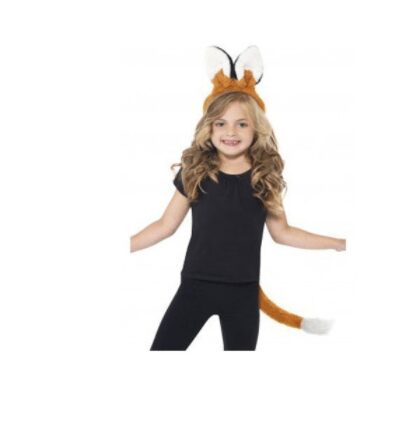 Children's Fox Tail and Ears Kit
This is another cute little fox ears and tail combo that can work on its own or as an accessory to another costume.  Regardless of which you are using this for, your child will feel really cool and cute with this plush tail and ears.
Why not get all your kids some farmyard animal costumes to go along with this fox dress up set?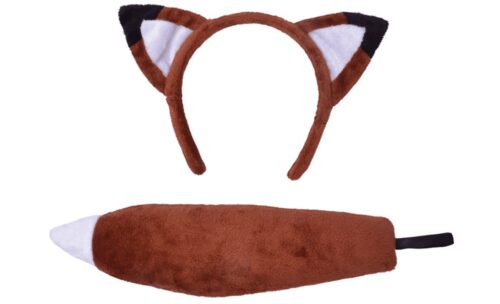 Fox Kids Animal Hat
This hat is so cute and fluffy that your kids will want to wear it all year round, not just on Halloween.  However, if you're on a budget, this cool little plush can go a long way towards making a cool fox Halloween costume for your little one.
This cool hat is made of a combination of polyester and fleece fabrics, so it will be very warm and cozy to wear, so your kid will love it for cold winter nights. It is made with a one size fits all, that should be OK  for all adult, teen, and child who can fit inside the 12 inches in head circumference.  Keep out those winter blues in style with this!