Halloween costumes don't always need to be scary or gruesome. Sometimes 'cute' is the best option.
Pandas are a great choice for kids costumes, as they are one of the cutest animals out there, and they have become a pop culture phenomenon thanks to films like Kung Fu Panda. So if you are looking for a great costume this Halloween, we've put together this review of the best kids panda costumes in order to help you find the best one for your child.
Top Costumes For Toddlers
1. Jeffee Toddler Costume
Your little one will look super adorable in this amazing baby Panda outfit. It is so cute and warm, they will feel very snug inside. We also really love that this one is machine washable, as you'll know that were ever toddlers go, mess and grime seems to follow, especially with all that chocolate and candy at Halloween.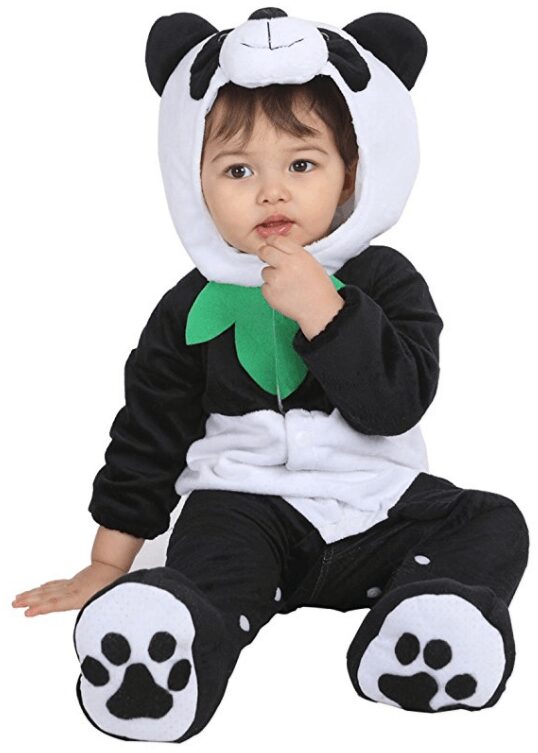 2. Infant Panda Bunting Outfit
Not only is this panda bear costume unbelievably cute, as it is made of flannel and thick cotton, it will be very soft and cozy for your child inside. They will really be the star of any Halloween part o event in this, and this panda outfit also doubles up as pajamas, and they will be nice and warm in the winter time. This unisex panda suit will be a great present for boys, girls and will be a cool gift for a baby shower.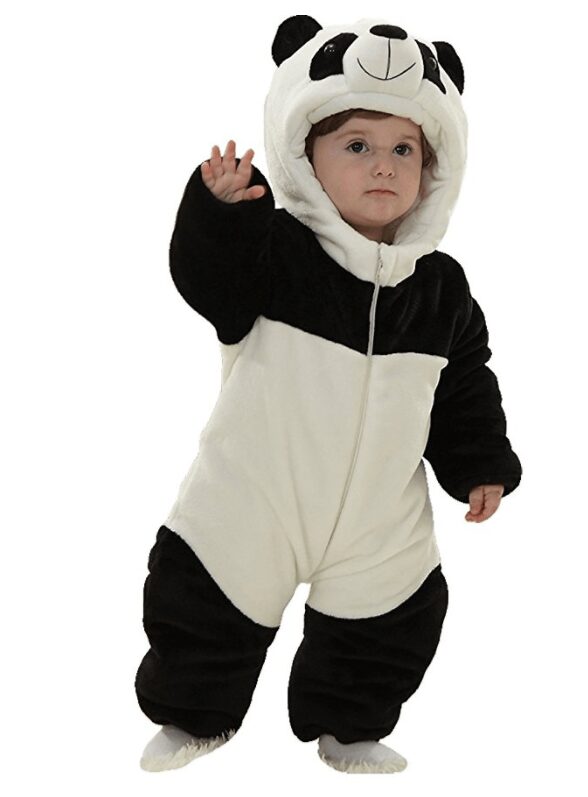 3. Kung Fu Panda Romper Suit
Now your toddler can live out their dreams to pretend to be Po the Kung Fu Panda in this great romper suit. This cool panda outfit is 100% polyester, so it will be nice and warm as well as durable. This wonderful infant Panda costume also has easy snap closures on the legs to make for easy changes in case your little panda has an accident.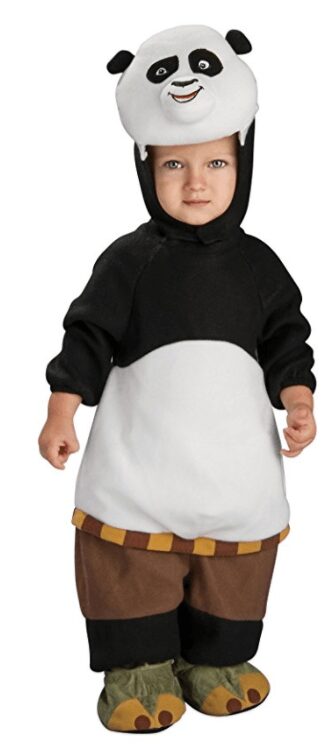 4. Unisex Toddler Panda Romper Suit
This awesome toddler panda costume is made of soft flannel, so it will be very comfortable and breathable for your little panda inside. This will be good and warm in autumn and winter. We also love the fact that it is machine washable, so any spills or accidents at the Halloween party or birthday bash won't ruin this great panda outfit.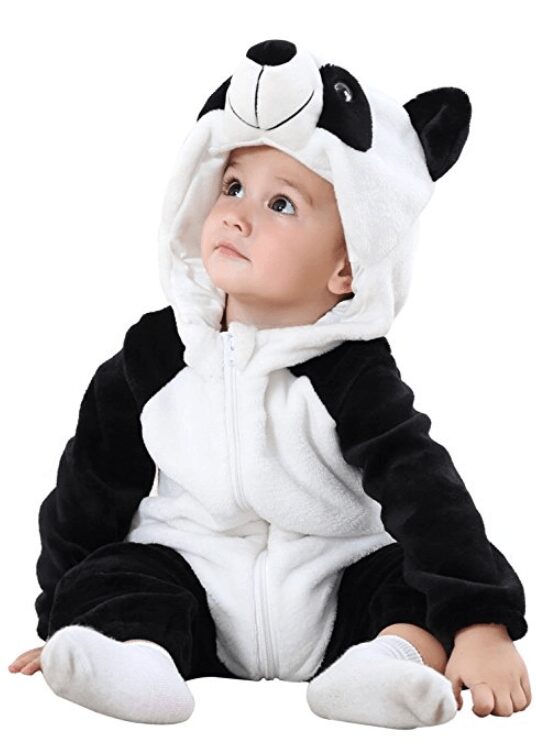 Top Costumes For Kids
5. Unisex Panda Bear Costume 
This cool panda outfit is both adorable and very practical. It is made of polar fleece and flannel, so it will be warm soft and cozy for your kid to wear, and you don't have to worry about them catching a cold on Halloween nights when they go trick or treating. The costume features a handy button closure, allowing kids to dress themselves quickly and easily. It's also loose-fitting to ensure it will go over any other clothes they are already wearing.
Also, the loose-fitting materials allow you the flexibility of movement while maintaining style and comfort. This panda suit will also double up as a great set of pajamas or a onesie. The only bad thing we can say about this is that it might be a bit too warm if your child is going to a costume ball or Halloween party.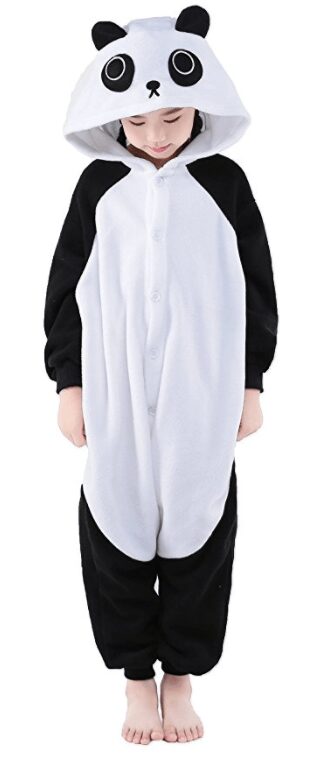 6. Girls Panda Costume
Your little princess will definitely be the star of the Halloween ball with this amazing panda dress up set. This great costume for girls has a cool hood and petticoat to transform your girl into a lovable panda. It is made from Polyester, so it will be nice and warm, especially good for trick or treating on those cold Halloween nights.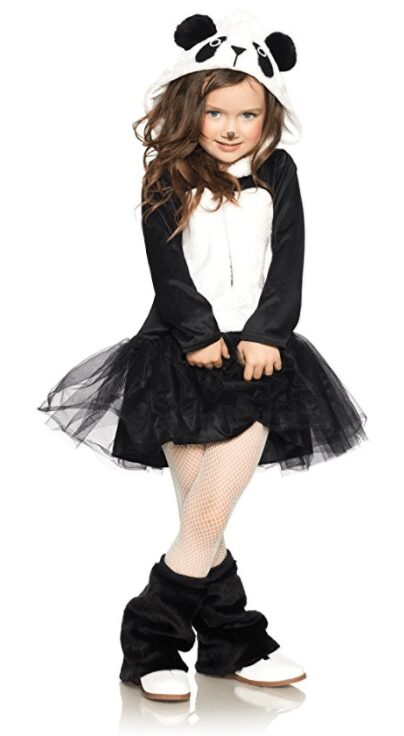 7. EMolly Panda Suit for Boys and Girls
This will make a really great gift for animal lovers out there, as not only will you get an amazing panda bear costume for your little man, but the manufacturers also donate 5% of their annual sales to a wildlife charity, so you are helping out animals as your child plays with them!
The suit itself is of amazing quality. It is made of polar fleece, so your child will be very warm with this when they go trick or treating, and it has side pockets for them to stuff full of candy!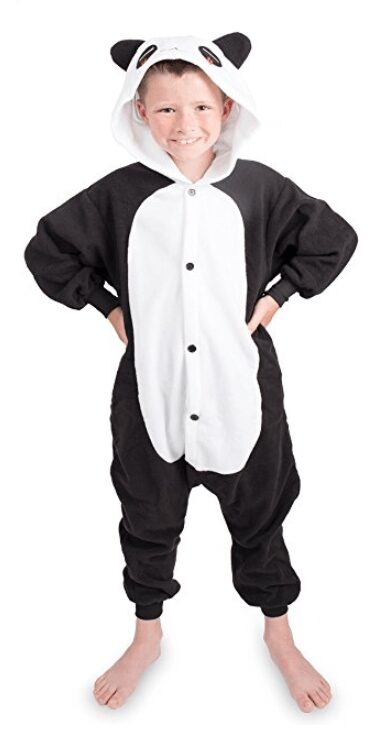 8. Childrens Panda Onesies 
Now isn't this little panda suit just gorgeous? It is also made of flannel, so it will be soft and comfortable for your child to wear, and if it is looking a bit cold outside, they can always slip this on over their clothes underneath to stay warm.
This will be great as a onesie, pajamas, or a panda Halloween costume.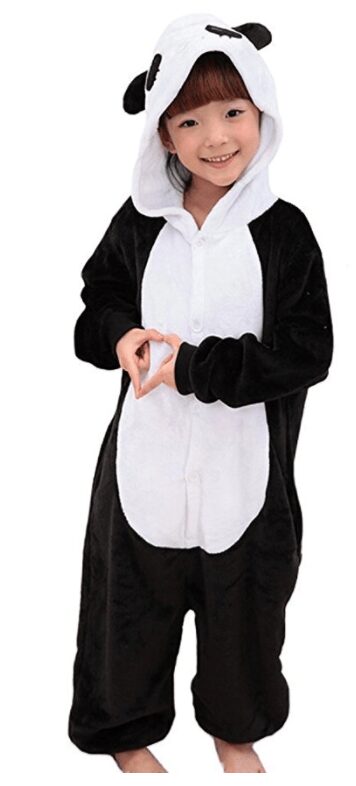 9. Panda Bear Costume for Girls
If your little fashion queen wants to have a panda Halloween costume but doesn't want to sacrifice her sense of style, this cool dress up kit might be perfect for her. With gloves, ears, tail, bowtie and a tutu, we are sure that she will be the most stunning Panda to turn up to the costume ball with this panda suit!
We also love the fact that this all goes over her clothes, so depending on the occasion, your child can stay really warm ordres really light for lots of fun and dancing at a party.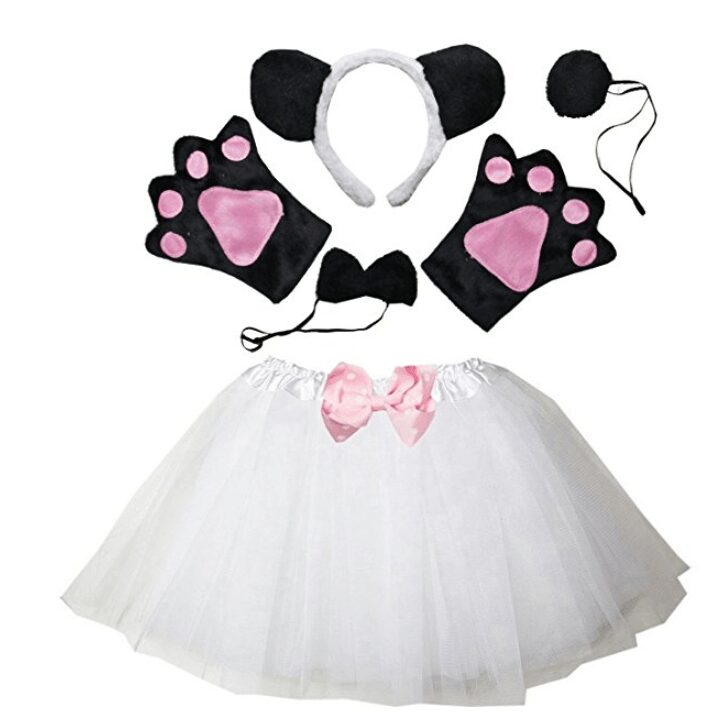 10. Panda Plush Cap
Sometimes, all you need is a few accessories to get that costume looking amazing. If you've already got some bits and pieces to make a panda suit but need a hood, why not get your child this amazing and cute plush panda hat?
This will look cool as part of a Halloween costume, or just for casual wear, and your child will be so in love with how warm and comfortable this is that they won't care either way!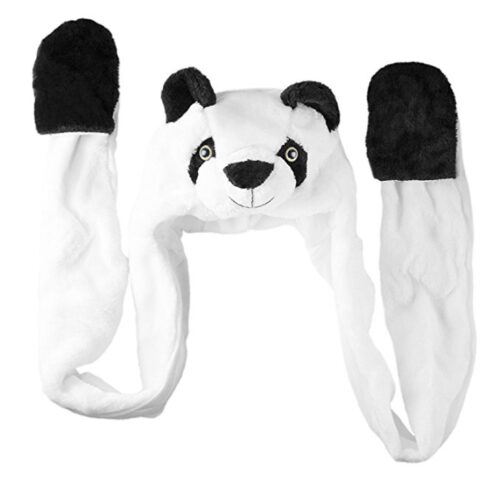 11. Fuzzy Panda Kids Hoodie
You don't always have to go full out and buy a whole big costume for your kids. Sometimes, with a little bit of creativity, you can make a great animal costume for your children. Check out this cool Panda Hoodie, form example, All you need to do is match this with a black sweater, black pants, some gloves, and boom! There's the panda!
Made of Polyester and Polar Fleece, this will be nice and warm for your little one, and it is very durable and well made too. Even if it is not the time for a costume party, your child will still want to wear this awesome hoodie.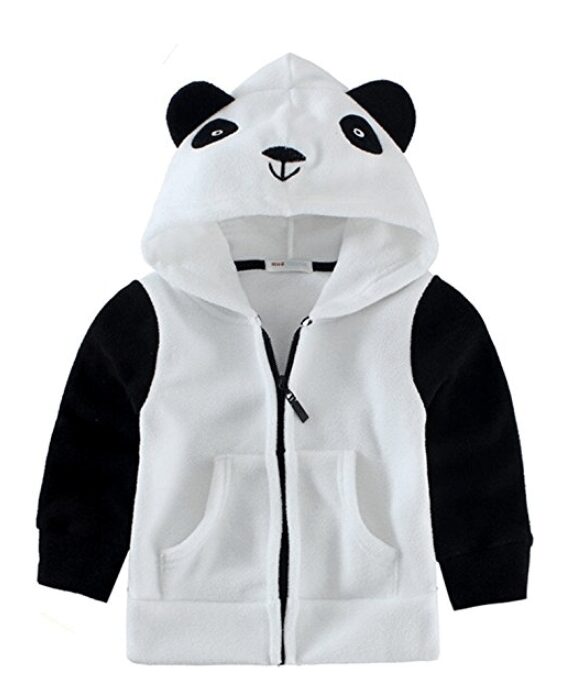 12. Creepy Panda Mask
Your child might want some kind of creative and interesting Panda costume for their party, such as a rock n roll panda or a ninja panda, in which case you might just need a panda mask to complete everything, In that case, check out this creepy latex panda mask!
It is roomy enough to fit almost every child (and adult) and is made of 100% natural latex, with no toxic materials to damage their skin or eyes. This will also be nice and comfortable for them to wear, as the nose holes are big enough to easily breath out of, and the eye holes will give them enough room to see what is going on at the party.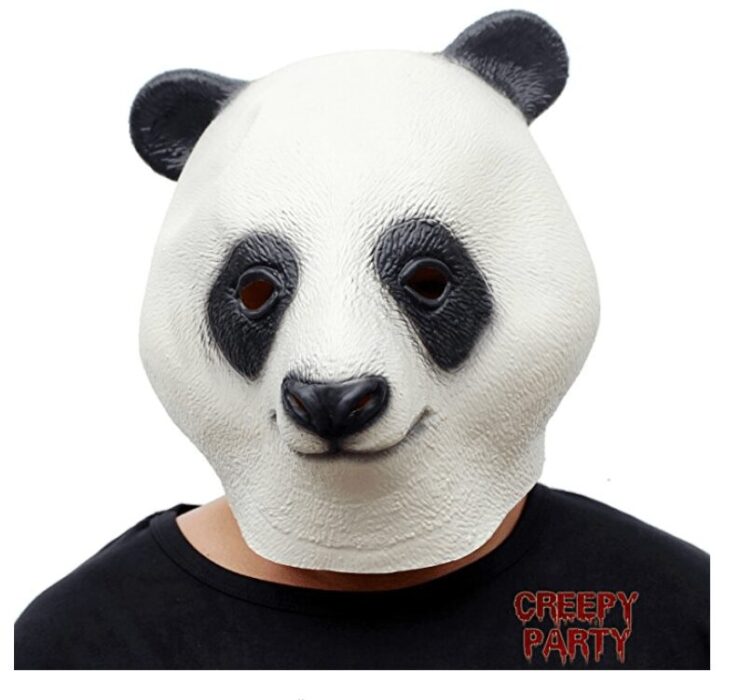 13. Panda Mascot Costume Mask
If you really want a plush and fizzy panda mask to complete your kids outfit, we recommend this cool panda mascot mask. For starters, this thing just looks amazing, and it will make them look much better than a simple plastic mask ever could. It is also breathable and comfortable for them to wear, despite its large size, and they'll be able to see clearly through the eye holes.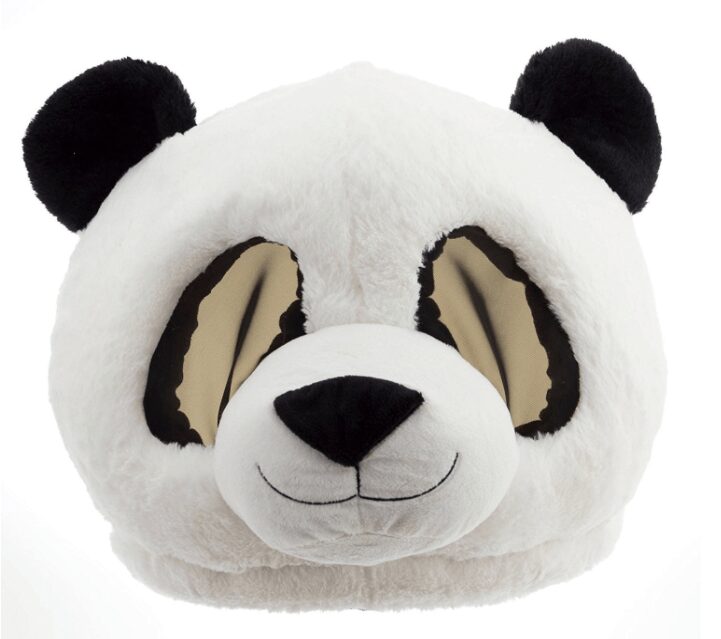 Top Panda Pick
It was really hard to decide which costume was our top recommendation, especially as so many of them are made of similar materials and look almost identical, but at the end of the day, we choose the Emolly Panda Suit. We can be confident that our kids will stay warm and cozy with this when they go out trick or treating, and it has the added bonus of having more pockets for them to stuff full of candy. Plus, it's great that they can easily slip this over their clothes, either dressing up or down depending on the weather.  And they double up as cool Pajamas.
But what really set this aside for us is that the manufacturer donates 5% of all sales with a minimum commitment of $10,000 annually to the San Diego Wildlife Conservancy. So we can be confident that we are not only getting a great Panda costume for our kids, we are also contributing to a noble cause at the same time.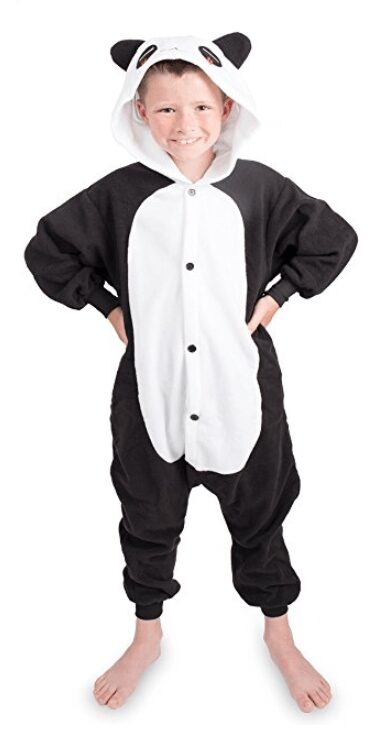 Best Budget Pick
For families on a tight budget, we'd suggest going with the Creepy Panda Mask. This mask is really high quality, breathable, and easy for your kid to see out of, so they won't roast or be blinded like many other masks out there, plus, this things really looks amazing.
Now we understand that 'mask' does not equal 'costume', but with the mask, you can easily put together your own Panda Halloween costume with a little bit of creativity. Throw some black pants and a white sweater on your kid and they will look just fine!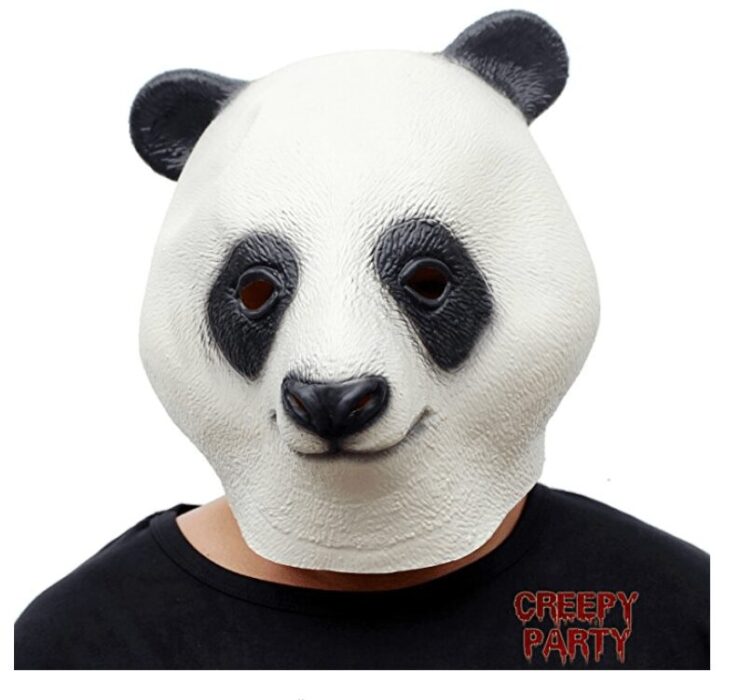 Take a look at these also: