Leapfrog is a leading toy brand that produce a wonderful range of toys that are suitable for toddlers and kids of varying ages. This popular toy manufacturer even has a superb range of Leapfrog educational toys for toddlers that are highly recommended by parents. Kids that play with these lovely toys are introduced to a number of essential skills and learning experiences all through playing, which is vital for every kids development. This means that parents know that by choosing Leapfrog games and toys for their young kids to play with that they are giving their kids the best start in life.
There are many attractive selling points for these lovely Leapfrog toys as that each one is carefully designed for young kids to play with. The toys are the perfect shape and size for small hands to handle and they are safe for the age range that each toy is produced for. Every Leapfrog toy has been produced to last and kids will find the cute characters and brightly colored pieces appealing.
As there are so many wonderful Leapfrog products to choose from it can be a difficult decision for parents to choose just 1 Leapfrog toy as a new gift for their kid. This review will take you through the top 15 Leapfrog products to help make the decision easier.
Considerations When Choosing Leapfrog Toys
Age
Leapfrog produce toys for kids of all ages, starting with toys suitable for babies and toddlers through to school age kids. Each toy will have the minimum age stated on the box so it is important that you check that the toy is suitable for the kid that you are buying for to make sure the toy is appropriate. Sometimes they will give an age range so you will have a better idea of how long the toy will last before it is out grown. In particular there are a number of educational toys by Leapfrog for 3 year old kids, so you are certain to find the perfect toy for every toddler.
Are these toys suitable for girls and boys?
These Leapfrog toys are all ideal for both girls and boys to play with. They are brightly colored so that they are appealing to all kids and many of the toys are also great for kids to share together. If you are looking for the ideal toys for kids to play with that will help develop important skills and start them on the correct learning pathway then Leapfrog are perfect.
Are any of the toys interactive?
Many of the Leapfrog toys are interactive. They have a number of learning toys that enable kids to explore, create and play but also have a unique interactive learning features. This means that these wonderful toys are perfect for role play opportunities but also introduce kids to new learning experiences. There are also a number of Leapfrog tablets that are suitable for kids to play with and they also give great piece of mind to parents, as each one is totally safe for kids to use and there is no danger of kids coming into contact with an unsafe information.
Best Leapfrog Toys for Toddlers
1. Musical Number Lovin' Oven
When choosing toys for toddlers, parents want to pick a great quality learning toy that will be beneficial for their kid. This makes the Musical Number Lovin' Oven the perfect choice of toy that is stimulating for kids to play with. Toddlers will love role playing with the pretend food and oven while discovering numbers and how to share, making this one of the best leapfrog toys for 2 year old boys and girls. With over 30 songs and phrases to accompany this toy it is certain to keep kids occupied for hours, while ensuring that kids get an ideal start to their education. There are 16 exciting pieces included with this wonderful toy, so kids can fry an egg in the skillet or bake bread, pizza and cakes for endless cooking fun. This bright and cheerful toy is one of the favorite leap frog games for toddlers.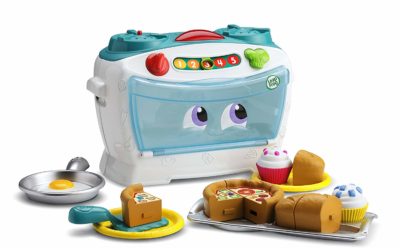 2. Learning Friends Words Book
What better way to introduce your toddler to books and words than with this exciting Learning Friends Words Book. This interactive book has 100 age appropriate words for kids between the age of 1 to 4 years old to enjoy, making it one of the top of the range Leap Frog books for toddlers. The book is divided into categories to give the most effective learning experience, so kids will be introduced to animals, vehicles, clothes and much more just from playing with this brilliant toy. Kids will find the book easy to work, as they can hear their chosen word and listen to sound effects and facts just by touching the page, so this amazing book will keep them occupied for hours. For added appeal this book is bilingual as it can be played in either English or Spanish, providing kids with the perfect exposure to other languages at a young age. When deciding on the perfect educational toys for three year olds you will be pleased that you came across this fantastic toy.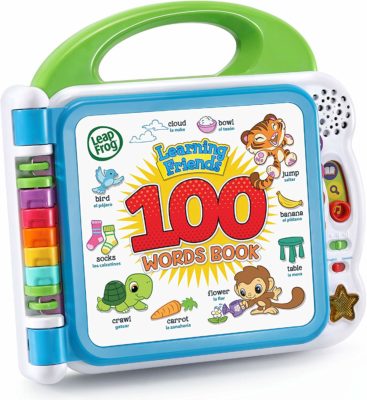 3. Fridge Phonics Magnetic Letter Set
It can feel daunting for parents, when toddlers reach the stage of learning letters, phonics and starting to discover reading, to know what is the correct way to begin this important learning process. So what better toy to help get them started on the right path than with this Fridge Phonic Magnetic Letter Set. This is a fun and exciting toy that kids will love playing with but it is also highly educational so will provide kids will plenty of learning benefits. As one of the best toys by Leapfrog for 3 year old kids it is certain to get plenty of use. Kids can explore each letter, sing along to fun learning songs, while discovering correct phonics and learning the alphabet, all while having fun. This Leap Frog refrigerator magnets toy set is the perfect toy for all toddlers over the age of 2 years old.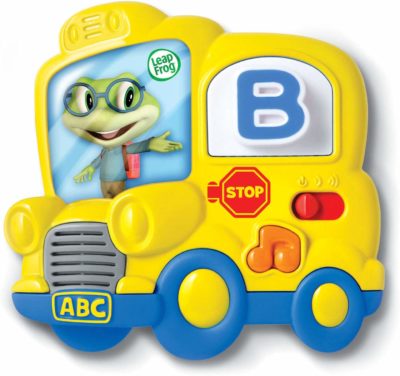 4. Scoop and Learn Ice Cream Set
This amazing Scoop and Learn Ice Cream Set is the perfect Leapfrog preschool learning kit that can be shared with friends. Kids will love that the brilliant 20 piece set that comes with a bright and colorful ice cream cart that allows them to create fantastic ice cream combinations. With 8 different flavors and 3 different toppings there are many exciting ice creams to make and enjoy. Kids can learn to count, discover colors and enjoy playing matching all through this great Scoop and Learn Ice Cream Set. There are 6 character cards for kids to explore where they can learn to follow directions so that they can produce the required ice cream combination. This is the perfect role play toy by Leapfrog for 4 year old kids that both boys and girls will love.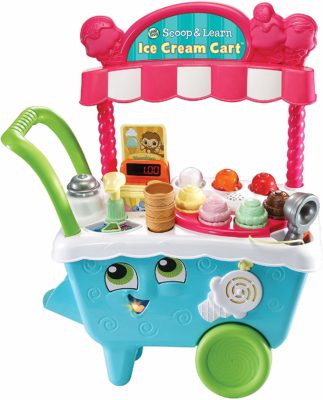 5. Scribble and Write Tablet
When choosing a toy to help toddlers learn to write, you want to pick a toy that is interactive and stimulating to ensure that kids enjoy learning in a fun positive environment. This makes the Scribble and Write Tablet perfect for all kids over the age of 3 years old, as it exciting to play and parents can be sure that their kids will get the best start in their literacy teaching. Using this Leapfrog tablet for toddlers, kids will be able to trace every letter in both lower and upper case form and also discover numbers for the full learning experience. The highlight of this clever toy is that there are 2 levels that the toy can be set on, with level 1 encouraging scribbling and level 2 looking for more accurate letter formation. This is one of the top toys for 3 year old toddler boys and girls that has a brilliant educational theme.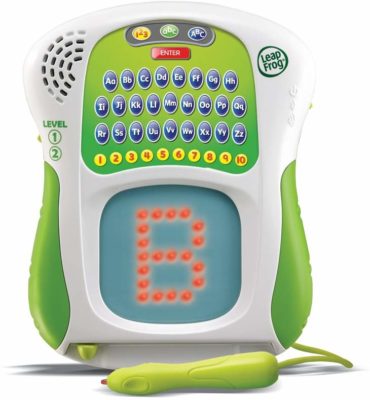 6. Musical Rainbow Tea Party
All toddlers will enjoy playing with this wonderful Musical Rainbow Tea Party Set that is full of bright colors and brilliant sounds, making it another fantastic toy by Leapfrog for toddlers. Alongside being brilliant for exploratory play, this lovely tea party set is also perfect for teaching kids colors, counting and matching, as they learn to match the 6 different colored cake slices with the different colored water in the tea pot. For added fun there are 7 exciting tea time songs for kids to join along with and over 50 sounds and phrases to enjoy, making this the most realistic toddler tea party set that you can buy. Toddlers will be fascinated by watching the water in the tea pot move when the tea is poured. Kids will also love playing with this exciting tea party set making it one of the favorite Leapfrog toys for 1 year old kids that parents are highly recommending for providing stimulating toddler fun.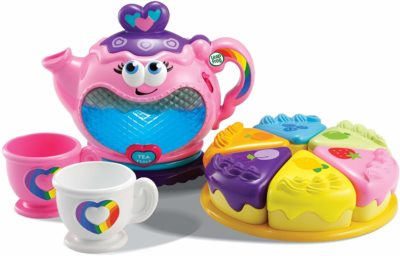 7. Leapster Explorer Learning Game
Kids love copying the games that older kids and adults play, so if your kid is eager to try playing video games then this Leapster Explorer Learning Game is the perfect toy choice for them. This brilliant handheld game comes with access to over 40 games and with the option to add much more there are endless play and learning opportunities to be had from this Leapster Explorer game. With a crystal clear screen and controls that are easy for kids to press, parents can be certain that all kids will enjoy playing with this exciting game. The only down side to this great toy is that a re-charger needs to be purchased separately. This is one of the fantastic Leap Frog toys that are suitable for older kids between the ages of 4 to 9 years old and with games to match their learning ability it is toy that will be played with and enjoyed for years to come.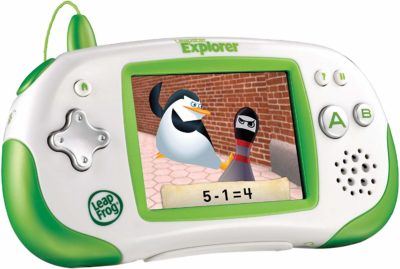 8. My Own Leaptop
This My Own Leaptop toy is one of the most exciting toys that you could buy for your toddler, as it allows them to enjoy technology in a safe environment with the added bonus of it being one of the best Leapfrog learning toys. Kids will love the bright colors of their first Leaptop Laptop game and enjoy the many different game modes that come with the toy. For added excitement the Leaptop can also be personalized with their name, which they can learn to spell. There are 4 modes for kids to enjoy where they can explore their ABCs, enjoy 16 musical melodies and songs, send emails and play games that include endless animal trivia and letter fun. Kids will also the love the 26 animal animations that are also included with this fantastic Leaptop set. This toy by Leapfrog for 3 years old kids is ideal for parents who want to encourage their toddlers to enjoy learning.

9. Letter Factory Phonics
If you are looking for a new and exciting way to introduce letters to your toddler then you should consider this amazing Letter Factory Phonics set that the perfect educational gift for kids. There are 26 letters included with the toy and kids can put each one into the reader, which allows them to hear sounds and songs about each letter. This is definitely a fun alphabet learning toy by Leapfrog 2 year old kids will love. This great toy also includes the alphabet song that is the perfect way for kids to begin to learn the alphabet. Kids will love that they can take this exciting toy with them out and about, as the compact size of the toy makes the toy easy to carry and the handy box underneath the reader means that the letters are kept secure at all times. This is a fantastic Leapfrog alphabet toy that all toddlers will enjoy.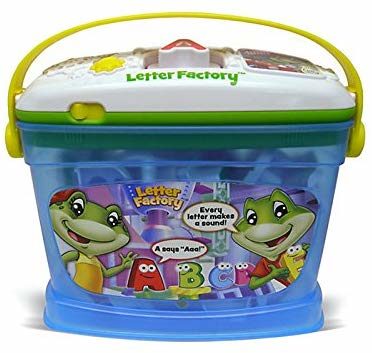 10. Shapes and Sharing Picnic Basket
This Shapes and Sharing Picnic Basket is a lovey toy by Leapfrog for 1 year old kids and older. Toddlers will be attracted to the brightly colored items and the appealing singing basket that is certain to occupy them for hours. The picnic basket is a lovely 14 piece set that comes with: 6 food items, 2 plates, 2 cups, 2 forks and the basket with picnic mat, so has everything 2 kids will need to play together. The shaped plates allow toddlers to match up the food items making it a great set for fine motor development and learning shape sorting skills. Kids will love singing along to the fantastic tunes that this basket provides while enjoying sharing a picnic together. This is one of the best Leapfrog toys for toddlers that will be enjoyed by both girls and boys.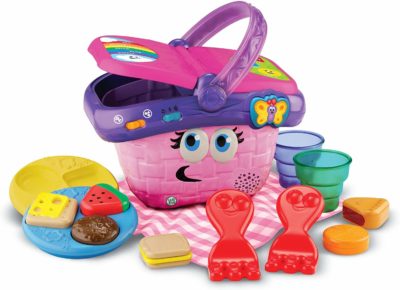 11. Mobile Medical Kit
Role play games are really important for every kids development and learning, so parents are often looking for brilliant toys that encourage this imaginary play. This makes the great Mobile Medical Kit one of the best Leapfrog toys for all young kids, as there are endless role play opportunities with exciting friendly characters that are appealing to kids. Toddlers will love pushing the ambulance around on every new adventure and once they have arrived at the scene of the accident they will enjoy using the medical equipment that will make the patient feel better in no time. This fantastic set comes with a stethoscope, injection, otoscope and thermometer, so is ideal for teaching kids about medical examinations and reassuring kids about common medical procedures that they may come across. This Mobile Medical Kit by Leapfrog for 1 year olds is a lovely educational toy that kids are certain to enjoy playing with.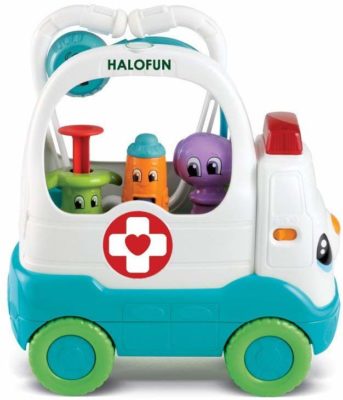 12. Learn and Groove Musical Table
Toddlers love music, so they are sure to be fascinated with this amazing Learn and Groove Musical Table that will grow with kids from 6 months of age through to 3 years old. This toy has many different musical activities for kids to explore, so there will never be a dull moment when playing with this fantastic toy. From pressing each of the buttons and keys kids will get a different response, allowing them to learn cause and effect, making this toy ideal for every toddlers development. Kids can also learn about colors, shapes, letters and numbers with this fantastic educational toy, providing the perfect educational start for all kids. The highlight of the toy has to be that it will grow with your toddler, as it can rest on the floor providing the perfect play toy for babies that are not yet mobile and then the toy can be converted into a play table once kids can stand, so is perfect for long lasting fun. With over 70 different songs and responses for kids to enjoy and endless learning opportunities provided this Leapfrog learning path toy is the perfect choice of toy for toddlers.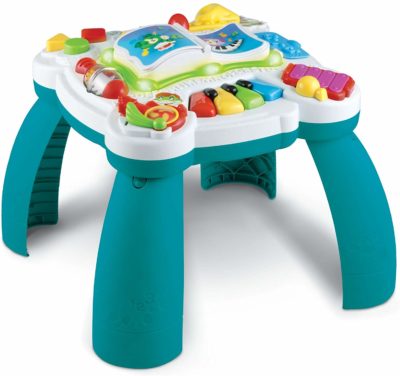 13. Leapbuilders Fun Family Farm
Farm building sets are the perfect toy for toddlers that let them discover animals and enjoy endless free play fun. This Leapbuilders Fun Family Farm will certainly not disappoint if you are looking for ideal Leapfrog learning toys for toddlers. The set includes a number of cute animal models and farming accessorizes for kid to discover, alongside 15 interactive double sided blocks that feature a variety of animals and foods. Kids can place these blocks into the interactive star cube to hear different sounds and phrases, which provides a unique learning experience that will fascinate toddlers. This is an amazing toy for 3 year olds, as it allows them to develop their fine motor skills making it a great educational toy. Parents will love that other Leapbuilder toys are compatible with this toy set, so the farm can be expanded to produce a unique play set for your young kid. This is one of the best learning toys that will be loved by all toddlers.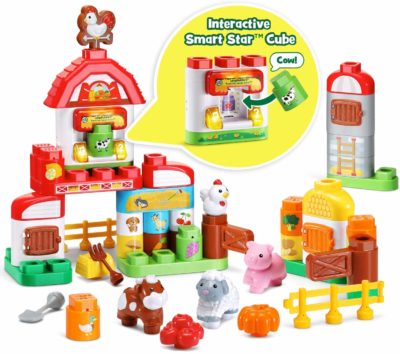 14. LeapPad Ready For School
There are many different 3 year old educational toys to choose from so it can be daunting trying to pick the best one for your kid. This is where the LeapPad Ready For School Tablet is highly recommended, as it is the perfect toy to prepare all kids for education, in a fun and stress free way. In addition, the apps on the tablet follow the school curriculum, so you can be certain that that everything your kid is accessing is suitable for them and at the correct learning level. This wonderful tablet also give kids freedom to access websites that are safe for young kids in a safe and friendly environment, so parents will not be worried about their kids internet activities and safety. Kids will love the shatter proof touchscreen and safety bumper that is also included, making this toy one of the most durable kid friendly tablets around. As one of the best learning tablets for 3 year old kids this is perfect toy for anyone who is getting ready to start school.
Note: Prices and Deals Can Vary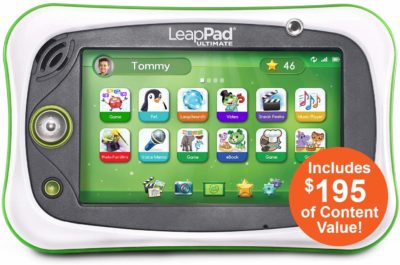 15. LeapReader Reading and Writing System
If you are looking for the perfect interactive toy to help your kid learn to read and write then this LeapReader Reading and Writing System is the best choice and based on every Leapfrog reader review this is a highly recommended item that kids are sure to enjoy. The toy even comes with a USB cable that allows the reader to be recharged so it will not need endless batteries, making it convenient to use. With this wonderful toy kids can learn how to form each letter correctly, discover phonics, listen to audio books and music, while also learning how to read. This brilliant set also includes interactive writing paper and an activity book, along with access to over 150 books and audio books, so there are plenty of activities to keep kids occupied. The books and activities are aimed at a variety of learning levels so all kids will get long lasting use out of this exciting Leapfrog writing pad and reading set.


Best Overall Leapfrog Choice
The LeapPad Ready for School Tablet is our best overall buy as it is the perfect educational toy that is also appealing to kids. Everything about this tablet is safe for kids; from the shatterproof 7 inch screen, to the kid approved websites that the tablet can access. Kids will love playing on the learning apps that are included with the tablet and the apps are all adaptable to the learning curriculum, so parents can be sure that their kids are accessing content that is appropriate for them. This brilliant LeapPad tablet really is the perfect toy to prepare all kids from the age of 3 for starting school.
Note: Prices and Deals Can Vary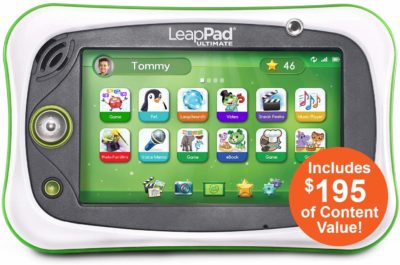 Best Budget Leapfrog Idea
Our best budget buy is the Musical Rainbow Tea Party Set as it is the perfect toy for entertaining toddlers. This great set comes with a realistic tea pot with a moving water level, so kids will enjoy pretending to pour and make tea. This wonderful set comes with everything toddlers need to enjoy a tea party with friends. The brightly colored 6 piece cake is great for teaching toddlers colors and how to count, so provides the ideal learning experience through play. This is a wonderful toy that allows kids time for free play that is also great for sharing with friends.