The LEGO Iron Man range is really popular, so choosing the best set for your child can be difficult – there are so many to choose from! Here, we have reviewed 20 of the latest toys so you can find something your child will love.
There are sets for all ages and abilities – some smaller sets for new builders as well as larger and more impressive models for those with more experience.
What to Consider When Picking Iron Man LEGO
You are probably wondering how to choose between all the different toy sets on offer. Here are a few top tips:
Number of pieces: If your child is new to LEGO, you'll want to choose a smaller set with fewer pieces. Once they have a bit more practice, choose a set with hundreds of pieces to keep them entertained for hours!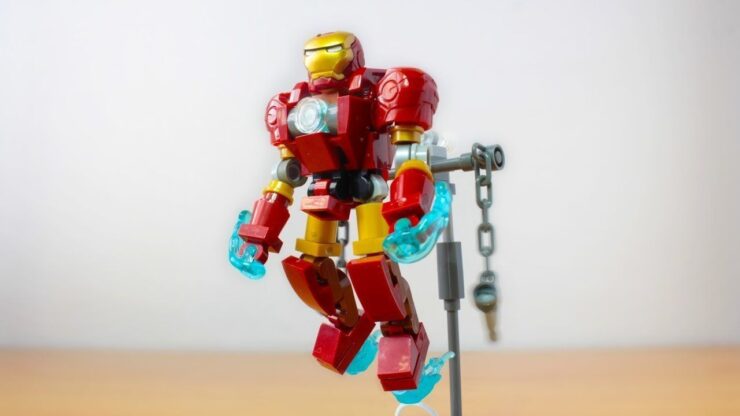 Theme: The sets in this guide are solely based on IM and other Avengers heroes. If your child prefers a different theme, be sure to check out our other LEGO guides. However, there are many subcategories within the Avengers theme to choose from – you can find playsets, vehicles and large robot figures to build.
Function: Are you looking for something your child can play with, or simply a cool decorative display piece? Some sets have more interactive, moving parts which makes them more fun to play with. Others don't do much after building and simply look cool on a desk or bookshelf.
Best LEGO Iron Man Toys Reviewed in 2023
Below, you will find our picks of 20 of the best LEGO Ironman building kits. There is something here for any fan of this popular gift range!
1. LEGO Super Heroes Buster
The LEGO Iron Man Hulkbuster is one of the most popular sets in this range. Containing almost 250 pieces, this set is ideal for beginners and more experienced builders alike. It's best for kids between the ages of 7 and 14 yrs old. Inside the Hulk Buster, there's a cockpit for a minifigure to sit inside.
Important weapons are also included, to ensure for an epic battle every time! The finished model has moving arms and legs, as well as a stud shooter for added fun. Other popular figures are also included – the Hulk, Ultron Prime and the Scarlet Witch.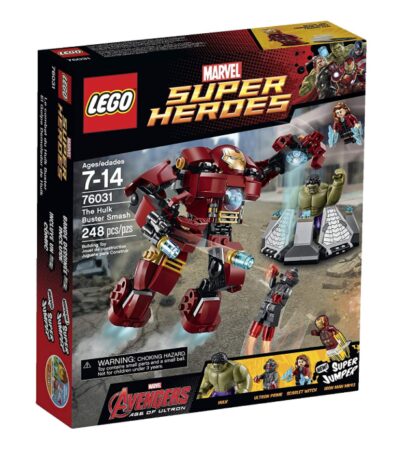 2. LEGO Marvel Super Heroes Avengers Hulkbuster
Here we have another highly rated and very popular model. The Hulkbuster smash-up has 375 pieces and is again recommended for kids aged up to 14. It comes with Bruce Banner, Proxima Midnight, Falcon and Outrider minifigures.
When built, the Hulkbuster stands at an impressive 5 inches high, whilst the gun turret is 3 inches high. Kids will love to play with all the interactive, moving parts – the Hulkbuster can bash the gun turret to try and destroy it. Also, the turret is equipped with a ball shooter to add to the fun of the battle!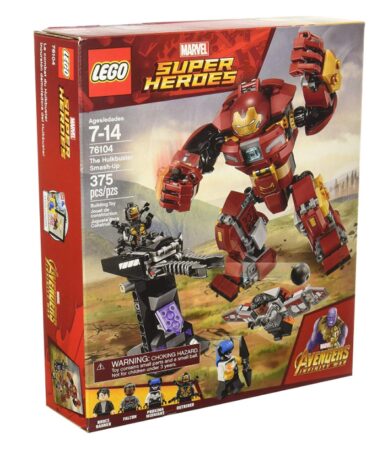 3. Marvel Avengers Hall of Armor Building Set
If your child is a fan of other LEGO Marvel characters, this set allows them to customize their minifigures with the included armor. There is a turning platform in the center which the figure can stand on to show off the new armor. There are 5 minifigures included and over 500 pieces to build.
The Igor Suit mech can also be built with this set, and it has a cockpit for a figure to ride in. The modules of the hall of armor can be rearranged in different configurations to give new ways to play and build every time. They can even be built in a circle to make a prison for the enemies!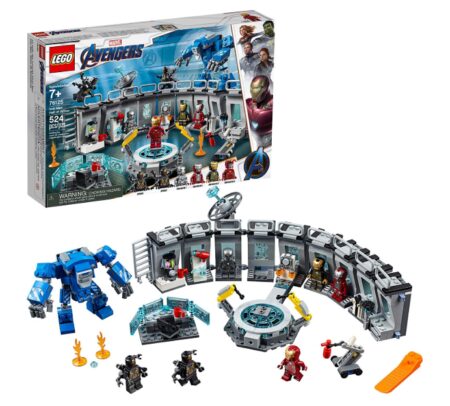 4. Extremis Sea Port Battle
This battle set has almost 200 pieces to build and is ideal for kids as young as 6 years. There are 3 figures in the set including Aldrich Killian and War Machine.
The set is used to build Killian's speedboat as well as an exploding buoy! There's a pistol weapon included too, to ensure the battle is always exciting. The speedboat is also equipped with missiles and a hidden storage compartment, offering hours of fun play time.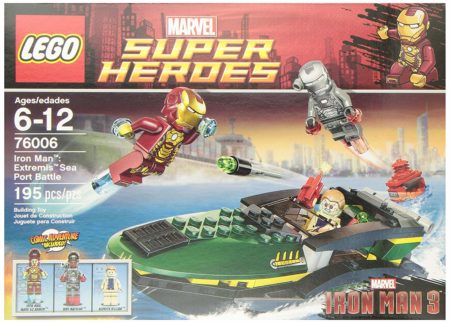 5. LEGO BrickHeadz Hero

The Brick Headz range is ideal for older kids, around 10 years old and above. It contains 101 pieces to build, and the pieces are compatible with all other LEGO building toys. The MK50 figure is equipped with thrusters, armor and a mask, so it looks just like the character it is based on.
When finished, the model sits on a baseplate so it can be displayed in your child's room. Kids will love to collected all their favorite characters in the BrickHeadz range.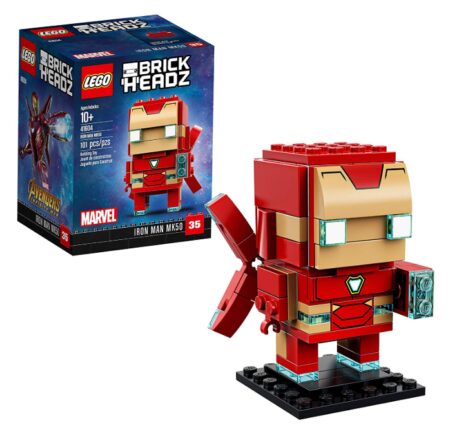 6. The Hulkbuster Ultron Edition
Are you looking for a larger model to keep an older kid entertained for hours? How about this Ultron Edition Hulkbuster with a whopping 1363 pieces! It is best suited to teens aged 14 and above, or those with previous building experience.
Once assembled, the mech stands at more than 9 inches tall and it has loads of fun moving parts and pieces. A minifigure can stand inside the helmet, and there's a glowing light brick in the middle of the chest. The platform is also included for displaying or playing with the model. It has a fact plate with information about the Hulkbuster on it, and you can also attach robotic arms to the platform.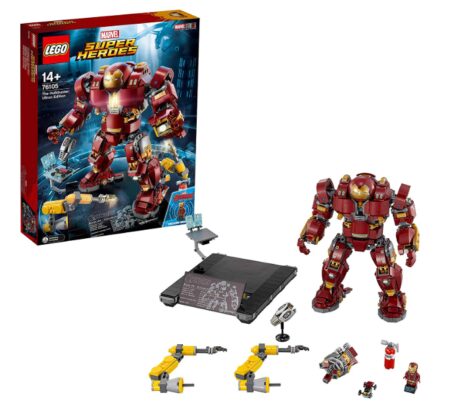 7. LEGO Iron Man Minifigure
This minifigure is the perfect addition to any of the models included in our reviews. Equipped with Mark 47 armor, it looks just like in the movies. The mask can be removed or flipped up to reveal the face underneath.
There are loads of possible variations so kids can choose their favorite or try and collect them all! Some of the other variations include Tony Stark and one dressed in the MK 43 armor.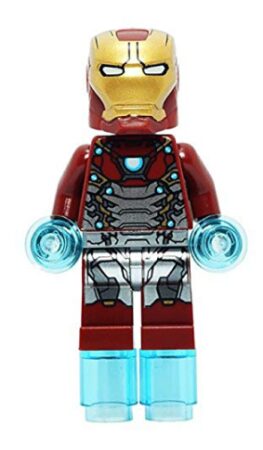 8. Marvel Avengers War Machine Buster
Featuring popular LEGO Marvel minifigures such as Ant Man, this War Machine buster set has over 350 pieces and is suitable for kids over 7. It allows kids to build a posable mech with opening cockpit, a rapid shooter, cannons and gripping hands.
There are 4 minifigures included as well as missiles to shoot from the mech. Kids will have hours of fun with the interactive shooting pieces of this model – it's great fun to play with even after the excitement of building it is over.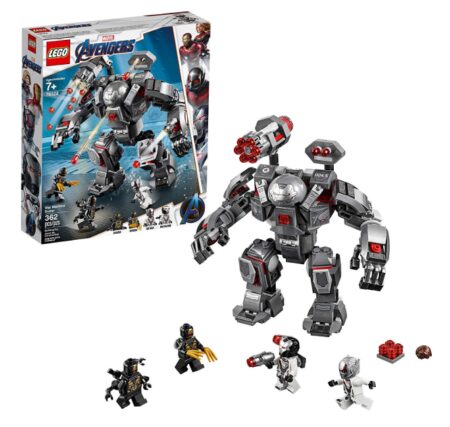 9. Avengers & Dum-E
This mini model has just 38 pieces, so it's a great quick build. It's the perfect addition to a superhero LEGOs collection, especially as the Dum-E robot is not included with many other playsets or models. Kids will love the attention to detail on the figures, especially the blue and orange flames!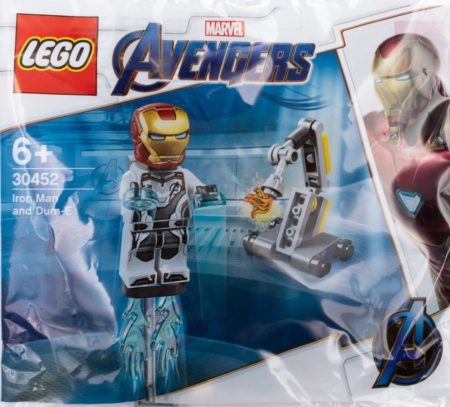 10. Iron Man vs Ultron
This set depicts the battle against the Ultron army and has 90 pieces to build. It's ideal for ages 6 – 12, so you can be sure your kids will have many years of fun with it.
There are loads of fun and realistic accessories included such as the iconic mask and helmet, stud shooters and thrusters for both characters. The vehicle has adjustable wings and antennas and looks just like it does in the movies. Kids will have loads of fun re-enacting their favorite battle scenes and making up new adventures.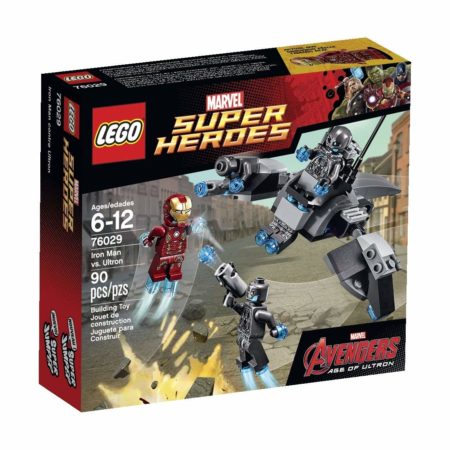 11. Detroit Steel Strikes
The Detroit Steel Strikes building kit has almost 400 pieces to build, and is best for kids aged between 7 – 14 years old. The mech is fully posable with moving legs, arms, hands and wings.
The mech is also equipped with a six stud shooter and a chainsaw on the arm, making playtime even more fun. There are three minifigures with the set including Justin Hammer and Agent Coulson. The car doors open and you can also fold the wheels to activate flight mode!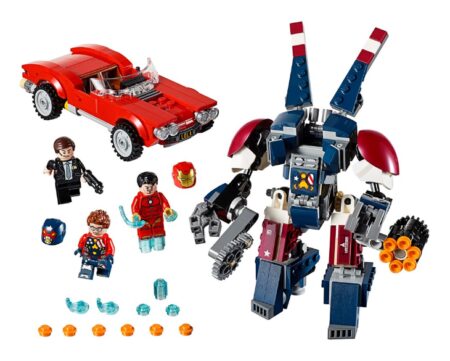 12. Malibu Mansion Attack
This helicopter building set has over 350 buildable pieces and is again suitable for those between the ages of 7 – 14 years. Five figures come with this set, including Tony Stark, Pepper Potts and the Extremis soldier. Part of the Malibu Mansion can also be built with this set.
It has fun elements such as a rotating computer and exploding window, perfect for re-creating the epic attack scene! The helicopter's blades really spin, and the vehicle is also equipped with missiles and cannons for when it's time to attack.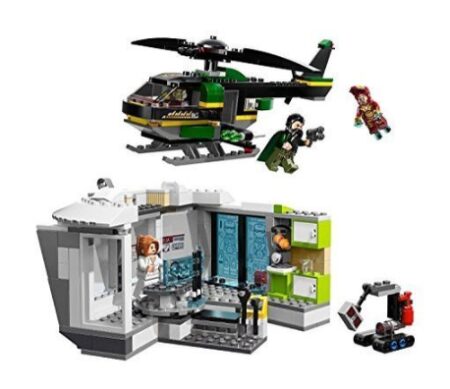 13. LEGO Superhero Magnet
If your child can't get enough of LEGO or Marvel heroes, this fun magnet makes a nice gift idea. There is a whole range to collect, so they can have all of their favorite heroes stuck to the fridge or a radiator in their room perhaps.
The magnets are also ideal for boys to decorate their locker with and give it a personal touch. The magnet is already assembled, yet some parts can be pulled off although this is not recommended.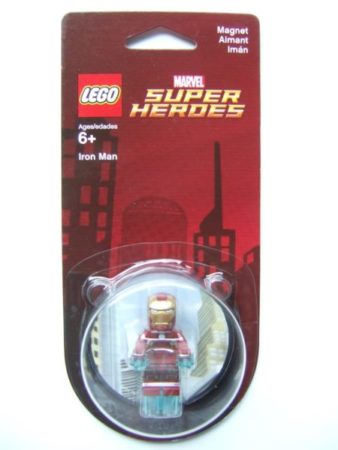 14. Loki's Cosmic Cube Escape
This off road vehicle set has over 180 buildable pieces and 3 figures, including Loki and Hawkeye. This set is suitable for kids over the age of 6 and up to around 12, so it will give many years of fun and entertainment. The vehicle comes with 2 missiles and a tipping function to launch Loki from the vehicle.
The hero figure has a mask which can be opened as well as thunder flames to attack the vehicle with. Kids will love the level of detail on the models and how realistic they are.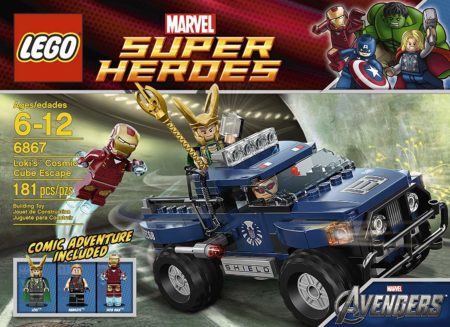 15. LEGO Iron Patriot
This mini toy has just 17 pieces making it a quick and easy build for kids aged up to 12 years old. It depicts the Iron Patriot hero in his signature clothing and helmet. It comes with the James Rhodes face and looks just as the character does in the movie. The figure is a little pricey, but it is limited edition and hard to find. It's the perfect addition to any collection.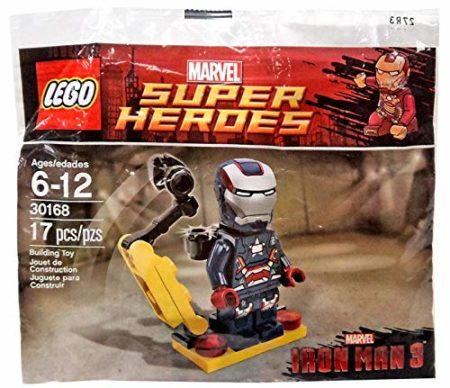 16. Hulkbuster Ultimate Figure
This two in one toy can be used as a huge 22 inch mega figure or opened up into a playset with a control room and multiple levels to play in inside. Kids will have hours of imaginative fun playing with 6 inch figures in the playset, for example sending them down the zipline. There are also various launchers, a ladder to climb and special hero vision technology.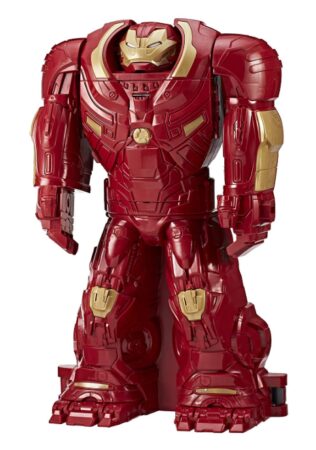 17. War Machine Minifigure
If your child needs a new minifigure to complete their collection, how about this War Machine figure? It is completely authentic so you can be sure it is top quality. The mask can be lifted up to see the face underneath. This is a great, collectable figure which makes a nice addition to any Marvel fan's LEGO sets.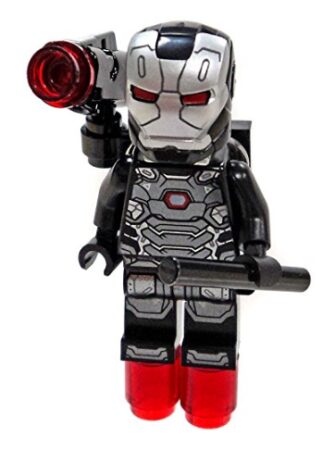 18. LEGO Infinity Wars

Sanctum Sanctorum Showdown
This awesome set has just over 1000 pieces and is ideal for older builders, aged around 8 – 14 years old. The model depicts a 3-storey NYC building complete with authentic details such as a pizzeria and a fire extinguisher. There's also Peter Parker's apartment with an exploding window function to keep enemies away.
There are 5 figures from the Infinity War series included, such as Doctor Strange and Ebony Maw. The finished model stands at more than 11 inches high, making it great for playing with. There are loads of fun moving parts for kids to use when recreating scenes from the movie. The figures can swing from the roof, or activate the trap door for their enemies.

19. Mighty Micros Iron Man vs Thanos
This set is suitable for younger builders aged just 5 and above. With under 100 pieces, it's not too challenging a build for those new to LEGO toys. The two figures each come with their own vehicles to ride in, complete with accessories and weapons.
The pieces in this set can be used with standard LEGO sets, although this kit is somewhat easier to build than other standard models. Kids are sure to have hours of fun playing with the figures and vehicles, and it's a great way for younger kids to let their imagination run wild.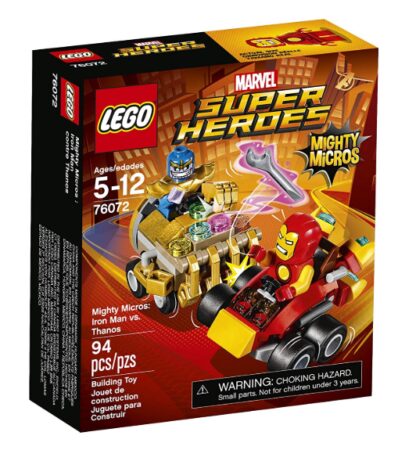 20. LEGO Junior Iron Man vs Loki
This LEGO Juniors set is easier to build than most of the other models we have featured so far. With just over 65 pieces, it is perfect for kids aged between 4 and 7 years old. The kit includes the ready-built base of the car, so most of the other pieces are simply built onto this.
There are very clear instructions with colored illustrations to make building the set even easier. Little kids will be so proud when they finish building the models, and will love to show them off to their friends and family! They'll also have hours of fun playing with them afterwards.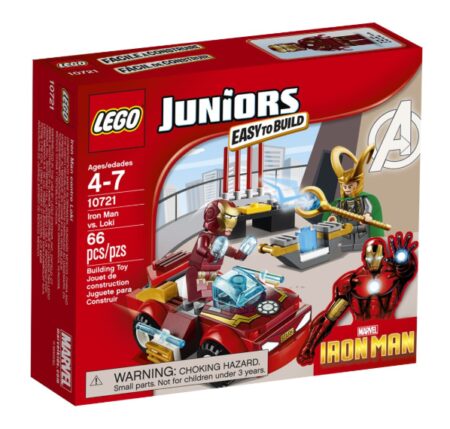 Best Overall Pick
The Sanctum Showdown kit is our favorite overall LEGO Ironman set. The huge number of pieces mean this model is a challenging and rewarding build. We also love the interactive surprise elements which ensure this set is also great for imaginative play. It will give hours of fun to any Marvel Heroes fan!

Best Budget Buy
If you are on a tighter budget, we recommend going for the BrickHeadz model. It has around 100 pieces so it is an entertaining yet not too challenging build. It will look great on display in your child's room, and is particularly suited to tweens.
It's a great gift idea for a fan of Marvel movies and is sure to be well-received. It even comes in other LEGO Avengers characters, so kids can start a collection with all their favorites.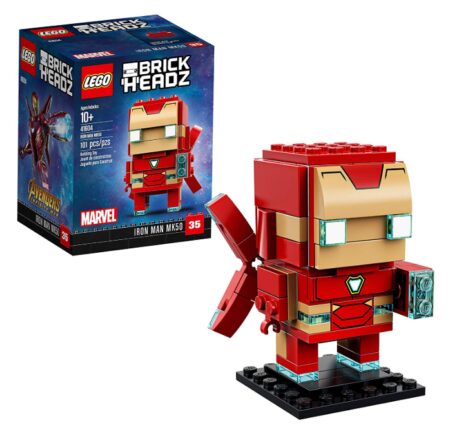 What Age is Superhero LEGO Suitable For?
Every LEGO product comes with a suggested age range on the box. The youngest age these sets are for is 4 years old, for the Juniors sets. For most of the sets reviewed above, the minimum recommended age is between 6 – 8 years old.
The sets can be enjoyed by teens and tweens up to the age of 12 – 14 years in most cases. However, these age ranges are simply guidelines and if your child enjoys a set, their age doesn't matter!
Is Avengers LEGO Difficult to Build?
Each of the sets reviewed above have different levels of difficulty. This is mainly due to the varying numbers of pieces found in the sets. The easiest sets to build are those in the Juniors range – they come with very clear instructions and a large base to start building from.
On the other hand, more experienced builders will enjoy the larger sets with 1000 pieces of more – sure to keep them busy for a while! Each set comes with a suggested age range on the box which can help guide you towards one which is neither too easy nor too challenging for your child to build.