LEGO is a timeless toy and is loved worldwide by millions of children and adults alike, which is why we have create this list of Lego Technic sets. It was being made in its current plastic form as early as 1949 and has come a very long way, and there are now amazing sets to be enjoyed, and the Technic range is the latest, most modern incarnation of our favorite toy, combining the elements of STEM together with classic LEGO fun. This helpful list will outline for you some of the choicest LEGO sets by Technic that there are considered the best Lego Technic sets of all time.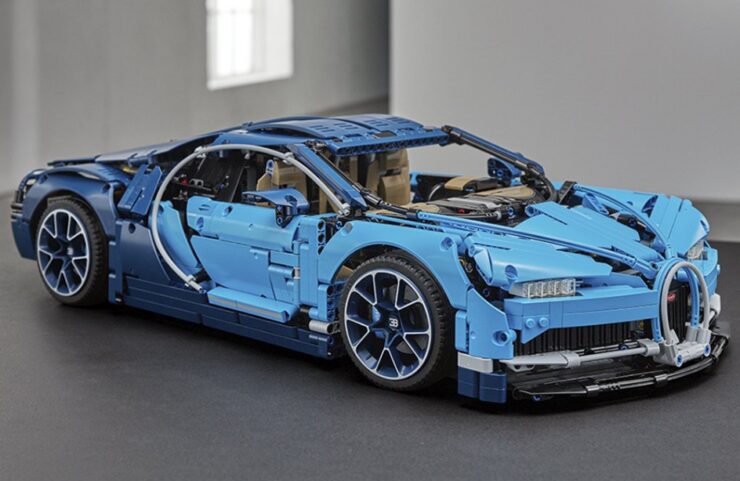 What to Consider When Buying LEGO Technic Sets?
Have a think about who you are buying for. There is a vast range of styles, designs and levels of ability to cater for with LEGO, so you need to research and consider what the most suitable product is for the child you are buying for. You might even be buying for an adult who likes to collect certain pieces. If they love motorized lego cars, aircraft or ocean faring vehicles, then this would also be a consideration. Cost is another factor, because upcoming LEGO is an investment, it isn't always cheap, but it provides years of fun – but sets can vary widely in price, depending on how complex they are and how many pieces they have.
New LEGO Technic Sets Reviewed in 2023
1. Chevrolet Corvette Technic Car Set
If you are buying a Technic car for someone who is mad about cars, this is a real collector's piece. The famous Chevrolet Corvette ZR1 is a really popular car and this LEGO set is great because it offers a two in one feature because it can be remade and recreated into a Hot Rod replica car. It has all the amazing features you might expect from this classic automobile, all ready to be made from LEGO; four tailpipes, a black spoked wheel rim, it has steering that works properly and has moving V8 pistons. Any car enthusiast will love it, and any LEGO fan will love being able to interact with this amazing piece. When it is finished, it is quite substantial and impressive and will measure over 8cm tall and is made of almost 600 LEGO pieces.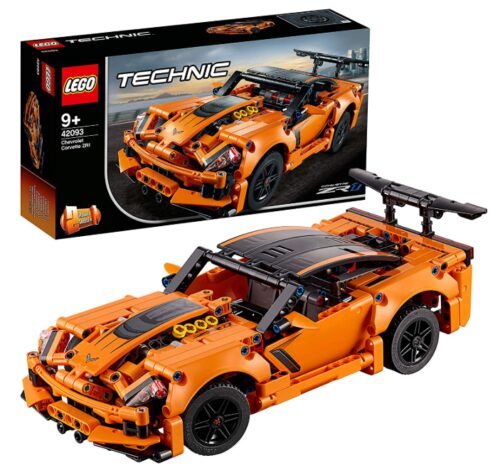 2. LEGO Bugatti Chiron Car Technic Set
This gorgeous blue LEGO Bugatti Technic is really great. It measures over 14 centimeters when fully assembled and comes with all the relevant fixtures to create this classic, popular car. The Bugatti Chiron is really popular and collectible, and will be a great present for any LEGO enthusiast. It has an eight speed gearbox and a steering wheel as well as spoked rims and an active rear wing. It is also very impressive as it comes presented in a fancy box with a LEGO collector's catalogue. If you are getting this LEGO set, it will not only entertain the recipient for hours on end as they work to create an amazingly interactive car, but it will also offer them hours of fun to play with their other Technic sets. It might even be just kept on the shelf as part of a collection for display purposes – either way it is awesome.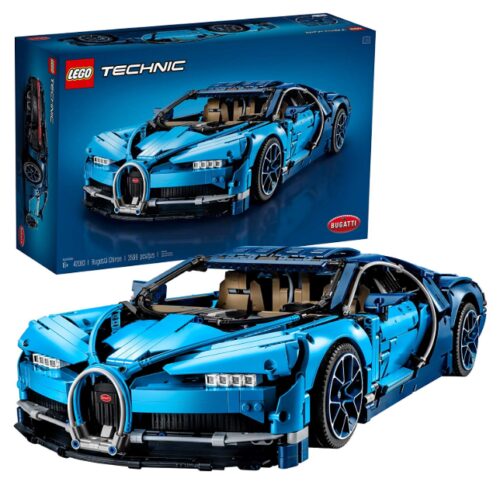 3. LEGO Technic WHACK!
This is a really quirky racing car, and the name says it all! One of the best of the Technic range, it has real impact and excitement and will really impress anyone that you buy it for. It boasts a strong, durable front bumper and a rear spoiler with stylish black rims and a striking engine that really stands out. It is more of a stunt type car, made up of 135 separate LEGO pieces and is suitable for all ages from seven upwards. It's a great toy to get for someone who likes to collect LEGO or even just likes sports cars – this is more of a racing car so it would stand out among a collection as it has bold, vivid colors that really pop. It measures six centimeters tall when it is fully assembled.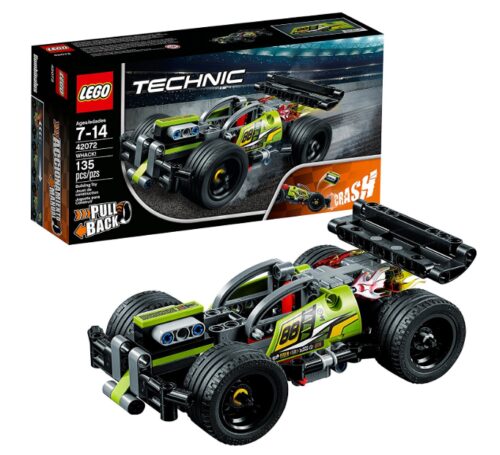 4. Technic BASH!
This Technic car really packs a punch. The name really suits it, because it seems to be designed to be able to take a battering on the racetrack. It has a clever pull-back motor so it can race along nicely, and provide lots of fun and entertainment for the user and it also has stylishly designed wide black rims, low tires and a pop out engine. It is a crash car toy, so it can be raced round with abandon and real fun, and still have the ability to stay intact while it is being played with. When complete, it is 7 centimeters high and is able to be used together with LEGO construction sets.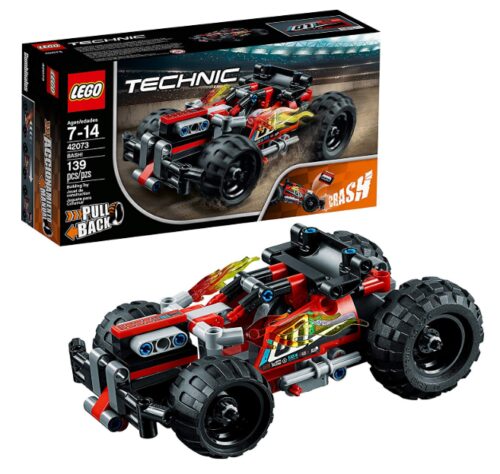 ,

5. Porsche 911
What can you say about a Technic Porsche all lego technic set? The most favorite classic design of car of all time. It is known as one of the most iconic cars worldwide and is hugely popular. This LEGO car is really edgy and has a grown up feel, with excellent design features and little interesting touches. It is a proper exclusive replica of the real Porsche 911 RSR racing car and echoes the smooth, streamlined bodywork of the real thing – it definitely will be sought after by both car and LEGO fans. It also has it's very own steering, that works properly and is really impressive once it is created with an amazing six cylinder engine and fantastic moving pistons. It is suitable from age ten upwards and has over 1580 pieces so it will keep them occupied and absorbed for lots of fun hours. Truly one of the best sets from LEGO range of Technic of all time.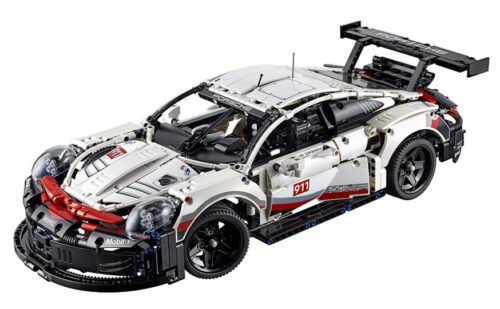 6. Mack Anthem
A substantial piece of big lego Technic kit, this Technic Mack Anthem truck is really eye-catching with amazingly true to life details that bring this impressive truck to life for any LEGO lover. It will spark an interest in construction, engineering and building and will allow your child or friend to enjoy using the rear-wheel drive, front-axle steering and six cylinder engine. Kids seems to love garbage trucks and this one will keep them busy for AGES, with almost 2600 pieces to connect together to bring this amazing piece of kit to life. It also has a crane boom and actual moving pistons as well as a realistic driver's cab. It is also very impressive when it is finally finished, measuring ten inches tall, so it really catches the eye and the imagination.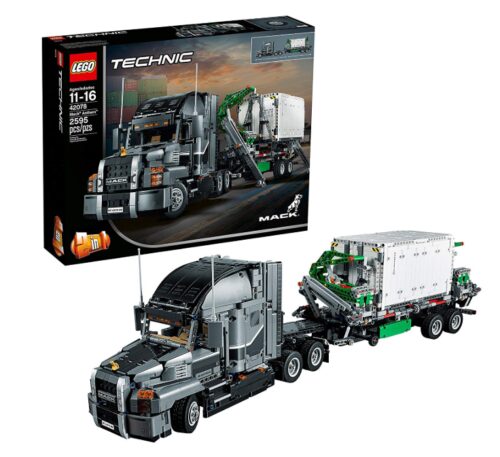 7. Cherry Picker
Children are fascinated with all sorts of plant and heavy farm machinery, so this Cherry Picker from the Technic range will really satisfy their curiosity about engines and machines. It is a really fun set, offering lots of amazing workable features that make it a stand out toy that they will enjoy building and playing with. It has four warning hazard lights, two beacons that flash, fully working wheels that have very realistic oversized tires. The boom and the basket are also fully operational and the lifting mechanism works just like a real cherry picker so children will be delighted with all of these clever features. When it is fully finished it measures around 7 centimeters high and is made of almost 160 pieces. If your child likes to build and collect the wide range of LEGO available, this quality toy is definitely one that will add something special to the collection.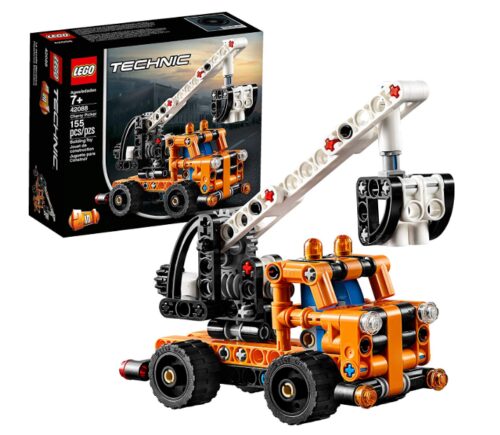 8. Tracked Loader
This heavy-duty tracked loader is probably one of the best Technic LEGO sets around. Designed to be bold and bright, as well as true to life, it boasts a working boom with active claw as well as a special working winch that operates on two-speed settings. The cab fully rotates so there are lots of opportunities for interactivity and fun play time and the tracks have those recognizable ground grips that really make it look like the real thing. What is particularly fun and special about this toy set, is that it has more than one function and can be taken apart and fully rebuilt into a tracked dumper truck, so your child gets two toys for the price of one. When created as the loader, it measures around 17 centimeters high and when it is assembled as the tracked dumper it is around 14 cm, and made with nearly 900 pieces, it really stands out as a fantastic piece of LEGO.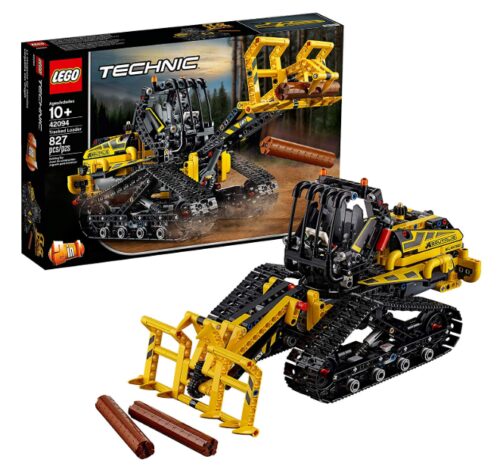 9. Rally Car
Built and designed with bold bright colors, this amazingly fun rally car set is a great idea for your child as a gift for a birthday, Christmas, or any time of the year. The best Technic cars by LEGO are the ones that not only offer hours of building, but hours of playtime too – ones that can be enjoyed with friends, or just alone as you build your LEGO empire. This model car has amazing working steering with full suspension, as well as a rear spoiler that stands out as sporty and coll, and it also boasts low profile tires with bright red, eye-catching rims. The hood opens just like a real car as well as the rear hatch. The engine is a V6 and your child will be so excited to see the actual moving pistons as they play with this amazing toy. It is created from just over 1000 pieces so there is a substantial amount of construction and play in this fun vehicle. It is suitable from ages ten and upwards.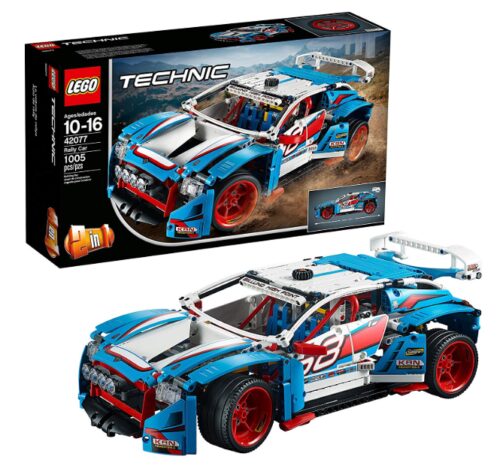 10. First Responder
Building on every little boy's love of Fire Trucks, Firemen and emergency vehicles, this First Responder set from LEGO is really fun and clever. Your son or daughter can pretend to be a fireman or a fire chief as they play with this colorful, exciting LEGO vehicle. It is a fully designed SUV style vehicle, and sports the typical chunky tires that all emergency vehicles have, as well as suspension and steering that is fully functional. There is also a realistic winch, a light tower that raises up and a clever driver's cab that boasts a helpful storage unit that comes with a range of tools for extra interactive play and fun. The cab doors also open and close for extra realism. It is also another great two in one toy, because it can be remade into a Fire Racer car, so there are lots to enjoy with this LEGO toy.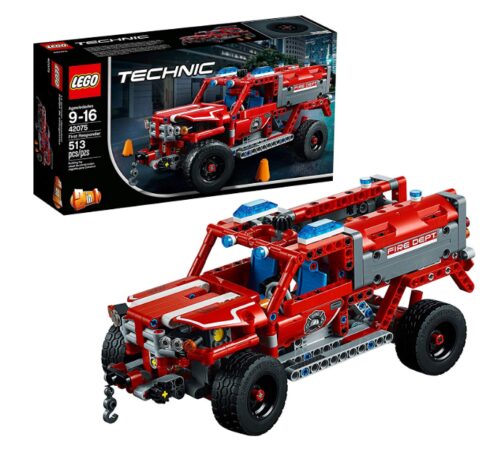 11. Getaway Truck
If your child has seen the (absolutely amazing) LEGO movies, they will know that every LEGO game needs a bad guy, right? How else can the heroes win the day? This edgy, dangerous getaway LEGO truck is designed to be dark, daring and exciting and will be a great addition to any collection. It has a very strong pull-back motor design with enormous tires, giving it that added look of danger and excitement, as well as a large front bumper. The icing on the LEGO cake is the amazing color and design of the livery, with daring flames stickers for use along the sides of the vehicle. Any bad guy in your LEGO world would really fit perfectly into this cool vehicle. If your child also has the police vehicle or any of the emergency response cars, they can combine them into a fantastic world of LEGO fun, and have the heroes chase the bad guys all day long. This is one of the cheap technic sets, but still high quality!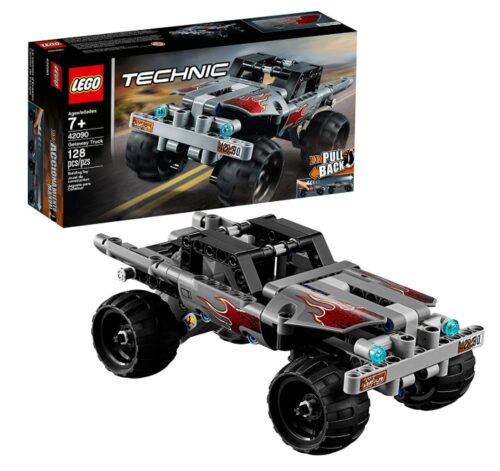 12. Rough Terrain Crane
This Technic Crane is the COOLEST Lego around. A really impressive, substantial LEGO set, it has almost too many features to count and offers any child the most amazing LEGO building experience for them to enjoy. It has an amazingly long one meter boom that is extendable for all kinds of use, and the winch is also fully operational, so once it has been built, it can be used as an actual working crane. The wheels allow it to handle rough terrain, so your child can let their imagination run wild as they allow the crane to encounter all sorts of imaginary environments. The structure is fully motorized too, and has lots of manual features for amazing interactive play. It also has the 2-in-1 benefit, because it can be reconstructed into the Mobile Pile Driver, so it offers a fantastic amount of fun. It has over 4000 pieces to build with and because of its design it has all the benefits of the STEM curriculum.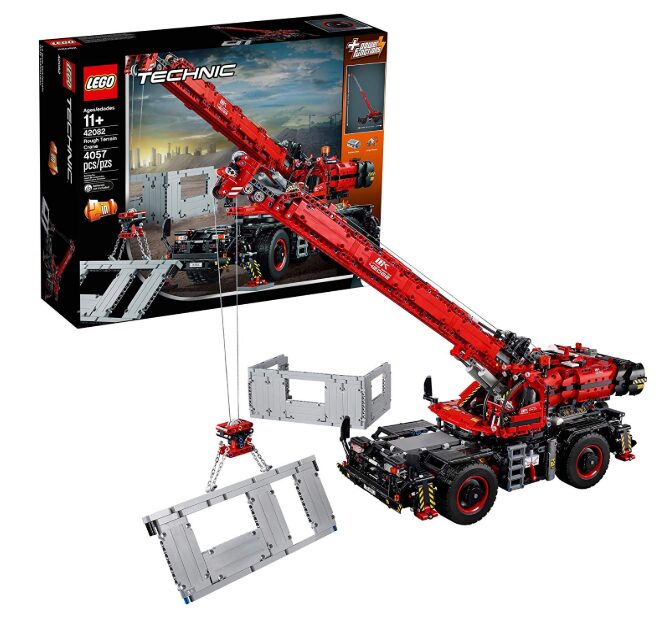 13. Racing Yacht
The wonderful thing about LEGO these days, is that it has evolved so much that it caters for almost every single hobby, interest and passion. So children are able to combine their love of building LEGO together with one of their other interests. If you come from a nautical, ocean-loving family, or if your kid is simply passionate about boats and seafaring, this LEGO racing yacht is the perfect toy for them. It is a full replica of a real-life racing yacht, with all the luxury features and details that we have come to expect from the standard of LEGO. The sails are a beautiful bright yellow and blue color and have realistic lines and winches as well as a very realistic hull and a rudder that actually works. The tiller can also be steered. Believe it or not, there is more – it can be remade into a catamaran, so your child can enjoy this toy in so many different ways and the possibilities for play are endless.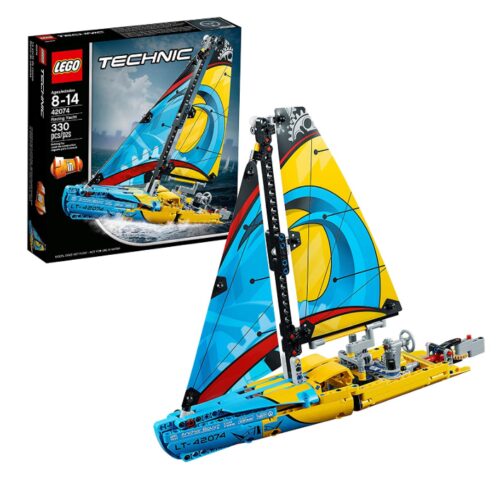 14. Bucket Wheel Excavator
The LEGO Bucket Wheel Excavator from the Technic range is phenomenal. It almost looks like something that should be on a real building or construction site, and it would definitely be a massive favorite with any child who enjoys LEGO. Again, it offers the 2-in-1 type of LEGO model because it has so many different features and functions that work on the built-in motor, that your child will be so proud to have built themselves. It is by far the biggest Technic set ever created, and would be an amazing centerpiece for any LEGO collection. It has a moving conveyor belt and the bucket wheel also rotates. It offers both reverse and forward driving options as well as an entire superstructure that moves and rotates whenever you want it to. Not only does it offer the height of interactive play, it is completely enormous when built up, as either the excavator or the mine truck version. At almost 4000 pieces, this is a dream LEGO set.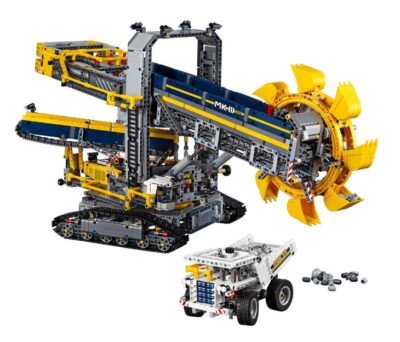 15. RC Tracked Racer
This set goes even one step further than some of the other sets we have looked at in this guide. It has the added feature and amazing bonus of a remote-control option. Children who own this set will not only have the joy of being able to construct this fantastic piece of kit, but once they have done so, they can make it move and drive around using the remote-control. They can even set up a driving or racing track around the house or play room (maybe even in the yard!) complete with obstacles and challenges, and have hours of fun racing their RC car around, having so much fun. It is a two in one piece, and can change into an off-road version for added fun. Appropriate from age nine and upwards it is an eye-catching set, with its unusual green accents and strong monochrome design. It comes complete with 370 pieces, the motors, battery box, control and receiver.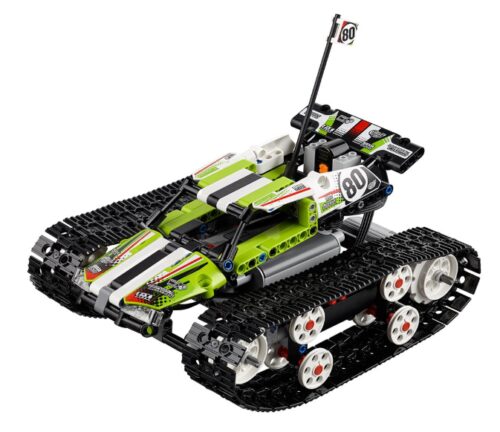 16. Police Pursuit
The Lego Police Force are stylish, there is no doubt about it. And this edgy, sleek police car is a great toy for any child who likes building their own LEGO world. It can be used with the 'bad guy' getaway truck to create hours of fun scenarios and imaginary worlds as the police chase and hunt the criminals down. There are lots of great features and details, such as a pull-back motor, so it can whizz along and it also has warning beacons that flash red and blue, really recreating a genuine feeling of a police chase. The bumper is designed to be aerodynamic which gives it a lean, sleek look and it has a stand-out rear spoiler that sets the whole look off brilliantly. It is made up of 120 pieces, so it is a simpler, more straightforward version of a LEGO car, but it still offers great fun for everyone.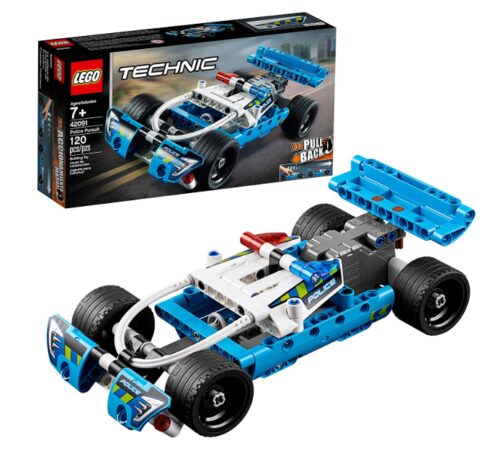 17. Ultralight Helicopter
The first aircraft in our list is the Technic Helicopter from LEGO, which is stylish, cool and fully functional. It has every feature that you would want in a toy helicopter, and the joy about it is that the child who owns this fun toy gets to build it all from scratch, in traditional LEGO style. It is another two in one set, so it can be remade and constructed into an experimental aircraft, that offers even more fun for your child. It has a really engineered, high-tech look and style and also offers an open-style cockpit with a tail rotor and a central main rotor that spin independently, to give it a true feel of a helicopter in action. The tail rudder is fully controllable and the engine also has the signature LEGO moving pistons to add that extra bit of realism while they play. It helpfully comes with a set of instructions, as all LEGO branded toys do.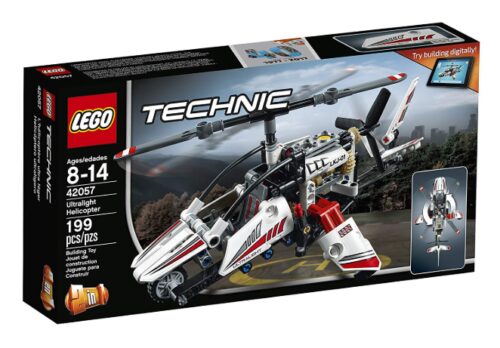 18. Heavy Duty Forklift
This is perhaps the best LEGO Technic set, and it is great because it is a vehicle that offers so much opportunity for playing and exploring imaginary worlds. Your child can enjoying creating this detailed forklift truck and enjoy its moving engine with realistic pistons, proper steering feature and forks that are designed to be high-reach – it can lift and carry all sorts of items as you play. It can also be made into another version which changes into a tow truck, so your child can enjoy pretending to tow other LEGO vehicles around and have endless fun with this set. When it is changed into the tow truck, it has a proper driver's cab, a crane for towing and an arm that actually moves and lifts things. It has almost 600 pieces and really allows your child to explore aspects of STEM (Science, Technology, Engineering and Math) as they play.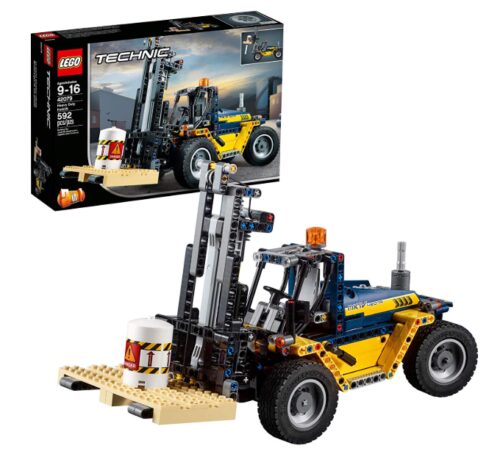 19. Power Boat
Bringing us back once again to the more nautical LEGO themed toys, this power boat is a great toy for any LEGO fan, because it builds up into a very genuine-looking speedboat that is stylish, cool and sporty – great for imaginative play and fun. It has an open cockpit and a steering wheel, together with a daring tinted windshield and a proper piston engine. The bright, strong red color is always popular, as it is fun and eye-catching and never seems to go out of style – there are even great quality racing stickers to add to the boat after you have completed the construction. Suitable for children over eight, it has almost 180 pieces and although it is a slightly smaller version of a LEGO kit, it is perfect for lots of fun and games.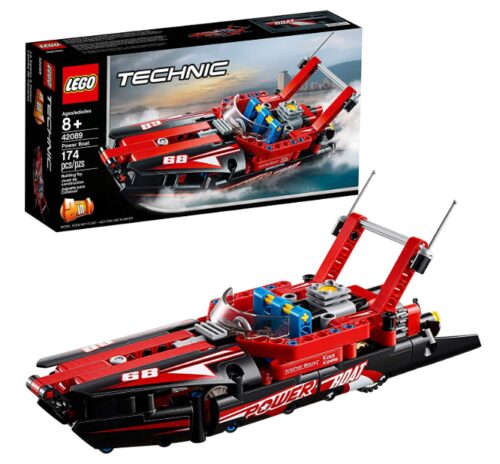 20. Porsche 911 GT3
Another Porsche, but let's face it, you can never have too many can you? Especially when they are Porsche models made of LEGO. This is the 911 GT3, and it comes in a striking orange/yellow color, with stylish bodywork that is very realistic when compared to the real thing. It has red suspension springs, as well as realistic head and tail lights. It comes with a special book of collector's LEGO items, so it is not only a toy but a collector's piece to enjoy for years to come. This is a slightly more advanced item, more suitable for children aged 16 upwards, probably because it is more of a collector's item. It measures over six inches high when fully assembled and is made of almost 3000 separate LEGO pieces.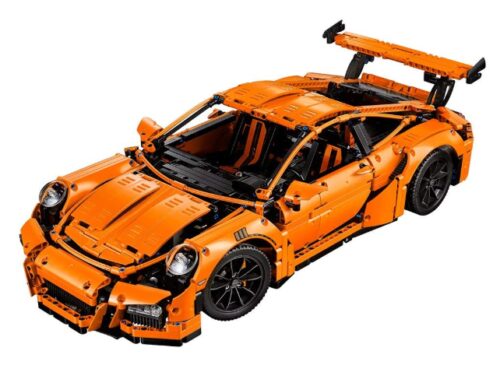 21. Rescue Helicopter
Another brilliant helicopter from LEGO, this rescue version is great. It has fully functional opening and closing doors as well as a winch that works properly with a clever rescue stretcher for your child to place their cool LEGO  minifigures inside as they are rescued from a fate worse than death!  Not only do you get the amazing helicopter version with this set, but the two in one design allows it to be transformed into a concept plane also, so there is no end to the fun and games to be had – the limits are only in your child's imagination, and we all know that is limitless. It comes with 325 separate pieces and is suitable for ages eight and upwards.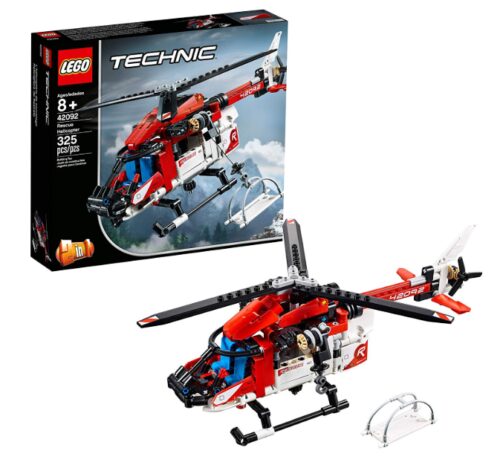 22. LEGO Technic Power Functions Motor Set
For any LEGO motor set enthusiast, especially one who is keen to build a collection of Technic pieces, then this Lego motor set is probably a sensible purchase. They will need all the electric bits and pieces to be able to make their creations come to life, so buying this would be really useful. It has many helpful parts, including a battery box, a switch, a light cable and a medium motor also. The light cable is over nine inches long, so there are lots of possibilities with it, and the set works with all building toys that LEGO make. This LEGO Technic power functions set might not be the most exciting toy on its own, but if you are buying it combined together with a Technic toy, then it will really help to bring it to life.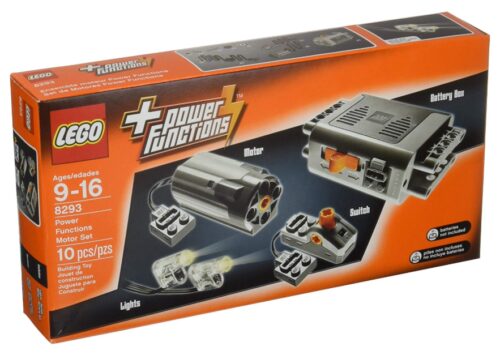 23. Air Race Jet
Another example of the simply amazing aircraft designs that LEGO make, is this Air Race Jet. One of LEGOs best sets of Technic around, it is a really snazzy piece, and also comes with a special 40th Anniversary brick which makes it extra sought after and unique. Wonderfully clever, it also changes into a private jet, so the choices for play are endless. One minute, your child can be absorbed in pretending to race an army race jet around during an intense battle, or they can decide to pretend to play rock stars, and use their mini figures to be transported first class in their own private aircraft. It has a fuselage that opens, a retractable undercarriage with flaps that fully adjust as well as front steering that actually works. It even has a jet nozzle that fully adjusts also.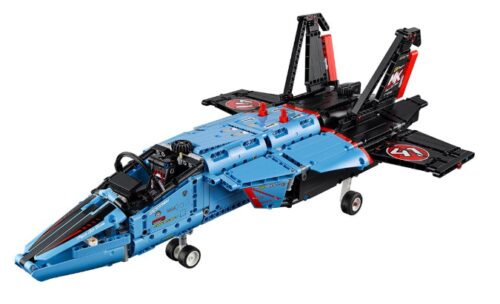 24. Volvo Concept Wheel Loader
This is a seriously sturdy piece of LEGO. Designed as a Volvo loader, this set comes with a massive range of design features to delight, absorb and enthrall any child for hours on end. Its tipper and bucket is fully workable, as well as having an adjustable counterbalance, it has fancy rims with strong tires that really make it look the part. It even has a mapping drone so it is truly very impressive. With fully working four wheel steering it is hard to beat as LEGO vehicles go. It even can be taken apart and fully reconstructed into a Concept Hauler too, so there is a lot of choice about how a child might want to play and interact with this set. Another of LEGOs STEM toys, it offers education mixed with play, a perfect combination.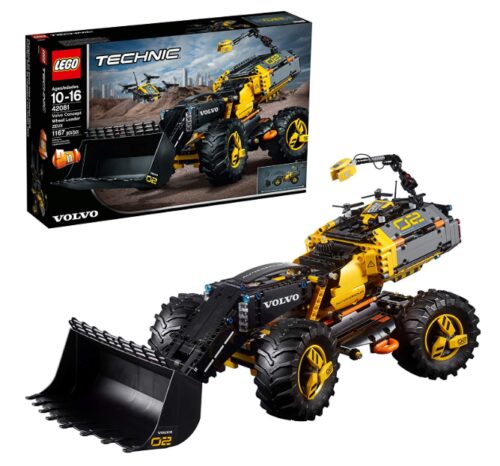 25. Technic Stunt Truck
This stunt truck is a top LEGO Technic piece, and looks like SO much fun! Because it has a strong, durable front bumper and a pull-back motor, it can be pulled back and raced around with fun and excitement, as it does stunts, flips and tricks to your child's amusement. It is another anniversary set, so it comes with the 40th Anniversary brick as part of the set, and the truck really goes go at high speeds, for lots of racing fun. Your child can explore all sorts of racing possibilities with this vehicle, they can set up stunt tracks and obstacles for it to encounter, challenges for the truck to achieve and will have endless fun as they play and explore with their LEGO creation. It is suitable for ages seven to fourteen and can be used together with its fellow bike version to make a great dynamic pairing.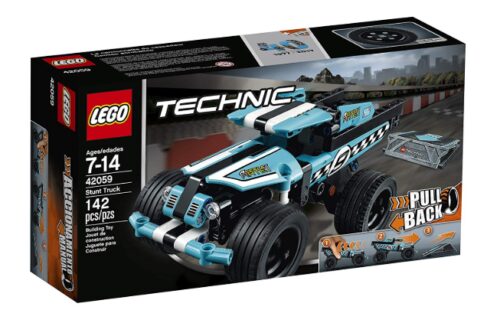 26. 6×6 All Terrain Tow Truck
What is it about tow trucks that kids love so much? They are sort of a novelty vehicle, and really fun to engage and interact with. This version has two motors and a battery box as well as cool remote-control so there is the added element of fun and excitement for kids to stand back and watch as they control where their truck travels to as it tows other LEGO vehicles around all day. Because it is one of the 40th Anniversary sets it has a special anniversary brick as part of the set, and the set itself is substantial, made up of 1862 pieces, so there is an endless amount of building and creating available at their fingertips if you buy them this toy. Another added bonus is that it can be changed around into an amazing Research Explorer Vehicle, so the fun just keeps on coming. Suitable for age 11 upwards.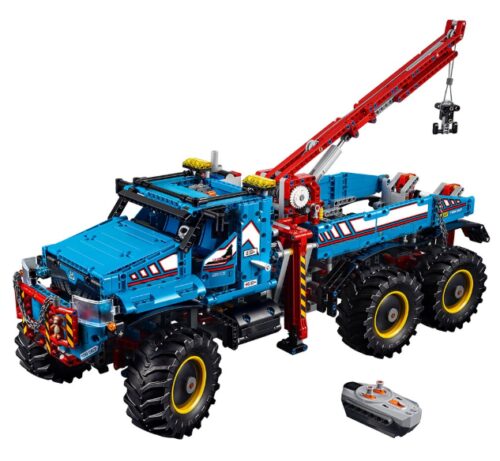 27. Extreme Adventure Building Kit
This is probably the most unusual and quirky Technic set from LEGO that we've seen on our list. It stands out for its unusual design, amazing color scheme and quirky features. The name 'extreme' suits it perfectly, because everything about it just screams extreme. It has a working suspension with four tracks that boast a high-grip and the doors swing upwards for extra quirkiness! There is a running board, a winch that properly works, a lockable tailgate, a hood and a moving piston V8 engine. This is also another very cleverly designed set because it can be taken fully apart and remade into a Mobile Base Vehicle. It is best given to children from age eleven upwards and is made up of almost 2500 pieces, so there are endless hours of LEGO building to be enjoyed with Lego Technic construction sets like these.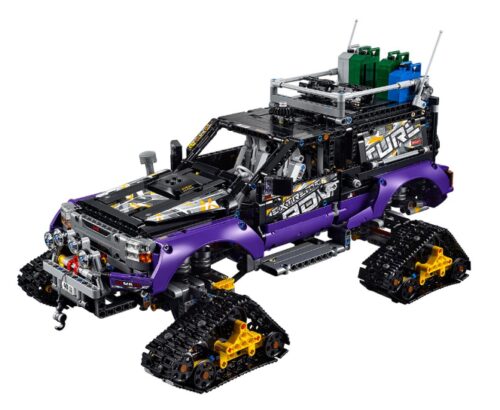 28. Claas Xerion 5000 Tractor
Kids ADORE tractors, don't they? They must seem to be fun, silly sort of vehicles, but utterly fascinating for children all across the globe. This fantastic Xerion 5000 replica is great, because it is designed to be a genuine replica of the real thing, while offering hours of building fun and some clever motorized functions once complete. The color scheme is even true to life, with its red, gray and green accents, it can really be brought to life by your child as they build. It can be remade into a CLAAS XERION 5000 TRAC VC together with a separate Silage Plow, so it has endless possibilities. It also boasts an operator's cab as well as really genuine looking tractor tires that are absolutely enormous.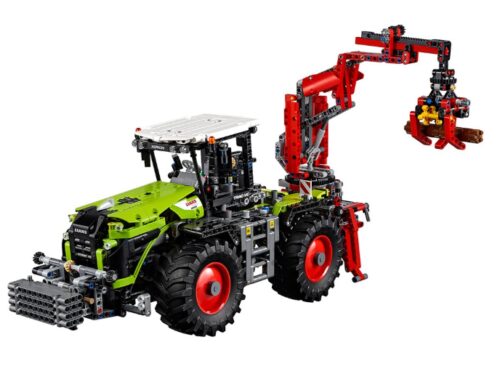 29. Technic Stunt Bike
This is a Technic motorcycle with a clever twist, because it isn't just an ordinary motorbike, it is a motorbike with a twist. Boys and girls just love to recreate stunts and exciting moments from their favorite movies and cartoons and this bike, with its bright yellow and black scheme, will allow them to do just that in the safety of their own playroom or bedroom. The pull-back motor is strong and reactive, so they can watch it race and move around, and they can also enjoy the front and rear lights, as well as the realistic looking exhaust pipe that adds to the extra finish and style of this fun bike. Create ramps, obstacle courses and tracks from your imagination and watch this bike race around them all at top speeds.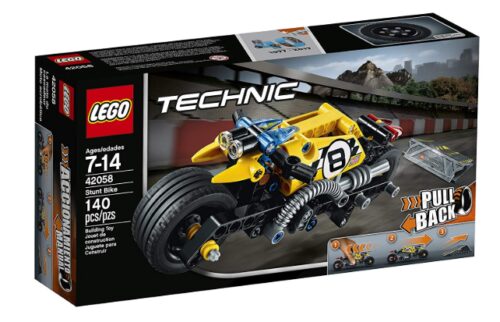 30. Ocean Explorer
Another amazing two in one model set, the Ocean Explorer from Technic offers young people an amazing LEGO experience both in building and in playing. It has a wealth of features for them to explore and enjoy, including a landing pad for aircraft, a fully working deck hatch as well as a captain's bridge and its own helicopter and submarine as added bonus extras, totally compatible with the explorer. The shop also has a crane boom which means you can lift cargo off and on the deck and get this – it also changes into an entirely different toy when you rebuild it into a Push Boat and Barge. It has over 1300 pieces to build and is suitable from ages ten and upwards.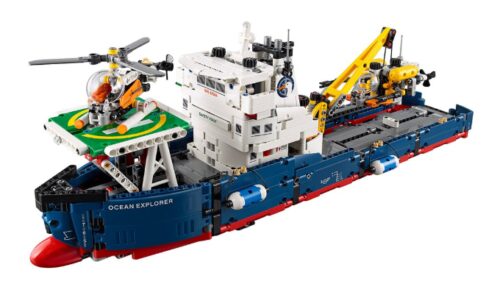 What is the Best LEGO Technic Set?
RC Tracked Racer
On our list there were so many choices of set that we almost couldn't decide, but eventually we chose one of the best LEGO Technic sets ever, the RC Tracked Racer. Because it has the excitement of being an unusual vehicle, it allows children to enjoy its great features and to set themselves tracks, races and obstacles to overcome while using the fantastic remote-control feature. It is also sturdy and able to take a bashing, so it will last a long time – truly one of the best.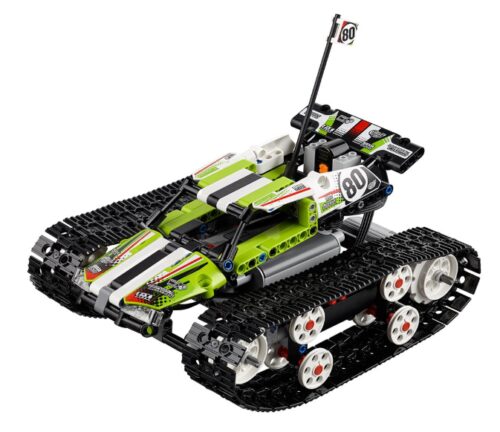 What is LEGO Technic?
Yes, it's LEGO of course, but with the added element of functioning parts and support rods. It allows children to make LEGO models and items that are more advanced due to their added elements. These elements make the LEGO sets moveable, adjustable and much more interactive. They build upon the basic principle of typical LEGO, but with more sophisticated technical aspects.
What is the Hardest LEGO Technic Set to Build?
Definitely the Rough Terrain crane, its obvious, isn't it? Firstly it has over 4000 LEGO Technic parts and pieces to get your head around but on top of that it has the added challenge of many interactive functions that have to be considered and assembled so it is much more challenging than other sets – but boy, is it worth it when you're done!
How do you Motorize Technic Sets?
It's very easy to do this – you can either buy a set with the motorized accessories and tools already built in to the construction plans and product, or you can separately buy a Power Functions set on its own. They have battery boxes and motors, and you can even add in more sophisticated accessories such as IR Receivers and Remote Controls. With Lego Technic rc sets, once you have them within your set, you're ready to go!
Who created Lego Technic?
It may seem very modern and up-to-date, but the concept has been around since the 1970s when LEGO became increasingly aware of the robotics industry and felt it would add some extra qualities and excitement to the range if they added moving parts and controllable elements. The Technic range was officially born in 1982 and was developed by the amazing engineers, designers and boffins who work for the Lego Company.