Remote control submarines can be a fun toy for the whole family to enjoy. From beginners in this exciting world of toys to experienced users. These RC submarine toys combine the joy of RC with your love of water. With so many different types of underwater toys to choose from, picking the best one can be confusing.
From submarines with traditional body shapes to those with ultra-modern shapes, the variety is enormous. Add in all the potential extra features and it's easy to be confused about which one is best. The toy submarines listed in this article are the cream of the crop and will help make your decision easier when choosing the best Remote Control gift for your child.
Considerations When Choosing A Remote Control Submarine
Shape – Does your child want the traditional style body shape of a submarine or something newer and more unusual? Select the one with which your child relates the most.
Battery Life – Some submarines have a battery that will last for hours of use and others will have a shorter running time. Does your child get bored easily or will they play with it for a long time? Pick the battery life that correlates with your child's play style.
Extra Features – From cameras to spy with to feeder arms that you can fill with food, these toy submarines are packed with a wide variety of features from which you can choose. Selecting an underwater toy submarine with the features that correlate to your child's interest will increase the odds that he or she will play with it longer.
 Remote Control Navy Submarine Boat
The Friends Equipments Navy submarine is an excellent choice for children above 8 years old. It's easy to operate and requires no assembly. If you have a child who's interested in the US Navy, this naval-inspired submarine comes decorated to fit the part.
Solidly constructed and measuring in at 35 cm, this toy submarine needs to be within 5 meters of the controller device. It can dive to a depth of one meter and the 6 channel controller can be put into a waterproof bag and then operated from within the water.
This underwater submarine features an indicator light that can turn red which makes it very interesting when operating at night. 13000-12 Diving Toy 6-Channel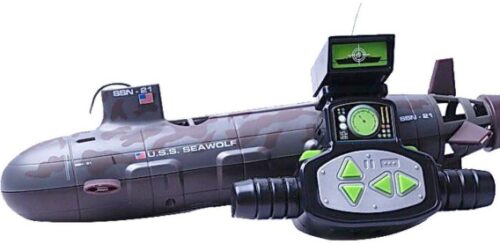 SZJJX RC Submarine Mini
This uniquely shaped underwater toy submarine boasts a distance radius control of 6 m. The submarine itself can dive to a depth of one meter underwater. Ready to go, this submarine is essentially plug-and-play you only need to pop in a few batteries and let the fun begin.
This Submersible Boat Toy features multiple propellers and with two motors it's able to ascend and descend rapidly during its exploration in the water. Offering simple controls the submarine is ideal for younger children.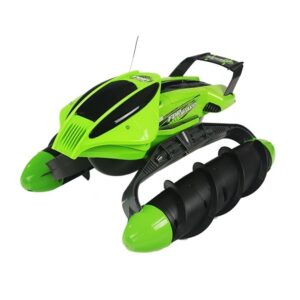 Tipmant Mini Submarine
Rechargeable, the Tipmant mini model submarine toy can dive into the water making it a delightful toy for kids to play with. It works for about 15 to 20 minutes on the battery power provided.
This submarine toy comes with a battery on board and USB charger cable. Double AA batteries are needed for the controller. This mini-submarine will dive, float and turn in every direction including backward.
The controller is easy to use with a simple press of a button. The toy is smaller in size so it may not be ideal for the youngest of children.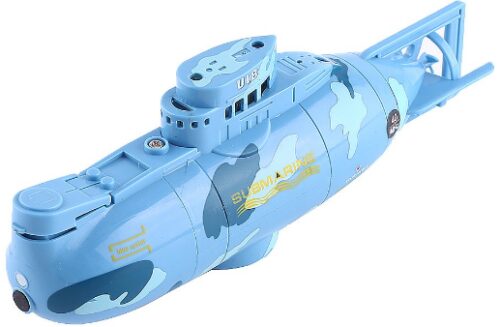 Silverlit Spy Submarine with Camera
The Silverlit submarine toy is packed with a variety of features. Using a 3 channel infrared control, this submarine toy comes complete with two LED spotlights on the front, a removable feeder arm, and an onboard camera. It does have small parts so it's not suitable for children under 3 years old.
This underwater toy is it great for the older child who has the large freshwater fish tank where he can load up the feeder arm and take video of fish swimming up to the submarine to eat. The LED lights provide bright lighting that enables the camera to capture amazing up-close images and also videos of the fish in action. Best for use in the bathtub or in a freshwater fish tank.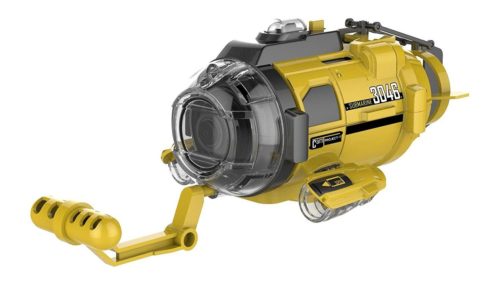 Underwater Explorer RC Submarine 
The Blue Hat submarine is designed to be an underwater explorer and comes in a brilliant yellow color. Designed for children 6 years and up this submarine features several propellers and a powerful motor. It boasts a nighttime spotlight that will shine along the bottom of your pool or tub for night time fun. Featuring twin directional propellers the submarine can explore every inch of your pool in any direction you'd like it to go.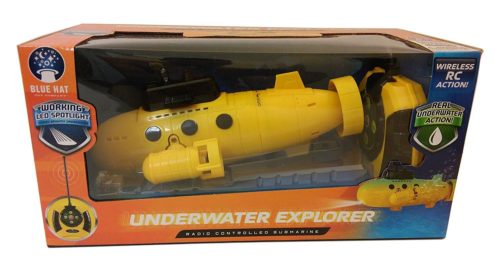 eMart Kids Mini RC Submarine Ship
The e-mart mini toy submarine is a pint-sized toy that packs a lot of power. It is multi-functional being able to turn, dive and float in every direction. It works for about 15 to 20 minutes and only requires 30 minutes of charging time.
The controller requires four double a batteries and being a smaller toy it may not be good for the younger children.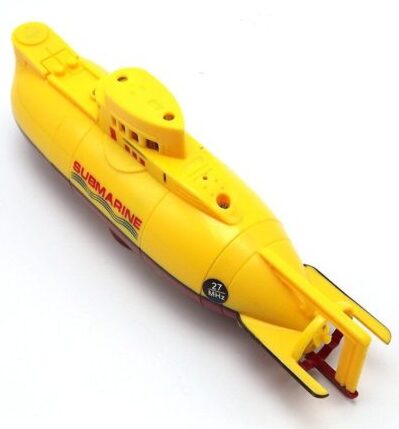 Best Overall Buy
If you're looking for the best overall submarine you'll want to choose the Friends Equipments version of the submarine. Exquisitely detailed and it's decoration and painted to resemble a Navy submarine the controller is also easy to use. It features a red indicator light that makes a play and the nighttime fun and it's one of the larger submarines measuring in at 35 cm long.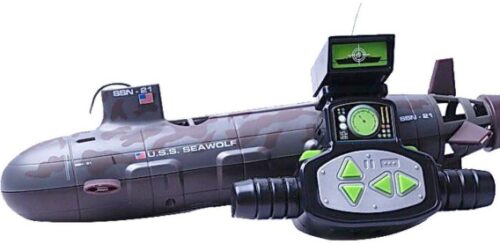 Best Budget Pick
If you're looking for the best submarine on a budget you'll want to choose the SZJJX model submarine Mini. It Dives and features multiple propellers and it does everything you'd expect a functioning underwater submarine to do. It's a smaller size so it's not as good for the younger children but that's where the cost reduction comes in. So for an older child, this would be the ideal submarines select on a budget.