Kids are into gaming now more than ever before and are always looking for the best Xbox one games to play. There are so many platforms, from handheld games to immersive experiences, and games covering every possible interest and theme. It's no wonder that kids are spending increasingly more time playing video games. The Xbox One from Microsoft is one of the most popular games consoles on the market and with games for all ages, it's easy to see why.
But with such a huge games list for kids and so much choice, how do you decide which to buy for your kids? Don't worry, because this guide will give you all the information you need to select the best Xbox One games for kids, no matter what age they are and what interests they have. We know that Xbox one games for kids under 10 are different from games for kids under 5, which is why we have a large selection of game to choose from.
We will look at the factors to consider when making your choice, and 11 of the best Xbox One games in 2023, as well as frequently asked questions.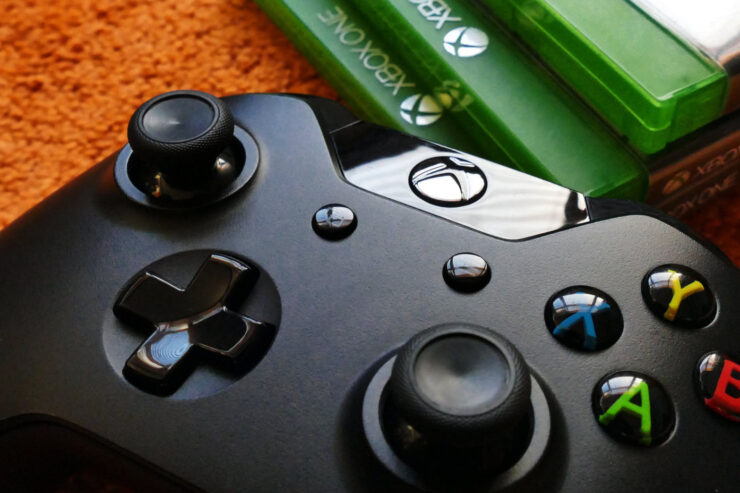 How to Pick the Best One for Kids
Let's first look at how to choose the best games for kids Xbox One. With so many available, you can narrow down the choice by considering a few factors.
Interests: most kids have wide-ranging interests when they are young and these narrow as they grow older. Choosing a video game that ties in with your kid's interests is a good way to engage kids in gaming. Since there are Xbox One games covering every possible area of interest for kids, from LEGO to dancing, you are sure to find one that will delight your child.
Age: it is really important to choose a video game that is age appropriate for your child. Gaming is an activity enjoyed by kids and adults, and many of the games available for the Xbox platform deal with adult themes. Research the age classifications and consumer reviews before making your purchase, to ensure the game is suitable for your kid's age. In this guide, we will present games that designed especially for kids so you can buy with confidence.
Purpose: are you looking for an educational game for your child or simply something they can have fun playing? Deciding on the purpose of the game is another way to narrow down the selection. There are Xbox games available that support skill development and learning if that's what you are looking for. And of course, there are many that are just for fun!
Price: it is easy to assume that video games are pricey, and some of them are. But with so many on the market and new games being released all the time, it is getting easier to find games that are kinder on your wallet. You do not need to break the bank in order to buy a cool game. Narrow down your budget and you are sure to find something in our guide that fits your bill.
Best Picks in 2023
1. LEGO DC Super Villains
If you have a superhero fan in your family, check out this cool LEGO DC Super Villains game by WB Studios. In a bit of a twist, players will create an all new super villain to play as throughout the game. In one of the best Xbox One S games for kids, you can see what it feels like to be the villain instead of the hero!
Players must be the best super villain they can imagine and wreak havoc on the world through their mischievous antics. The game features LEGO DC characters that your kids will recognize from the TV shows and LEGO sets, like The Joker and Harley Quinn. In this game world, players will team up with familiar antiheroes to combat the Justice Syndicate, a group who want to be the new Justice League.
Kids will love playing as the bad guy for a change as they follow the story that is packed full of action. With fun voice acting, superb graphics, and familiar characters, it is a great choice to give kids hours of fun. This game offers local multiplayer and split/shared screen options, so your kids can play together or with friends. It is suitable for age 10 years and up.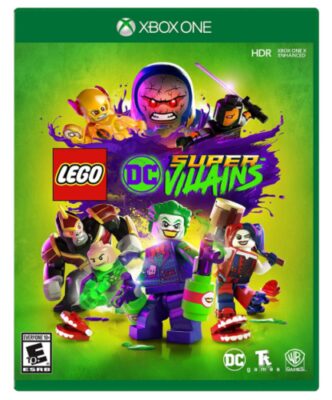 2. Paw Patrol On A Roll
Are you looking for good Xbox One games for kids who can't read yet? Paw Patrol On a Roll by Outright Games is sure to delight your preschooler or little kid! This game features all the familiar pups from the Paw Patrol: Chase, Rubble, Skye, Rocky, Zuma, Marshall, Everest, and Tracker, and of course Ryder, their human leader.
Your child can play 16 different adventures set in 8 Adventure Bay locations that they will recognize from the show, including Farmer Yumi's Farm, Jake's Mountain, a desert canyon, and under the waves. Players will run, jump, and use special abilities for each pup to complete the missions. Each mission offers the chance to play as two different pups, so your kids can bulldoze like Rubble or jump like Zuma!
Paw Patrol On a Roll would be a great introduction to gaming for little kids who are just learning the controls. Players will rescue friends and keep Adventure Bay safe by completing the missions, collecting pup treats and badges along the way. With clear directions and interactions with their favorite pups and Adventure Bay locations, little kids aged 3 and up are sure to love playing this game. These are one of those easy games for kids to learn to play. 
There are some great kids Xbox One games featuring popular cartoon characters, and if your child is a fan of Paw Patrol this is certainly the one to choose!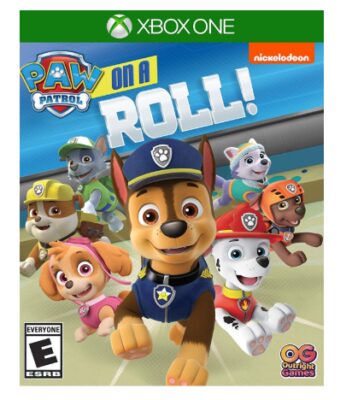 3. LEGO Disney Pixar The Incredibles
Another amazing game from WB Studios, LEGO Disney Pixar's The Incredibles is sure to be one of the best games for kids on Xbox One. Featuring the Parr family from the movie The Incredibles, this fun game can be played by one or two players.
Kids will adore playing as the characters from the popular Disney movies, who must use their powers and abilities to build huge LEGO structures! With action packed side missions and an open hub world, your kids will be endlessly entertained as they defeat super villains from The Incredibles and The Incredibles 2.
Kids can choose either the story mode, which offers play through a variety of levels or the free play mode. This allows players to move around the game independently and explore the locations and settings they have seen in the movies, including the towns of Municiberg and New Urbem.
Kids can select the appearance and abilities of their characters for a fun and customized experience. With the two player function, kids can team up or play with mom and dad to make even impressive LEGO builds. This game is suitable for kids aged 7 years and over.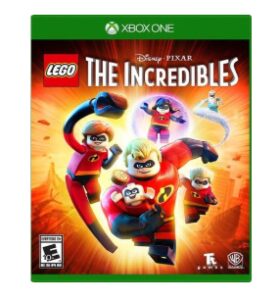 4. Sonic Forces
Sonic the Hedgehog has to be one of the most iconic video game characters. Even moms, dads, and grandparents should have heard of him! Now, you can introduce this energetic little hedgehog to your kids with the Sonic Forces game from Sega. Among the most fun Xbox 1 games, Sonic Forces features well known characters from popular Sega video game franchises.
In Sonic Forces, players will follow Sonic as he tries to recover the world from the evil Dr Eggman. A follow up to Sonic Colors and Sonic Generations, the game features three different types of gameplay. Modern Sonic offers fast paced action, Classic Sonic is the traditional platform mode, and in Hero Character you can customize your own character and use powerful gadgets.
Sonic Forces is action packed and sure to impress even the most discerning gamer. The graphics are stunning and the familiar Sega heroes and villains will put a smile on players' faces. Defeating Dr Eggman and powerful new villain Infinite will entertain and engage players of all ages as they help Sonic to form an army and save the world. Sonic Forces is suitable for kids aged 7 and up.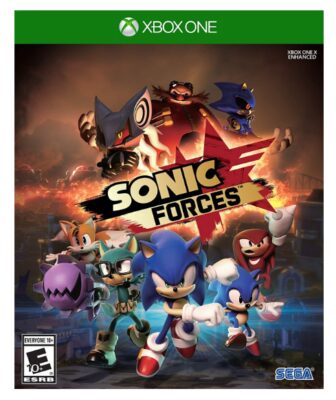 5. Minecraft
Can you think of video games without thinking of Minecraft? Surely not if you have a child aged 6 and up! It has to be one of the best Xbox One games around, thanks to developers Mojang. The bedrock of this game is to find materials, predominantly by mining, and craft them into useful items.
Your kid can play in Survival mode, where they will need to defend themselves against hostile mobs while making sure their character's basic needs are met. Or budding architects can choose Creative mode, where everything they need to build amazing structures is already in their inventory. The only limit to building an incredible world is your kid's imagination!
Players can explore different biomes, from deserts to mountain ranges, jungles and oceans. Kids can play with their friends in different locations by accessing servers, or share gameplay at home with split screen mode. There are even fun mini games to try out. The game comes with free updates and 700 Minecoins to purchase items within the game. Minecraft is PEGI rated for age 3 and up. 
Parents who love multiplayer xbox games for kids should pick this one!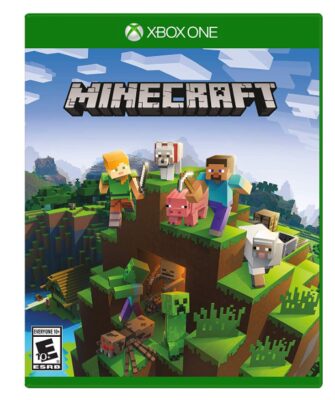 6. Just Dance 2023
The Just Dance franchise from Ubisoft has become one of the most fun and popular games for families and friends to enjoy together. If you are looking for new Xbox One games, check out the 2023 edition of Just Dance. This game comes with over 40 new hit songs from artists like Britney Spears, Ariana Grande, Bruno Mars, and Maroon 5.
Even better, with a subscription to Just Dance Unlimited, your family can access over 400 additional tracks. Offering players the chance to use the Kinect to track body movements, it is set to be one of the best Xbox One Kinect games for kids in 2023.
Just Dance 2023 learns your body movements and dancing style and suggests content to personalize your experience. If your family does not own a Kinect sensor, players can use a smartphone to track their movements. The game offers fun for all the family, as up to 6 players can play together as they battle through dancing to become the victor!
Just Dance 2023 includes 8 tracks just for kids, with songs your little ones are sure to recognize. The kids' tracks are programmed with exclusive choreography designed with the help of experts to encourage healthy movement. It is suitable for kids aged 3 and up.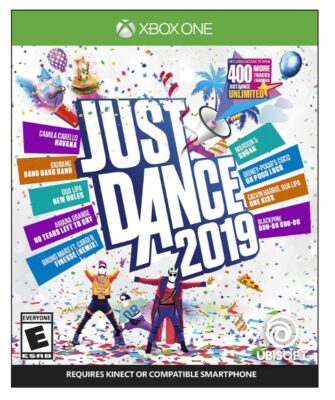 7. Carnival Games
Carnival Games from 2K is family friendly and one of the best Xbox One games for little kids. Take the whole family to the carnival with this collection of over 20 fun and familiar mini games. Just like at a real carnival, kids can play mini games, win tickets, and trade them for fun in game items like new apparel items for their characters. Customize player figures' outfits to match your own or make them look funny with wacky items.
The incredible collection of mini games includes Swish, where players shoot basketballs, Clowning Around, where you will defeat unfriendly clowns, Light Speed, where you can try drone racing, and Cosmic Strike – bowling in the cosmos. With over 20 fun games, everyone is sure to find a favorite.
Kids of all ages will enjoy trying out the various carnival inspired game and playing against friends, siblings, or parents. Up to 4 people can play at the same time, so you can have endless fun together as a family. As Carnival Games is suitable for kids aged 3 and up, the whole family will be able to enjoy this fun and kid friendly experience.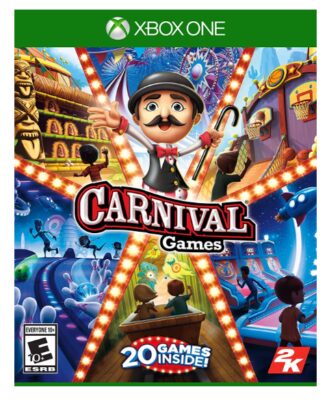 8. Rayman Legends
One of the best original Xbox games, Rayman Legends features platformer of the year and lovable character Rayman. In this new adventure for next gen consoles, Rayman and his friends are sucked into a magical world by some mysterious paintings they find while wandering through the woods.
Now, players must help them to discover the secrets of these paintings by running, jumping, fighting, and even zip lining through each strange new world. A platform game with a difference, Rayman encourages players to move and act in time with music like drum beats, bass lines, and guitar solos. The maps in the game are set to music, so kids will need to get their timing and rhythm spot on to succeed.
With beautiful graphics and awesome music, Rayman Legends is sure to become a fast favorite in your family. 4 player co-op gameplay means the whole family can play together, or kids can invite their friends over to join in the fun.
You will need to defeat epic bosses like dragons, giant toads, and sea monsters in 3D battles, where your characters can be attacked from all angles. Kids can even connect with their friends online to take part in challenges testing skills and speed. This game is suitable for kids aged 7 and up.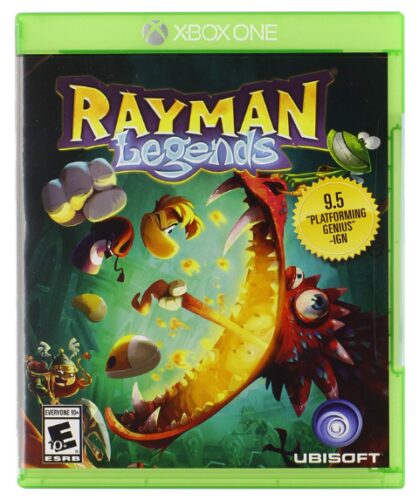 9. LEGO Harry Potter Collection
The LEGO Harry Potter Collection from WB Games is the ultimate gift for any Harry Potter fan. Featuring two classic games in one set – LEGO Harry Potter Years 1-4 and Years 5-7 – this collection will provide hours of fun and immersive gameplay.
Kids will be able to explore iconic locations from the world of Harry Potter, including Privet Drive, Hogsmeade, Diagon Alley, and Hogwarts School of Witchcraft and Wizardry. Players will learn spells, brew potions, meet favorite characters, and face off with the ultimate villain, Lord Voldemort.
With fun LEGO characters for gameplay, the LEGO Harry Potter Collection takes part during the events of the seven popular films. Kids will solve puzzles, complete challenges, and take part in duels in order to move through the game and explore this magical world.
Your family will love learning potions to advance on to the next level, and unlocking new spells as they work through the games. You can complete mini missions and collect LEGO studs as you are exploring the mysterious worlds within the games. Switch to multiplayer mode to share the fun with friends and family. This collection is suitable for kids aged 7 years and above and is one of the best games for Xbox One for Harry Potter fans!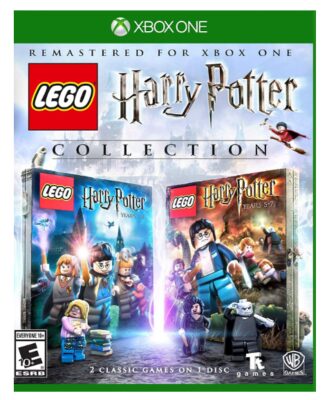 10. Spyro Reignited Trilogy
Another classic video game character that adults may recognize is Spyro the dragon. This cute mythical creature has been delighting gamers for decades and returns bigger and better than ever in this new Spyro Reignited Trilogy from Activision.
The stunning scaled up HD graphics are sure to impress kids used to the latest games, this collection includes improved gameplay controls for an unparalleled gaming experience. The Spyro Reignited Trilogy includes top Xbox One games Spyro the Dragon, Spyro 2: Ripto's Rage, and Spyro: Year of the Dragon. With these three fun and engaging games comprising over 100 levels, your kids will enjoy endless gameplay.
Within the three games in the Reignited Trilogy, players will control Spyro and explore expansive realms and meet favorite classic characters in remastered glory. Move this cute purple dragon around and discover new worlds as you rescue friends and burn your way through the games. The trilogy is fun and good games for young kids aged around 7 years old.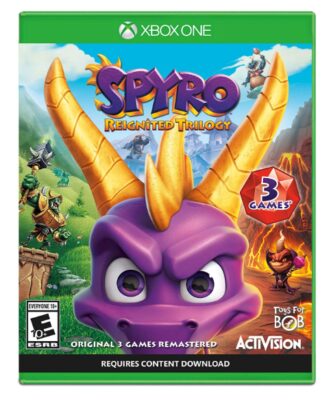 11. Rocket League Collector's Edition
Looking for fast and furious Xbox One games for kids? You need not look further than Rocket League, the incredible car game from Warner Bros. Described as an arcade soccer and driving game hybrid, Rocket League offers gameplay that is fast paced and action packed.
Your kids will love customizing Battle Cars with over 100 billion possible combinations. High flying vehicles come complete with incredible giant rocket boosters to shoot them into the air right in front of your eyes. Players will score aerial goals and gravity defying saves as they battle to win the Rocket League.
Kids can enjoy playing with siblings, family, or friends at home with the 4 player split screen mode, or play with up to 7 others online. Players select from a wide variety of team sizes and configurations to explore endless options and strategies.
Your kids will have the opportunity to unlock new items and vehicles, track game stats, and access leaderboards. With awesome areas, a wide selection of modes, and impressive in game features, Rocket League is sure to entertain kids for hours of play. The game is suitable for kids aged 3 and up and are great driving games for kids.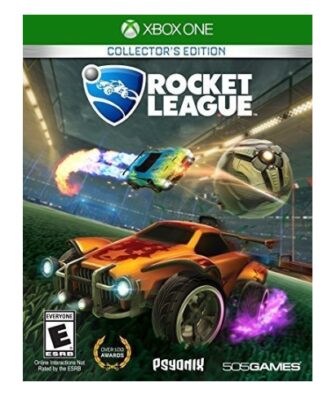 Overall Best Xbox Game for Kids
We have presented a fantastic array of the best Xbox One games for kids and we will now select our top overall pick. Though there are many incredible games available, we have chosen Carnival Games as our best buy.
The fun and familiar games can be played by kids and adults of all ages and there is sure to be a favorite for every player. It is a truly fun experience for the whole family and will surely offer a great way to spend time together playing kids xbox one!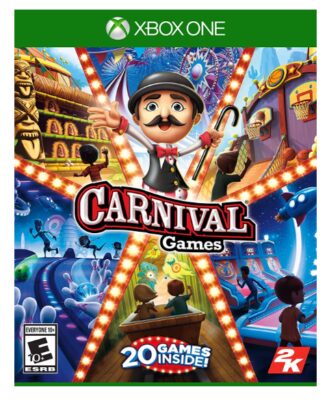 Here are some other great picks that could be awesome gifts:
FAQ
What Xbox One Games are Recommended for Kids Under 8?
The best kids games for Xbox One that appeal to those under 8 feature fun and simple characters, for example, LEGO or Paw Patrol figures. Little kids will love interacting with familiar characters and exploring their worlds. Simple gameplay is best to capture little ones' attention and keep them engaged while playing.
What Kids Games do You Need Kinect for on Xbox One?
The best kids games for Xbox One that appeal to those under 8 feature fun and simple characters, for example, LEGO or Paw Patrol figures. Little kids will love interacting with familiar characters and exploring their worlds. Simple gameplay is best to capture little ones' attention and keep them engaged while playing multiplayer games for kids.
What is the Best Age for Kids to Have Games for Xbox?
The best kids games for Xbox One that appeal to those under 8 feature fun and simple characters, for example, LEGO or Paw Patrol figures. Little kids will love interacting with familiar characters and exploring their worlds. Simple gameplay is best to capture little ones' attention and keep them engaged while playing.
Which System Has More Kids Games Xbox One or PS4?
There are tons of kid friendly games for both the PS4 and Xbox One. But which platform offers the most games for kids? If it comes down to numbers, the PS4 has more games designed just for kids. However, the Xbox offers a wide range of kid and family friendly games as well.
How to Choose an Age-Appropriate Video Game? 
Parents know their kids best and will know what type of content is suitable for their families. When it comes to buying Xbox One games, it is a good idea to check the age ratings. Each video game must feature an age rating, for example indicating if it is suitable for kids, teens, adults, or everyone.
Can Video Games Help Social Development?

While playing Xbox One kids' games, children can learn and develop lots of skills. Using the controller can support hand-eye coordination, while the design of different games can help improve problem-solving skills and critical thinking. Little kids' games can even be designed to support specific learning, for example, letters and math.