You may have heard that tanks are the ultimate boy's toy, and you're not wrong.  Although there's nothing to stop girls enjoying tanks too.  Remote control tanks are the ultimate, ultimate toy RC vehicle. Playing with a toy tank is gonna be kinda cool, but its nothing compared to the fun and excitement your little general will have as they remotely pilot their metal machine around the battlefield.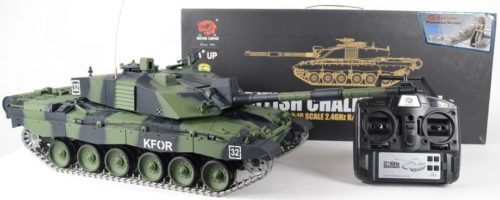 Remote control tanks gives the child an astounding level of freedom to take their play inside or outside.  They are also beneficial to the child's development, as piloting these devices has all kinds of benefits, such as improving their hand to eye coordination and giving the useful experience that will help them later in life when learning to drive.  Plus, operating the tank will spark the child's curiosity into how it mechanically works and how radio waves work.  It might sound silly, but RC tanks could end up inspiring a career as a pilot or a hobby as an inventor.
Considerations: when choosing a RC Tank
Speed:  Tanks can be all different kinds of speeds, and generally, the bigger they are, the slower they are.  A slower tank might not be bad for a younger child, but you might want to think about getting a faster one for an older kid.
Size:  RC tanks come in a lot of different sizes out there, the most common being 1/16 and 1/24.  With heights ranging from 10 cm to over 30cm, size should be a key consideration in buying the remote tank as you don't want to buy something that is too big for a younger child to use.  Just imagine all those years of sulking as he or she waits to be big enough to play with it.  On the other hand, if you've got older kids, you don't want to buy them something too small.
Type of Tank: Tanks come in all shapes and sizes.  They can be incredibly realistic or very fantastical.  They can come with weapons that fire foam bullets, make sounds and even shoot out smoke.  It's worth spending the extra time with your child to figure out exactly what they want.  A remote control model tank is sure to be an amazing gift, but if they have a very specific model they want, you don';t want to disspaoint them.

Assembly or painting required:  Some tanks are ready to go right out the box.  Others require to be assembled and then painted before they are fit for the battlefield. We recommend double checking to make sure you know what you are getting.  If you are buying a kit that needs built, check to see if you'll need tools and also what paint the manufacturer recommends.
Radio Control or Infrared:  Another small detail to pay attention to is whether the tank is infrared or radio controlled.  Radio controls use radio frequencies, and generally have a longer range.  Infrared uses infrared technology, and has shorter ranges.  There's no problem with either of them, but we'd recommend looking for something radio controlled if your child is planning to take the tank outside, as they usually have a longer range and your kid doesn't have to point the controller at the tank to make it work..
Battery life:  This is another serious thing to think about.  If your kids are anything like mine, they're going to want to play with their tank for hours on end.  Therefore, you want to make sure whatever you buy them has good battery life.  Also its worth checking what kind of batteries it takes and if it has its own charger.  If it takes RC batteries, we recommend buying some spares.  Being prepared might be the difference between a happy child enjoying their new gift or a grump kid sulking in the corner because the batteries ran out and they don't have any spare.
Top 5 RC tanks Available:

GizmoVine RC Fighting Battle Tank
Available in different colors and and in single or two packs, these tanks are sure to fire up your kids enthusiasm and have them battling it out for hours on end. They move just like the real thing, going forwards and backwards, turning 360 degrees and having 300 degrees of movement on the turret.You'll also be happy to know that they come with built-in batter charges.  The chargers have usb cables, so you can charge them anywhere!
What is really cool about these tanks is that 2 of them can fight.  They shoot Infrared cannons at each other, and if your tank is hit, will screech to a halt and become stunned for a few seconds.
These tanks are brilliantly designed to give captivating battles between you child and their friends.  If you've got a little soldier in waiting ready to fight, why not get him a GizmoVine
 radio controlled

distance: 25 meters
built in charger
size: 36*12*8.4cm 

M1A2 Abrams USA RC Battle Tank
Styled after the real American Abrams tank, this replica is going to have your kids roaring with delight as they tar around in this machine.  It makes realistic engine and gun noises, and its turret can rotate through 300 degrees. Your child will also be happy with its high-grip caterpillar treads, which will get it through the toughest terrain.
What we really love about this tank, though is that it can fire real BB bullets out of its cannon.  Up to 50 BB shots can be loaded, and they fire up to around 9 feet.  As such, the manufacturers recommend this for 14 years and over.
size: 16″L x 6″W x 5″H
Range: up to 30 meters
mutliple speed controls
fires up to 50 BB bullets 


Choice Products RC Battling Tanks Set
Another great dual set, these zippy racing tanks will make for fun battles between your child and his or her friends.  Everything about these is so stylish, right down to the binocular-shaped remote controllers.  They come with sounds and lights to bring battle to life, and each tank fires infrared shots at the other, and once your 4 lives are up, the battle is over.
If you have to squabbling siblings, a set of these battling tanks might be all you need to get them playing nicely together again.
Size: 11"x4.5"x3.5"
infrared
includes batteries for tank and controller

Cheerwing Panzer Mini tank
An Amazon best seller and not without good reason, this tank comes in a realistic 1/72 scale compared to a real German tank.  Thus, it would make a great gift for kids interested in history.
Your kids will love playing with this due to its different speed settings, and its the only one on our list with a full 360 degrees rotating turret.  It is also just stunning to look at.  The amount of detail on this thing is staggering.  It might be a little on the small side, however.  But that the only bad thing we can say about this one.
Size

90 x 50 x 40mm

Built in charger
Realistic and accurate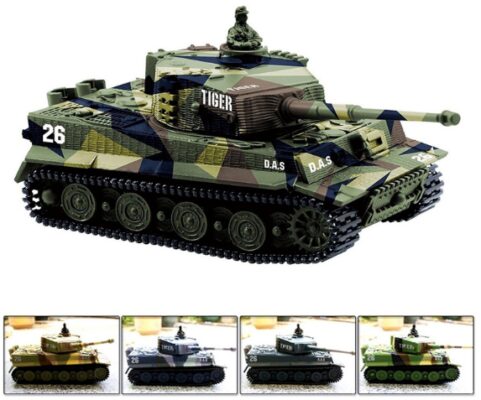 Dynasty Toys Laser Tag Tanks
Another great gift for you kids.  This set comes with two RC tanks which fire infrared shots at each other in the heat of battle.  What we really love about these tanks is just how fund and responsive they feel to use.  Even though they are designed for kids, adults have been known to get almost just as much fun out of them.
Another really impressive part of this package is that it comes with battery packs and a wall charger, so everything is ready to go out of the box.  This is a great gift for birthdays or Christmas, little generals and soldiers will love these remote controlled battle tanks.
Size

14" x 5" x 4

Infrared
Durable build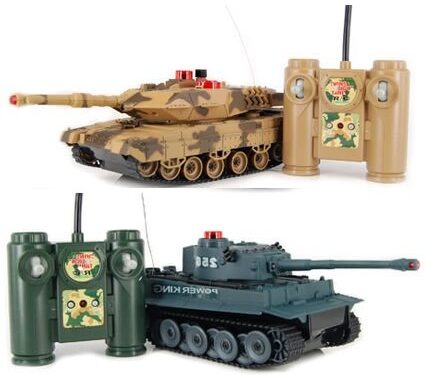 Abrams RC Battle Tank
Yet another great RC toy styled after the Abrams series of real world tanks.  This 1:24 scale replica of the M1A2 Tank will be everything your child dreamed for in a remote control tank, with full movement and a turret that turns up to 320 degrees.
Best of all, your child will dominate the battlefield with this tanks airsoft cannon, that can load up to 60 air soft shots and fire them up to 25 meters in range.  that is some serious firepower!  This will make it great for dulling with other tanks or just having a but of fun.  You might want to be careful where you let your child use it though, as those air soft shots could make a real mess of things.  Also,
Size: 19 x 10 x 8 inches
very detailed replica
shoots up to 60 air soft shots

Best Overall Tanks
When it comes to our favorite RC tank available to buy on Amazon, we keep on coming mack to the M1A2 Abrams.  This all-American star tank is just so satisfying to use.  It controls wonderfully, the noises it makes have our kids grinning with glee, and the roaring time they have with its BB gun just can't be beaten.  It also has a long range with its radio control.
This is a big tank, and its BB gun probably means it isn't suitable for younger children.  However, older kids will really fall in love with this.


Best Budget Pick
These tanks sure don't come cheap, so if you're on a budget, we have no problems whatsoever recommending the RC Battling Tank Set to you.  Right out of the box you have two tanks for your children or their friends to dual with, the the display lights which show how many lives each tank has left will inspire some exciting play times.
These tanks are highly reviewed on Amazon, and all in all their great controls and solid build make them great gifts that kids will enjoy for years to come.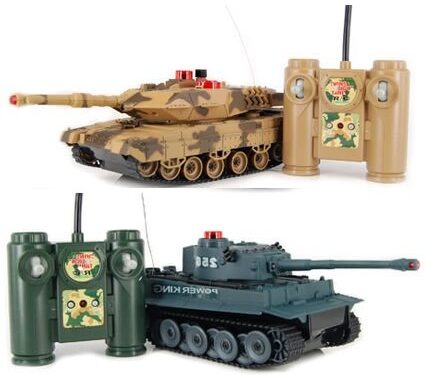 Why Tanks are a Great Gifts for Children
These tanks are brilliant gifts for boys and girls. although the boys seem to get more excited about them.  Why? Well, for starters, RC toys are always cool and will always be amazing fun. They let children make up their own stories and adventures, and these tanks can be used in doors or for outdoors use.  They can help kids let off a little steam by shooting at things, too. Radio control tanks are also brilliant in that they encourage cooperative play.  You can have fun on your own, but imagine the blast your kids will have with a group of friends all playing together.
However, a huge benefit you might not know about is that through operating remote controlled tanks (and other RC toys) your child is actually having a valuable learning experience.  For one, their hand-eye coordination will improve a lot, and piloting RC vehicles will give experience that will be useful when they learn to drive.  Your child will also be learning about engineering as the play with the tank and look at all its moving parts and tracks.  Playing with RC tanks might inspire them to look into studying engineering later in life.
Its also worth noting that tanks are not just for kids. Many adults are RC enthusiasts, and they collect all kinds of radio controlled vehicles as hobbyists.  Some adult tanks can cost hundreds of pounds.  By getting your child a tank, you could be helping them start a life long interesting hobby which gets them out of the house and helps them make many new friends.  Just be warned, your child might be asking for a gas remote control tank one day if you set them down this path.