A pottery wheel kit makes a great gift for children of all ages. In an era of multiple electronic devices, a pottery making kit allows them to discover new skills and gives them the confidence to express their creative talents. Working with clay enables kids to learn about the value and pleasure of making things themselves. A children's pottery set is a relatively inexpensive toy, but one which can provides many hours of fun and learning. It also makes the most of precious family time, as parents can get involved in the pottery making process too.
Getting children away from the computer screen and into using a children's clay wheel reaps all kinds of benefits. They will develop new skills and learn how to focus and create in a relaxed and fun way. It teaches them to concentrate on a project and to experience the joy of making something unique that can be gifted or kept forever. They will discover their creative qualities and become more confident to express themselves. There is also the playful aspect to consider; the fun and laughs they will have as they learn how to master the pottery.
Top Pottery Wheels for Kids
There are many brands of children's pottery kits currently on the market but here we have compiled a list of some of our favourites, whether your buying for 10 years old or younger. The top five listed below each have their own qualities and specifications but all share the same common goals. To inspire children to work with clay and to discover the joys of artistic expression. To have fun and share the experience with family and friends. And, just maybe, to ignite a passion that will live with them forever. Whatever, your reasons for buying, we hope that our kids pottery wheel reviews will help you to find the right product for your children.
1. Art Pottery Studio for Kids by Faber-Castell
The Faber-Castell Do-Art Pottery Studio is a great introduction to the world of clay pottery for kids. Faber-Castell are a respected and established name, having been making art products since 1761, and pride themselves on the quality of their products. Suitable for children of 8 years and over, this set includes an interesting history of the pottery craft as well as an illustrated set of instructions for the absolute beginner. Children will learn all about the various techniques and can practice the finer points of pottery making to their heart's content with a generous 3 pounds of child safe non-toxic clay provided in the kit to start them off.
The wheel itself is powered by batteries rather than electricity and is designed to be operated using the foot pedal provided. The kit includes a comprehensive set of tools used to trim and sculpt the clay, plus 12 pots of paint and 2 paint brushes. An apron and table cover is also provided to help protect clothes and the surrounding environment. This product includes everything the aspiring young artist needs to learn about the basics of working with clay.
What's great about it:
comprehensive set of tools
generous 3 pounds of clay included
history of pottery and illustrated instructions
Something to consider:
Wheel speed could be a little faster but sufficient for young beginners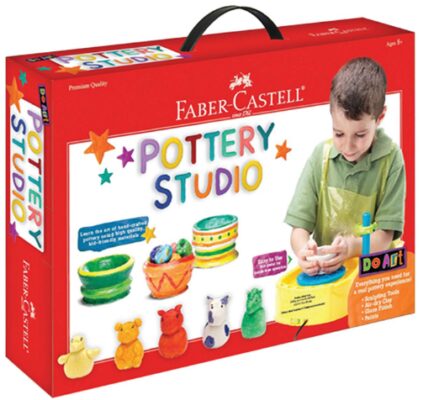 2. Pottery Cool Studio Set
This makes a great gift for children of 6 and over that is very simple to set up and get going. The Pottery Cool Studio Set comes supplied with 6 clay discs all ready to be moulded and shaped on the battery operated table top wheel. The discs are easy to handle (vital for small hands) and are perfect for making jewellery holders, cups or other receptacles. The wheel tray incorporates useful holders for the water spray dispenser and sculpting tools, keeping everything tidy and close to hand.
An exciting range of colored paints and a brush are supplied to provide the finishing touches to the pieces of art created by young hands. Plus as a bonus, a ceramic marker pen is also included, allowing kids to doodle their own designs and personalise the finished article. They can truly show off their creativity with this product. If you are looking for an easy pottery wheel toy for younger kids, this makes a great introduction to the hobby.
What's great about it:
easy to handle clay discs
ceramic marker pen included as a bonus
great range of paint colors
Something to consider:
May be a little basic for children with previous pottery wheel experience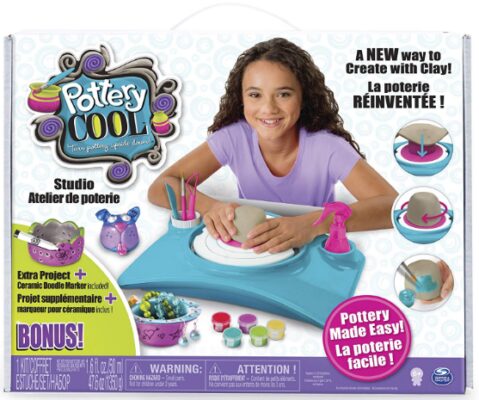 3. Cra-Z-Art Multicolor Pick
The Cra-Z-Art child pottery wheel set is a great budget option for children who are keen to learn the basics of producing real pottery. You can spark their interest early with this model as it is suitable for children as young as five. They will love playing with the clay and modelling fun shapes. The battery operated foot pedal will delight them, mimicking the professional adult pottery wheels, to make the child feel really clever and creative.
As with more expensive wheel kits, the Cra-Z-Art Pottery Wheel comes complete with some free clay, a sculpting tool set and a range of vibrant paint colors. The paint pots are handily housed in the wheel casing ensuring they don't get lost or the paint spilt. A downside for parents (but probably not for the kids), could be the noise the wheel makes in motion. As a pottery machine for kids though this could be the product to buy to ignite their interest and provide hours of play.
What's great about it:
good choice if on a budget
foot pedal operated
very popular with younger children
Something to consider:
Some users report that the wheel can be a little noisy in motion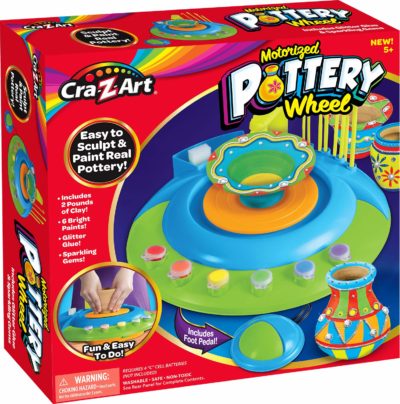 4. Metal Sculpting Wheel by US Art Supply
US Art Supply offer a Metal Sculpting Wheel that is ideal for children who have some previous experience of working with clay, or for older children new to the hobby. This is a great choice for teenagers and adults too as its black and grey colour and sturdy appearance has a more professional look and feel than most other kids craft pottery wheels. This one has a large 12″ metal wheel with several concentric circles etched into the top to help centre the material being worked on. The ball bearing joint facilitates smooth spinning, while the non-skid base prevents the wheel from slipping during use and protects the surface being worked on.
This is a non-motorized wheel that is extremely easy to use and simple to keep clean. Despite being predominantly made of metal (and taking up to 50 pounds in material weight), the wheel itself is relatively light (10 pounds) making it easy to move around. There is no motor with this product, the wheel is powered solely by hand. Fortunately, the unique weighted rims around the edge of the wheel ensure that rotation speed isn't an issue for users.
What's great about it:
heavy duty and robust metal wheel
professional looking
fast and smooth spinning
Something to consider:
The wheel may give off a slight smell on first opening the box but this wears off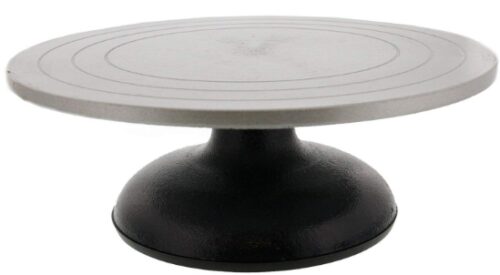 5. ALEX TOYS Choice
For a comprehensive kids pottery set with lots of tools and accessories, look no further than this offering from ALEX Toys. The Easy Spin comes complete with some starter clay, sculpting and shaping tools, paints, cup, spray bottle and sponge. Once the pots have been air dried and painted, they can be further enhanced by the addition of some very cool mosaic tiles included for decorating the finished article. Let their imaginations run riot!
The wheel is operated by a battery powered foot pedal for hands free simplicity and can be used by children of 6 years and over. This colorful pottery toy set promises hours of fun and creative play. Instructions are included.
What's great about it:
makes decorative pottery
mosaic tiles for the finishing touch
pottery maker for kids
Something to consider:
Some older children may find the wheel a little flimsy for prolonged use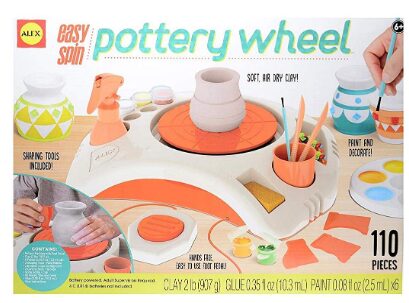 Reasons Why Children should play with clay
In this day and age it is more important than ever that children have interests and hobbies other than spending all their time on electronic devices. Playing and modelling with clay is something that many older people will remember with fondness from their own childhoods and it seems only fair that todays children have the same opportunities.
There is a sensory aspect to handling clay; of feeling the texture and enjoying the experience of shaping it into whatever form is desired. A child's imagination can run free as they explore and mould the material to their object of choice. In a hectic world children can learn to take the time to enjoy the creative process and to admire their finished work. Working with clay can be therapeutic and satisfying for adults and children alike.
When a child has mastered the basic principles of pottery making they will feel confident to develop their skills and their creativity will flourish as a result. This can surely only be a good thing for their overall development.
Tips on how to use this activity for family bonding 
Pottery making is a fantastic way to get all the family playing and working together. It is far too easy to fall into a routine where family members spend the majority of their spare time apart from each other in different rooms of the house. Some watching TV, some listening to music while others play computer games or spend hours on their cell phones. Everyone may be being entertained but there is no family interaction and little to stimulate children's imaginations or inspire their creative abilities.
Most kids love getting their hands dirty and will delight in sharing the experience with their friends and family. It's always a good idea, of course, to take steps to protect clothing and furnishings when clay and paints are being shared around but once that is taken care of, the fun can really begin. Parents can use this shared activity to enhance communication with their children and to have an opportunity to encourage and praise them. For their part, children will enjoy having their parent's undivided attention and will be keen to show off their new found talent.
Can these sculpting tools be replaced?
The products we list here are obviously designed primarily for children and are thus priced accordingly. The quality of pottery kit may vary depending on brand and price paid but spare parts can often be purchased direct from the manufacturer or from online retailers. If this is not possible, your local arts and crafts store will often be able to supply adequate replacement parts even if they are not the same brand. Plastic sculpting tools, if broken or lost, can be substituted by wooden versions or even pieces of plastic cutlery you may already have in a kitchen drawer.
Why does my wheel sometimes stall?
A child pottery wheel set is made for creative play and learning purposes rather than for professional purposes and the mechanism may sometimes stall with regular use. A user should be careful in the way they handle and use the kit as heavy handed use can damage the mechanism. Also, some pedal operated wheels tend not to be very robust and will sometimes have a safety feature built into them to prevent them from burning out.
As with any children's toys careful handling will prolong the life of the product. Hopefully by the time the product has worn out the child will have moved onto bigger and better projects.
Best place to buy a pottery kit for kids
If you are considering buying one of the best pottery wheel for kids, an arts and crafts store is one obvious place to begin if you wish to buy in store. Alternatively, you may want the convenience and wider choice available from buying online. Amazon have an excellent range catering for all budgets. Another reason for shopping at Amazon of course is the excellent feedback sections where you can compare products and features to find the perfect wheel for kids best rated by users.
How to use a Pottery Wheel with your kids
Using one with your children can be hugely beneficial for everyone. If you already have a passion for ceramics, passing on your skills to your children will be very rewarding. If you have never worked with clay before, then playing with your children could inspire you to take up a new hobby. Either way, a pottery wheel kit could be just the thing to bring your family together and may provide many years of enjoyment.