Tween girls are not always an easy bunch to buy gifts for, so that's why we have decided to focus on this age group with this gift guide. At the tween stage, girls are not little kids any more, but are not quite mature enough to be treated like teens. So, choosing the ideal gift to appeal to them without making them feel like a little kid can be tricky. You can trust our reviews to give you some great ideas of gifts for teenage girls which are age-appropriate and fun, perfect for any special occasion.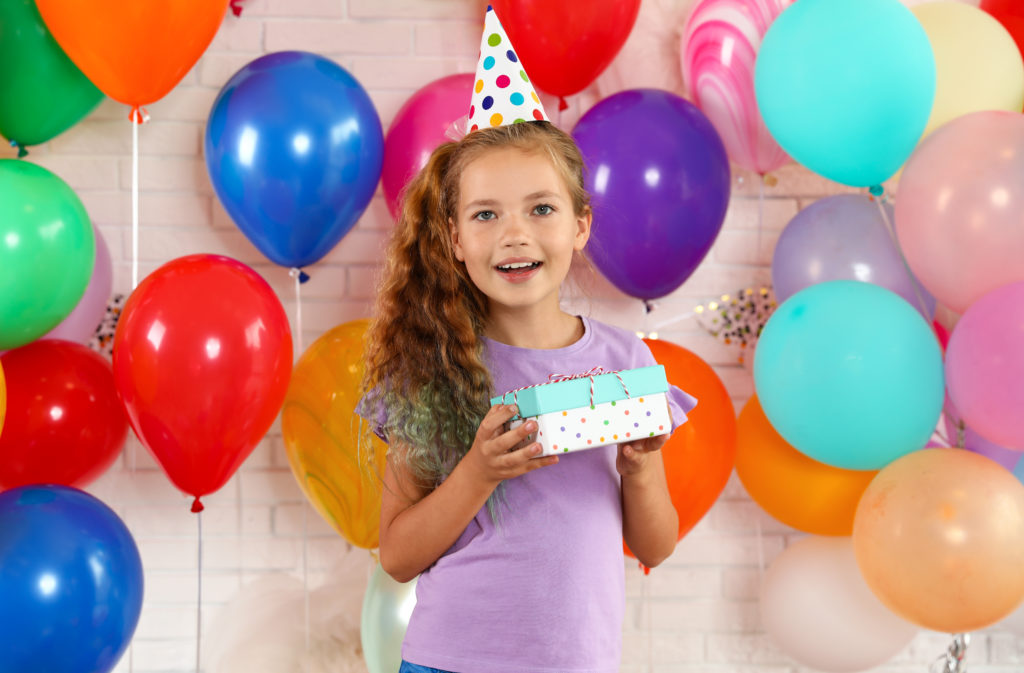 Considerations When Choosing a Gift for Tween Girl
First, there are a few points worth noting before starting to choose gifts. First, age-appropriateness. This is a biggie when it comes to tweens, as we've mentioned above. Check manufacturer's suggested age ranges on toys and games before buying them, to ensure they are suitable. Also think about the type of gift you will choose and if it's suitable for the occasion on which you will give it. Her tastes and interests are also important to consider, so you know she will love the gift you choose!
Note: There are loads of Review Gift Guides for specific Teen Girl Ages:
20 Best Gifts for Tween Girls 2023
Now we will reveal our list of the top 20 gifts for preteen girls. There is sure to be something here she will love, whether it's for her birthday, Christmas or any other special occasion.
1. Bowknot Backpack

Our first pick is this cute mini backpack which is perfect for a shopping trip with the besties! It's not big enough for a school bag or for carrying a laptop, but it's perfect for keeping a wallet, cellphone and other small items. It comes in a choice of different colors including baby pink, bright red and black. There are loads of pockets for storage both inside and outside the backpack, so it's easy for a girl to keep everything she needs close to hand.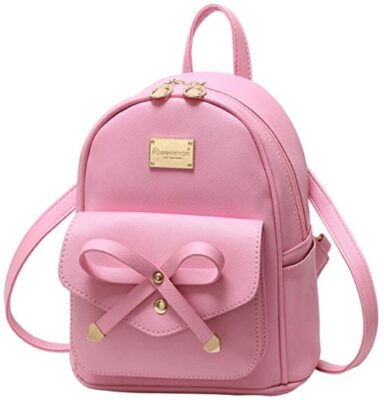 2. Choker Necklaces Set

These choker necklaces come as a pack of 30, so you can be sure she'll never be stuck for choice again! There are loads of different styles and colors, so she'll have something to match all of her outfits. The necklaces are different sizes and the chain lengths are adjustable by a small amount so a perfect fit is guaranteed. There's a necklace in this set for all occasions, and she'll love to try one out for her birthday or Christmas when they are given to her.

3. STMT DIY Journal Set

Next on our list of tween gifts for girls is this journaling kit, which comes with everything she needs to create and customize her own journal. The journal has 70 pages so there is plenty to fill in, and there are loads of cool pieces for decorating. There are stickers, glitter tape, bookmarks and loads more, as well as easy-to-follow instructions to successfully make the journal. Girls will love using the finished journal to write memories, thoughts, doodles and much more.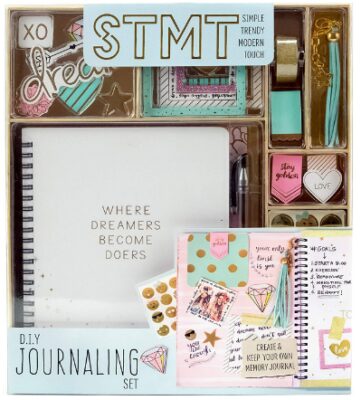 4. Dosoni Cute Animal Socks

Socks are always a popular gift, and these ones are certainly going to be fun for kids to receive. They come in a pack of 6 each with different designs, each as cute as the next! They're made from cotton with acrylic and spandex, for durability as well as comfort. The socks are designed to keep moisture away from the feet, so they will feel dry and comfortable all day. There are different designs to choose from, including cats and pandas, so there is sure to be something to appeal to everyone!

5. Devotions for Teen Girls

This book is excellent for helping tweens learn more about the bible and to keep communicating with God. Each devotion lasts only three minutes – one minute each for meditation, reading and a prayer. Because they are so short, these devotions are great for starting or ending the day. There are almost 200 pages in the book, so it can be used over and over again. It's great for promoting discussion between parents and daughters too.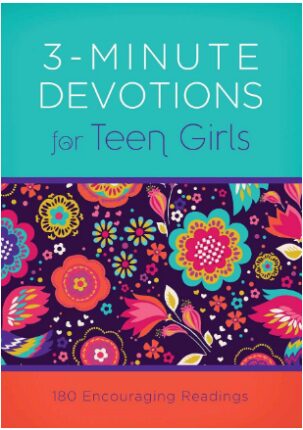 6. GirlZone Hair Chalk

If you're looking for gifts for girls who are starting to get into hair and makeup, how about these cool hair chalks. There are 10 different colors included in the set, so she can have a new color every day, mix and match with several colors at a time, or match them to her outfits. Five of the colors are bright and bold and the other five are metallic. The chalks are temporary and are easily washed out, and each pen gives 80 applications so they will last for ages!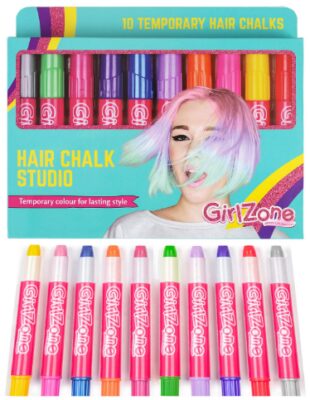 7. Garmin Forerunner

Smartwatches and fitness trackers are a very popular gift, and this one is perfect for tracking walks and runs. It comes in a choice of four different colors and can be used to monitor heart rate during the day and night. The watch vibrates to give alerts, and it is designed to fit writs of all different sizes. The display is designed to be easy to read in all lighting conditions indoors and outdoors.

8. Fujifilm Instax 9

If your tween loves technology, or simply loves taking selfies with her friends, she is sure to appreciate this Instax camera set. It comes with everything she needs to get started – photo paper, an album, frames and more. The camera comes in a range of nice colors which are sure to appeal to young girls. It also comes with a string for displaying photos, which is great for helping girls remember all the fun times they have with friends, rather than keeping the photos stored on a phone where they are rarely looked at. The camera includes a selfie mirror which makes taking the perfect selfies really easy!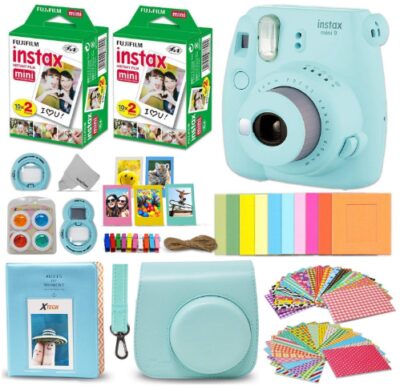 9. Inspirational Bracelet

Jewelry is always a hit with girls, so she's sure to love this bracelet which is engraved with a choice of inspirational messages inside. It's adjustable to fit most wrist sizes, so it will grow with her for many years to come. The bracelet is made from stainless steel so it's durable and won't cause unsightly staining on the skin. It comes in a gift box ready for giving to a special young lady, and there are loads of messages to choose from.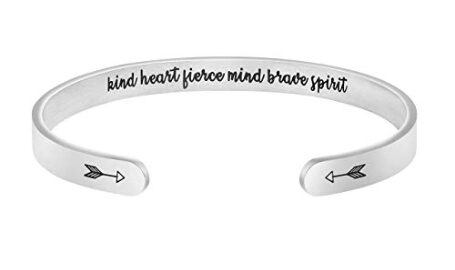 10. Betsey Johnson Bag

A cute bag is a great gift for a young girl – she will love using it on a shopping trip with her besties! It's the perfect size for essentials, without being too large, at 7 x 6 x 3.5 inches. There are carrying handles as well as a cross-body strap, so it can be carried whichever way is more comfortable. The inside of the bag is fully lined, but there are no smaller pockets internally or externally. There are loads of cute colors and designs to choose from, but this lovely unicorn is sure to be a hit with most young ladies!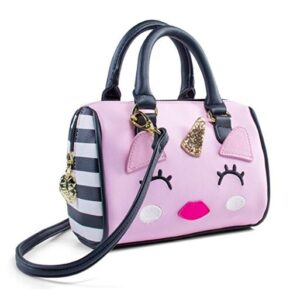 11. Oversized Hoodie

Many girls love wearing hoodies, and this oversized one is absolutely perfect for keeping warm on a cold winter evening! It comes in loads of different colors and styles, as well as adult or youth sizes. The inside is lined with Sherpa fleece, whilst the outside is made from micro fleece, so it is very cozy and snuggly. The sleeves have elastic cuffs to keep them in place, and there's a hood and a large front pocket. The youth size is designed to fit most kids aged from 7 – 13 years, so she should get plenty of use from it. It's perfect for sleepovers, movie nights and even camping trips – she will love it!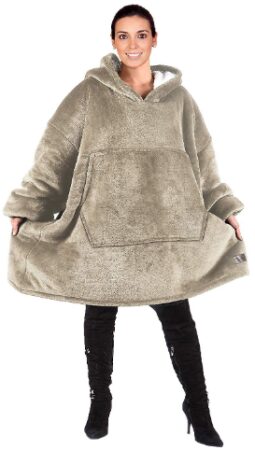 12. Leather Notebook

Next on our list of gifts for 12 year old girls is this cute leather journal. It's perfect for girls who love to keep a diary or make little notes for themselves. It comes in a choice of five different colors, and has a ribbon bookmark to keep the page. Inside, the pages are blank so they are ideal for drawing as well as writing. The journal has a ringbinder format inside so pages can easily be removed if there is something she wants to hang on the wall or give to a friend. And, you can easily refill the book with blank pages when it gets low on paper, so it can be reused over and over again.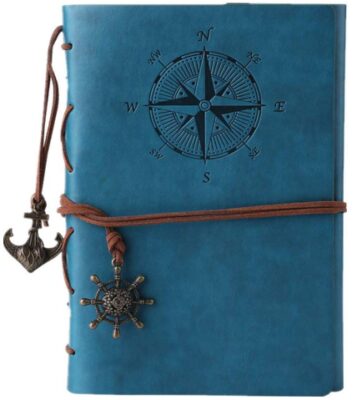 13. Bath Bombs

This set of colorful bath bombs is sure to go down a treat when they're given as tween girl gifts. They come in a nice box and there are eight included, each with essential oils. The bath fizzers look amazing when they are dropped into the water – they release loads of bubbles and have a wonderful color too. They are designed to offer aromatherapy benefits as well as moisturizing the skin to leave it feeling soft. This is a practical and fun gift which is sure to make bathtime more fun!

14. Photo Hanging Lights

If your girl loves taking photos, how about this cool LED string to display them with? It holds up to 40 photos and is over 16′ long, perfect for decorating her wall. There are different lighting modes, so they can be always on or flashing in different patterns. The lights are powered by a USB cable, so they can easily be plugged in anywhere. There's a remote for changing the light patterns or to switch them on or off. It comes with a timer so the lights can be on for 6 hours at a time then off for 18. Girls will love being able to see their favorite photos on display and it's sure to brighten up her room.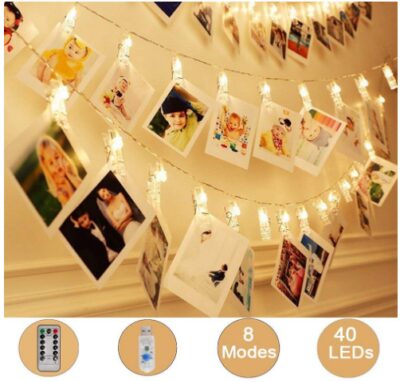 15. Hair Scrunchies

If you're buying gifts for tweens who love hair accessories, this mega pack of 60 scrunchies is sure to go down a treat! They are made from velvet so they won't damage the hair, and they come in just about every color imaginable! They're packed into a nice bag for easy gifting too. There will be a band to match every outfit, and they're ideal for sharing with friends too. The size should fit any girl's hair, and they're perfect for all occasions and daily use.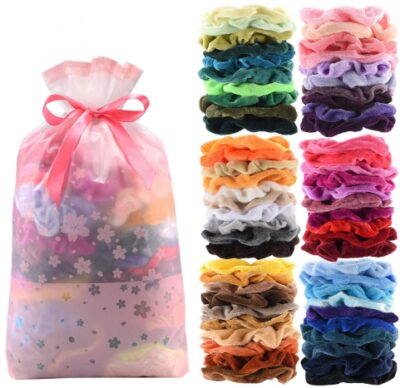 16. Wireless Music Hat

Next on our list of gifts for little girls is this cool Bluetooth speaker hat. It comes in gray or black and can be connected to any Bluetooth device to play music when out and about. It's great for keeping warm and still listening to her favorite music at the same time! It works within a range of up to 30+ feet. There are control buttons on the side for making the music louder or quieter as well as pausing. The battery lasts for 30 hours on standby or 4 hours of continuous playing. Charging it takes around 2 hours, and a cable is included to do this.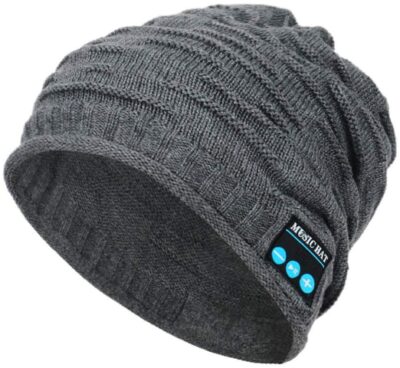 17. LED Flameless Candles

These colorful candles are ideal for decorating a girl's bedroom. They are safe to use as they are battery-operated, and there's a remote to change between loads of different color options. The candles come as a pack of three in different sizes, and they can be set on a timer for 4 or 8 hours. They will look great on her desk or on a shelf, and they're much longer lasting than ordinary candles.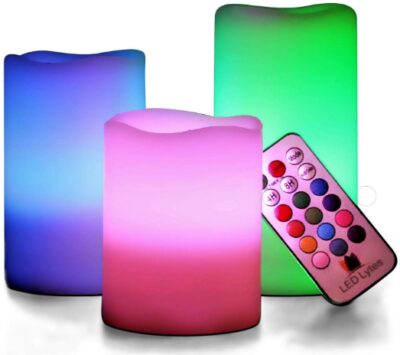 18. Shany Makeup Kit

Next on our list of Christmas gifts for tweens we have this cute makeup set. It's ideal for girls who are starting to show an interest in wearing makeup! It comes with almost 50 brightly colored eyeshadows, 4 blushes, 6 lip glosses and five brushes for applying the products. The packaging is stylish and keeps everything in place, so it can easily be taken to a friend's house. The kit is not expensive but the colors and bright and last well, making this set great value for money.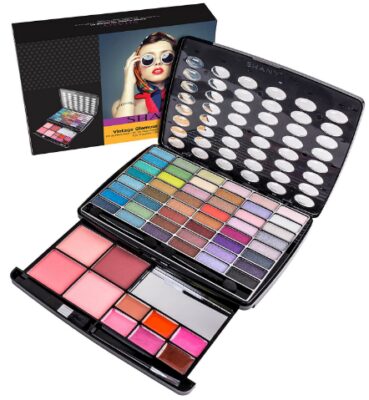 19. Snow Books

A good pair of boots make excellent presents for girls in the winter. These ones have faux fur for style and warmth and a thick and durable rubber sole. There are two different lengths to choose from and several different colors, including a nice gray camo design. They come in different sizes too, including half sizes, so it's easy to ensure the perfect fit. These boot are sure to keep your girl's feet warm when it's snowing outside!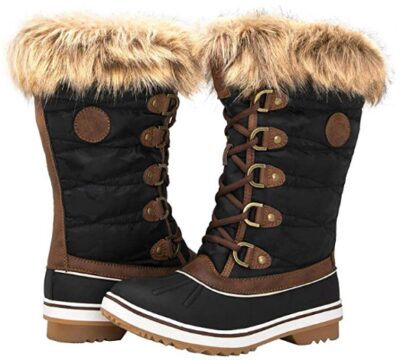 20. Daughter Pocket Mirror

Our final gift for pre teen girls is this cute pocket mirror. It has a lovely message for a daughter on top, so she is sure to treasure this forever. Inside, there's a regular mirror as well as one which offers 2x magnification. It's around 2.5 inches in diameter so it can easily be taken in a bag to check her look when out and about. The mirror is a nice keepsake as well as a practical gift, so it's sure to be well-received.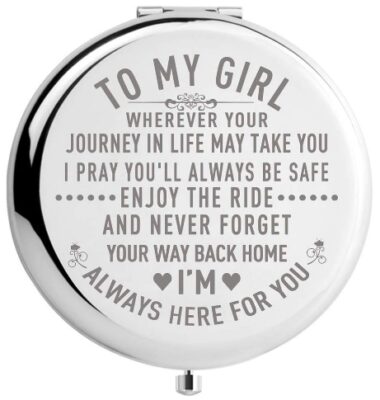 Best Buy Overall
After considering all of the options available, we have decided to choose the Instax camera as our best buy here. It's perfect for girls in the 9 – 12 age range, as at this age, they often love taking photos with their best friends. We love the accessories which come with this camera too, as they can be used to help display the photos so they don't get forgotten about on a cellphone. The choice of colors is excellent too – there are loads of shades which will appeal to little girls.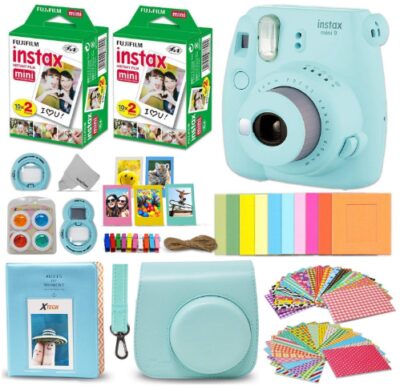 Best Budget Pick
If you are looking for a cheaper gift option, why not consider the leather journal? During the tween stage, many girls love to write notes and diaries as well as draw, so this unlined journal is perfect. We love how it can be refilled with more blank paper to use over and over again. The page marker is also a nice touch. Again, there are different colored diaries to choose from, so you can find one which best fits her tastes.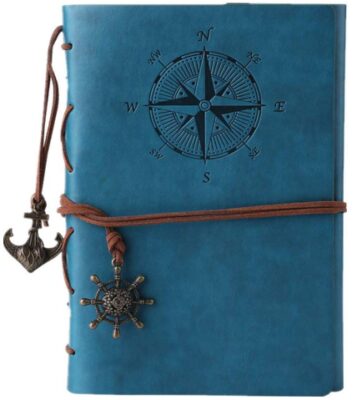 Gifts for Tweens Who Are into Science
Many girls at this age are interested in science, so it makes sense you'd want to choose a gift which fits with this interest. We recommend this awesome terrarium night light kit as one of the best gift ideas for tween girl who is into science. It comes with everything she needs to design and grow her own little ecosystem in the jar, and it can be used as a beautiful nightlight too. Included in the set you can find the jar, lighting lid, charger, soil, rocks, decorations and stickers. There is also a spray bottle for watering the grass to keep it growing well.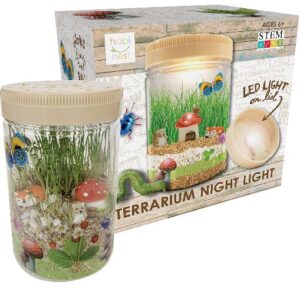 Gifts for Tween Girls Who Love to Sing
During the tween years, singing is a very popular hobby for many girls. How about this fun board game, Spontuneous, which can be enjoyed by the whole family? It's an ideal party game as it can be played with large groups, and it's suitable for kids aged eight and above. Players have to be the first to sing a few lines from a song containing a certain word, which is chosen by other players. There are various other challenges which have to be completed on the way around the board, so this game offers loads of fun and laughter for the whole family.