Choosing a remote control toy for your child can be challenging and an RC robot dinosaur is no exception. Is there anything your kids will find cooler to play with than a robotic dinosaur toy.  He had to think hard about that question too, but we finally came up with the only answer; an RC dinosaur toy!  While a few years ago seemed like the kind of thing you would only have seen on an episode of Star Trek, sophisticated robot toys are all the rage these days.  As dinosaur toys move never have and never will go out of style, as you can imagine, there are some awesome robot dinosaurs available in this review.  From a cute and colorful little robot T Rex to futuristic RC Roboraptors, if your kids are into dinosaurs we're sure we can help you find the right robot toy.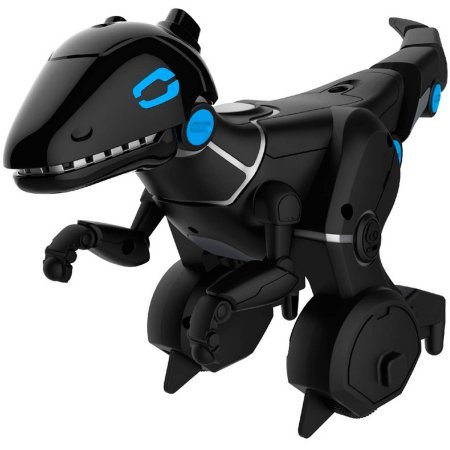 Our Top 10 Robot Dinosaur Toys
Dancing ABC RC DINO
It wasn't easy finding a good dinosaur robot for toddlers, as most are for older children, but at we always go the extra mile for you! This super cute RC dinosaur is perfect for your 2 year old, as its funny movement, wiggly tail and enthusiastic dance moves are just perfect for a toddler and will have them rolling around with laughter.  It also plays some wonderful songs to sing and dance along to.
In terms of functions, the ABC dino has more than enough to stimulate your child.  It can walk, dance or talk through using the buttons on the remote, and it has both an Action mode and a Let's Learn mode, so there is lots to keep coming back to.  It is also worth noting that this was the Tillywig Tow Awards Brain Child Winner of 2016 due to its ability to blend fun and learning together.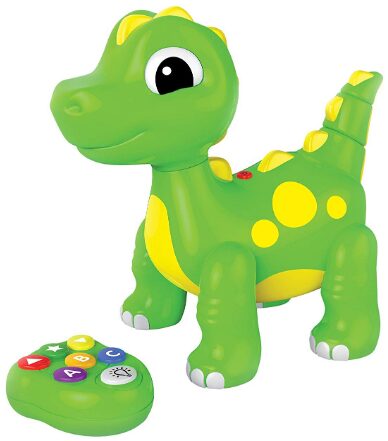 Kidwerkz Take Apart Dinosaur
This amazing little set of 3 mini dinosaur bots could would make a great gift for your 3 year old.  Coming with a T Rex, Triceratops, and an Alamosaurus, this 106 piece set will keep budding engineers and dinosaur fans busy for hours of quality and highly educational play.  The dinos come fully assembled, so they can be played with immediately, but the real fun and learning comes when your child deconstructs them and puts them together again.  Your child will have a blast playing and constructing these little robots while also developing their logic and problem-solving skills at the same time.
This is a really great package, with three toy screw divers and a coloring book with each set.  Plus, this has been specially designed with your child's' safety as a primary concern, so you don't need to worry about them hurting themselves on sharp edges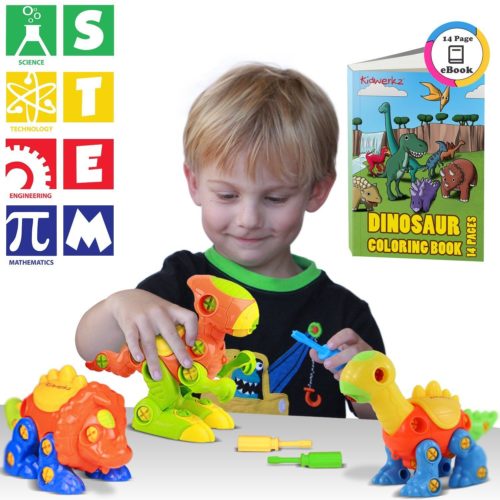 WolVol Disassemble Dinosaur
Another great build your own dinosaur toy, this Robo will capture the attention of all little dino lovers out there with his bright colors and flashing lights.  However, its also a great learning experience, as your child will have to assemble the dinosaur with the cute little flathead and Phillips screwdrivers included.  This not only gives your kid a sense of accomplishment once it is constructed but also gives them a very educational experience and helps with their motor skill development.
This would make a really great birthday or Christmas present, giving literally hours and hours of enjoyment as your child constructs, plays with, and then deconstructs this T Rex toy robot over and over again.  It's a dinosaur building game and a toy all in one!
Zoomer Dino RC T Rex
Currently one of the most highly rated RC dinosaurs on Amazon, the Zoomer Chomplingz has so many cool little functions and reactions that its hard to keep track of them all.  Although it comes with a remote, it also reacts to your children's hand motion and touch.  It roars and chomps, and your child can even teach it to dance and sing.  His eyes even change color depending on what mood he is in.  And if you grab his tail he will go on a mini robot rampage, which always ends up being hilarious.
This RC robot dinosaur has been built with innovative balance technology, it stays upright while exploring your home.  We've also seen customer reviews stating that he moves well on both carpets and hard surfaces.  Definitely a great choice for kids looking for interactive robot toys.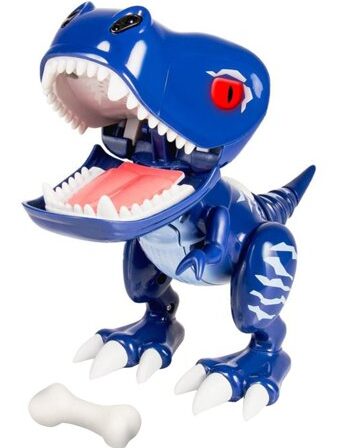 Wowwee MiPosaur
Part of their impressive MiP range of robots, the miposaur is one seriously cool robotic dinosaur.  Like many other dinosaurs, it responds to hand gestures and objects through its high tech sensors, and it can display a range for different moods depending on your child's actions, such as playful, scared or annoyed.  What really sets this aside, though, is its unique trackball, which can be used in 6 different modes to play with the dinosaur robot toy, including playing fetch!
As if that wasn't enough, the MiPosaur interacts with other MiP robots, so if you have more than one, or your child has a friend with a Wowwee MiP, they can put them together and watch them play with each other.  Finally, the MiPosaur also has a downloadable smartphone app which lets you drive and control it.  The developers really thought of everything.  Overall, with so many features and modes packed into this dino robot, your older children will fall in love with it for years to come.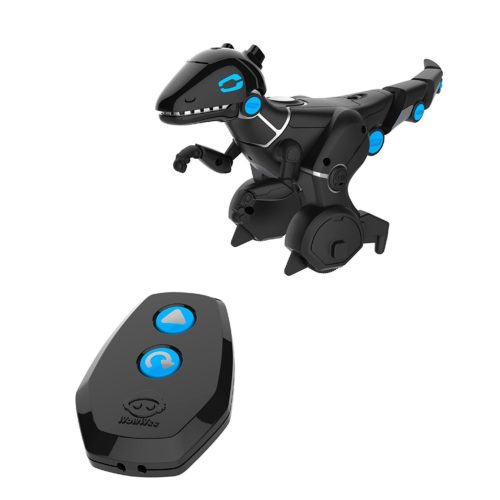 Walking Robot T Rex toy
This terrific little robo dino just looks amazing.  Better still, this walking, roaring monster walks around of his own accord, and your child will have endless fun as it patrols as they play.  Kids will love its life-like appearance and terrifying roars, and its light up eyes and mouth really bring it to life.
Although it doesn't have a controller, the real beauty of this beast is that you can just turn it on and let it go wild.  Best of all, you can turn that roaring off if it starts to annoy you, but the T Rex will keep on walking.  This brand also has lots of different models to choose from, such as raptors and triceratops, so if you want to buy a few your children can turn their bedroom into a prehistoric kingdom.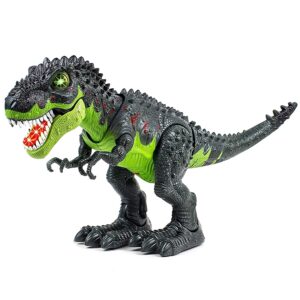 Remote Control Dinosaur
This RC terror is also very highly rated on Amazon, and we can see why.  Just look at the thing.  Your child will have endless amounts of fun controlling this walking, roaring dino bot, and they'll get up to all kinds of adventures and creative games with this lean, mean green machine.
Another super cool feature with this T Rex is that its spine and horns will light up as it walks, making it look incredible, and your little dino lover will have some amazing times playing with it with the lights off.  In fact, the only bad thing we can say about this is that it doesn't come with batteries included.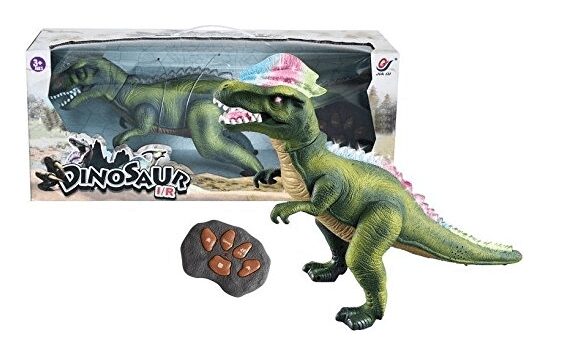 WolVol Walking Triceratops
Proof that T Rexs and Raptors aren't the only cool dinosaur robots out there, this walking Triceratops from Wolvol will definitely be a firm favorite with dinosaur-obsessed kids.  Just turn him on and watch him go!
This robot triceratops crawls and stomps around all on its own, and your kids will have a great time following and chasing it.  It also roars and has some very cool light up horns.  We have to warn you though, this is one noisy toy! It makes a continual roaring sound while it is on, and unfortunately doesn't have a volume control.  Still, if you don't mind the noise (and your kids probably won't) your getting a great value package with this little devil.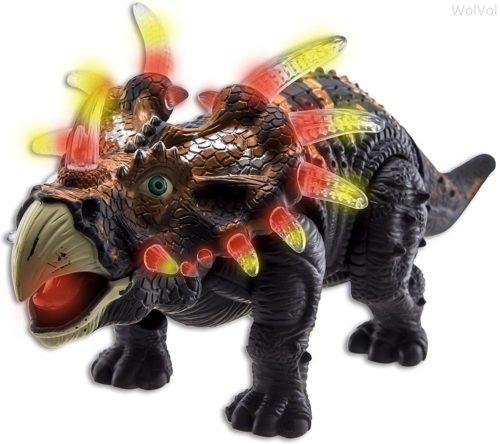 Zoomer Dino Indominus Rex
Another great model from Zoomer toys, this remote control dinosaur is a firm favorite with older kids.  Just look at the level of craftsmanship and design on the exterior of this collectible robotic model!  However, this zoomer Dino is more than just a pretty face.  It has two great modes of play to keep your children occupied.  First, you can control it with the remote, which lets you guide its movement, mode and even program in combinations of moods.  Secondly, you can just let this robot tyrannosaurus go on its own, where it will respond to hand gestures and also explore its surroundings thanks to its advanced sensor technology
This not only a great dinosaur robot toy, but the indominus mecha T Rex would make a great companion toy to take part in epic battles with your child's RC Tanks.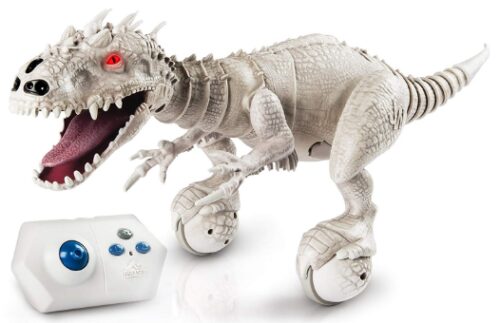 Wowwee Roboraptor X
Now we're getting to some of the most sophisticated dinosaur robots available with the Wowwee dinosaur.  The Roboraptor definitively gets first prize for being the coolest looking dino robot out there; this thing looks like it just jumped out of the latest Hollywood blockbuster and into your living room.   But just wait until your kids see this thing move!  It has the most realistic mo
vements of any dino bot we've seen.
None of the above would mean anything if it wasn't fun, but don't worry, this toy is awesome.  Your kids can choose to manually control it with its iOS or Android smart phones.  We found, though, that it is much more fun to let is do its own thing on one of its three automatic modes; hunter, cautious and playful.  The only bad thing we can say about this is that its a bit more complex than a lot of other toys and as such its only suitable for 8 year olds and older children.   Also, children should be forewarned that the biggest problem they'll have with this remote control dinosaur is getting their parents to leave it alone so they can play with it.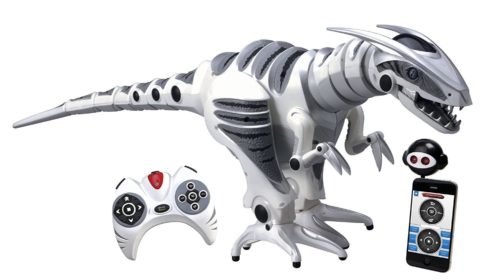 Best Overall Dinosaur
Currently sitting at an impressive rating of 4/5 out of 5 stars based on customer reviews, the MiPosaur is easily our top choice when it comes to robot dinosaur toys.  This little bundle of robot joys is just so sophisticated, and kids love watching it stomp around and react to their hand signals.  However, what we really love about it is just how much time our kids will spend with their new robo dinosaur friend.
It has so many features and modes, and when you consider the extra play time that comes with the track ball and the smartphone app, this robot dinosaur toy has enough personality to almost become like another member of the family.  Finally, if you can get one of these together with another MiP robot, you and your child will be stunned as you watch them interact.  And, as it is made by robot masters Wowwee, you can be confident that the quality and design of this toy is top notch.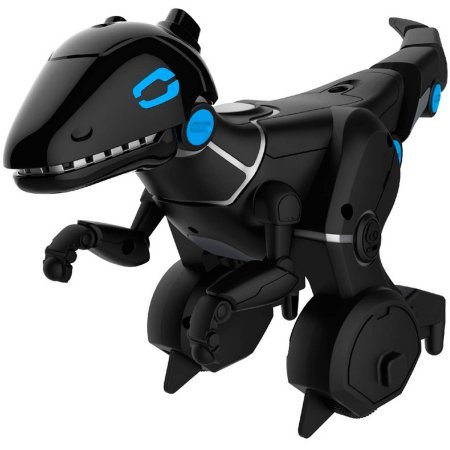 Best Budget Pick
Although we love the Wowwee Roboraptor X robots with the senors and the reactions, at the end of the day, your children are going to have just as much fun as their imagination allows, with or with out super sophisticated toys.  So, for those on a budget, we think you should get the Remote Control Dinosaur.  It might not have all the features of the fancier robots, but this things is just so much fun to play with, driving it around the house and ambushing unsuspecting family members.  Your child will love this little green terror, which looks especially cool with its light up horns and spine.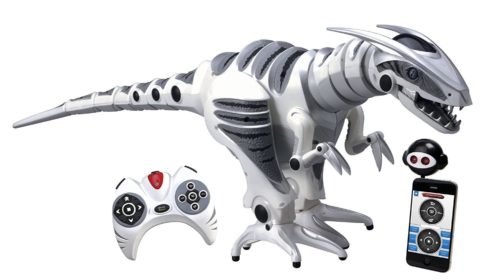 Benefits of kids playing with robot dinosaur toys
They are seriously awesome! Yes, it seems so obvious, but don't underestimate just how much the wow factor of a robot dinosaur is going to affect your kid.  Robot Dinosaurs are just fantastic toys all round.  They look cool, they are fascinating to watch as they move
Promote interactive and creative play:  The types of dino toys available these days are actually surprising in the level of interactivity that some of them have.  Many have sensors that can detect movement around them, and as such they react to your child.  They might roar when you come near,  purr when being stroked or show different facial expressions depending on what your child does.  We've even seen some that can catch plastic bones in their mouths. All in all, this really stimulates active and inventive play for your children, which will have them increasing their creative faculties as the interactive dinosaur toy reacts to them.  Your kids will start making up their own games and inventing their own adventures with their new dino buddy.
Robot toys spark curiosity for robotics:  Don't tell your kids, but a robotic toy is really a brilliant educational gift to your child.  Through playing with it, your child will start to becomecuriouss as to how the sensors, mechanics and gears all work, and get them to start thinking about science.  Rather than a stuffy old school book, a robot toy dinosaur will really amaze your child, and playing with it could lead to a lifelong interest in all things robotic.  So when your little scientist graduates from MIT, you can boast that it is all down to that mechanical T Rex you bought them when they were young!
They make great surrogate pets:  A nice little robo dino can even function like a mechanical pet for your child.  Children can form a real bond to the more interactive dinos out there, and they'll feel like they are taking care of a live animal.  Thankfully, a robot dinosaur toy pet doesn't need fed, cleaned or walked, and it'll never chew up the house of leave a bad smell.  Also, while these toys look as good as the dinosaurs on Jurassic Park, you never have to worry about them breaking out of their cages and causing havok.
Robots are the Future!  Robots are revolutionizing our everyday lives, and more and more year year, we are going to see robots and AI taking care of things for us.  Drones can now deliver the goods we order online, and sooner or later we're going to be going to and from work in driver-less cars.  By giving your child robotic toys, you are slowly and gently  accustoming them to the modern world.
Types of Robot Dinosaur Toys
Remote control dinosaur toys:  Those of you who have been following StarWlakKids for a while will know that we love RC toys almost as much as our kids do.  A remote control T Rex is going to be an amazing toy for a little archaeologist or budding young historian to play with, and it will encourage exploration and problems solving as they take their mechanical chum on all sorts of adventures around the house or outside.  RC toys also have the added bonus of helping your child develop their hand to eye coordination.
Interactive dinosaurs:  unlike the RC models, interactive dinosaurs don't usually have controls, although some have smartphone apps that can be used in this way.  Rather, they react to your childrens actions, including voice commands and touch.  Some can be very sophisticated, and will chase objects around the room, or even have interactive games and modes built into them.
Robot kits:  These are robot dinosaurs that require assembly.  Although more often than not this is going to require adult supervision, this can make for some of the most wonderful bonding experiences you have with your child as you put the thing together, although, sometimes it leads to embarasment when you realize that your child is better at it then you are!  Plus, the enjoyment your child gets from playing with the toy is only going to be increased if they've had to put it together themselves.  If your child is a budding engineer, a robot dinosaur kit might be just what the doctor ordered.
Things to Consider before buying a Dino Robot Toy
Assembly required  Some dinos are going to be ready to go right out of the box, some will need a few bits and pieces clipped together, while some will need a few hours of supervised assembly before they are ready to roar.  In order to get exactly what your child wants, pay attention to how much work you're going to have to put in before the mechanical dinosaur is terrorizing your household.
Battery life As with any batter operated toy, a big element to factor in is both the battery life and charging time.  Your child is not going to be very impressed of happy if their new mechanical monster spends more time in the cupboard while it charges than being played with.  These toys are only as good as the amount of time your child can play with them, so make sure you get one with battery life that is going to make it a worthwhile purchase.
Batteries included  While its not the end of the world, your child is going to be disappointed and probably quite grumpy if their new toy arrives but they can't use it.  That's why we recommend always checking whether or not batteries are included, keeping in mind that you might need two sets (one for the dino and one for a controller).  Also, check whether or not it has rechargeable batteries and charger included.  If not you can buy them at the same time.
Size   You want to get one that is an appropriate size for your child to use.  You don't want to buy something to big, especially for younger children and their delicate little hands.  There really are some giant dinosaur toys out there, and that robot T Rex is not going to be doing you or your child any good if it sits on a shelf for a few years until your child is big enough to use it.
Interactivity  Many parents are surprised at just how interactive today's robot toys are.  Some come with games and modes built into them, and will react to sound and touch, and these will be wonderful gifts for older children.  Others are far more simple, with just some remote control and a few basic features.  Therefore, we recommend that you read carefully about all the features of the robot dinosaur before you buy, in order to make sure you are getting the right product for your child.
Top Robot Dinosaur Toy Brands
Zoomer Dinos – Zoomer are well known for making awesome robot dogs and cats, and there interactive dinosaurs are also very popular with kids and parents.  Children quickly fall in love with these toys as they are very cute and colorful, but they stick with them for years and years due to how reactive they are.  We've seen zoomer robot T Rex that can walk, roar, catch toy bones in their mouths and play games with our little ones.
Wowwee The manufacturers of the sensational Chip the robot dog, this is a innovative company that specializes in high-end robot toys, and they make some great dinosaur robots too, like the miposaur and the roboraptor. These toys have the latest robot technology and very advanced sensors which let them react to your children and mimic different emotions.
Wolvol Toys Their toys might be a little more simple than those of some of the other companies, but Wolvol make some really cool toys, and my little ones have had a lot of fun with their remote control dinosaurs.  They also make dinosaurs for lots of different age ranges, including some for toddlers.