Finding the best quality trumpets for your child can be difficult, especially if there are various children's ages to consider because a toddler trumpet is not going to be the same as an older child's trumpet.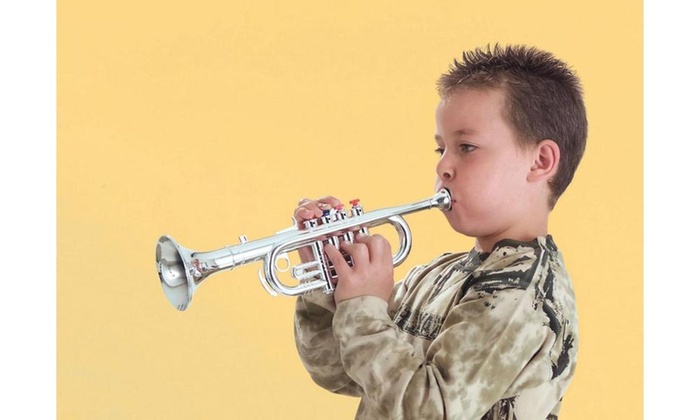 There are all types of trumpets to choose from, both in make, brand and features. Each instrument has a uniqueness about it, some good and other trumpets less so. Some make for good starter trumpets and others for older students. We have created a complete guide to choosing the best trumpet for your kids, so whatever age your child might be, be sure to know further down in this review of trumpets you will find one to suit your families needs.
Considerations when Choosing a Trumpet 
Typical Costs of a Trumpet?
Unfortunately, a good trumpet doesn't always come cheap, as these are complex wind instruments and you need a good quality of construction, materials and components in order to produce a good sound.  A good beginner trumpet can cost anywhere in the region of $200, maybe a little more or a little less, while a professional level instrument can be many thousands of dollars.
While we are always looking for a good deal, getting a cheap trumpet can end up being a waste of money, as your child isn't going to want to play it unless it sounds good.
Types of Trumpets
You might be surprised at how many different types of trumpets there are.
C Trumpets or B♭ trumpet – These are the most common kinds of trumpets that are used.  C trumpets are the most common in American Orchestral Music, and it is slightly smaller than the B♭ trumpet and has a brighter sound.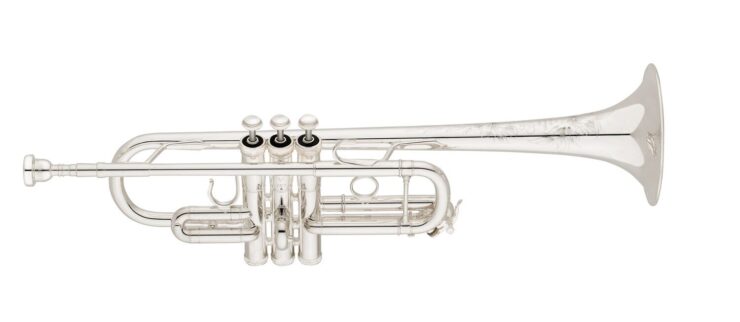 Piccolo trumpets – Coming from the Italian word for 'little', a piccolo trumpet is about half the size of a normal one, and it is therefore a little easier for smaller hands to play.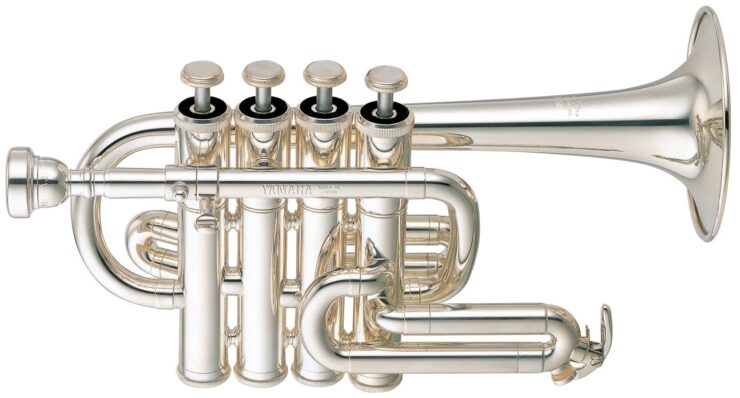 Bass trumpet – These trumpets are large and usually in the same range as a Trombone, so they have very low sounds.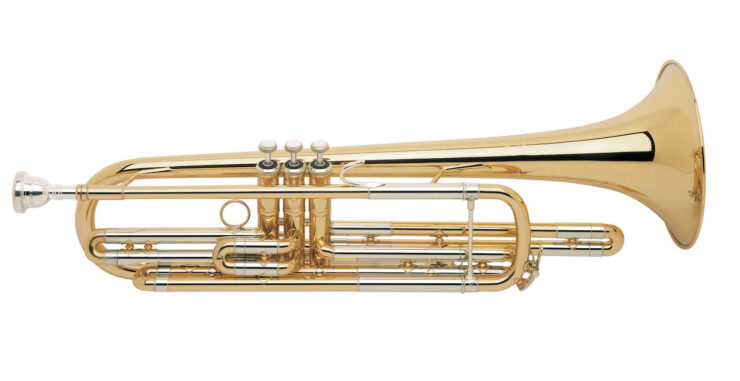 Trumpets for 3 to 6 Years old 
1. Nasir Nickel Cornet
This Nasir Ali cornet is an ideal trumpet for a small child or beginner musicians, and they are small enough for little children.
Every cornet is tested and retested during manufacture to make sure that each instrument its up to the high standards your child deserves.  This also comes with a hardshell case, gloves, a cleaning cloth, and trumpet oil for valves, so it will be a great all round package for a young student.  This will be a good trumpet for a 4 year old.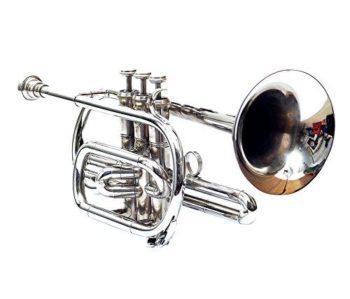 2. Tromba Plastic Trumpet
Ptrumpets are great for kids to get started on, as there are light, easy to play, harder to dent, and they still make a pretty good sound despite being plastic.  Your child can always move up to a brass trumpet once they have gotten the hang of it, but for starting out, a plastic trumpet will do fine as a starter trumpet.
Remember, these things aren't going to sounds as good as a well-made metal trumpet, so don't expect it too.  However, for a child who is just starting out, they probably won't be able to tell the difference, and they'll have a lightweight and coll color trumpet to take their first lessons on. Great for younger children or those on a budget.

3. Mendini Cecilio Trumpet
Mendini makes brilliant cheap trumpets for beginners, and this one will be wonderful for someone just starting out.  Despite being very affordable, this is a well made instrument that has a great sound considering the price it is available for.
This also comes as a whole package with a bunch of peripheries including a hard shell case with plush lining, gloves, cleaning cloth, oil, and a one year warranty.  This really is great value for money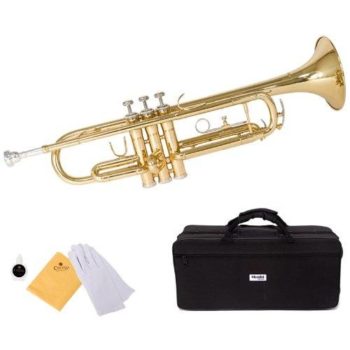 4. Pocket Trumpet
Pocket trumpets are mini versions that still have the same range as an ordinary one.  They are generally not used in orchestras or bands, but are for practicing at home, and as they are very compact, they make beginner trumpets.
This package includes the trumpet, an electronic tuner, gloves, cloth and a carry bag, so you're getting a whole set of accessories to help your little one get started on their musical journey.  This pocket trumpet will be easy for a small child to use, and it is a brilliant trumpet for 4 year old.  However, these aren't generally used for orchestras, so you might have to invest in a full sized on if you want your child to play live.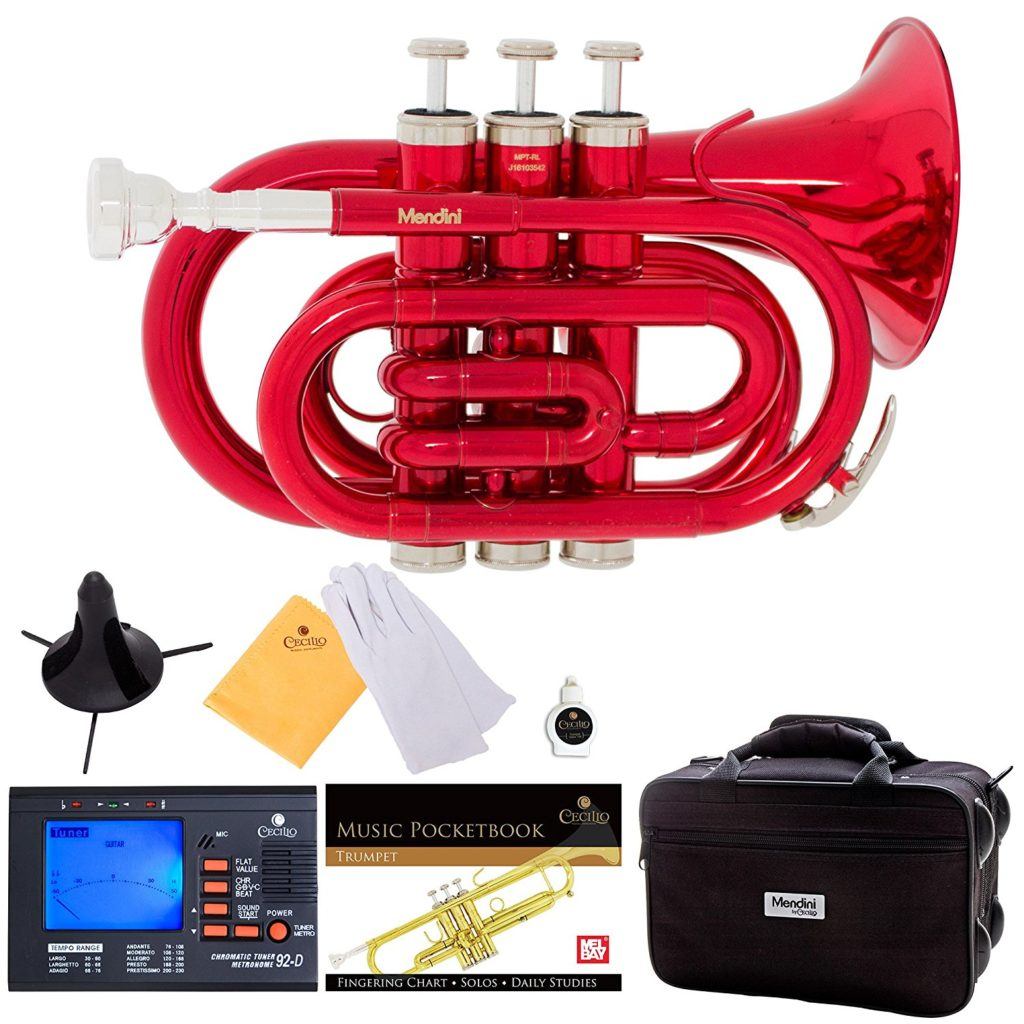 7 to 13 Years old
1. Glory Trumpet for Students
Glory makes a great range of trumpet models for beginners, and they are both affordable and easy to play.  This solid brass trumpet is available in a range of different colors including red, green and purple, so if your child has a wicked sense of style and really wants to stand out at band practice, this will be a very good choice for them.
This beginner pack comes with a hard shell case, oil, gloves and a polish cloth, so your child has everything they need to take care of the instrument and transport it safely. A very good starter trumpet for older kids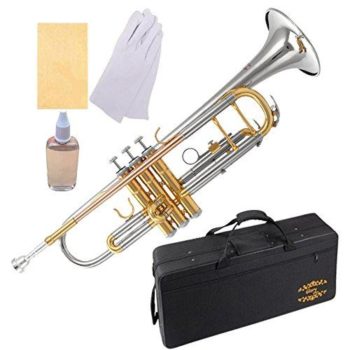 2. Jean Paul Student Trumpet
Jean Paul USA makes some brilliant student instruments which balance affordability and quality together.  This student trumpet has a special bore to make playing easy and helps beginning band students hit notes accurately. The brass lead pipe construction helps produce warm tones and great sound projection so you're little maestro will be heard whether performing in the school band practice room or outside in the marching band.
Comes with a full starter pack including case, gloves, and more.  This is one of the best rated trumpets we've come across, and it will be a great trumpet for beginners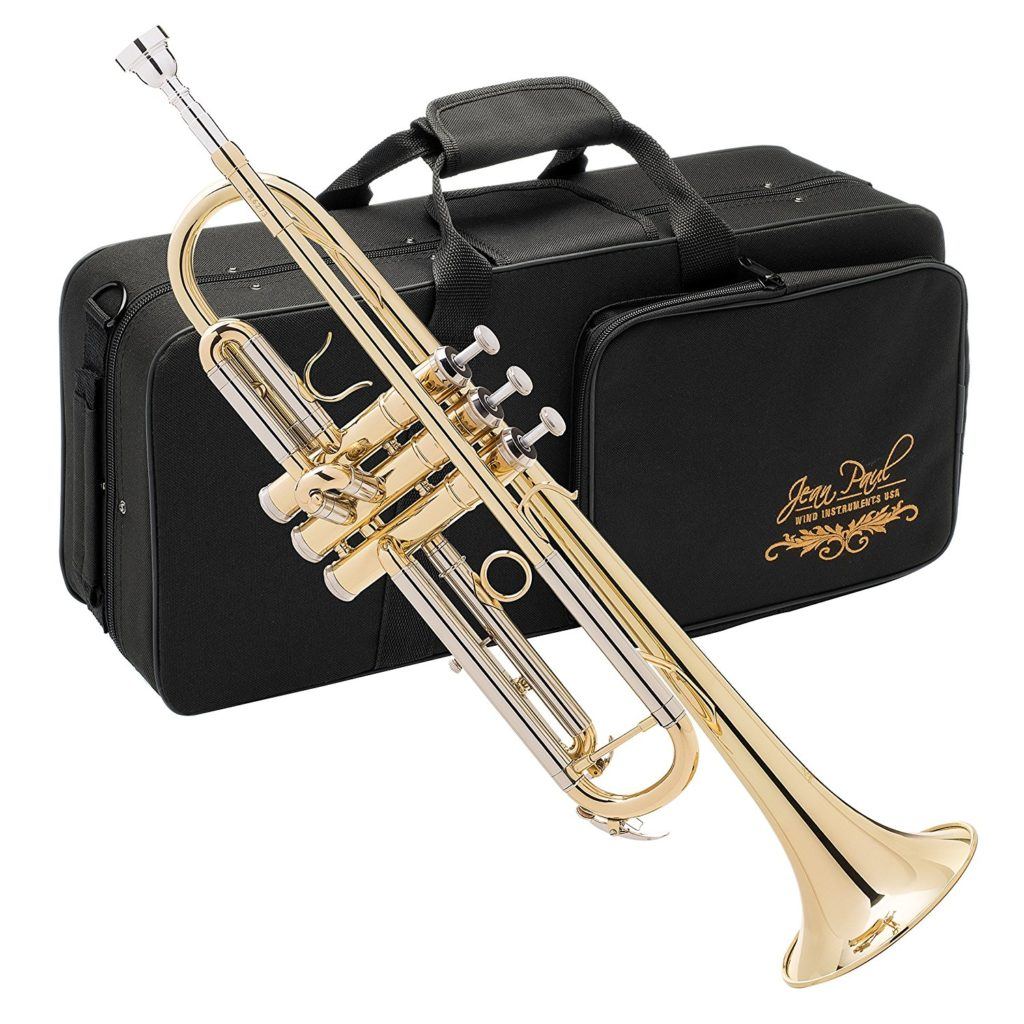 3. Tromba Plastic Professional Trumpet
This stylish C trumpet will be great for a student who wants to get the best sound possible out of their plastic instrument. This plastic trumpet is made with metal and lead components, so it sounds really close to a full brass trumpet in sound and tone.
Looking for a good starter trumpet for kids?  Well, this is very lightweight, so easy for youngsters to hold.  Also, it is surprisingly extremely robust, and will definitely be able to take a few knocks and bumps that will come with in inexperienced trumpeter. As with all Ptrumpets, it's easy to clean, which is a real bonus!
Available in black, white, silver and gold colors.


4. Tromba TP1-SL Plastic Trumpet
This is a well crafted  plastic trumpet (in Bb) with a strong ABS construction, so it will be a really good starter trumpet.  IT has adjustable tuning slides and Water tuning keys,top valves with interchangeable springs and a sturdy molded valve block, so this is a serious instrument despite being plastic.   It also has a very conventional design and has been specially built for comfortable playing.
Available in a host of cool colors, so this will be great for kids with a keen sense of fashion!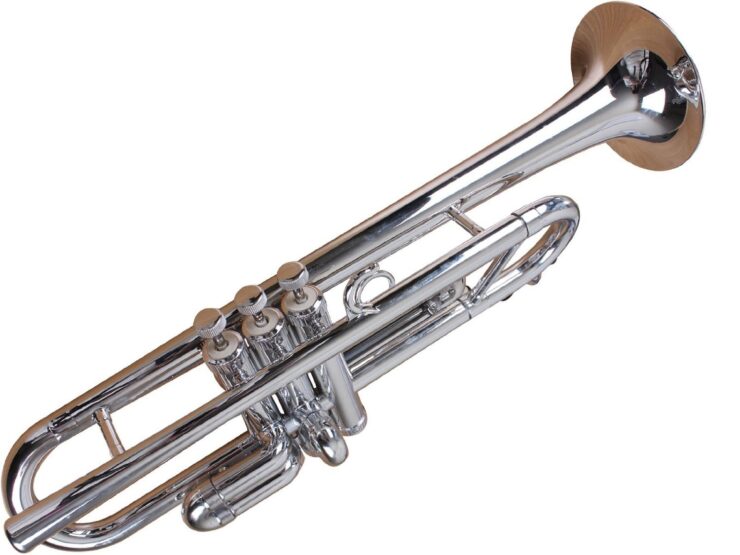 Young Teens to Young students
1. Jean Paul Intermediate Trumpet
Jean Paul USA is one of the best trumpet brands for affordable yet high quality instruments, and this intermediate trumpet will be great for teens, whether they are beginners or not.  This trumpet, the Jean Paul TR-430, represents a big jump up in quality from a beginner to an intermediate instrument. The brass pipes used in its construction will give a much wider and more colorful tonal variety, so it sounds amazing.
For beginner students who are looking to take the next step,  this is a really great trumpet instrument.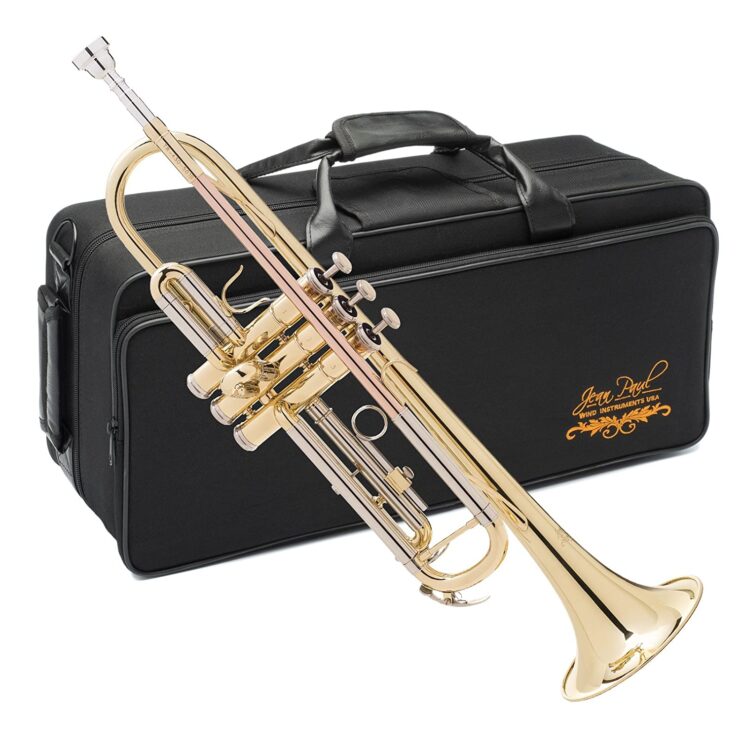 2. Mendini Intermediate Bb Trumpet
A brilliant instrument, this intermediate nickel trumpet is a great choice for student musicians as it is well-built and made with durable components, so it will feel great for them to play and give them good tonality.
Like most other Mendini Trumpets, this one comes with a full starter pack including a tuner, valve oil,  cloth, case and a trumpet stand, so it is fantastic value for money. Bearing that in mind, this is one of the best student trumpet we've come across.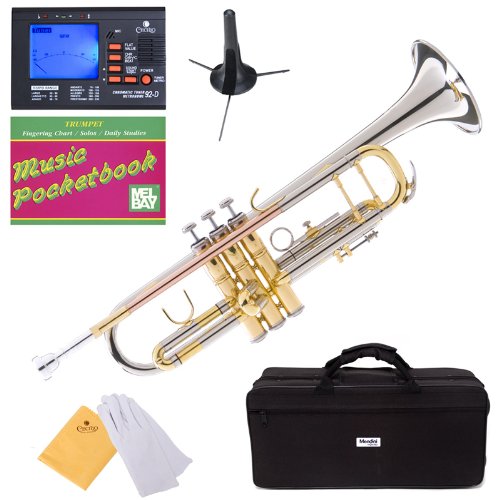 3. Yamaha Standard Bb Trumpet

Those looking for a Yamaha trumpet student model should check this one out.  This is a serious instrument for a dedicated player, and as such it comes with a seri9ous price tag.  However, you can be confident with this great Yamaha trumpet that you are buying from one of the best trumpet manufacturers in the world.
This instrument has been crafted with state of the art production methods, and it is highly durable, comfortable to play and has an amazingly rich and warm tone.  Your kid will be the envy of the orchestra with this. This might be the best trumpet we have found!
This comes in both gold and silver colors.


4. Yamaha Student Trumpet
Yamaha makes some of the best trumpets in the world, and this student model is really quite exceptional.  It is quite light for its size, and very ergonomically made, so it feels like a joy to play. Also, its thumb saddle and adjustable ring make it easy to set up differently for different age groups, so this is a very versatile instrument that can be for a teen or child.
Comes with cloth case included.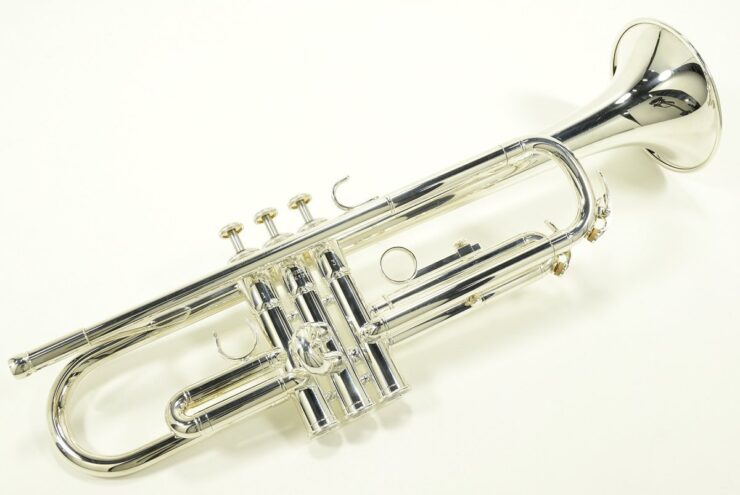 5. Bach Stradivarius Series Bb Trumpet – Silver Plated
Bach trumpets some of the best professional grade trumpets in the world, and if you are confident that your child is going to pursue a career in music and you don't mind splashing out on one, this is probably the best instrument you can buy for them.
This silver played Bb trumpet is made with the top production techniques, and its build quality and materials are incredible. This sounds absolutely out of this world, and could easily play in a world class orchestra. As such. this is only for the most serious and dedicated musicians.


Our Top Pick
It was quite hard to choose a favorite here, especially given the wide price range that trumpets fall under, but we decided to go with the Jean Paul Student Trumpet as our top pick, as it seems to be the best trumpet for balance in terms of price, sound quality and value for money.
This has been specially made for students to play easy, and it has a really great sound to it, so your child will definitely love practicing and performing with this good starter trumpet.
We also love that this comes with a great starter pack of accessories and a case, which are essential for kids instruments.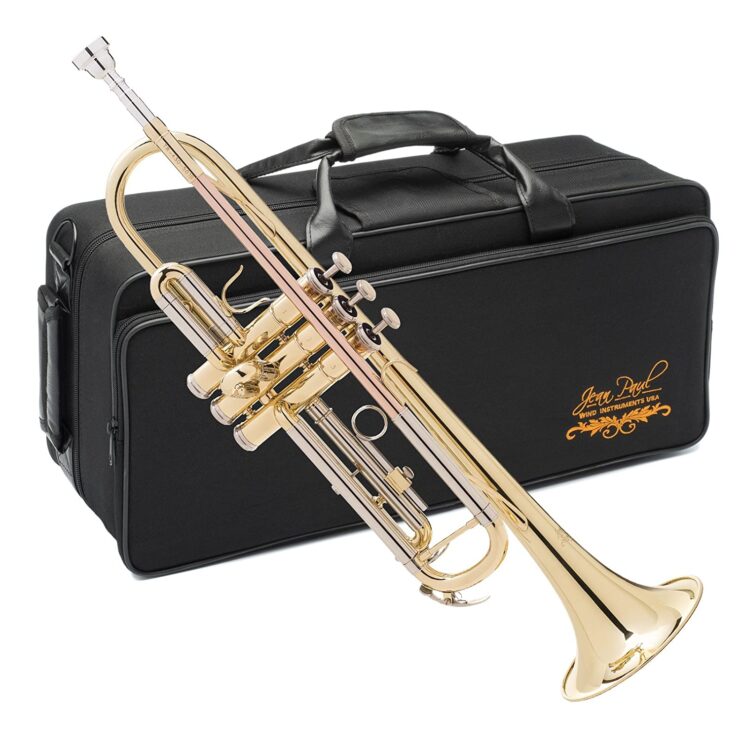 Best Budget Pick
Not everyone is lucky enough to be able to fork out thousands of dollars for a child's instrument, and if you're on a tight budget, we recommend the Mendini Cecilio Trumpet as our best budget trumpet choice.
This is a great choice for a cheaper trumpet, as obviously the manufacturers had to cut some corners but this is still a great instrument for a beginner as it plays and sounds pretty good considering the price tag.  It also comes with a case and some accessories, which makes it even better value for money. Mendini is one of the best trumpet brands for beginners, and you should check it out if you are looking for a good deal.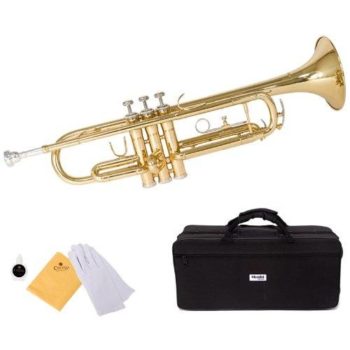 Cool Trumpet Accessories
Trumpet maintenance kit
Every professional musician will tell you that a good instrument only continues to sound good if you take care of it.  Dirty instruments not only feel horrible and grubby to play with, but the grime can actually negatively affect the sound, especially something like a trumpet which has metal keys and mechanical parts.
This cool Yamaha trumpet cleaning kit has everything your child will need in order to keep the instrument in top condition.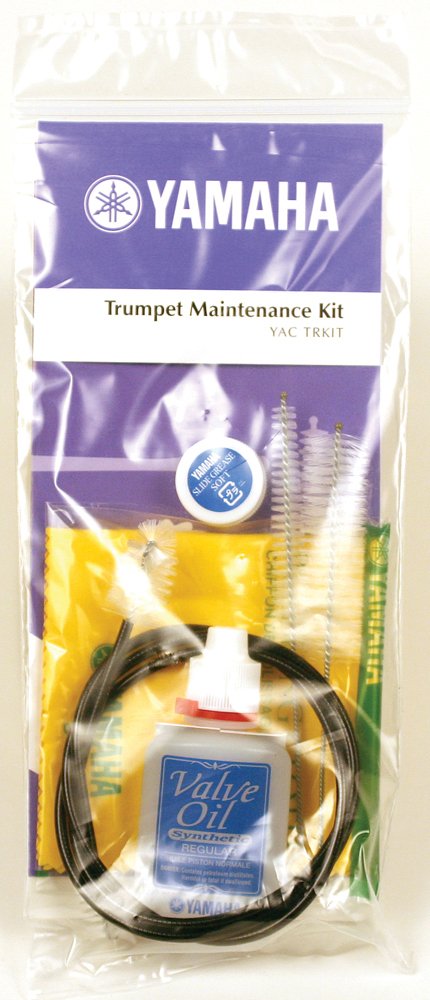 Trumpet Gig Bag
Whether it's going to and from school or to band practice, its good for kids to have a nice padded gig bag for their child's trumpet.  This will not only make them easy to transport, but it will save them from bumps and dents that can happen along the way.
This particular bag is easy to carry with its adjustable straps, and it has thick foam padding to protect that precious trumpet. Best of all, it is waterproof, so your child doesn't have to worry about the elements.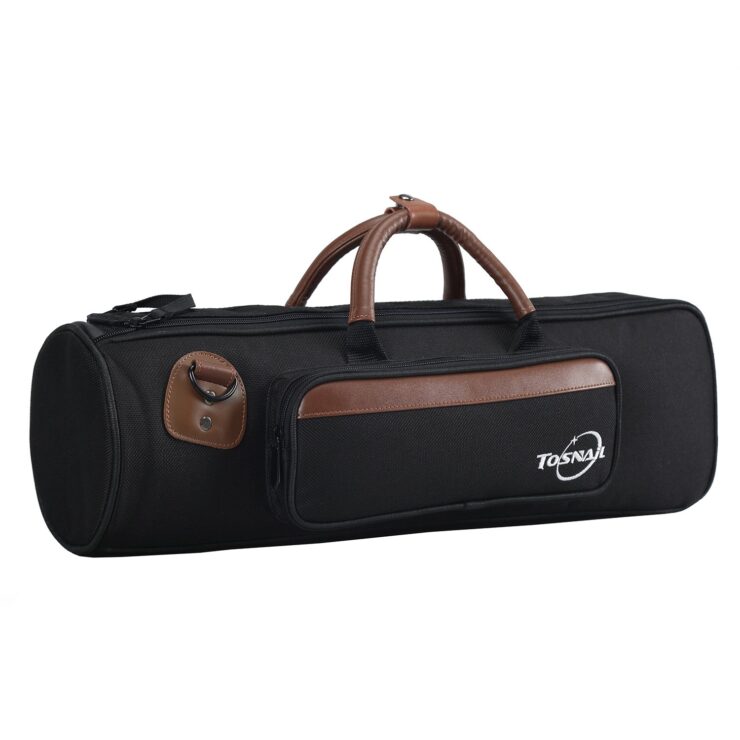 Trumpet Case
For long journeys, especially on bus, train or plane, or if the instrument is going into storage, your gig bag might not really cut it.  For these situations, we recommend getting a hard case for your instrument, as in these circumstances you really need maximum protection.
This trumpet case is built like a mini fortress and will give you very solid protection for when your kid and their trumpet are on the road.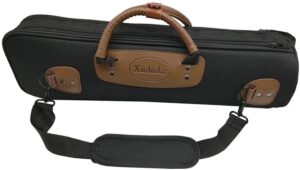 Trumpet Valve Oil
As you can guess, metal instruments with working parts will need to be lubricated in order to keep everything flowing nicely and also to avoid wear and tear.
This great little bottle of blue magic will help keep everything working nicely, and even cleans the trumpet internally as it does.


Beginners Trumpet DVD and Book
This ultimate beginners guide comes packed full of easy to understand informative lessons for newcomers to the instrument.  With over 70 demo tracks to play along with, an instructional DVD, charts, articles on music notation and even a guide to assembling and maintaining the instrument, this will make a great learning tool in addition to music lessons.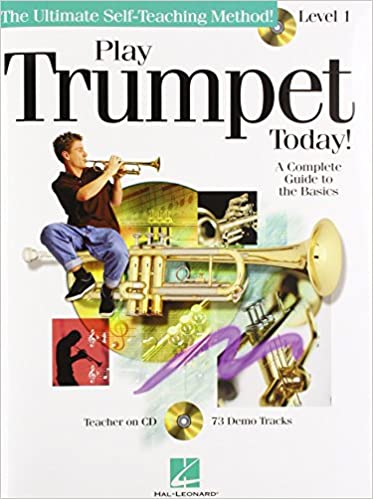 FAQ
Age Appropriate Trumpet or What trumpet to buy for beginners?
As you might expect, a full adult size trumpet will be a little too much for a child to handle.  It will be too heavy and too complicated.  Luckily, there are a few options to consider for beginners to help ease them into the world of trumpets.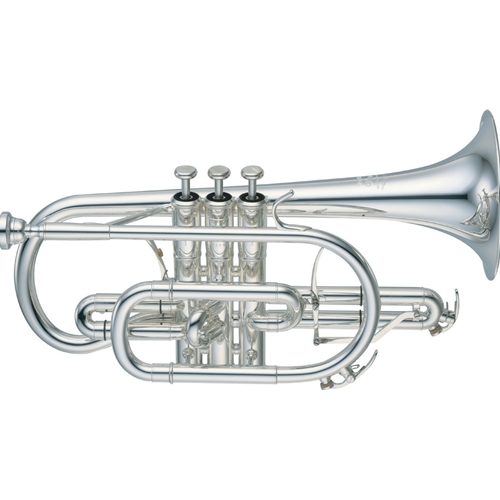 Cornet – for many young players, a Cornet is a good way to get started playing.  A cornet is a small and compact trumpet, which is held closer to the body, thus making it easier to hold and play.  These are great for younger children.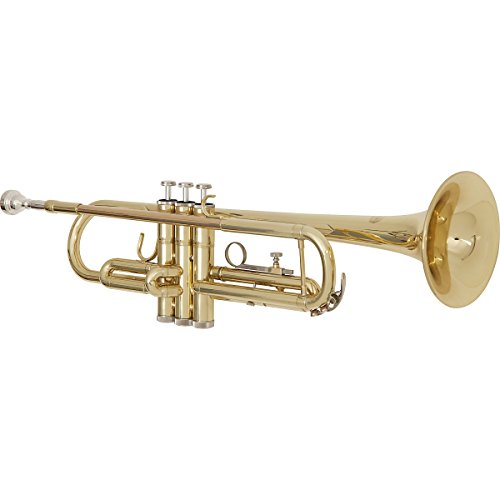 Beginner Trumpets – Many brands make simpler and lighter trumpets designed for students.  The great thing is that these are easy to find, as they are labeled 'beginner trumpet' or 'student trumpet'.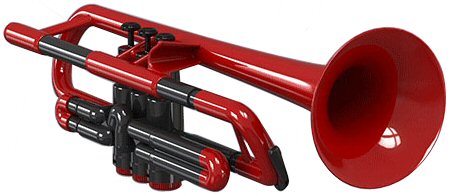 Plastic Trumpets – It may seem a little strange, but there are actually a lot of decent plastic trumpets which are designed for younger learners in order to help them get the hang of the instrument.  These Ptrumpets are light, robust, affordable, and they don't sound too bad despite not being made of metal.  These are therefore great options for younger kids. Just make sure you are buying an actual instrument and not a toy.
Trumpet brands for beginners?
Finding the best brand of trumpet can be difficult. There are loads of good trumpet brands for beginners and in this review we name them all to make choosing one easy. Some great beginner brands are:
Jean Paul USA
Mendini
Merano
Glory
Windsor
Our Top 5 Brands of Trumpet
There are many trumpet brands on the market to consider but some of the best brands for trumpets include:
Bach
Yamaha
Allora
Getzen
Etude