At the age of one and a half years old, most toddlers are on the go constantly so they need a lot of toys to keep them entertained. There are hundreds of different fun and amusing toys for young toddlers aged 18 months old or over but which one suits your child best? There are multiple brands that all make stylish, educational and fun toys that will adjust to your child's needs. Here, we have reviewed a range of the best toys for toddlers, including learning toys for toddlers as well as fun outdoor toys.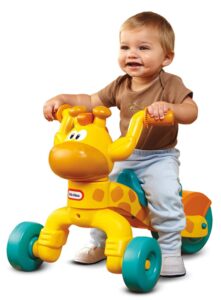 Tips Buying Toys for Toddlers aged 18 Months
When buying your young child or toddler a toy, there are many different things you should consider first. You need to consider what sort of toy would be best for them, you need to consider the age limit, is it going to keep them entertained and amused? If you buy your child a toy that is out of their age rating, it could either be too hard or frustrating for them to use. It would not get played with and would be an overall waste of money. Consider what you want them to benefit from playing with these toys, such as are you looking for them to learn new and improve skills or is it just a one of buy to keep them quiet. You should also consider their interests. Are they outgoing? Adventurous? Always willing to learn new things? Whichever one they are, there is something for absolutely everyone. Here are the best toddler toys in 2022.
Best Toys for 18 Month old Toddler
1. Spike the Fine Motor Hedgehog 
Spike the Fine Motor Hedgehog is an amazing educational toy for toddlers aged 18 months and up. It retails online for an exceedingly cheap price and is sure to make children happy. With this toy, your young child can learn and develop multiple different with the chunky skills including fine motor skills. The colorful hedgehog quills allow children to build color recognition, counting skills, and sorting things. Fine motor skill toys for toddlers come with easy to hold pieces that are the perfect size for their tiny hands to hold onto. The toy comes with an easily readable activity guide. Once your child is finished playing, the hedgehog is super easy to clean up and has fantastic storage. The colorful quills fit snug inside the hedgehog's body. This toy makes an excellent gift for any young child and it is very much worth the price.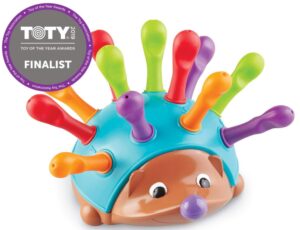 2. Kidzlane Color Match Eggs 
Kidzlane Color Match Eggs is an outstanding learning game for toddlers aged 18 months and up. It retails at a very remarkable price and is currently on sale! It is made with non-toxic, high-quality plastic that is for sure to last. This toy comes with 12 eggs in a sturdy, yellow carton and it helps kids to easily learn how to sort, match and count. Each single plastic egg has a different color and number inside with pegs and holes. Youngsters are able to learn basic life skills with this brilliant toy, they build up their knowledge, color recognition, fine motor skills and improve their hand dexterity! Each egg is super ideal for their small hands to hold, pull apart and click back together. This long-lasting toy is perfect for your little ones first years in life as it improves brain development in a fun and convenient way.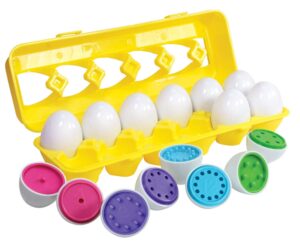 3. Melissa & Doug Pounding Bench 
Melissa & Doug make some excellent toys for boys and girls, and this pounding bench is an astonishing educational toy for young kids aged 18 months and up. It retails at a super inexpensive price and is a long lasting high quality toy. This toy helps youngsters improve their fine motor skills by allowing them to name different colors. The deluxe pounding bench toy comes with a mallet, non-toxic and child-friendly plastic pegs and a bench for the pegs to sit in. The deluxe pounding bench is a classic toy with a fun twist. The stylish, plastic pegs built into the bench are super fun because they also play peekaboo! The bench and mallet is made from solid wood for outstanding longevity and strength. It is great for toddlers early childhood playtime. This toy makes an astonishing gift for any occasion such as a birthday or holiday and is definitely worth the super affordable price.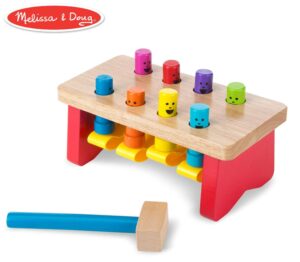 4. First Builders Mega Bloks 
First Builders Mega Bloks is a construction toy for 18 month old kids and it retails for a very reasonably cheap price. It comes with 80 colorful classic building blocks and a reusable clear plastic storage bag for when playtime is up. The building blocks are a decent size for the child's small hands to grasp easily. You can also use your creative imagination and combine other Mega Bloks and toys to make your own wonderful creations. Stack, build and make endless possibilities with these blocks! This building set has major developmental benefits and improves young minds creativity to problem-solving and fine motor skills. Mega Bloks makes the perfect creative gift for any young child and they can take them with them, wherever they go! It is highly rated and recommended by parents who have previously bought this and it keeps children quiet and happy for hours on end.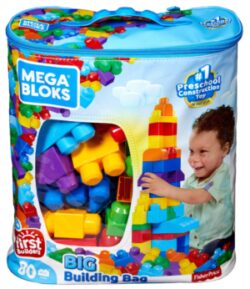 5. Top Bright Wooden Car Track 
Top Bright Wooden Car Track is a brilliant, high-quality toy for young boys and girls aged 18 months and up. It retails for a cheap and cheerful price and is made for all kids to love. It is made from solid, child-friendly wood and water-based, BPA free, nontoxic, paint. This toy has been highly tested to the European safety standards. 4 super bright colored cars start in the spacious parking lot at the top of the wooden track and make their way down the 4 luminous rainbow race track. It comes with 1 parking lot, 4 cars and 4 ramps for the track. This brings youngsters pleasure and laughter as they watch their vehicles glide. Once the cars have stopped, collect them and put them back into the parking lot. This prevents the cars from getting lost and also improves your child's sense of storage. It comes in a very sturdy box and no assembling is needed. This car track toy is an excellent gift and can be stored on a shelf in your child's room.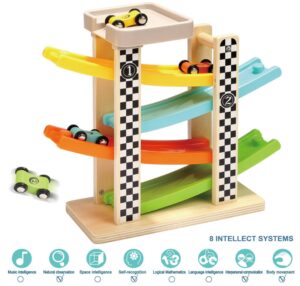 6. Little Tikes EasyScore Basketball 
Little Tikes EasyScore Basketball is an indoor or outdoor toy for girls and boys aged 18 months or older. It retails at a fairly moderate price and is made from top quality plastic. The basketball hoop can adjust up to 6 heights from 2.5 to 4 ft! This toy includes 3 decent sized basketballs and a large rim. This basketball set makes sports fun and easy for growing youngsters. This game allows children to learn whilst playing, they will learn how to take turns with each other, encourage the development of their communication skills and attention span, cooperate and learn dexterity and repetition. Kids can make up their own games and challenges for some extra fun. This is a fun gift for any occasion that will for sure be loved.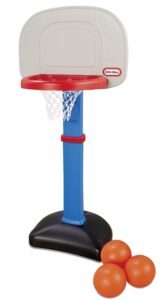 7. Little Tikes Go and Grow Ride On 
Little Tikes have some great ride on toys for 18 month old toddlers. This giraffe ride on is an excellent toy for active toddlers to burn off some energy. It comes with a large rear wheel for stability and two front wheels for easy maneuvering. It's suitable for both indoor and outdoor use, so toddlers can use it all year round no matter what the weather. The giraffe's spots come on a sticker sheet so little ones can customize it to their liking. This is a great toy for building strength and coordination, and will help prepare your toddler for when they are ready to progress to a balance bike or a pedal bicycle.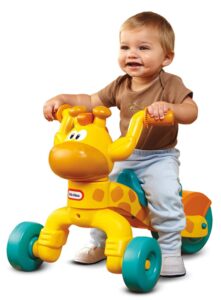 8. Liberty Imports Toddler RC Car 
These interactive toys for 18 month old are outstandingly fun and will give hours of entertainment. It retails at a very moderate price. It has super sleek and smooth wheels with a bright, stylish design for a fun and fast toy. With this toy car, features many different things such as honking sounds, flashing, and music headlights. These can be controlled by the buttons on the remote control. The toy includes a plastic car, a remote control, and 3 plastic figures that your child can place in the front seat or even play with on his own for more creative gameplay. This car is perfect for youngsters learning to play with remote control toys. It is made from the highest quality ABS plastic which is child safe and has no toxic chemicals. It is a good educational toy and makes a great gift for all occasions.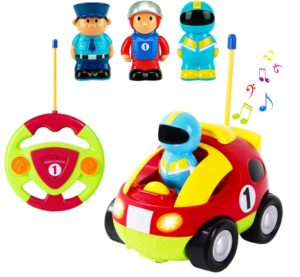 9. Little Tikes Shopping Cart

Little Tikes Shopping Cart is an entertaining toy for boys and girls aged over one and half years. It is currently on sale and retails for an affordable price. This is a great toy for youngsters learning how to walk or those gaining a bit of their own independence. Kids can take this cart around the store with them as their parents do a grocery shop, or just walk around the playroom using their fantastic and creative imagination. It is made from the highest quality plastic and is extremely sturdy to keep small items in. The basket is deep and can hold multiple things. This shopping cart is foldable and very easily portable. There is also enough storage space underneath for the child's favorite things. This toy improves youngsters independence, confidence and makes them use their imagination to create brilliant role play. Little Tikes Shopping Cart is an excellent gift for a child.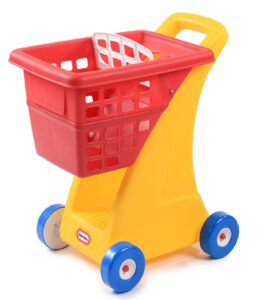 10. VTech Spinning Lights Learning Hippo

There are some great VTech toys for 18 month old children, and this is a super exciting and amusing educational offering. It is selling at a low affordable cost and has hours of laughter and fun. Your child will have a massive blast with this light up hippo by VTech. It is a counting and alphabetic toy in one making it educational but still fun. By rolling the red ball in the middle, it plays excellent sound effects that will highly amuse and educate your toddler. With this purple hippo, your child can play 6 entertaining games, listen to 26 amazing facts, sing along to 4 different songs, listen to 26 different cheerful melodies, and even answer 50 quiz questions! This is the perfect toy for educational purpose because it reinforces toddler learning, introduces numbers, letters and objects, it encourages them to use their voice, and more! It is easily portable and enjoyable. Purple hippo makes an exceedingly good gift and has hours of fun on end.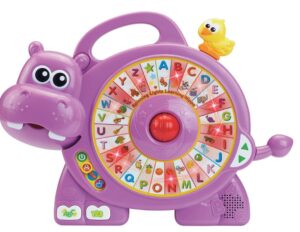 Overall Best Buy
The VTech Spinning Lights Learning Hippo is one of the top toys for an 18 month old. This is because it is extremely education and amusing and has many different settings to choose from. It is a great toy for young toddlers up to the age of 4 and its exceedingly cheap to buy online. This toy is said to be 'a huge blast' with hours of fun. The hippo toy is an alphabet and counting toy in one that features cool sound effects, listen and sing along to songs and melodies, and even has multiple different games to play. This is a perfect toy because not only does it keeps your child highly entertained, it educational without them even knowing. VTech Spinning Lights Learning Hippo is very much worth the money and also makes a fantastic gift for any occasion.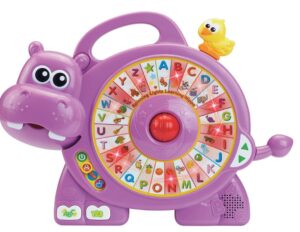 What Types of Toy do Toddlers This Age Enjoy?
It all depends on your child's apprehension and what they can understand. Every youngster is completely different in their own ways but as long as you find a toy in their age rating, they should enjoy playing with it virtually straight away and stay entertained for a fair while. Toddlers will enjoy fun and amusing toys so if you buy something you think or know would be too complicated for them educational wise, then there is a chance they will not enjoy it. At this age, children will not understand the difficulty of things and will easily become frustrated. There are plenty of different toys to choose from. Outdoor toys for 18 month old toddlers are ideal to help them spend time in the fresh air away from technology and gadgets.
What are the Developmental Milestones at 18 Months?
At 18 months, children are still in their earliest years of life but there is plenty of things they should be able to do. Gross motor skills they should be able to do involves things such as walking by themselves, walk up steps, or squat to pick up a toy. Fine motor skills include things such as drinking from a cup, helping to undress themselves, and even holding a crayon. Every single child is different and their brains all function at different speeds.
What Does My Toddler Learn Through Play at This Age?
There are many different educational benefits from kids toys and multiple things your child could learn at such a young age through playing with toys. Skills such as fine motor skills are a big improvement when playing with toys. Other skills include the development of their communication skills and attention span. Kids will focus on problem-solving without even realizing. They will learn how to share and play nicely with one another as well as improving their creativity and imagination. Finally, they will discover their positive self-esteem and independence. As already stated, there is something for everyone!