So after the two-month debate, Rex finally settled on Loki for Halloween. He and I agreed that it would be fun if he and Baden were Loki and Thor, since they are brothers. So, Baden will sport THIS Thor costume from last year, and here is Rex in all his villain glory.
Are you scared? Not yet? Just think of the creepy movie line, "You were meant to be ruled!"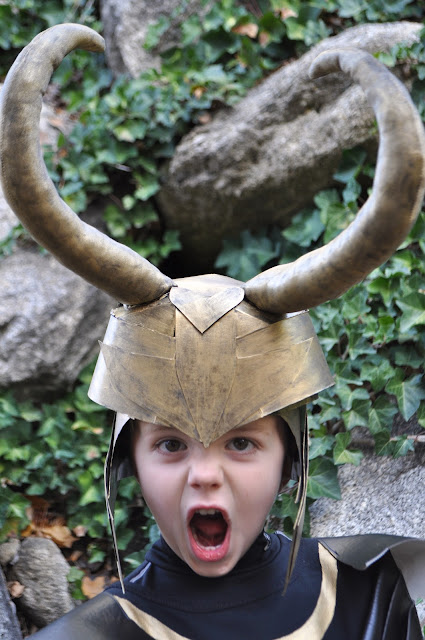 While I won't be doing a full tutorial, I'll give you a run-through of what we did.
We used this Thor shot as our clothing inspiration, but obviously, we didn't do the whole massive coat.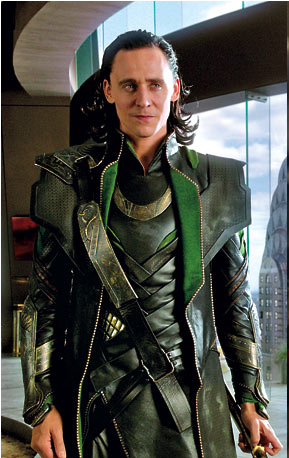 The scepter was made by my dad. It's a wooden dowel at the bottom and that lightweight balsa-type wood at the top. Where the dowel and wood meet there are a few layers of cardboard to bridge the gap and add decoration. My parents happened to have a blue ball lying around the house just like Loki's scepter in the movie. Random, I know 🙂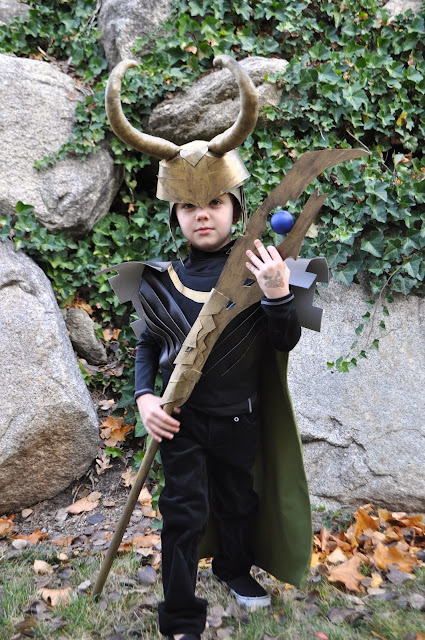 I painted the scepter black first and then dry-brushed gold over the top. I think that's the best way to have things look metal.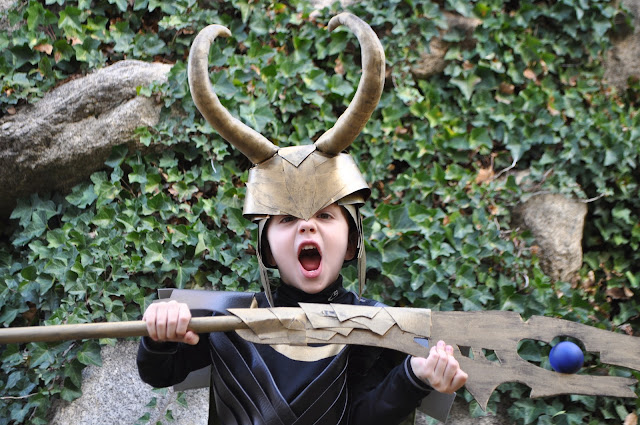 I made the helmet from cereal boxes. Really.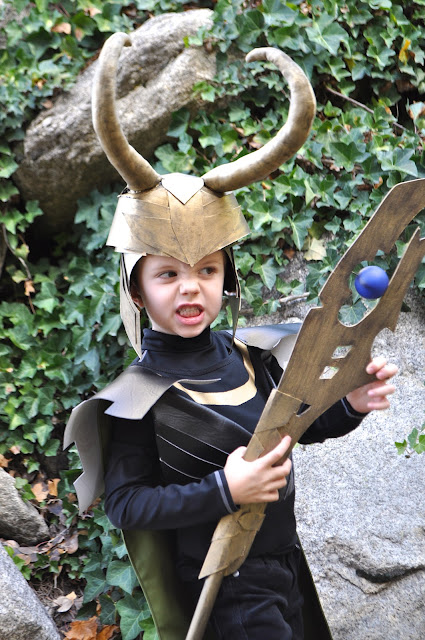 I got out some boxes and printed off a few pictures of Loki in his helmet to look at.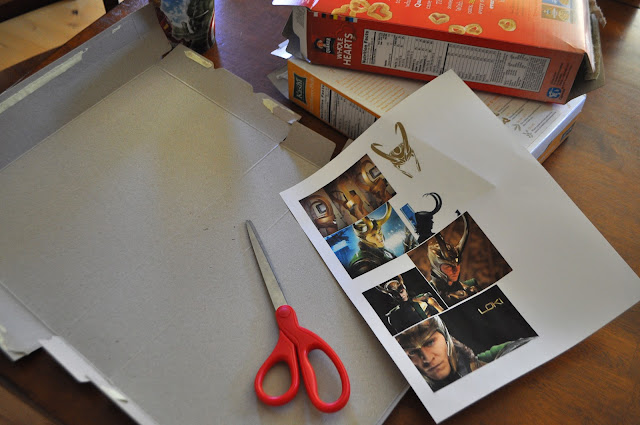 I started with a band around Rex's head, making it fairly tight and then I just added layer after layer. It's kind of one of the things you can't write a tutorial for. I just kept going until it looked right.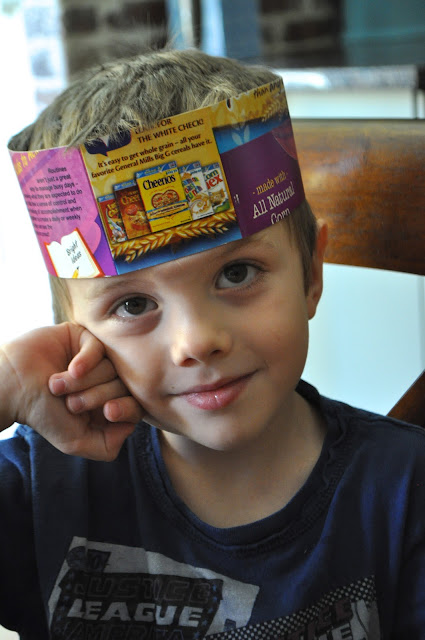 I tried a few things for the horns that didn't work and then my mom suggested sewing them. She sewed and stuffed the horns out of satin. Then I hot glued them on and secured the top of them with more cardboard, also concealing the ends of them.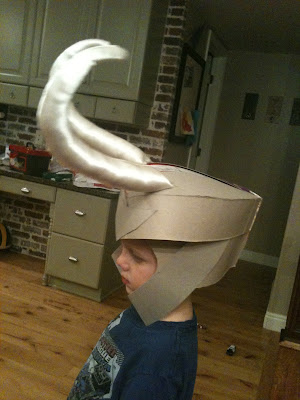 The helmet got the same paint job – black first and then dry brushed with gold. I even painted the satin horns the same way.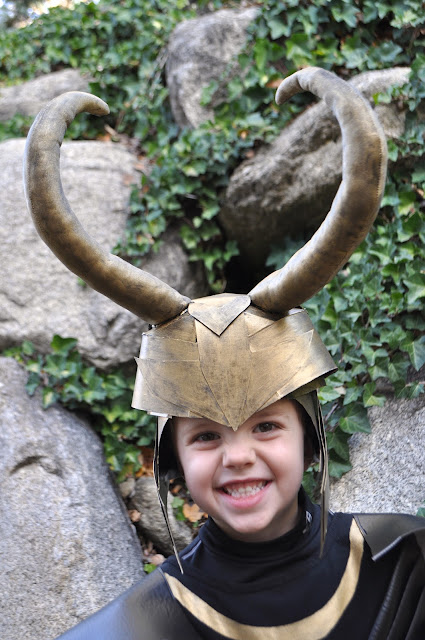 The cape is my mom's pattern from her Etsy shop, but with black vinyl sewn on over the front. At first, I thought about doing cardboard armor, but then I figured if we used my mom's pattern he could use the costume in his dress-up bin. He plays superhero dress-up a LOT.
My mom made the cape and added the vinyl to the shoulders as well, for dramatic effect. The gold line around the neckline is just fabric paint. Then I just made sure he wore all black underneath – shirts pants, and shoes.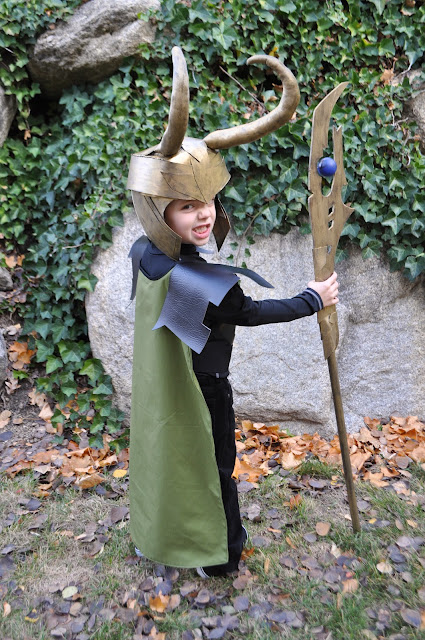 And as you can see, he doesn't have a lot of problems getting "into character." We can hardly wait to hit the streets trick or treating.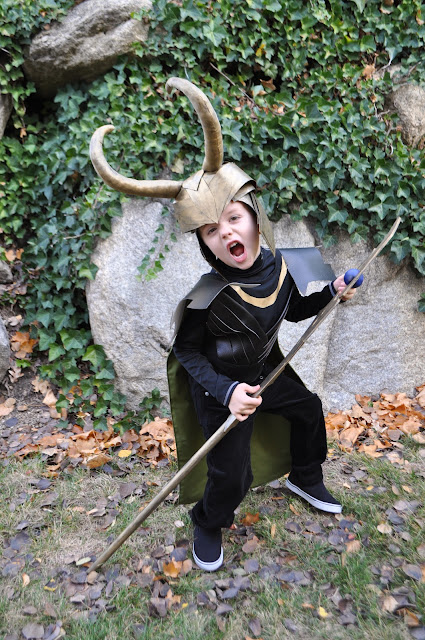 And Halloween costumes are ready. Whew!
Thanks for the help, mom and dad. And thank you all for reading.
And here is another great DIY Loki crown idea: