It's that time of year again – time to start thinking about Christmas shopping and choosing out gift ideas for the kids. For many parents, this can be overwhelming – there are so many different toys and games out there all claiming to be the number one thing your child would love this year.
On top of that, you also have to think about Santa ideas for kids – which gifts will be from him and which will be from parents? If you don't want to give all the big gifts from Father Christmas, read on to find our picks of 10 unique gifts to give your children from the big man this Christmas morning.
Top 10 Santa Gift Ideas for Kids
Let's take a look at 10 of the best Christmas gifts ideas for kids this year to give from Father Christmas.
1. Kefan Santa Sacks
Before picking out any presents from Santa ideas, you might be thinking about something for those special gifts to be 'delivered' in. This pack of three Santa sacks would be just perfect! They are very large, each measuring 27.5″ x 19.5″, and each has a different design so they are ideal for siblings to have one each.
The sacks are made from 100% cotton and can be machine washed ready to use again the following year. They are durable and thick, holding up to 110 pounds, and are ideal for hiding awkwardly shaped presents that would be difficult to wrap in paper. Kids will be delighted on Christmas morning to find a sack full of gifts waiting for them under the tree!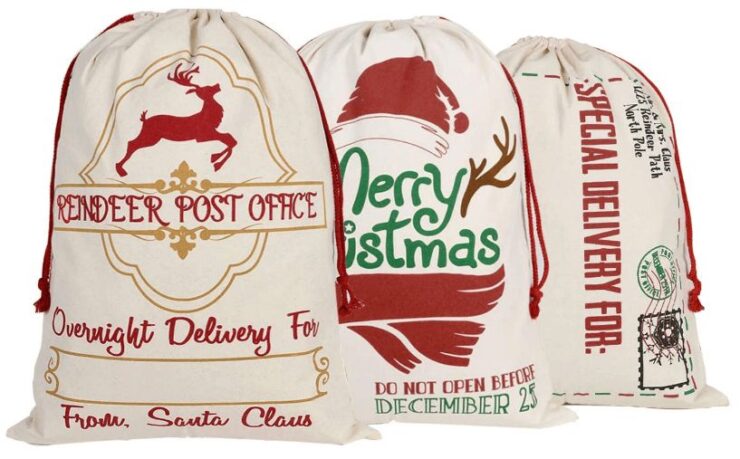 2. Glow in the Dark Blanket
Blankets make some of the best kids gifts for Christmas – who doesn't love to snuggle up with a soft blanket for a movie night in the winter! This one is unique because it is covered in stars that glow in the dark – kids will be amazed to see it glow when the lights are turned off! The blanket is a great size at 50″ x 60″, so kids can completely cover themselves with it to keep warm and cozy.
It is made from 100% microfiber so it's easy to machine wash and is soft and comfortable to use – kids will love the feeling of it against their skin. There are three different designs to choose from – stars, unicorns, or a Halloween theme if you prefer to give this as a gift earlier in the year.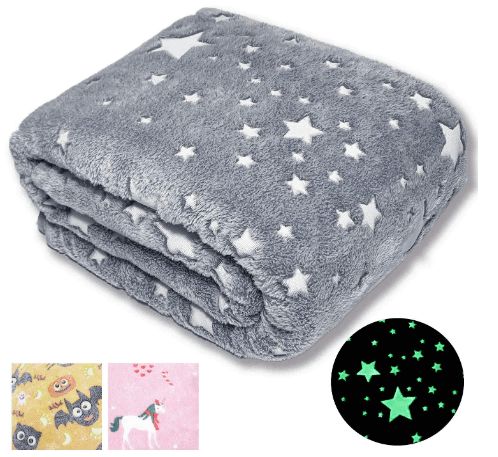 3. Christmas Pajamas
Christmas pajamas are one of the most popular kids Christmas gifts – it isn't Christmas for some households without them! Perhaps this year Santa could bring your child a special pair of festive-themed pajamas such as these. The three-piece set includes a pair of striped pants with ribbed cuffs to keep them in place, as well as two long-sleeved tops. One top is striped like the pants and reads 'Santa's helper', whilst the other either has a cat in a Santa hat or Santa, a penguin and a reindeer, depending on which design pack you choose.
Each piece of the set is made from 100% cotton so it is soft and comfortable on your little ones skin. They come in sizes to fit kids from around 2 to 8 years old, however the sizes run a little bit on the large side so it might be worth buying the size below what you would normally buy.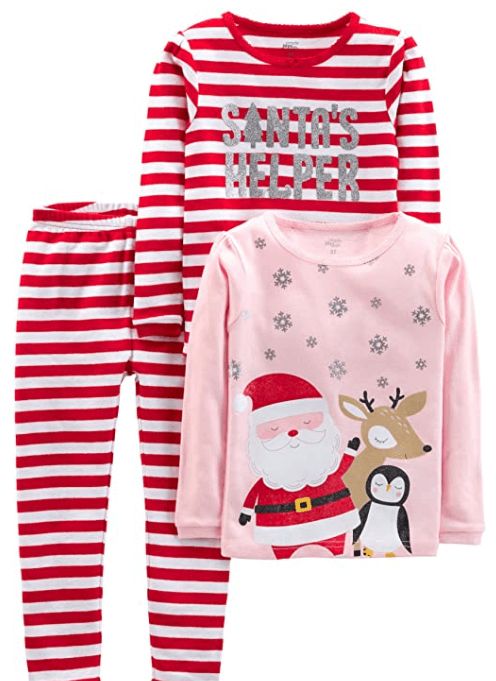 4. LEGO BrickHeadz Santa & Mrs Claus
LEGO is perhaps one of the most popular Santa Claus gift ideas for boys and girls. If you don't want to choose an expensive set from Santa, this Christmas-themed set comes in at under $20, so it is perfect. The set is recommended for kids aged 10 years old and above. However, if your child already has some experience in building LEGO (kids lego section), they should manage from the age of around 7 or 8 years old, perhaps with some help from mom or dad.
There are 341 pieces in this set which are used to build a model of Santa, Mrs Claus, a Christmas tree, and more. This is a great way to keep kids entertained for a while on Christmas Day whilst you prepare the food! The set is fun to have on display as a decoration and can be brought out and rebuilt year after year.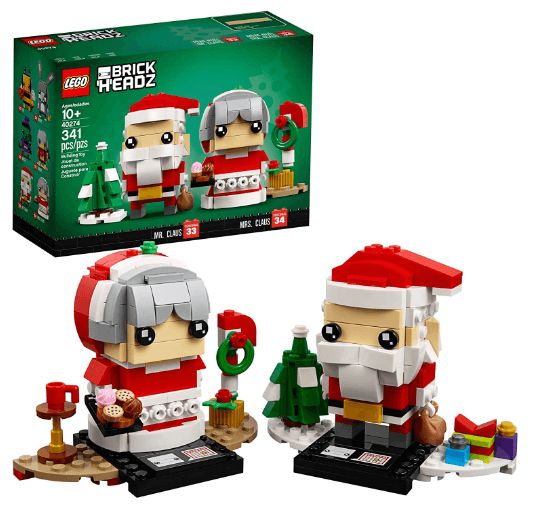 5. Activ Life LED Bike Wheel Lights
Many parents like to choose inexpensive Christmas presents from Santa, which is a great idea. That means a new bike is probably out of the question – it will most likely come from mom and dad instead. But, if you want to make their new bike extra special, maybe Santa could bring these super fun bike wheel lights instead!
Not only will they make your child's bike look great, they also help keep them safe when riding at night – they are very bright. There are many different color options to choose from – you can pick one to match the color of their bike, or go for multi-color or color-changing if you can't decide. The lights fit all sizes from 12″ to 29″ wheels, so kids ages 1 to 111 years old can enjoy these! They are also easy to install – no tools necessary. They are also waterproof and even come with batteries, unlike many Christmas toys!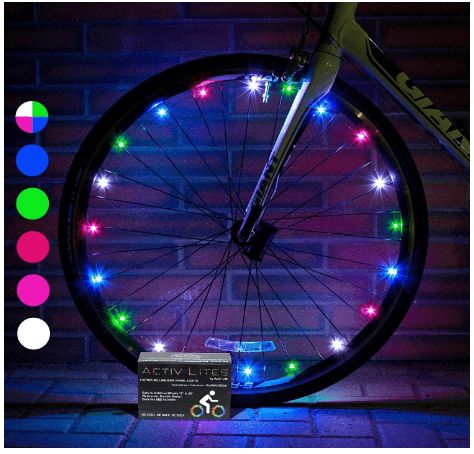 6. Personalized Stocking
If you're struggling to think about good gifts from Santa, how about a stocking with your child's name on it filled with smaller gifts? This is another great way to ensure you don't spend too much on your child's gifts from Father Christmas. The stocking comes in many different designs, so you can find something your child will really love.
The stocking is 20 inches long, so it's a great size to put some small gifts in, but not so large it will take a long time to fill! It's made from burlap with a plaid trim and your choice of name in gold, or a choice of three other colors, on the trim. There are a few different font styles to choose from, too. It is durable and can be reused year after year – kids will be delighted to find it full on Christmas morning!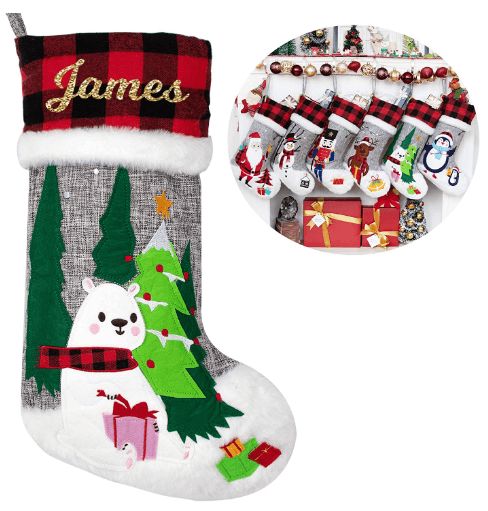 7. Personalized Christmas Tree Decoration
Next up, we have another personalized, unique Christmas gifts for kids. The tree decoration comes in a choice of six different styles, each depicting different vehicles, so it's ideal for little ones who love trucks! The text 'Merry Christmas' is written on the ornament with a permanent marker, and you can also add the year and the name of your choice – the maximum length varies depending on the style you choose.
Each of these ornaments is made from cast resin which is lightweight and includes a loop for attaching a ribbon to hang it from the tree. Kids will love to find this special decoration hanging on the tree on Christmas morning if it wasn't there the night before and it will help keep the magic of Father Christmas alive!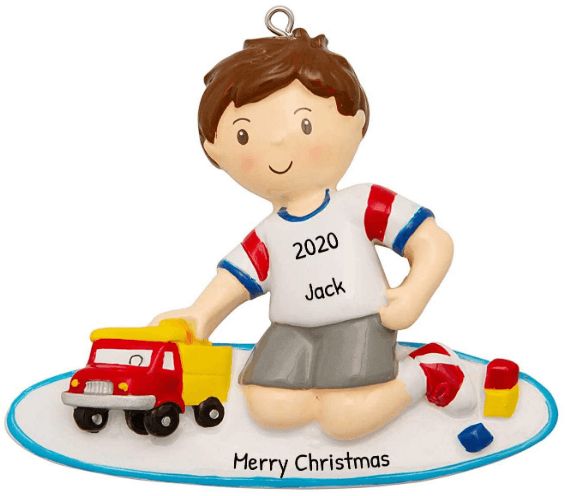 8. Wooden Personalized Name Puzzle
We have already seen a few personalized gifts from Santa ideas, but this next pick is one that can be used all year round. The wooden name puzzle is ideal for younger toddler children as it can help them learn how to spell their name. It is 4.5 inches high and between 10 – 30 inches long depending on the length of the child's name. So, it's a good size for little hands to be able to grasp and place the letter pieces.
High-grade 100% plywood is used in making this puzzle and the colors are obtained by using water-based dyes to stain the pieces. Therefore, it is completely safe and non-toxic for young children. There are a few different color options available so you can customize the puzzle for a completely one-of-a-kind gift. Choose from one of the pre-made color schemes or use the chart with 12 different colors to come up with your own design.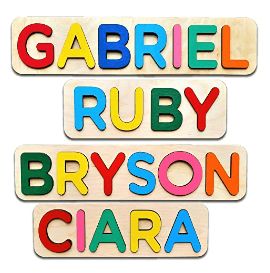 9. Name Necklace
Nearing the end of our list we have some more unique Santa Claus presents. These customized necklaces are sure to delight any young girl on Christmas morning – she will be thrilled with something bearing her name from Father Christmas! There are loads of different styles to choose from – various shapes, colors, and the option to add a birthstone or a birthdate as well as or instead of a name. So, you can browse through the different options and really tailor this gift to your child's tastes.
Pictured below is the stainless steel birthstone bar. You can choose from the 12 birthstones, five font styles, and add a name or message of up to 20 characters long. The necklace comes on a chain 16 inches long with a 2 inch extender, which is a good size for slightly older girls. The stainless steel won't rust or tarnish over time, and also won't cause an allergic reaction or discoloration on the skin. So, it can be enjoyed and worn on a daily basis without showing signs of aging.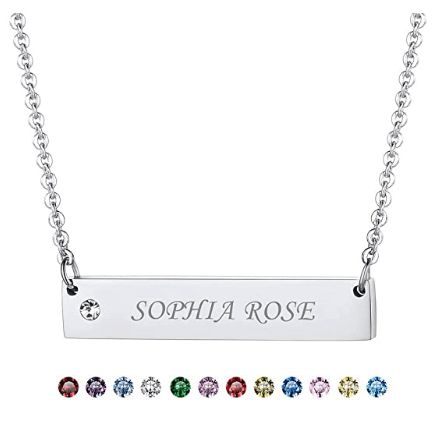 10. Santa's Sleigh Snow Globe
Our final pick of the best secret Santa gifts for kids is this lovely snowglobe. It has a wind-up mechanism that causes the snowglobe to play Santa Claus is Coming to Town and also makes the train move around the outside of the globe. The glass globe itself also spins after winding it up. To make the 'snow' inside move, it is necessary to give the globe a gentle shake – it doesn't move with the wind-up mechanism. This is a beautiful Christmas decoration which is sure to delight children year after year.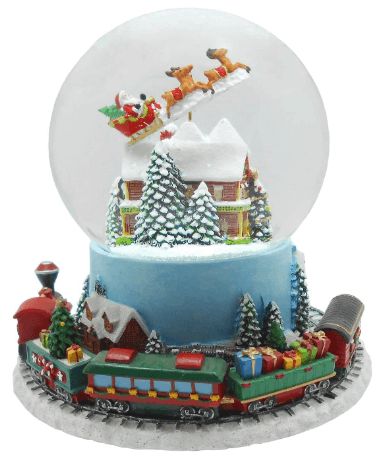 How Many Gifts Does Santa Bring?
This is a difficult question and one many parents find themselves asking at this time of year. More and more parents are choosing to give smaller, inexpensive, yet special gifts from Father Christmas rather than smartphones, tablets, and games consoles. Many parents can't afford these gifts for their children, so it seems unfair that Santa should bring these items to some and not to others. So, it makes sense to say only a few of the gifts came from him, and the rest are from mom and dad. Take credit for the lovely gifts you have bought your children!
How to Decide What Gifts are From Santa?
Again, this can be a tricky decision to make when wrapping up the gifts. It is a good idea to suggest the more expensive gifts, such as any technology, are from mom and dad. Choose something unique and special from Father Christmas such as something personalized.
What Kids Want This Christmas?
There are so many gift ideas out these all promising to be the best Christmas gifts for kids this year. Check out some of the latest, best selling toys related to their favorite characters such as Toy Story, Harry Potter, Elsa, Baby Yoda, Paw Patrol, Baby Shark, or anything else they might be interested in at the moment. If you are looking to spend a bit more, consoles such as the Nintendo Switch Lite or a tablet are at the top of the wish list for many children this year.
What to Buy a Child That Has Everything?
Many kiddos these days seem to have everything they could ever want or need, which makes shopping for them at Christmas a difficult feat. In this case, try to choose the little one something unique – perhaps one of our personalized gift ideas above will help. Something useful is also a good choice – maybe they need some new clothes or shoes or even some school supplies. This might seem a 'boring' gift to children, but you can choose something with their favorite characters or anything else they are really into and it is sure to go down a treat. Mom and dad will love their children to receive these kinds of practical gifts, too.