Looking for a bereavement gift for a child or some type of remembrance gifts? Tragedy and heartbreak can happen in any family, and with younger children losing loved ones it can be a traumatic time with a drastic change happening in their lives.
Sympathy gift ideas can come in different shapes and sizes but can provide that needed comfort to little ones when they are feeling sad, confused, or lonely. They show that they have someone around them who cares for them and wants to support them, and the gift can even be a reminder of the good memories they share with that special someone they have sadly lost.
Sympathy Gifts for kids can be an unpleasant purchase, not knowing what is the right thing to buy for them, here are a few considerations to make before you do.
Considerations when Choosing Sympathy Gifts for Children
Age 
The age range of the gift could be a big help or disadvantage in getting a message across that they are cared for and loved for, having support around them. If a child is too young the gift and he message that it implies could completely bypass them not giving them the heartfelt act of kindness that it implied.
Material
These kinds of gifts should be something that can last a very long time. The materials that have been used are a big feature in the sustainability of a product and how durable it is. It is important to research these things before buying something that could be damaged or broken easily, or lose color and feel after being washed
Item
A child memorial gift can vary in type and form. The actual item could be a big thing to consider. Younger boys won't take interest the same as girls when it comes to jewelry even if it has a kind message on it. Books can be a great choice, giving an understanding and explanation to a young child on what has happened in a comforting way.
Type of Occasion
Find the right gift for the appropriate event is important. Gifts for children who have lost a parent are going to be different from from boys to girls.
Top 10 Sympathy Gifts for Kids
1. Where Are You? Children's Book About Loss
This children's book is a supportive and kind book with amazing illustrations that are designed to help children deal with the loss of a loved one. Kids of all ages can gain help from this kind of book as it has been created with care and love so that young children can find comfort in reading this book during a difficult and challenging time in their life.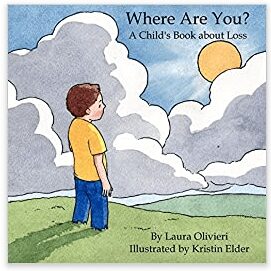 2. Cubby Comfort Bear
Looking for gifts for grieving children to cuddle? The Cubby comfort bear is a high-quality plush bear made for children to give them a warm comfortable friend to keep them feel safe and loved. For extra comfort there is a silk handkerchief attached to the bear, the material used will provide a little extra comfort.
There is a velcro pocket that can be used to hold special keepsakes that your child, nephew, niece, or friend may want to keep with this sentimental gift. This gift is perfect to remember a loved one providing a friendly face showing lots of love. The toy comes with a bookmark poem card that says a heartfelt message to help make any youngster feel better and gift for child whose father died.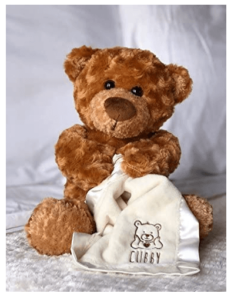 3. Ty Halo the Angel Bear
Trying to pick a gift for child who lost mother? This is harrowing at the thought, but a angel from above looking down is a good concept. Halo the Angel bear was born 31st August 1998. it features a heart tag that says: 'When you sleep, I'm always here Don't be afraid, I am near Watching over you with lots of love Your guardian angel from above!' This provides children with the comforting feeling knowing they are safe and protected for when they are sleeping.
There are a lot of products that are imitating the look and design of these gifts so always look out for the heart-shaped tag meaning you have purchased an authentic TY product. The teddy measures 8.5 inches in size, perfect for small hands to grasp and hug while they are out and about or at home just before setting off to sleep.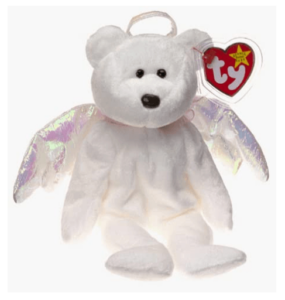 4. Gund Baby Angel Plush Stuffed Bear
The soft plush angel gift from GUND Baby is a celebration of a new angel being added. The Little Angel Bear is an extremely soft that has silver accents, angel wings, and praying paws, making it a beautiful addition to any nursery.
Easy to clean, this pick is completely machine washable living no need to worry about the loss of softness and comfort as the quality material will remain just as new after each wash. This is the perfect gift for children any time of the year, great for birthdays, Christmas, easter, valentines, baby showers, and much more.
The high-quality material makes for the best cuddles, and these toys are amazing with award-winning bears that are perfect for play and cuddling.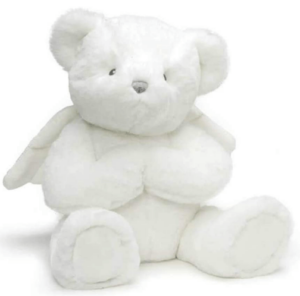 5. Aurora Charlie Angel Bear
The charlie bear from Aurora is an 8-inch size fluffy toy made from high-quality materials. The bear is soft and fluffy to touch providing comfort and warmth to any child holding it. Featuring the typical precious moment's teardrop eyes that look adorable.
This bear such as any other Aurora world precious moment's style toys comes with a heart-shaped tag with an inspiring message, the Charlie bear angel has written 'so beary sweet'. To help the Charlie bear angel to sit straight and upright the bottom has been filled with beans keeping it sturdy.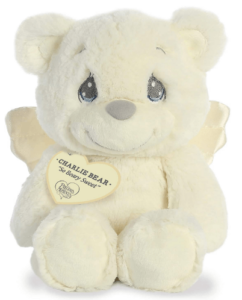 6. Demdaco Big Brother Puppy
The big brother puppy from DEMDACO is the perfect stuffed animal figure to show that a new big brother has someone who is looking up to them and caring for them as soon as they arrive into the world. the puppy toy comes with a special message saying: "Hello Big Bro! I'm getting the best Big Brother in the world! I'm so lucky!
I'm excited to learn amazing things from you! You'll always be there to show me the way, teach me the right thing to do, and lend me a helping hand." The toy is made with plush fabric with a soft brown finish, easy to care for simply wash any of the surfaces. There are no buttons or small items that could fall off the bear and let your little ones choke upon, as the nose and mouth have been embroidered for extra durability.
This plush figure toy is a great size measuring 13 inches tall, a great size for small hands to grab and cuddle. Included on the bottom of the toy is a patch that has a permanent to/from text and also has a 'Best Big Bro' patch on the paw. The cuddly plush toy will be a constant reminder that they have been given this wonderful comforting gift by their younger sibling. A gift from The New Kid Collection shipping in protective packaging ensuring the toy is delivered in the way it was intended.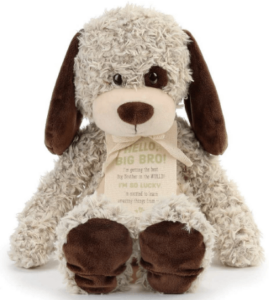 7. Demdaco Feel Better Mini Giving Bear
This precious friend comes with endless amounts fo love and hugs, making it the perfect gift for your title ones showing them how much you care for them. More than just your standard stuffed animal making it the perfect gift for children, friends, nephews, nieces, and siblings.
There bear isn't just a life long friend but it is a gentle reminder that they are valued and treasured by someone who thinks they are special. The bear includes a bookmark that has a message on it saying "Hoping this little friend helps you feel better soon." 
To keep this plush teddy animal feeling soft and comfortable it should only be spot cleaned as this cozy touchable fabric lends a soothing comfortable touch of love every time it is held by your little ones. The sweet and friendly face that has been used on this bear shows he is a good listener.
The teddy is a great size measuring 8.5 inches at full height fitting perfectly in your little one's arms, perfect for on the go or for little hands to cuddle, gaining comfort when they going to sleep. The giving bear from DEMDACO is a special companion showing the user that someone cares and they always have a friend nearby, the soft high-quality material os cozy and warm leaving a comfortable feeling when holding on to it.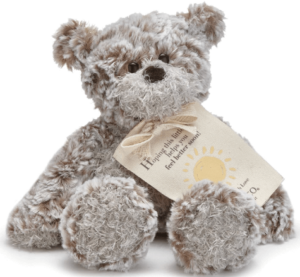 8. Whispers From Heaven Keepsake Bear
This special plush bear makes a unique gift for children. Sometimes in harder times, a memorial gift is the perfect item, giving a loved one something they can remember there lost loved one by, or even just to show that you are there for them in this difficult time of their life.
The bear is a great size measuring 8 inches, holding a book that can be personalized giving it that extra touch. the book can be customized featuring a message or photo of the loved one they have lost.
This bear makes a wonderful gift for the loss of a child or for children who have lost someone they love. A completely unique gift for remembering loved ones, suitable for children aged 3 and above.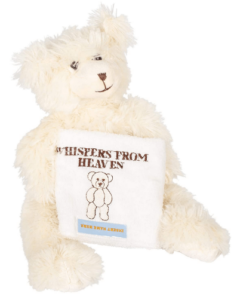 9. Ganz Get Well Soon Teddy Bear Gift Set
Sympathy gift ideas like this one are great if your child is feeling sad and run down by the removal of their tonsils. The bear is the perfect gift for children after they have had surgery, gaining a best friend in the time they are getting better.
One of the best-stuffed animal gifts for girls who have visited the hospital. The teddy bear is a great size measuring 10.5 inches, looking adorable in its pink fluffy robe. There is also a blanket that comes with the bear that has been embroidered saying 'Get Well Soon' it is the perfect size for your little ones to love and cuddle finding comfort doing so.
These teddy bear sets come with an educational children's book that helps calm your children's fears about the surgery and work towards a speedy recovery. This teddy gives reassurance for years to come as the materials that have been used are strong and durable making them long-lasting. This gift is the perfect way to show sympathy to your little ones when they are having to make hospital stays, amazing for cuddling, bedtime, nap time, or just being beside for comfort.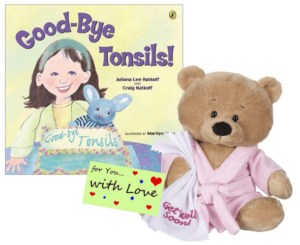 10. Belly Kicks Remembrance Sympathy Gift
A sympathy gift for child who lost parents can be a difficult thing to buy but this unique gift from Belly Kicks lets you express your care and love to someone who is going through this difficult time. You can express your solaces to a grieving person that you know personally who is struggling with the death of a loved one.
This gift helps create an everlast bond of hope, support, and healing to the special person in your life showing that you care and are there for them whenever they need you. This is a gift that can be given to many people like a father, mother, friend, co-worker, and many more who will know that you cherish them and appreciate this beautifully kind gesture.
The ceramic is painted beautifully and measures 7×7 inches. Made from high-quality porcelain and has been fitted with a hook on the back of the product for easy hanging. There is also an easel part that can provide a stand for sitting the gift on a shelf or worktop making it perfect in different places of the house such as living rooms, bedrooms, and dining rooms. There is no need to worry about wrapping either as the gift comes presented in a beautiful gift box where you only have to write a to-from card that is printed on the gift box, then it will be sent to our special person. Satisfaction is the main focus of the company and that comes across in the amazing customer service they will provide if you are not completely happy with the purchase.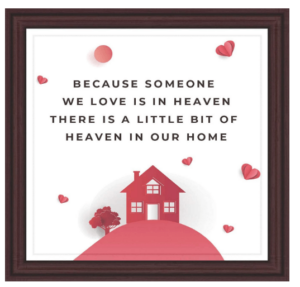 11. Willow Tree Forget-Me-Not Sculpture
The willow tree forget-me-not is a sentimental piece with a card saying "Holding thoughts of you closely" on an enclosed card. The figure is a 5-inch hand-painted resin model that is perfect to display on a mantel, shelf, or table. Easy to clean simply use a brush or cloth to remove any dust that has been acquired.
This is a gift to express comfort, healing, and sympathy sowing an expression of care and love. The figure is packed in a gift box ready to be given to your loved one. This gift will be a great thing for young children to have as these figures communicate through gestures a memory of emotion expressing healing, closeness, and hope. The artist who creates these Willow Tree pieces hand carves each model for a more personal touch, making each figure individual and personal, especially with the hand-painted finish that is applied. 

12. Memorial Jewelry Sympathy Gift
Loss jewelry has produced this amazing gift that will help your loved one feel better about losing one of theirs. It has been made from stainless steel that has been known for its hypoallergenic qualities making it suitable for even the most sensitive of skins.
There is no worry of this jewelry rusting either as it is all made from stainless steel, an amazing piece of jewelry that will last a lifetime, representing the memories it possesses. The 'A Piece Of My Heart Lives In Heaven' pedant charm is 2cm in size and each sympathy necklace comes in a Zuo Bao velvet jewelry bag perfect for gift giving.
This kind of memorial jewelry is worn as a constant reminder of the people that have been lost and were too good to stay on earth. Sentimental gifts such as this one are one of the best ways to feel support and love from the people around you, knowing that they care and support you in a compassionate and loving way. 0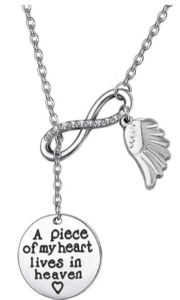 13. Giving Bear
This special giving bear will supply any child with all the hugs they could every want making it the perfect gift for love and comfort. These bears are more than just stuffed animals, they are designed to give love and support to any young children who need comforting in a difficult time.
The special giving bear includes a bookmark that carries a beautiful heartfelt message that will bring comfort and understanding, it reads: Sometimes you can feel so small in a great big world. Sometimes you might feel like a giant who can climb a beanstalk.
However you are feeling, I want you to know how important YOU are. Whenever you need a little comfort, a little safe, a little brave, just whisper in my ear and hold me tight. I'll be here for you. A lovely message for anyone to read. The bear should be spot cleaned rather than machine washed to keep its hug ability keeping the fabrics soothing and comforting.
This bear is a good listener and this is implied with the contrasting corduroy ear. Giving bear measures 16 inches at full height and 12 inches while sitting down. To form his floppy body he has been stuffed lightly. Made perfectly for small hands to cuddle and hold, this giving bear from DEMDACO is a special reminder that someone loves the person who has been given this adorable comforting plush bear.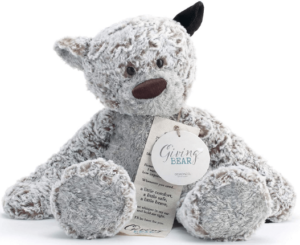 Best Buy Overall
The best overall buy in our list is the children's book by Laura Olivieri. it is a children's book that provides support to young kids who are dealing with the loss of a loved one. Kids of all ages can gain help from this kind of book, it provides care in a creative way, delicately telling the story of how to get through a difficult time of losing a loved one.
This time in a young child's life can be a difficult and confusing time with them not really understanding what is going on so this book will be a great help in showing them there is a happier place outside of the traumatic time they are facing.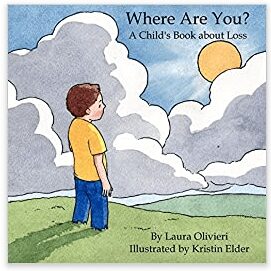 Best Budget Buy
The best budget buys in our list is the Ganz get well soon teddy bear set. It provides young girls with the comfort and support they need after they have been in the hospital for surgery getting their tonsils removed.
The bear is soft and cozy providing love and support from a new best friend that will get them through being ill and upset about getting and feeling better. A book is also included in the set providing educational explanations of how the procedure went on and why it has all happened. it does all of this in a comforting way leaving your little ones feeling much better about the situation they are in.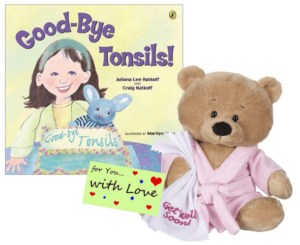 Memorial Gift Ideas for Loss of Father
Memorial gifts for children who have lost fathers can come in all different shapes and sizes. A heartfelt message such as photo frames and bears could be a great idea, giving a warm response showing that you care for the person that is dealing with this difficult time.
There are also certain bears that contain pictures or even sound recordings inside them providing the grieving person with that everlasting sound of their loved ones.
These kinds of toys are great as they will last the length of time, keeping the loved one with them for their entire lives. Through these dark times, I've and support are the main things that children need, showing they are not on their own and don't have to deal with grieving by themselves.
In Memory of Mom Gifts
Looking for a sympathy gift for child who lost parent? In memory of mom, gifts can be difficult things to buy, you want something that is going to show the person that you care and love them providing support when they need it in the difficult time they are experiencing.
Jewelry with a heartwarming message could be the answer for you, these kinds of gifts can be personalized giving that extra thought into the present, maybe providing that little extra care that they need in this stressful time.
Teddy Bears can also be great for providing comfort, the soft touch is warm and inviting and can be a figure that helps kids break out of the sadness of what situation they are in. Different bears have been designed with inviting features such as kind faces and mix-match ears showing they are good listeners when young children need someone to talk to.