All toddlers love to play dress-up and what could be more exciting than dressing up as a fearsome dragon?! Here, you will find some of the very best dragon fancy dress costumes to suit toddlers of all sizes. There are some budget-friendly options as well as higher-end products which are sure to give years of enjoyment to young boys and girls who love to play imaginary games with their friends.
Considerations
There are a few things parents should keep in mind when looking for a dressing up outfit for their child. Some things worth considering are:
Size – This is an obvious one but sometimes gets forgotten. Dressing up costumes are usually designed to cover a large age range rather than fitting one specific size. Make sure to check a sizing chart to make sure you won't be disappointed- kids won't be able to run around in a costume that is far too big!
Materials – You might wish to choose certain fabrics which are easier to clean or less likely to cause irritation to toddler's delicate skin. Also, ensure the material is durable if you expect your toddler to wear the costume every day!
Features – If your child really likes green dragons with spikes on their back, try and find a costume to suit their tastes. Or look for any extras like detachable tails or hoods, to make the costume more flexible.
Forum Novelties Red Dragon Costume
This fierce red dragon fancy dress comes in 3 sizes, meaning it can be used by toddlers or older children. The costume is great for kids who really want to get into character -it even includes mitts and shoe covers to your child can well and truly become a dragon!
The children's dinosaur costume is made from a soft plush material which is ideal for keeping kids warm when playing outdoors. It comes with a hood featuring the dragon's face, including plastic eyes. There are also wings and a tail on the costume, for a really lifelike dragon effect!


Dragon Wings Costume

This dragon wings costume is ideal for younger children who may not want to wear a full dressing up outfit. They can fit most sizes – they are secured by shoulder straps then looped onto the hands, allowing the wings to be stretched out for flying!
The wearable dragon wings are ideal for toddlers as they won't cause irritation or itching when worn. The wings are really versatile and can be worn alone or with other items to make an epic fancy dress outfit! They are easy to store and are very portable, perfect for taking outside for kids to run about and 'fly'! The dress-up wings come in a range of styles, so you can add to the collection with bat wings, butterfly wings and many more!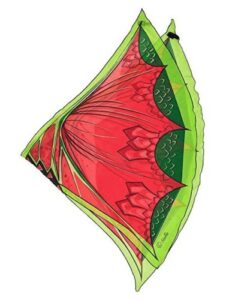 How to Train Your Dragon Cape
This toddler fancy dress costume is ideal for all fans of How to Train your Dragon the movie. The fun outfit is really easy to put on – perfect for impatient toddlers! It comes in 2 sizes, for children aged up to 3 years old or those up to 6 years old. However, the shape of the costume means it easily fits a range of sizes – it doesn't matter if it is a little long or short.
The dragon cape comes with spines on the back and features the face on the hood. It's great for a quick and easy Halloween costume, or for playing dress up. Young boys and girls are sure to love wearing this fun dragon outfit!


Fire Breathing Dragon Toddler Costume
This multi-piece children's dragon dressing up outfit is perfect for Halloween, or for dressing up for imaginative play time. It features a jumpsuit with a built-in tail, and wings which fasten to the back with Velcro. There is a separate hood for the dragon's head, and shoe covers are also included for your child to really get into character!
The red dragon costume comes in two sizes, for children aged 3-4 or for those between 4-6 years old. Therefore, it's perfect for toddlers as well as slightly older children. The polyester material is light and comfortable to wear – kids won't want to take this fun outfit off!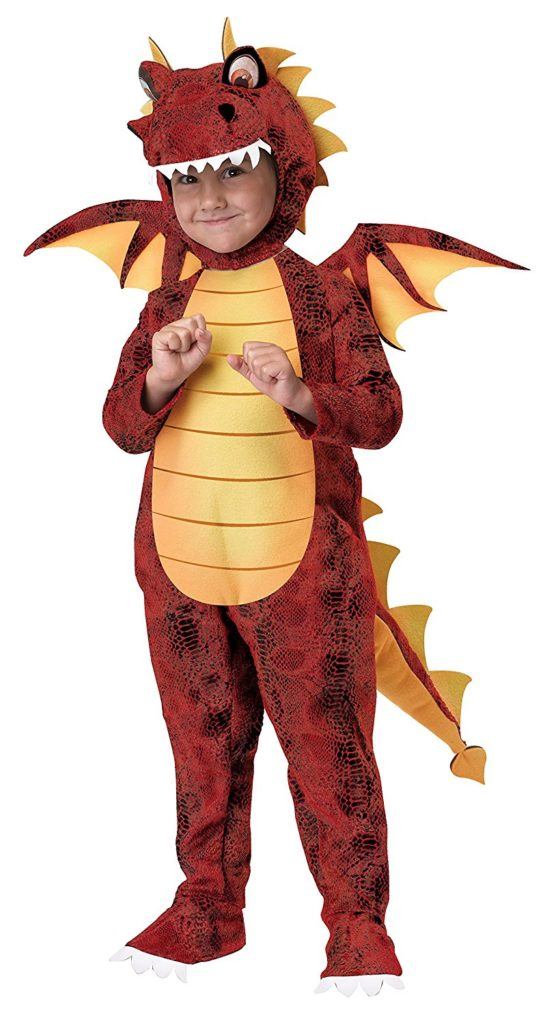 Girl's Dragon Dress Up
This little girl dragon costume is perfect for toddlers who love to play dress up. The shiny pink and purple colors are ideal for girly girls, who will want to wear the costume for every occasion! The costume consists of one piece, with the tail and hood all included. The cape is fastened around the neck, then loops are put on the hands allowing your child to spread out their dragon wings and soar!
The pink dragon outfit comes in a choice of 3 sizes, so it's sure to fit toddlers and young children of any height and weight. The costume is quick and easy to put on, and can be worn over just about any type of clothing. This means it's ideal for use in either the summer or the winter, so you will get loads of use from the costume!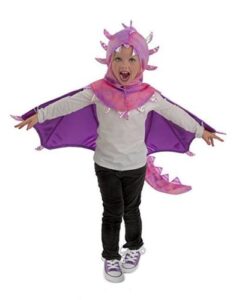 Baby Dragon Costume
This infant dragon costume is ideal for children between 1-2 years old. The jumpsuit has an attached tail and hood, with removable wings. The legs offer snap closures, making it easy for diaper changes. The material is high-quality and can withstand being worn over and over again.
The green dragon baby outfit has mitts which can be folded back leaving the hands free for busy toddlers to carry on with other activities. The costume will keep kids warm when out trick or treating, thanks to the cozy material.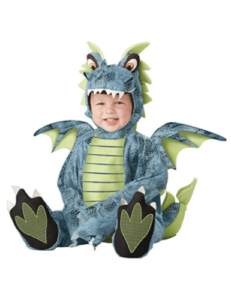 Green Dragon Costume
This green dinosaur toddler costume comes with 5 pieces for a really authentic look. There are a hood, wings, boots and the main jumpsuit piece – kids who often get too warm in costumes can choose to wear just the hood and feet for example. There is a choice of 3 sizes available, so it can fit children aged 1 year old right up to those aged around 7 years old.
The dragon outfit is ideal for dressing up at Halloween, or for just playing at home. The feet won't last well if worn outdoors however – they are booties rather than shoe covers so are best kept for indoor use.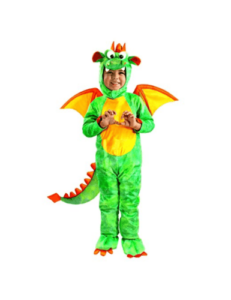 Underwrap's Infant Dragon Costume
The baby dinosaur costume comes in sizes to fit babies as young as 6 months old. It comes in one piece, with attached hood, feet and mitts. The lightweight material is ideal for keeping young children comfortable as they play, and is easy for parents to clean and dry.
The dragon outfit features Velcro fastenings, making diaper changes easy with young children. Kids will look adorable in this costume – they're sure to be the hit of any Halloween party in this sweet outfit!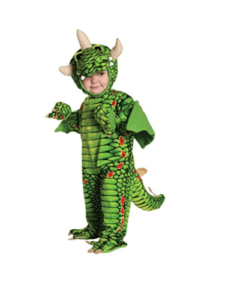 Rubie's Skylanders Spyro Costume
This dragon Halloween costume is perfect for older toddlers who love the Skylanders games. The costume consists of a jumpsuit with feet and wings attached, and a separate mask. The jumpsuit is quite fitted, so be careful when choosing the size for your child. The close fit ensures your child will stay warm when wearing the costume, making it ideal for trick or treating.
The Spyro the Dragon outfit is great for fancy dress parties or for just playing at home. The mask can be used on its own too, for when full fancy dress isn't required. The outfit is sure to be popular with boys and girls of all ages, and will be worn over and over again.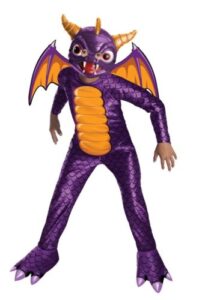 Best Overall Dragon Costume 
California Costume's fire breathing dragon is a great choice for busy toddlers. It comes in 3 pieces meaning kids can choose whether to wear the whole outfit or just one of the accessories. This is great for playtime, when sometimes a full costume can get in the way, or cause kids to get too warm.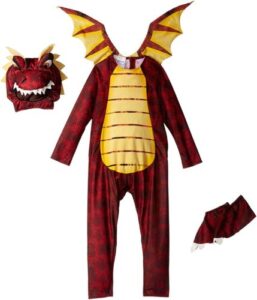 Best Budget Pick

Underwrap's baby dragon dress up outfit is a great option for those who aren't looking to spend too much money. Toddlers will love to play knights and castle games when dressed up in this fun outfit, and it is comfortable to wear for long periods. It also doubles as a great Hallowe'en costume, meaning you won't have to go out and buy another- even more budget-friendly!