I saw these glow stick lanterns on
HERE
on
Lil Boo Blue
a while back. We had a friend over and explained that she had pinned them on pinterest. I actually had some glowsticks lying around the house. (They are often found in the dollar bin in various stores.) So, we tried it out.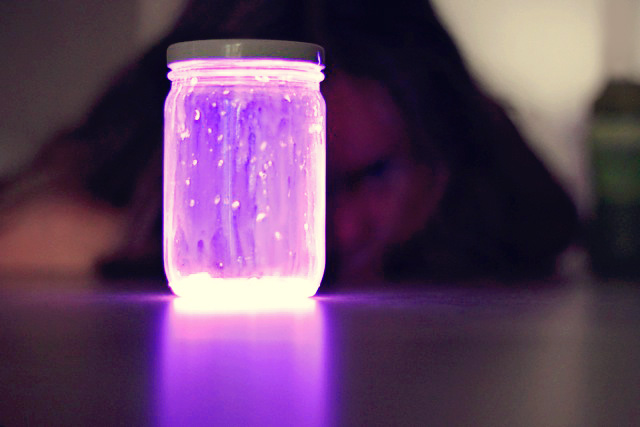 Here's ours.
It was pretty cool and a great boredom buster. Here are a few tips in case you want to try it out.
1) From the pictures, you'd think the stuff in the sticks is a gel. It's not. It's a thin liquid. It also has these bits of thin glass or plastic in it. Just dump them in too. This part is a job for you and not your child.
2) Cut them open while holding them in the jar. I got some all over me the first time I cut one. It kind of bursts. It made me and my shirt glow. It looks kind of cool, but I'm not sure if it's going to come out of my clothing.
3) They don't seem to glow as long as they do as sticks. So, if you want to let your child go to bed with it, make it right before bed time.
4) You can have a lot of fun taking pictures with them. We went into our dark basement and turned off the flash on my camera. That meant the shutter speed on my camera was crazy slow and we had some fun with it. Rex thought this was awesome. He whipped around doing superhero moves and then wanted to look at each picture.
Here's our friend's moves.
And there you have it. Thanks for the sharing the idea,
Ashley
!
Thanks for reading. Have a great day!