Looking to buy a LEGO Christmas set for this coming end of year? There are many themed LEGO sets for kids to get building and if your wondering what the best lego sets for christmas is, then you will know by the end of this review or the best options for children of all ages.
For many children, Christmas is the most exciting day of the year! There's nothing more thrilling for little ones than seeing gifts dropped off under the tree ready to be unwrapped and played with. However, for parents buying these gifts can cause a bit of stress, to say the least with months of preparation needed. If you've come to look for gift inspiration for your child, we have plenty for you. Below we're going to take a look at one of the best gift sets of all – Lego!
There are many different types of Christmas LEGO sets out there to fill your child with joy and provide them with hours of imaginative play. From santa legos to the North Pole themed sets, Lego Christmas activities can be the perfect toy for a child to enhance this special celebration. Let's take a look at the top picks, but before we do here are some handy considerations to keep in mind.
Considerations choosing Lego Christmas Sets for Kids
Age-appropriateness – As with all toys, it's super important to take the age of the child into consideration. This is especially true for any toy that contains smaller parts as they can truly pose a risk. Always be sure to check out the age recommendations which should be clearly stated on the Lego set's box before buying. With Lego, you'll find a range of different sets that come with varying degrees of difficulty. Some sets are designed specifically for older children (12+) while others are suitable for toddler ages and upwards.
Budget – Thinking about and setting a clear budget can help you to select a gift with less stress. For Lego sets, there are endless options when it comes to a price tag. Depending on whether you want to go for a huge set containing thousands of pieces or a smaller, more simplistic set you'll find lots of choice for whatever budget you set. So, set a budget and stick to it, otherwise, you could find yourself browsing Lego sets for way too long.
Child's Interests – Many children may not even be interested in Santa Claus, while others may have an obsession. Have a think about what the child is interested in when it comes to Christmas before deciding on a theme. For example, you may be set with the task of choosing a set for a child that really like trains – use this to your advantage and find a set that aligns with this.
25 Best Lego Christmas Sets
Now that the main considerations have been covered, we're going to present our top 25 picks for LEGO sets. We'll talk a little bit about what each set features and why we like it. Ready? It's time to take a look at some awesome toys.
1. LEGO Creator Christmas Set
This awesome lego xmas construction set helps children to recreate their very own magical train scene featuring all the delights of the Christmas period. Inside the set you'll find an awesome locomotive train, track pieces to construct a track design, a train driver, workers, festive green wreaths and much more. Kids can also transform this legos christmas set into a motorized one, giving extra playtime excitement through the use of a power functions motor which can be bought separately. Compatible with all other lego creator sets for sale, this is the perfect festive edition to your child's toy box and it's guaranteed to take xmas playtime to a whole new level. A perfect activity for the whole family to enjoy, this set is suitable for children ages 12 years and above.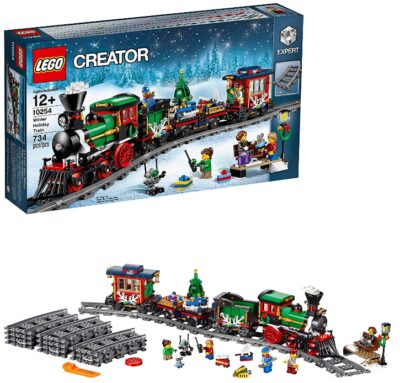 2. Santas Workshop Lego Christmas Town
This expert Christmas lego village features 883 pieces for plenty of seasonal building fun! Older kids will have a blast letting their creative juices flow as they get busy building this adorable, detailed-packed village. Inside the box you'll find a beautiful sleigh that Santa uses along with 4 reindeer, baby deers and a building that features its own Christmas tree too. If you're looking for impressive lego sets to take your child's construction skills to the next level, this is a perfect gift opportunity. Suitable for children ages 12 years and above, this set is sure to keep the magic of Chrsitmas alive. Once built, kids can play out imagined scenes using the characters included: Santa Claus, Mrs Claus and elf workers from the gift workshop too.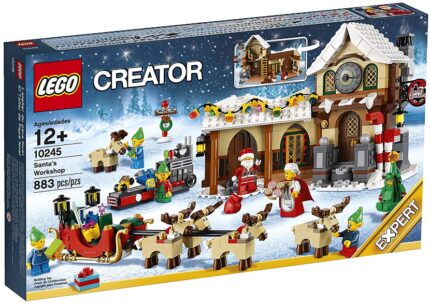 3.  Buildable Santa Lego Figurine
This super cool lego creator set helps children to build their very own Father Christmas! Once built, the figurine's arm and legs can be moved thanks to flexible joints. A perfect gift for any child over the age of 7 years, this set is the perfect Christmas addition to any lego collection. Children will have heaps of fun recreating their favorite festive character and will develop their skills as they do. We love Santa's friendly expression and the fun that this legos christmas set brings, don't you?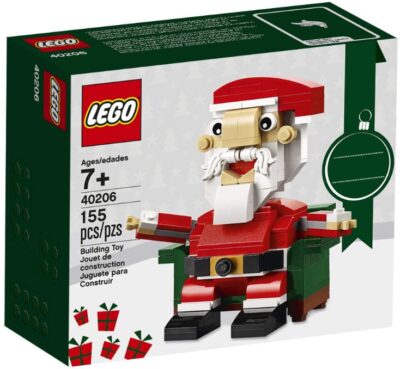 4. Chrsitmas Tree Creator Set
If you're searching for more of a simple Lego set to add to your child's collection in line with the xmas theme, why not go for this awesome tree? Suitable for children ages 6 to 12 years, it helps to challenge children's constructing skills while offering them a fun way to celebrate their favorite holiday. There are just 65 pieces used to assemble this realistic looking tree complete with a star, baubles and, gifts. For those that are looking to introduce their child to lego sets, this is a great way to do so while giving a fantastic stocking-filler gift.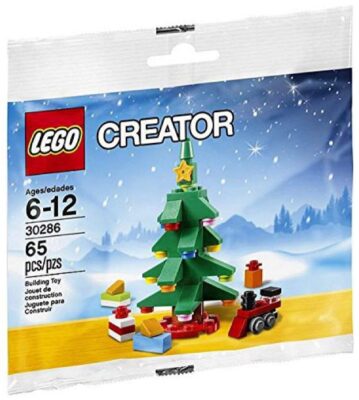 5. Winter Fun Christmas Lego Set
Suitable for children ages 7 years and above, this 107 piece lego christmas town set is going to provide your little one with lots of imaginary play and practical skills too. Included is everything needed to create a tiny little scene that replicates that of a skiing village, complete with an adorable husky and figurines too! Your child is guaranteed to have fun while engaging with this educational toy and it's a great addition to an already existing lego collection. We love the attention to detail in this set to help recreate a snowy landscape with a friendly snowman.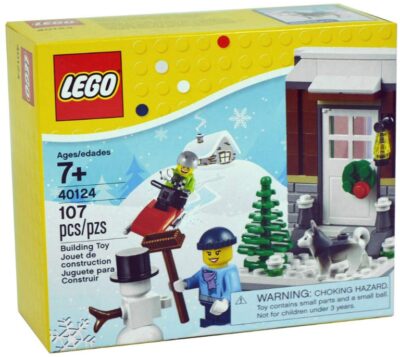 6. Lego Christmas Shopping Set
This adorable small lego set comes complete with a Santa and young boy unwrapping his gifts in a christmas shopping scene. We love the realistic element added to the building set which can be incorporated into any existing collection. Your little ones can build their own excitement for the festive period by engaging with this wonderful scene featuring Santa Claus! Suitable for children ages 6 years and above, this addition can be added to other lego creator sets for lots of seasonal fun.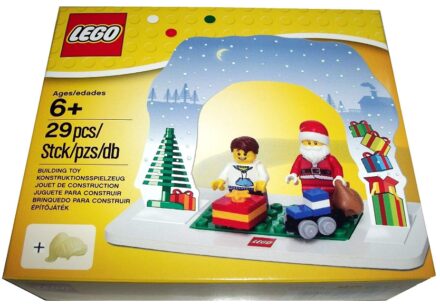 7. Gingerbread Home Lego Scene
There's nothing quite as warming as homemade gingerbread during the christmas period. Whether you've started a gingerbread home yourself with your child or, you want to engage them in the act without the mess, this is a great gift to consider for both boys and girls ages 10 years and above. With all the pieces needed to build a fun, colorful, festive home, little ones can refined their constructing skills while having fun. We love this Christmas activity and are sure your children will too as they build up their excitement for the big day!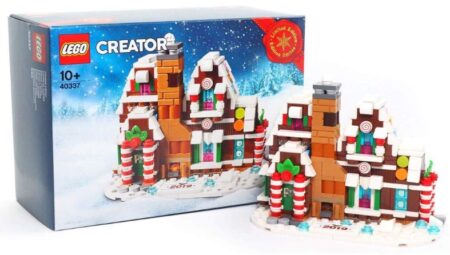 8. Lego Christmas Advent Calendar
If you have a Lego fanatic in your household, why not give them this quirky and unique calendar to countdown to Christmas day Inside of each of the 24 windows, you'll find a unique little Lego gift which can be added to an existing collection for the ultimate festive experience! Suitable for ages 5 years and above, there's something exciting to look forward to every day of December, thanks to this awesome Lego City advent calendar including a tiny figurine of Santa, a snowman and other festive themed objects.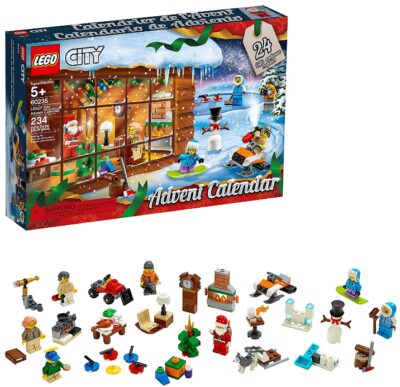 9. Brick Hedz Santa And Wife
Check out this fantastic Brick Hedz lego xmas set! The buildable construction characters have all the features you'd expect including decorated eyes and the traditional red and white outfits too. They come with a  detachable gift bag and other goodies including a colorful cake and cookies. Children will love bringing this set to life complete with a Christmas tree and gift pile. Each character from this series comes with its own base plate for display so that you can grow your collection all year round.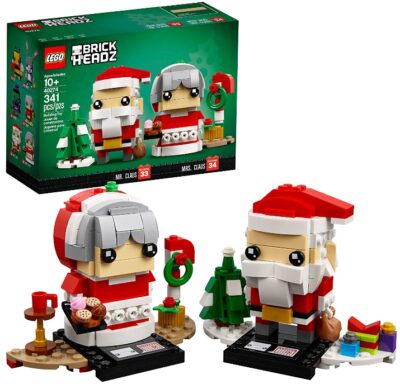 10. Lego Friends Christmas Set
Both boys and girls will appreciate this LEGO seasonal construction sets. Help your little ones to build their excitement for the big day with this Lego friends advent calendar which packed full to the brim with goodies. The set which is suitable for children ages 6 years and above, features 24 small gifts including a candy cane, lego snowflake and of course – lots of wonderful lego friends!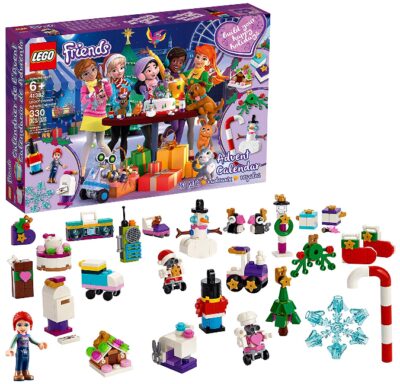 11. Winter Toy Shop
Children will get to build their very own special winter toy shop with this charming Christmas town set. Including everything you'd expect to make a magical winter scene, kids will even get to light up their shop too! Featuring a big Christmas tree, 8 figurines to play with, gifts and much more – there is much fun packed into this lego toy. With 898 pieces, this set will bring plenty of skill-building along with the fun that it provides during playtime, a perfect opportunity for kids to refine their motor and hand-eye coordination skills.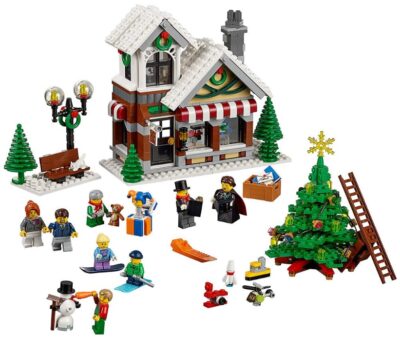 12. Adorable Lego Creator Set
This super cute and compact toy is one of the most unique lego creator sets for sale! Helping to bring about Christmas joy, kids will construct a tiny workshop for the busy elves to make their toys to deliver to children. There is so mute packed into this 107 piece set including tools for the elves to use, a workbench complete with a blow torch and completed toys. The creator set is fully compatible with other Lego toys too, making it a great addition to a children's collection.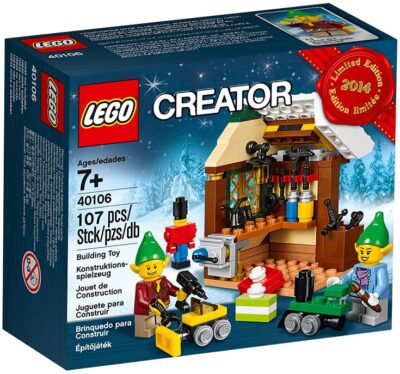 13. Disney Frozen Princess Set
For little Frozen fans, this is a perfect gift to give a child on Christmas day! Help your little one's dreams come true with this magical icy castle. Suitable for children ages 6 years and above, the construction set includes the pieces to make the sparkling home for the princesses along with the main characters from the Disney film, not forgetting Olaf of course. Once the castle has been constructed, children can have fun taking the characters out on adventures in their sleighs for the snow, there's really so much fun to be had with this special Lego toy.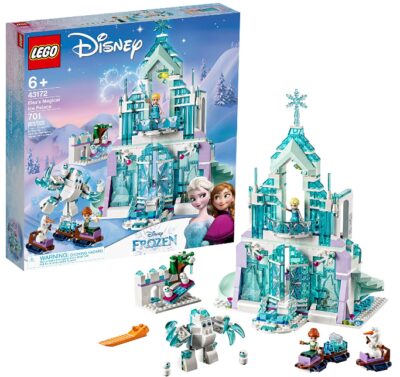 14. Christmas Lego Village
This awesome christmas lego allows children to build an activity-packed village of their own, for their figurines to enjoy. Suitable for children ages 12 years and above, this set contains 1261 pieces and is one of the larger Lego xmas themed lego toys out there. Included in this set is are 9 mini figurines, lots of accessories including cups, teddies and more as well as an awesome carousel enjoy for the characters to enjoy. This cool set can also be combined with the bigger Winter Village Cottage for the ultimate Christmas play experience!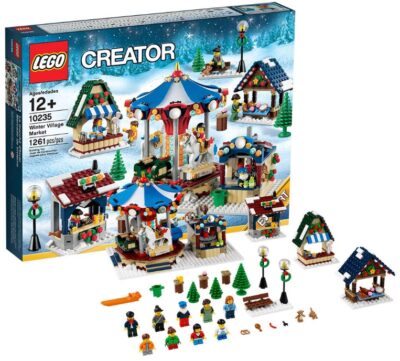 15. Winter Village Station Creator Set
This winter village creator set by Lego is the perfect addition to any child's collection, bringing lots of festive and fun play. Included in this 902 piece set are 5 miniature figurines (a grandmother and a ticket agent are just two of them), a clock tower, coffee shop, lamposts and much more. With lots of xmas decorations, lego sets don't get much more festive than this toy. Bring your child's christmas to a whole new level with lots of building and playing!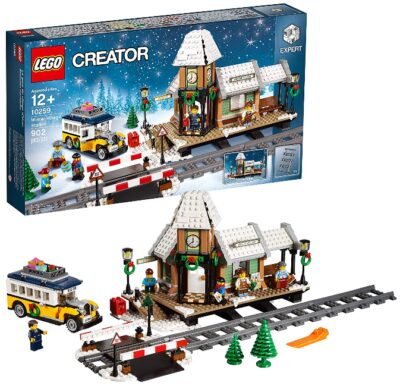 16. Expert Fire Station Christmas Lego
Suitable for children ages 12 years and above, this lego holiday set is unique in a whole new way. Tying together the theme of saving the day with the favorite holiday of the year, kids will have heaps of fun playing with this fire station once it's been constructed. Including 1166 pieces, the toy set comes packed with goodies including a LED christmas tree with decorations, a Dalmation figurine, a snowman, a fire truck, firemen and much more.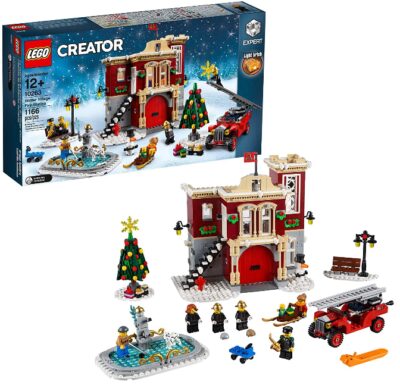 17. Lego City Ski Resort
Children ages 6 years and above will adore this fantastic ski resort that stands out as one of the most unique lego winter sets out there. We love the different vehicles that the toy features which allow little ones to get imaginative with their play, once they take to the slopes. Add to this 806 pieces of Lego and you have the perfect activity to keep any child interested in construction entertained for hours. In this set you'll get ski patrollers, a helicopter and pilot, sleighs, a snowman, snow plough and lots of smaller accessories too.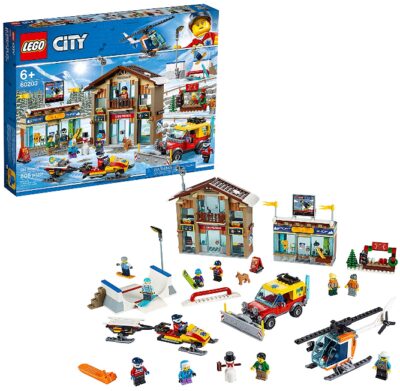 18. Winter Shop Legos Set
For many children, playing shops is a great activity as not only does it get imaginations going, it also helps with socialization and other skills like math too. This awesome lego set is suitable for children ages 12 years and above and its comes with 815 pieces making it a moderately challenging scene to construct. Once the charming winter shop has been built, children can interact with the other accessories included. Inside the box, there is are 7 character figurines, a cat, a snowman and even a jack in the box. To add to the fun, the tower window of the shop even lights up for added realism.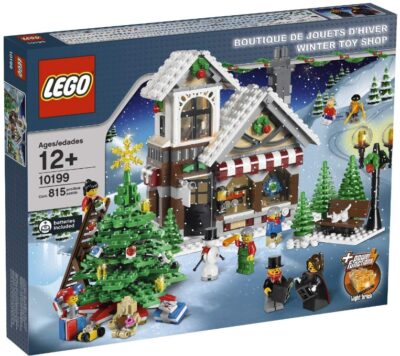 19. Delightful Holiday Bakery Lego Toy
Few toys really celebrate the holiday like this superb lego gift set does! Packed full to the brim with plenty of detailed accessories and providing a challenge it itself to construct the winter toy shop, kids will love playing with this lego on christmas day. Included in the box are 7 small figurines that can interact with the shop once built as well as a horse-drawn cart, trees, a camera, baguettes, croissants , and other delicious-looking food items.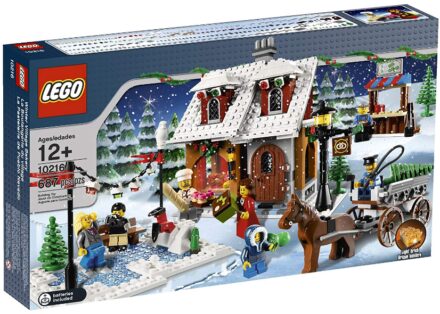 20. Lego Village Post Office
Posting mail and parcels is important in the world of lego too, especially during the Christmas period. Light up your child's imagination and ambitions with this awesome set that features a rustic-looking postal office. Suitable for children ages 12 years and above, kids can use the 822 pieces to construct the post office and then interact with the included accessories which include a post cart, a dog, 2 musician figurines and even a cute little dog. This is the perfect toy for any child who loves the idea of working as a postman or postwoman when they grow up!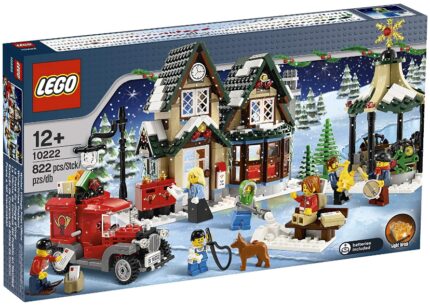 21. Lego Expert Creator Xmas Village
This mega Lego expert creator Christmas village features 1490 pieces and lots of festive fun. Kids over the age of 12 years old will love constructing this magical village that comes with plenty of accessories. It includes 8 figurines to form a family including a mother character, father, grandpa and grandma. The fireplace inside of the home lights up for a super realistic and warming effect while other highlights include a lego chandelier, xmas tree, wreath, gifts and more. We love this detailed village set and think it's one of the best lego city christmas sets out there.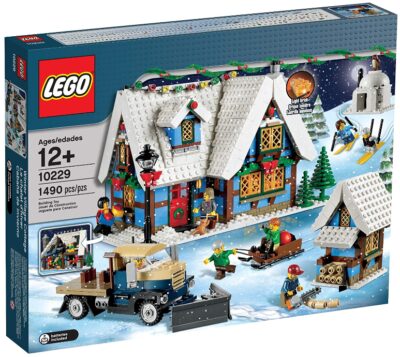 22. Christmas Town Square Lego Toy
If you're looking for festive-themed mini lego ideas for younger children, this lovely xmas town square lego toy is likely to tick the box! Children ages 7 years and above can get busy constructing a centre-piece Christmas tree complete with lego baubles before playing with the scene and figurines included. Featuring just 179 pieces, this set is both safe and suitable for younger children, it will help them to refine their construction skills while offering the opportunity for lots of creative play. This lego Christmas scene is one of the cutest we've come across and we love its compact size!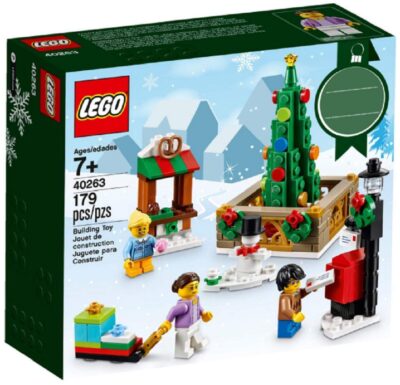 23. Santa Chimney Scene Legos Set
For younger children fascinated by how Santa Claus fits down the chimney to deliver gifts on xmas eve, this is the perfect stocking filler gift. Included in the set for children ages 7 years and above at 167 pieces, a Santa figurine, and little pet cat too. The chimney display is a great addition to a festive Lego collection and will bring about plenty of joy to your little ones.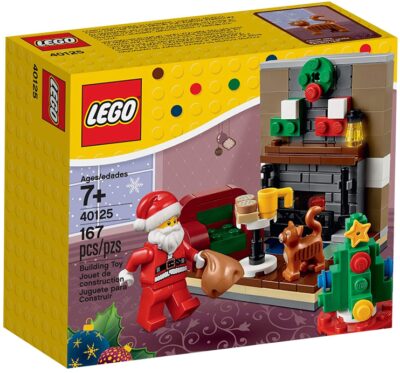 24. Gingerbread Lego Expert House
This Gingerbread Lego expert house is a delight to the eyes and equally delightful for children to construct and play with. For 12 year olds and above, this set comes with over 1400 pieces to construct and lots of cute accessories too. Both girls and boys will love getting this LEGO for xmas as they sit down to build the house and interact with the mini figurines which include gingerbread characters, toys and more. If you're looking for a gingerbread themed toy, this is one of the most creative lego sets for sale that we could find under this category!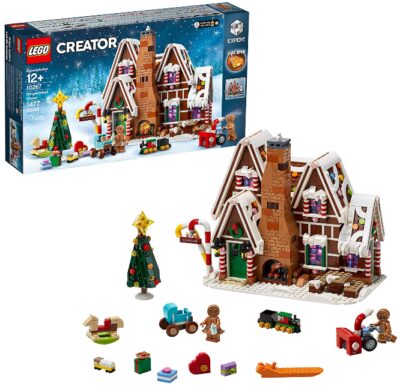 25. Ultimate Festive Tree Lego Toy
This super awesome lego christmas tree set is suitable for children ages 8 years and above and its features present more than meets the eye! Underneath the tree you'll find an adorable train set and even gifts to place, while the tree itself has lots of cute baubles and a star on the top to finish. A perfect legos seasonal toy, this tree is easy to build and is suitable for children of all ages.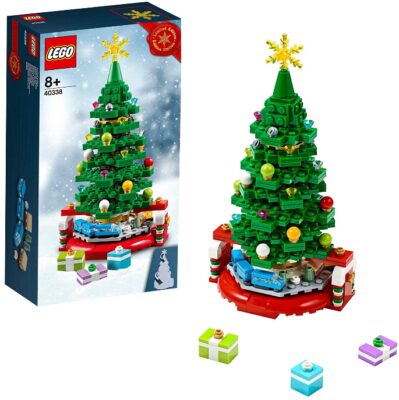 Now that we've taken a look at our top 25 lego toys, we're going to present you with best options. From the selection above, it was just difficult to choose a best overall and best budget buy, however, to further help you with the gift selecting process, see our picks below!
Best Overall Christmas Set
Our best overall lego christmas village sets is this wonderful creator expert toy. Packed full of incredible accessories including a reindeer sleigh, Santa and Mrs Cluas and a lovely home too, there's so much to enjoy! Children over the ages of 12 years will love the challenge of constructing this 883 piece set and interacting with all the fun elements too.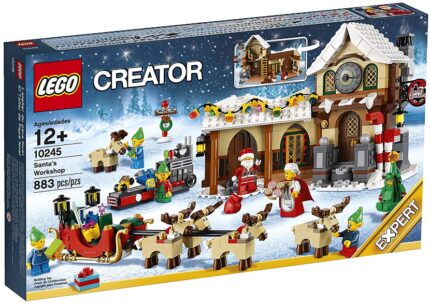 Best Budget Lego Gift
For a budget Lego gift set that is sure to please any child who loves the holiday, choose this fantastic tree that comes with lots of accessories including a mini under-tree train set too. The tree features a star on the top, baubles, gifts and much more and won't cost you too much either.