There are loads of different LEGO ranges available these days, and perhaps one of the most popular with kids is the LEGO Disney minifigures collection. Some of the sets allow kids to build iconic scenes from some of their favorite films and cartoons, but what if they are looking for additional LEGO people to play with in their adventures? We have rounded up almost 20 of the coolest Disney LEGO minifigures which can go with all their sets to make playtime even more fun, or simply to have on display in their room. You'll find all of their favorite characters whether they prefer Princesses, Toy Story or classics like Minnie and Mickey Mouse.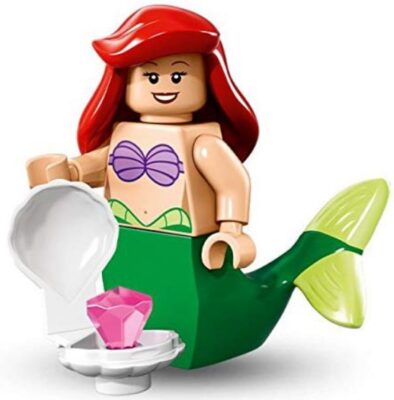 Considerations When Choosing Disney LEGO
There are a few things worthy of consideration before going out and buying Disney figures. First think about which themes or characters your child is most interested in. If they are collecting a particular character range or series, they might like to continue adding to their collection until it is complete. They might also like more characters to add to a set they already have. Also think about the budget for the toy – some of the individual figures can be quite pricey if they are rarer or more collectible. Blind bags can lead to duplicates, so it's ideal if your child has a couple of friends who are also collectors so they can trade and swap in order to complete their collection.
18 Top Disney LEGO Minifigures in 2023
Now we know a little more about choosing between the different options which are available, let's move on to review the best of the best. You're sure to find something they will love to add to their collection here.
1. LEGO Disney Princess Castle
Before we look closer at the Disney minifigure range, let's kick off with this classic piece – Cinderella's Dream Castle! The three-story castle has loads of surprise elements and moving parts which make it great fun to play with. It has almost 600 pieces to build, and is therefore recommended for kids aged between 6 – 12 years old. Cinderella and Prince Charming figures are included, so this is a great start to a collection of Disney LEGO figures. The pieces are compatible with all other standard sized LEGO sets so there are plenty of creative building opportunities.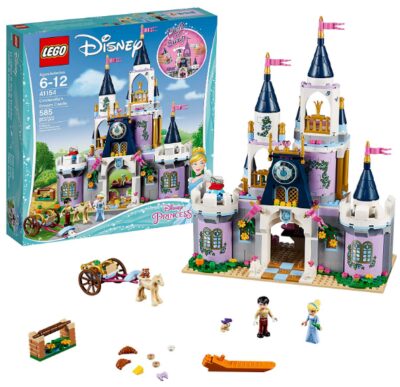 2. LEGO Disney Series Complete Collection Blind Bags
The first of the Disney figures to be launched, series 1 took the form of blind bags, which makes it difficult to complete the collection without buying duplicates. So, why not buy this set which features all 18 of the different figures? The packages are opened to ensure you get all the different characters, but have been resealed in new bags with all their original parts, accessories and documentation. The 2″ tall figures come in a range of popular characters including Buzz Lightyear, Mickey and Minnie Mouse, Donald Duck and Peter Pan, to name just a few. This is a great way to ensure your kid can collect all of series 1.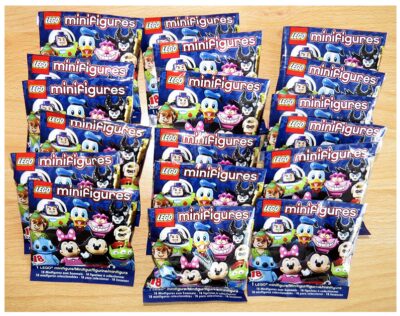 3. LEGO Disney Minifigures Series 2 Complete Set
We've seen what a complete collection of series 1 figures looks like, so now we present series 2: the complete set! Again there are 18 characters in this set, and you will find all of them included here. In series 2, we have characters such as Jasmine, Frozone, Anna & Else and retro favorites such as Steamboat Willie and Huey, Duey & Louis the ducks. The packages for this set come unopened and ready to assemble, to give you the classic fun LEGO experience!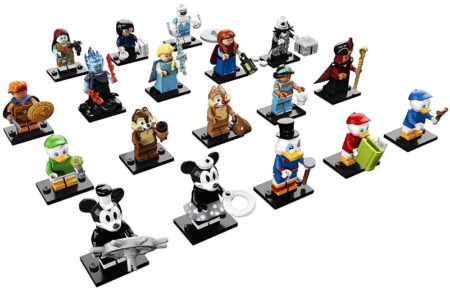 4. LEGO Elsa Figure
So, we've seen the full collection of series 1 and 2 figures, but what about if your child has a particular favorite character they are desperate to add to their collection? We'll now move on to look at individual Disney LEGO characters, starting with this super cute Elsa, complete with her icicle. Elsa is from the second series of these collectables and comes in a sealed bag with her black baseplate to stand on for display. Fans of Frozen will love the attention to detail on this figure, particularly the snowflake-patterned cape Elsa wears.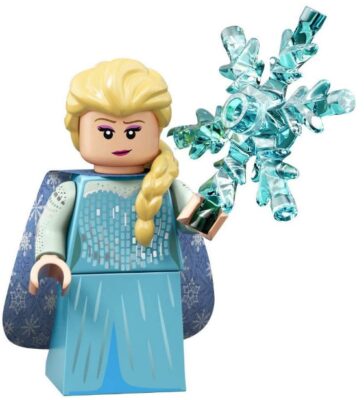 5. LEGO Little Mermaid Figure
Ariel is a popular character with many Disney fans, and she looks even better in LEGO form! Here she comes as the Little Mermaid with her signature mermaid outfit and long red hair. She also comes with a clam shell which has a gem inside, just like in the movie when she likes to collect treasures. This is an excellent addition to a collection of these LEGO figures, and she pairs especially well with Ursula, who is available separately.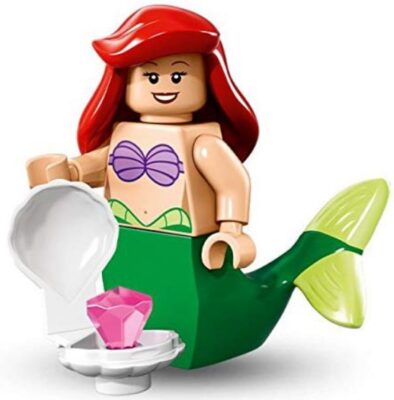 6. LEGO Toy Story Woody
This exclusive figure is perfect for any Toy Story fan, and stands at around 2.5″ tall, making him slightly taller than most other LEGO minifigure. His hat is attached to his head, but his head can turn, and the arms, hands, hips and legs all move also. The figure originally came exclusively with four Toy Story sets released back in 2010, making this one somewhat rare and hard to find. This explains the higher price tag when compared with some of the more recent collections.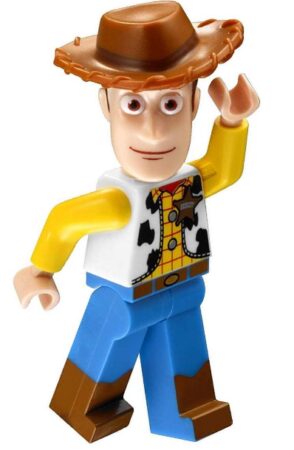 7. LEGO Cheshire Cat Figure
The Cheshire Cat figure belongs to the first series of the Disney LEGO collection, but if you want to take the mystery out of the blind bags, you can buy him here instead. The figure doesn't come in the original package, but this ensures it has been identified correctly and you are guaranteed to receive the figure you want. It's excellent for fans of Alice in Wonderland or those who are looking to complete their first series collection. Kids will love his signature grin!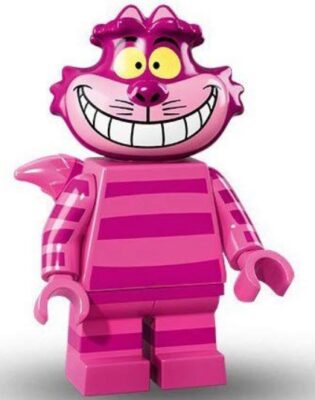 8. LEGO Disney Captain Hook
Captain Hook is another member of the first series of minifigures of Disney characters. Again, the packaging is not the original, but this guarantees you get the correct character. Kids will love his costume and of course his hook, as well as other details such as the large hat and evil grin. All original parts and accessories are included, so you can complete the collection, or pair him up with the Peter Pan figure for some fun adventures.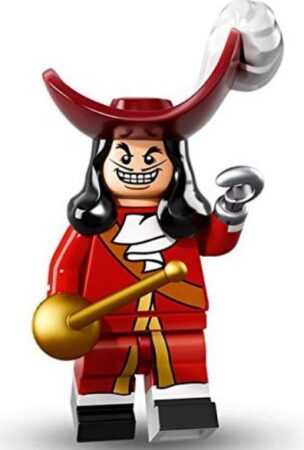 9. LEGO Donald Duck Disney Series
Donald Duck is a classic Disney character who has been loved by kids and adults of all ages for generations. So, everyone is sure to be excited by his release in LEGO format. He comes wearing his traditional blue and white costume with his hat, and is fully posable and articulated as you would expect. A black base is included for displaying the piece as part of your collection, but he's fun to play with when combined with Mickey and Co too!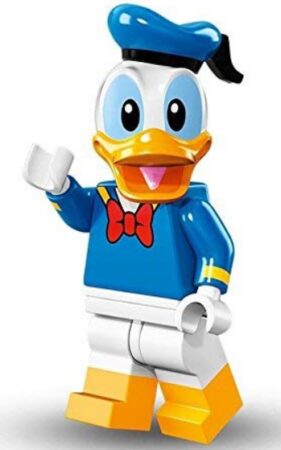 10. Jack Skellington Minifigure
The Nightmare Before Christmas is a very popular movie, even years after its original release. So, fans are sure to be thrilled with this highly detailed model of Jack Skellington. He belongs to LEGO Disney series 2, and comes with all original accessories and a display plate. Included in the pack is a gift box for Jack to open, which makes it look even better as part of a collection on display. This model has some small and fiddly parts so it's not recommended for kids below the age of 4 years old.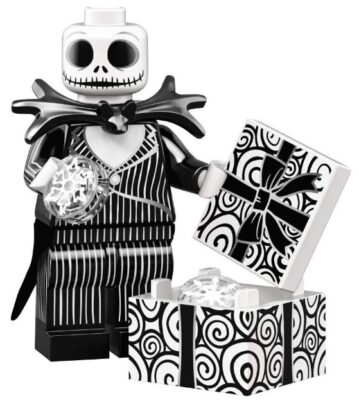 11. Buzz Lightyear Collectable Figure
Here is another member of the first series of these collectable figures, this time it's Buzz Lightyear! Kids and adults alike love Toy Story and Buzz is one of the most popular characters, so this toy is sure to be a hit with both parents and kids. It comes with original paperwork and accessories, as well as all the necessary parts for building, despite not coming in the original packaging. The wings don't fold away like in the movies, but they can be removed from his back if necessary.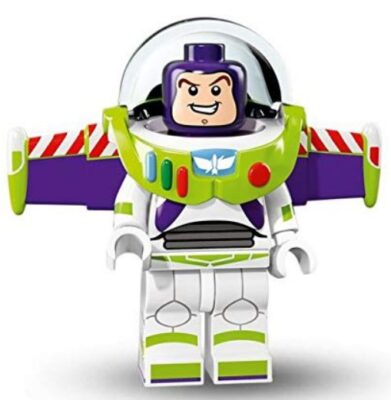 12. Minnie Mouse LEGO Collectable
Minnie is perhaps one of the best-loved Disney characters of all time, especially with girly girls! Here she wears her signature pink and white polka dot outfit, of course complete with her large bow! She belongs to series 1 and is perfect for starting or completing a collection, or simply to have on her own. Mickey is also available if you want to have the pair together. The clothing is not removable but the model comes to pieces for rebuilding if desired.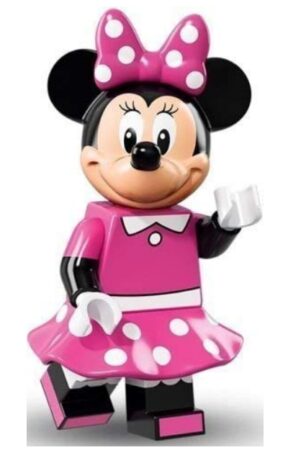 13. Series 1 Maleficent Figurine
Maleficent the minifigure has a very high level of attention to detail and is sure to delight any Disney fan, especially those who like the villains! Collectors, whether adults or children, will love her outfit and the gem at the end of her cane. A stand and mini poster is included as you would expect. Maleficent makes a great display piece, but is also articulated for playtime too.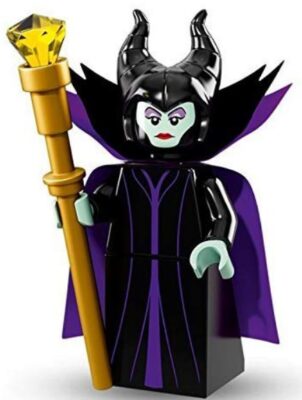 14. LEGO Mickey Mouse Figure
No Disney collection would be complete without Mickey Mouse, so here he is! Kids will love this cute figure, with his traditional colors of red and yellow. It comes in opened packaging to verify the identity of the character, but all the pieces and accessories are included. It's just under two inches tall and goes well with the Minnie figure we've included above! Kids will love Mickey's smiling face – he's perfect for any fan of Disney and LEGO!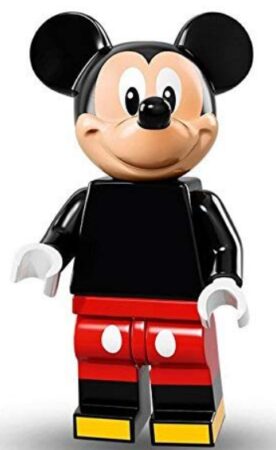 15. Peter Pan Disney Series Minifigure
Peter Pan belongs to the original series of collectable figures and comes with two swords, which he can hold one in each hand. Kids will love how much he looks like the original character! The bag contains a stand for displaying if the figure will be used as a collector's item. The bright and colorful figure is the ideal addition to you or your child's collection and is sure to be treasured for many years to come.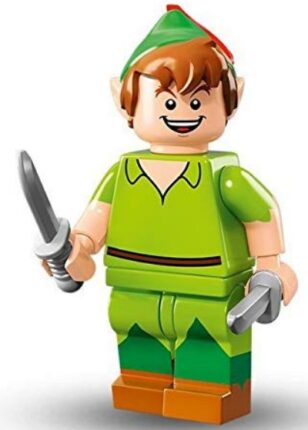 16. LEGO Star Wars Darth Vadar
This Star Wars LEGO figure of Darth Vadar is perfect for a fan of Star Wars – he is fun to play with and makes a great display piece for a shelf or desk too. The helmet is removable to reveal the white face underneath, and of course he also comes holding his lightsaber. Collectors will love the detailed costume Darth wears, not forgetting his cloak. There are many other Star Wars LEGO sets available, so why not start a collection to help your child act out their very favorite scenes from the popular movie series.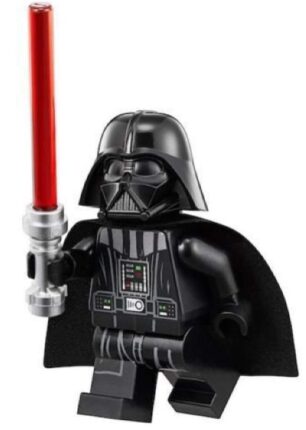 17. Vintage Minnie Mouse Figure Series 2
This adorable and retro figure is part of the second series of Disney collectables. It's great for a collector, and looks excellent when paired up with the matching Mickey Mouse Steamboat Willie figure. This one is more likely to be a hit with older collectors who enjoy the classic Mickey animations, but her cute smile is sure to win anyone over! It comes in a new and sealed pack making it an excellent gift for a collector or fan.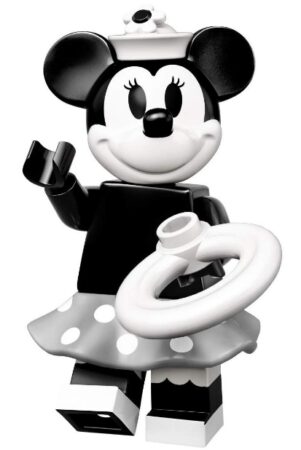 18. Disney Stitch Minifigure
Our final pick is the Stitch minifigure – he's simply adorable! Like some other figures here, this one comes sealed in other packaging to ensure it is the correct figure you want. It also comes with the stand for displaying, although your kid might prefer him to enjoy causing chaos with their other Disney collectables!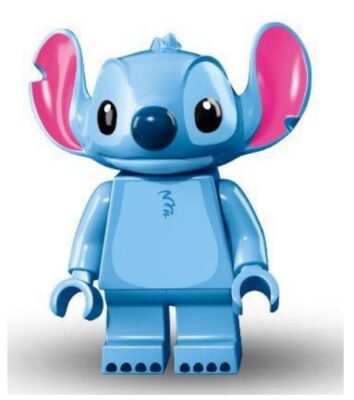 Best Buy Overall
Now we have looked at some of the different choices out there, it's time to choose our overall favorite. The winner of the top spot this time is the full collection of series two figures. We love this set because it is simply perfect for Disney fans and collectors, and it takes the hassle out of trying to complete the collection when buying them individually in mystery bags. The figures all come with bases to stand on for display, and come in pieces which must be assembled much like any other LEGO. There are a range of popular characters included, so this set is likely to appeal to a variety of generations of Disney fans.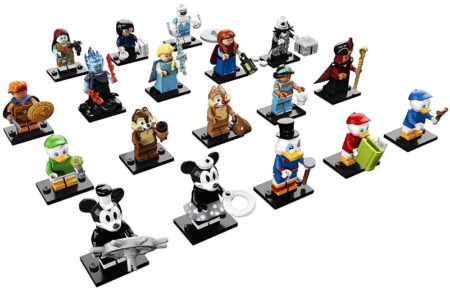 Best Budget Pick
If you're looking for a smaller and cheaper purchase for a collector of all things Disney, it has to be the Mickey Mouse figure. He's the most iconic Disney character, representing where it all began close to 100 years ago. This is a great figure for younger kids to play with or for older kids and adults to use as a display piece as part of a collection, or simply on his own. Anyone who receives it is sure to love it!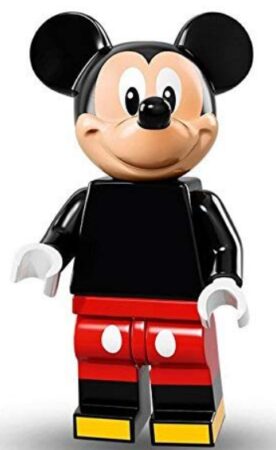 LEGO Disney Mini Figures Where to Buy?
There are loads of online and physical retailers selling official LEGO Disney pieces, but be sure to avoid knock-off, imitation products. You can find genuine Disney figures at all good toy stores, as well as on LEGO's official webstore. Amazon is another ideal place to purchase these figures, and you can be sure of what figure you will receive, rather than being surprised by a duplicate if you buy Disney LEGO blind bags.
How Many LEGO Disney Minifigures Series are There?
There are currently two series of these Disney figures available, and there are not yet plans for another series to be released. There are always rumors online about which characters will be coming next or when another series will be launched, but at the time of writing these are only rumors, there is not currently an official release for series 3, if it will ever come around.