Summer has finally arrived! It's time for both young and old to move to the garden. No wonder everyone is ready for it – winter has been long and spring changeable. The garden is the perfect center of family recreation – the path to physical activity starts right outside your back door! And the whole family can get involved. Therefore, enjoy spending time outdoors. Gardening is the perfect activity for the whole family. Many people buy land outside the city in order to create an oasis of peace and unite with nature. It is not a big investment, but it brings great benefits to the family. Cottage and nature, what else do you need? You can visit this website to find more about it.
Many studies have shown that children prefer activities that are not charged, such as playing in the park or garden, cycling, and the like. Only in twelfth place is the first activity for which you need to set aside money – going to the cinema.
While planting flowers and vegetables, do not forget that you can include children in all activities, which can have multiple benefits from being on the ground, among greenery and plants. In addition, children are great gardeners and landscaping can become family fun! Children and the garden are a great combination. For them, it is a space for play (dirtying, planting, arranging, etc.), but also a great moment for learning. The garden is, to put it simply, an ideal natural playground. So, there is no doubt whether children should be allowed in the garden or not, but only what activities to design for them. Here are some ideas on how to entertain your child in the garden.
1. Planting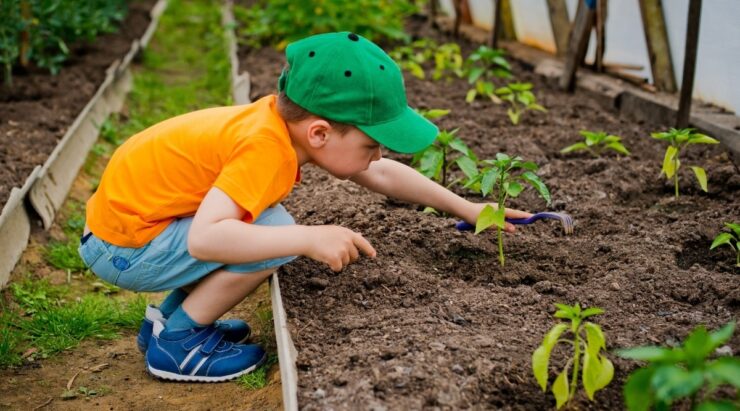 Let them help you plant the plants. Teach them to dig up the hole and insert the seeds evenly. You can also separate one part of the garden that will be theirs alone. This gives the child a sense of having something of their own and they will need to take care of it.
2. Watering
Talk to your children about the importance of water for plants, and monitor their growth together. What other child doesn't like to play with water? Since we have warm days, bring some fun by "accidentally" watering each other.
3. Pleasant and useful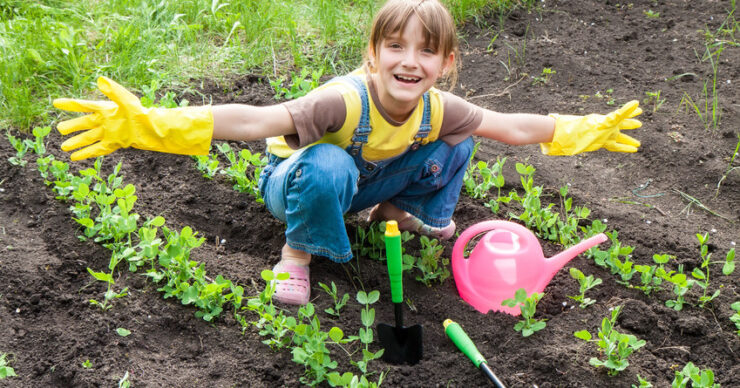 A good way to get a child to eat vegetables they don't like is to just raise them because everyone wants to try the fruits of their labor. Along with some vegetables, it is good to plant or water the flowers, because they are attractive. Children should observe transplanting flowers, because it is an invaluable experience to see with their own eyes the process of growth. Also, children who spend a lot of time in the garden or in the fresh air, along with talking about plants, will learn the names of flowers and vegetables, insects and birds, which will be a good basis for biology.
4. Creating a garden
Allow the children to design their own corner. Have them arrange bricks or pebbles to mark the part of the garden that belongs to them. Give him the necessary accessories and let him have fun on his own. You can also help them mark where things are planted with special tables, signs, or drawings. Be creative, the sky is the limit!
5. Making scarecrows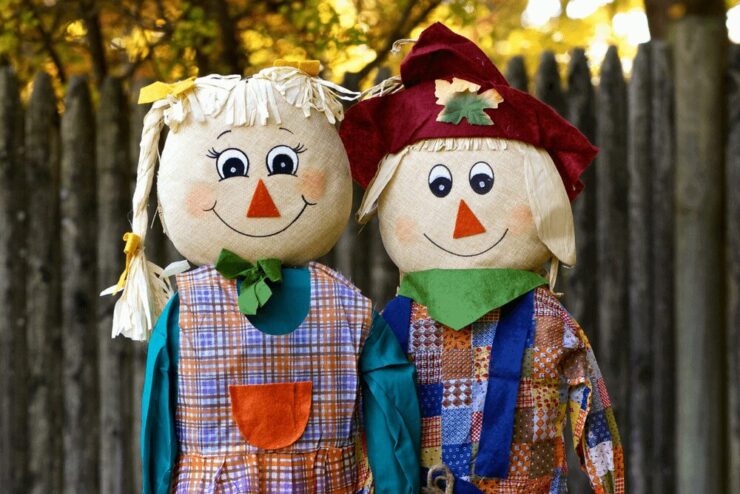 Is there a child who is not interested in making scarecrows? That's what we thought. Allow your child to choose a wardrobe and a hat for the scarecrow. Give him two large sticks to cross, then shape his head from an old pillow, and the work of art is slowly emerging. The perfect way to keep your child entertained for a long time.
6. Freezing plants
This experiment will be a lot of fun for the kids. Let her choose the flowers and leaves that smell nice. Freeze them and then put them in the tub in the evening while the child is bathing. One cube will not change the temperature of the water, and children will enjoy watching the water melt and release the fragrant flowers. This is by no means edible, it is only done in smelling and learning aggregate states.
As you can see, it is not so difficult to design activity in the garden, and it is something that will surely bring many developmental benefits to each child – digging, lifting watering cans, weeding, etc.) encourages the development of gross motor skills, while watching different colors, smell flowers, and planting encourage the development of fine motor skills.
Gardening will also contribute to a healthy diet. Who doesn't want to try what they made themselves? Gardening will encourage each family member to step away from the screen and obligations and to relax and focus on a common goal. That's why this is a great way to strengthen family ties and improve mutual communication.
There is a lot of work in the garden – it is muddy and dusty, and it can be a messy party. Sometimes pests or storms can, in the blink of an eye, destroy even the best-designed plan and the biggest effort. However, that must not be an excuse, if you have the opportunity at all – you should have it. The benefits of the garden are numerous. Children learn responsibility, and cause-and-effect relationships, and develop a greater understanding and respect for nature and its works. A child who has a garden better understands where food comes from and respects it more because he knows the work process that precedes growing it. The seed that is nurtured patiently and devotedly will bear fruit, and all this teaches the child trust and symbiosis with nature.
You may have noticed that you feel nicer outdoors. And the kids feel the same way. Gardening is actually so widely accepted that it is good for your mental health and that is why there is a name: horticultural therapy. Gardens have been introduced in hospitals and rehabilitation centers to provide psychological benefits to patients. Research suggests that gardening with children has benefits for relieving stress. In fact, just spending time in the dirt, playing in a natural habitat instead of on an asphalt playground, has been shown to reduce children's stress and inattention.