You're probably here because you have a special birthday coming up soon – the little man is turning three years old! If you're struggling for 3rd birthday party ideas, you've come to the right place, as here we have everything you need to plan the perfect toddler birthday party. Whether you are looking for the perfect outfit for the birthday boy, some fun games and activities to play or simply need to come up with a great theme for the party, you can find it all here. Your boy is sure to have so much fun on his 3rd birthday!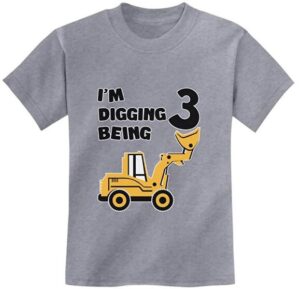 Party Themes
Picking good gifts for boys or presents for girls is not the only thing to consider when planning a party, it is also about coming up with a great theme. It's important to consider the birthday boy's interests, as at this age, he'd probably like to have some input into planning his party! Favorite characters from television and books might be a good choice, whether it's Paw Patrol, Spiderman or Mickey Mouse Clubhouse – there are loads of great 3 yr old bday ideas! You might also like to choose his favorite animals as a theme for the party – perhaps a jungle or a farm theme. Other awesome party themes for little boys include pirates, dinosaurs, or trucks – anything he is interested in is sure to work!
Toddler Party Games
So now you've picked out the best theme, you're probably wondering which games are fun to play at the third birthday party. At this age, toddlers don't have a great attention span for playing complicated party games, so it's best to pick just a few games which are easy to play. In fact, there are loads of fun activities which can be enjoyed by a group of three year old girls and boys which don't require any rules at all! Putting on their favorite music and letting them dance is a great way to burn off that excess energy from all the party snacks! Blowing bubbles is also loads of fun and it's cheap and easy too. To make it even more fun, why not try an automatic bubble blower such as the one below:
1byone Bubble Machine
This bubble blower has two different speeds and can produce an impressive 1500 bubbles per minute! It can be powered either using batteries or mains power, so it can be placed anywhere. The lower speed allows for 30 minutes of continual use without a refill, whereas the higher power will give 20 minutes of fun before a top up is needed.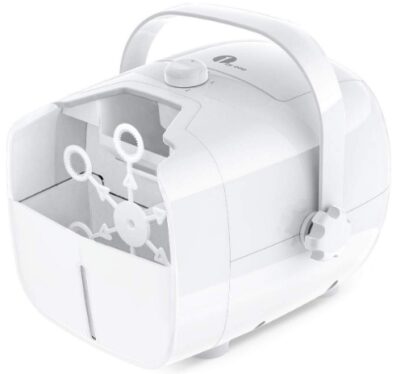 You could try setting up an easy crafting activity, but be sure to protect the table and the floor! The kids will love to make party hats they can wear during the rest of the party, so how about this kit which has everything they'll need.
Glittery Garden Party Hats Kit
This kit comes with 12 colorful hats and everything you'll need to decorate them. Kids can transform their hat into their favorite animal or make a fun monster design. You'll find pom poms for topping the hats, eyes and ears to make the faces, feathers to decorate and elastic straps to keep the hats on.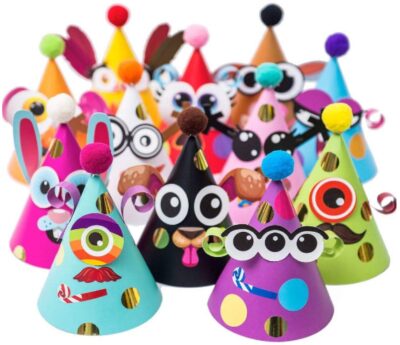 If you want to try an easy game, how about musical bumps? To play this game, the kids have to sit down as quickly as they can when the music stops playing. The last person to sit is out of the game, and this has to be repeated until there's just one winner left! Pass the parcel is fun too, but be sure to add a small prize to every layer so none of the kids are left out.
How Many Guests for 3rd Birthday Party?
There's no easy answer to this question, as some kids will prefer to have just a few of their closer friends at their party, whereas others will only be happy if they can invite everyone they know! It also depends on the venue. If the party will be hosted at home, space might be limited and therefore you may not be able to invite too many kids. Cost can be a factor too, as some party places will charge per kid, but there also might be a minimum number of attendees.
Who to Invite to 3rd Birthday Party?
Related to the question above, you might be wondering who to invite to the party. Perhaps your child would like to invite their friends from preschool or any groups or classes they might attend. Siblings will probably attend the party too, and perhaps any friends from the neighborhood, cousins or family friends and their children. Once you've decided who to invite, you'll need to buy or make some invitations which fit the theme of the party! Let's look at some possibilities.
Paw Patrol Invites
If your boy is obsessed with Paw Patrol, these invites are perfect for a party with the same theme. They come as a pack of 8, and feature all of his favorite characters. The invitations also come with save the date stickers for guests to remember when the party will take place, as well as character stickers to seal the envelopes.


Truck Invitations
If you're planning a truck-themed party, these cute invitations are a must have! There are 15 included, so they're ideal for bigger parties. They're A7 size and printed on matte cardstock so they're easy to write on. Envelopes are included, and the backs of the invitation postcards are blank if more information needs to be written here.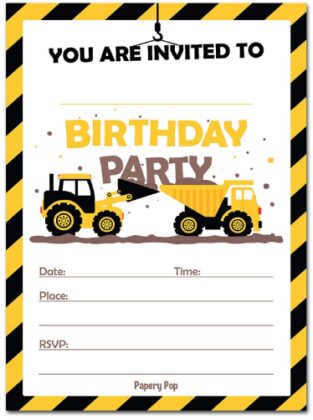 30 Dinosaur Party Invitations
Our last pick is this pack of 30 awesome dinosaur invitations. Like the truck invites, they're A7 in size and are made from strong card. The pack size is great for huge parties where your boy wants to invite his entire preschool class! Envelopes are included and the colors are bright and strong so the invitations look great.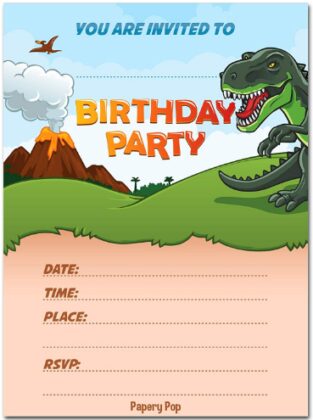 Where to Host a Party?
There are loads of possible venues for a child's birthday party, and we've talked about some of the possibilities above. If space allows, and you're looking for cheap birthday party ideas, having the party at home is the best option. However, this does require some more preparation than choosing an external venue. If the birthday is in the warmer months, you could have it outside to limit the mess in the house!
There are loads of possible venues depending on the boy's interests. It could be a trampoline park, a family farm, a visit to the aquarium, an indoor play center, pottery painting or you could rent a hall and a bouncy house. The possibilities are just about endless!
Also think about the timing of the party, and take into account nap times if any of the guests still need an afternoon nap. Some parents prefer a late morning or early afternoon party, then the kids can have lunch as part of the party. If you leave it too late, they might end up getting overtired, which all parents know is no fun!
Third Birthday Decorations
Now you've planned where the party will be held, it's time to pick out some decorations which complement your 3 year old birthday idea. One of the easiest ways to take care of this is to choose a complete pack which has everything you need to decorate for the party – balloons, banners and maybe even a cake topper. Let's look at some of the awesome decorations available to buy.
Young Wild and Three
This set comes with a glittery blue crown, a cake topper reading 'young wild & three', as well as 3 banners to hang on the wall. The pieces are sturdy, and despite being glittery, the glitter doesn't come off everywhere. We love the message on these pieces, and many parents of little boys will relate to it! The banners are great for using as the background for a photo shoot, especially if the birthday boy is wearing the crown too!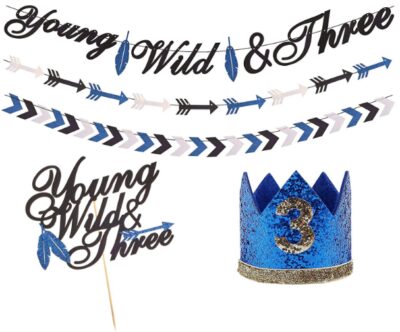 Jungle Party Decorations
A jungle theme is one of the best 3rd birthday party ideas for boy, so if this is the theme you are going for, this party pack is a must-have! The items included in this set are as follows: a happy birthday banner, an animal banner, cupcake toppers, animal head balloons, plain green and white balloons and leaf decorations. Ribbon is also included to thread the pieces of the garlands together – the holes are pre-cut so this should only take a couple of minutes.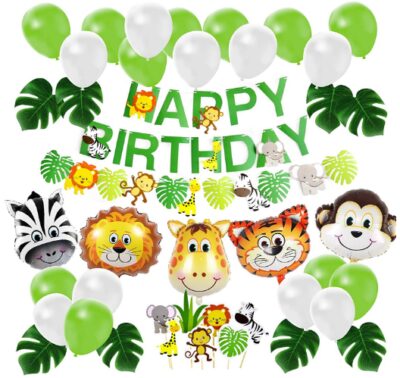 Tractor Decorations Set
Tractors are another popular birthday theme for little boys, and this set has 50 pieces to decorate your party venue. There are two garlands – one with yellow and green tractors and one reading 'happy birthday'. It also comes with cupcake toppers, a bigger cake topper and 20 green balloons. Some assembly is required, but nothing too challenging. The pieces are great for decorating the party table, and like the above will look excellent in your photos of the big day!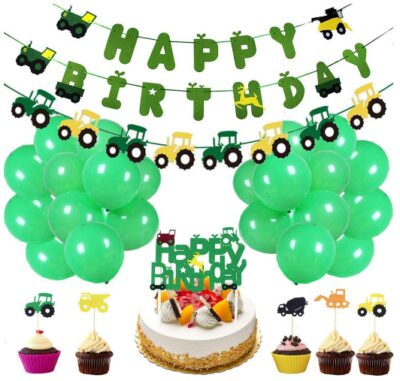 Digger Balloons
If you're having a trucks and diggers themed party, these balloons are just what you need! In the set you'll find three large digger balloons, a black number 3, two stars and six latex balloons in complementary colors. The balloons can be filled with air or taken to a store for filling with helium, and they can be mounted on the wall or stuck on the end of sticks. Or, you can leave the smaller ones loose for the kids to enjoy playing with them!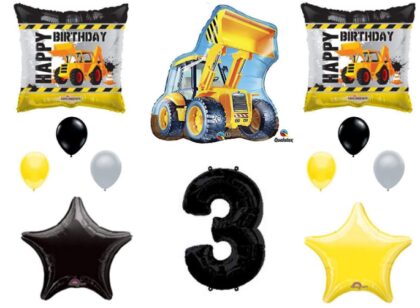 Paw Patrol Party Supplies
We've already seen how Paw Patrol is one of the most popular 3 yr old boy bday party ideas, so if you've decided to go with this idea, this pack is a must-have! It has everything you need to cater for up to 10 guests, including a tablecloth, plates, cups, napkins, straws and cutlery. The set also comes with invitations, gift bags and gifts, cake toppers and a backdrop and banner for decorating the venue. This set offers great value for money and saves a lot of stress compared to buying the items individually.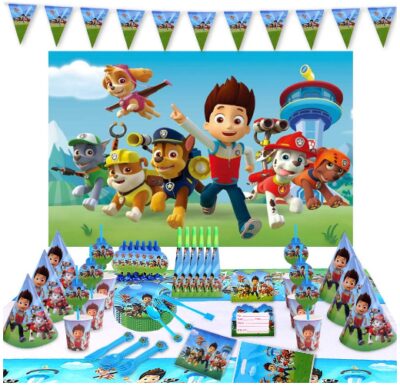 Avengers Party Plates
If you've decided to base your 3 year old birthday party on Avengers superheroes, this party pack is perfect for catering for 16 guests. It comes with napkins, square paper plates, cups, a table cover and biodegradable straws. Marvel fans are sure to be delighted with this set!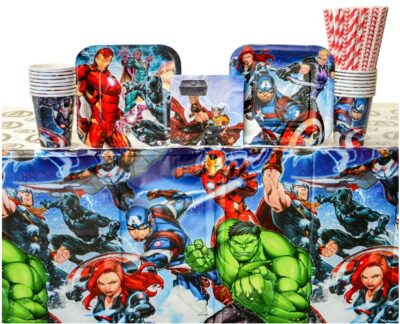 What to Wear to a 3rd Birthday Party?
You might now wish to choose something special for the birthday boy to wear on his big day. There are loads of cute '3' t-shirts available which will let everyone know today is your baby boy's birthday! Let's look at some of the cool options available.
Bulldozer 3rd Birthday T-Shirt
This t-shirt is made from 100% cotton so it's comfortable for the birthday boy to wear all day long. It comes in a choice of 9 different colors, so you can pick out his favorite, whether it's red, green, blue or something else. The shirt is great for a truck-themed party, and your boy can enjoy wearing it all year long whilst he's 3.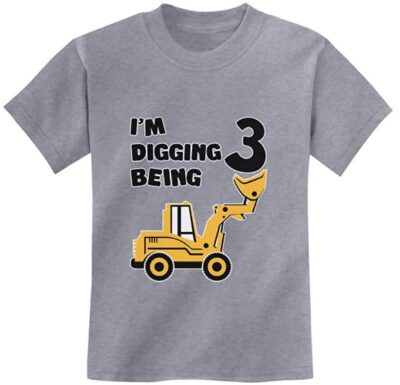 Paw Patrol Rubble Shirt
Here we have another awesome Paw Patrol item, this time it's a birthday shirt featuring Rubble! It comes in a choice of six great colors, as well as different sizes, so it doesn't matter if he's bigger or smaller than average. The shirt is made from high-quality cotton for comfort and durability. This is the perfect gift for fans of the pups!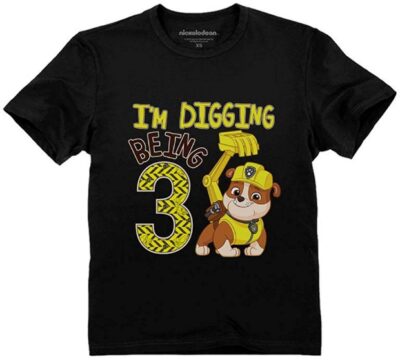 Three-a-Saurus T-Shirt
Lastly we have one for the dinosaur lovers out there. This shirt has 3/4 length sleeves, so it's ideal for winter birthdays. The design is not an iron-on transfer, so it won't crack after washing, meaning it will look great for longer. The shirt comes in sizes up to 5T, and is made from a blend of cotton and polyester. Boys who love dinosaurs or are having a dino party are sure to love wearing this shirt on their special day!