Are you looking for a educational toddler activity cube for your child? Here we have selected some of the best and reviewed a large selection of activity cubes for babies and toddlers.
For most parents out there, baby activity cubes are simply the perfect play items for their kids. Such items are space saving and easy to assemble. Growing babies need to engage in a whole lot of active play as it is one of the best ways of getting them to develop or enhance certain skills.
Activity games are highly recommended as they are specially designed to test a smaller part of the baby's brain such as reasoning, problem solving, logic, critical thinking and so much more. Activity games could be puzzles or games which are aimed at improving sensory and motor skills in babies. Many of these games and activities don't cost much money, and you can do them at home, at any time.
Finding a suitable toy cube game for babies can be a challenging task as there are a whole lot of options to choose from. To help you decide, you should always think about the educational and developmental advantages of the game to choose something which will help your baby grow and learn.
You can trust our 21 best activity cubes for toddlers which contains 21 of the top activity games that would help growing toddlers keep a sharp mind and also aid them in their mental growth and development.
21 Best Activity Cubes for Toddlers Reviewed In 2023
Baby cube toys are the perfect playthings for babies and toddlers today as they offer lots of benefits for developing children. Every cube toy listed in this review features several activities and will provide many hours of entertainment and fun for your little one.
#1 Busy Learners VTech Activity Cube
This one of the best activity cubes for babies and is one of the most sought-after cube games for little kids. It is also one of the safest as it is made out with quality and non-BPA materials. Playing with this particular game helps to introduce babies to new shapes, animals and sounds. It is also one that makes sure babies get to develop or improve on their motor skills by motivating them to sit up and play.
This game will help encouraging your baby to explore the different faces of the cube, and it is suitable for children aged from six months to three years.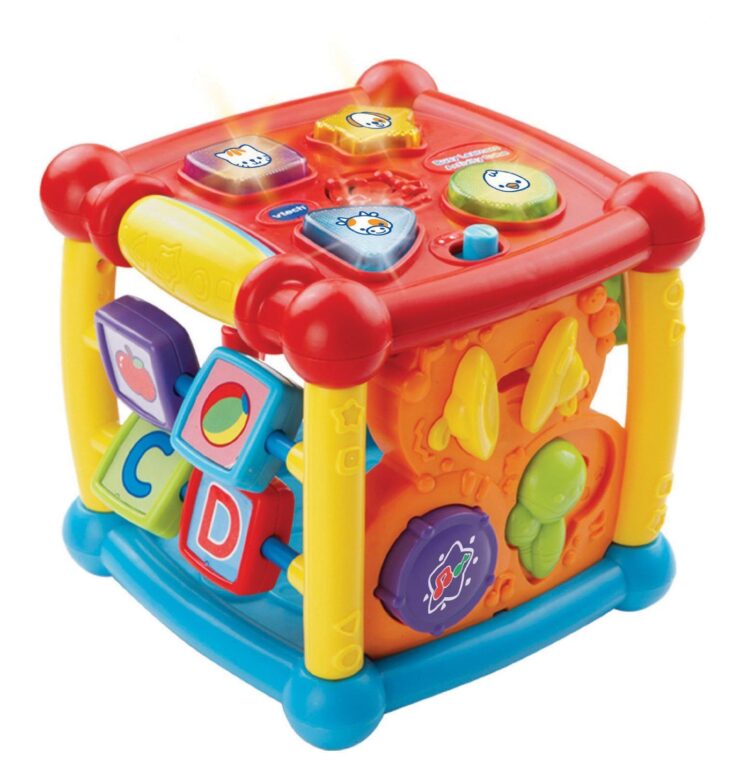 #2 Sort And Discover VTech Activity Cube
This pink play cubes for toddlers guarantees lots of hours of play whenever your child decides to use it. Playing with this game involves using two electronic panels and six activities which will introduce kids to new objects, animals, numbers and colors. This game will keep babies engaged as they get to listen to new phrases, sounds and melodies. It is also educational as it makes sure they develop better hand to eye coordination skills as well as improved motor skills.

#3 ALEX Activity Cube – Discover My Wooden Town
Kiddies will find this toy cube fun and easy to play with. This game comes with five different fun sides including matching animals and ABC tiles, racing roller cars, peek-a-boo doors to open and close and a bead maze. It helps to build tactile and visual development in children and it is also made out of top quality wooden material which enables this game to stand the test of time.
It is recommended for babies aged one years old and above, and is perfect for encouraging children to stand and play.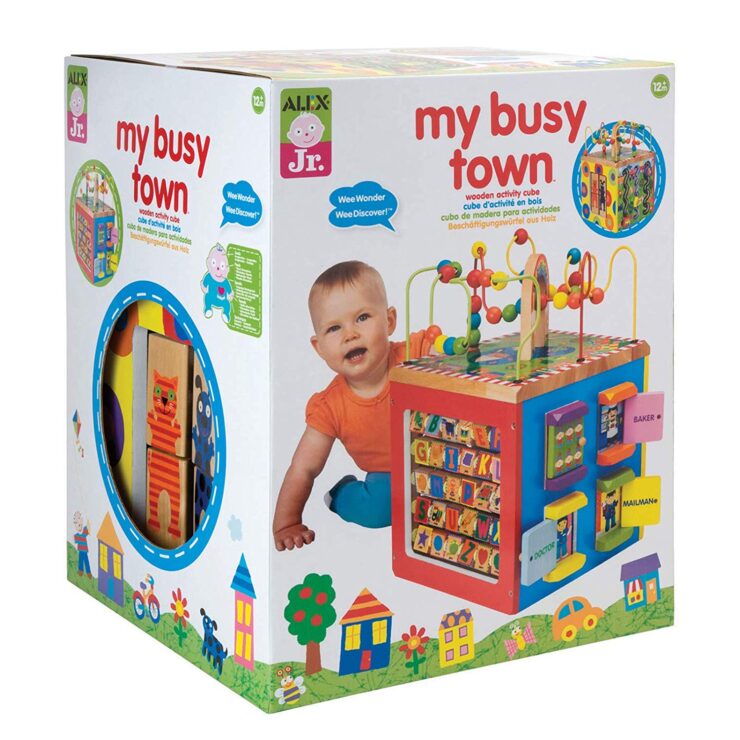 #4 Bead Maze – Play22 Cube
Babies will benefit a lot from playing with this cube – it is one that would enable them to identify numbers and colors. So, it's ideal for helping promote early language development and color recognition. The other benefits that kids can gain from playing with this toy include improving creativity skills, improving vocabulary and enhancing logic, motor and problem solving skills.
This toy comes fully assembled and is also considered as an excellent first birthday gift for both girls and boys. It is made out of non-toxic and harmless materials meaning it is safe for children to play with.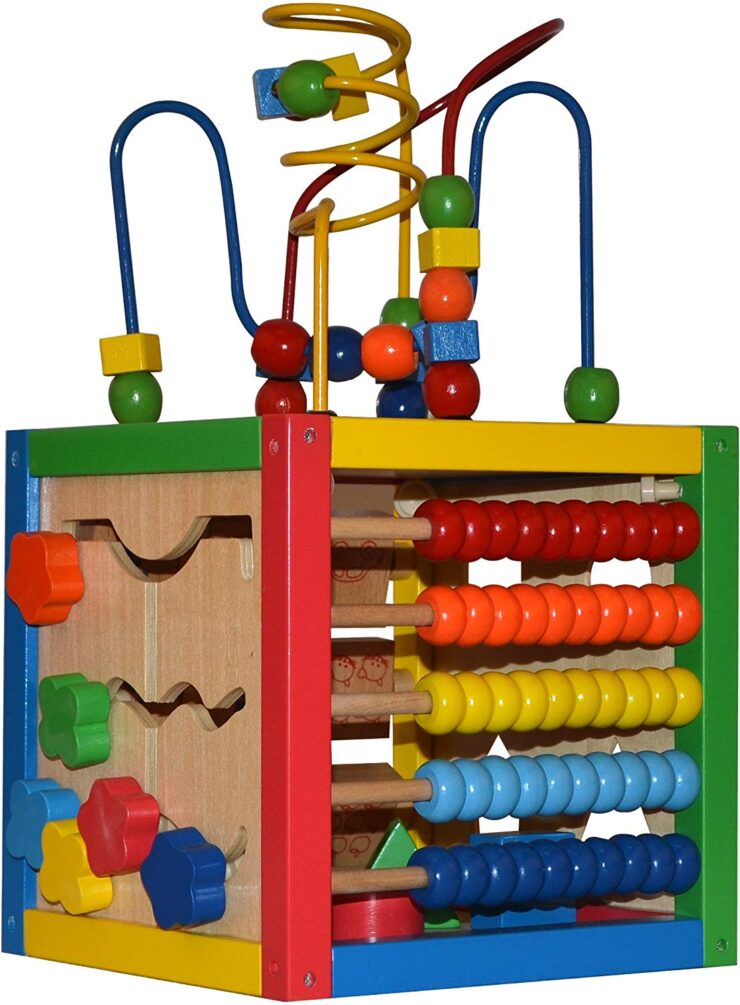 #5 Wooden Cube Toy
Toddlers will enjoy playing with this item as it involves opening doors and meeting new animal friends. This wooden activity cube is crafted using top quality wood which ensures it lasts longer and thanks to its rounded corners, parents can rest assured that this wooden game would not harm or hurt young toddlers should they slip when playing with it.
If you have a child that is twelve months and above then this wooden play cube might just be the right toy for them. It is aimed at improving imaginative play as well as hand to eye coordination, so it is perfect for children this age.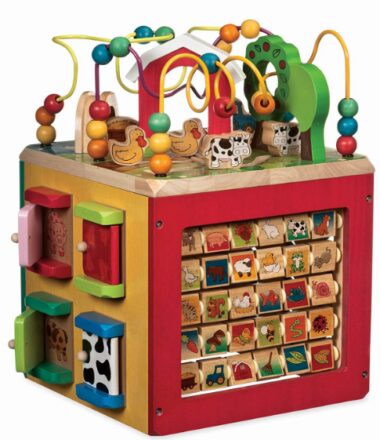 #6 Tree Top Adventure – Manhattan Toy Activity Cube
Thanks to its interesting choice of games and amazing colors, this is one toy parents can rely on to always keep their little prince or princess engaged. This game guarantees long hours of fun and exploration and thanks to its unique color scheme combined with a sturdy construction, it also proves to be the best decoration for any nursery or toddler's room. This is one toy you won't mind having lying around the house!
Babies will also learn to grab and reach for items while playing with this game. It is also attractive which is why it is good at keeping them engaged for hours.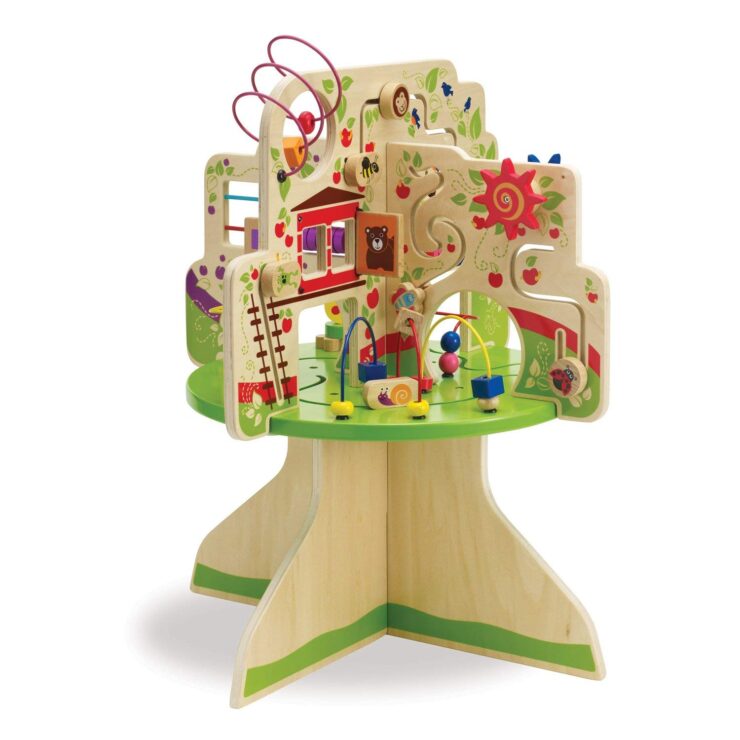 #7 Activity Play Cube for Toddlers – Hape Country Critters
Featuring five sides of fun, this unique activity cube is one that will bless toddlers with long hours of fun. It comes with loads of toys and activities and also poses a lot of benefit to toddlers. Some benefits include improving perseverance, logic, motor skills and also exploration skills. The different activities of this game, such as storytelling and using the imagination will keep toddlers intrigued. It is recommended for toddlers aged twelve months upwards.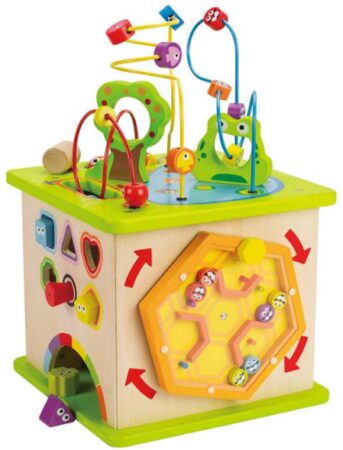 #8 Deluxe Kidkraft Cube for Toddlers 
This is a new and improved game which toddlers will love to play with. The Deluxe KidKraft cube is one that will help little ones learn to identify new colors and shapes which also helps in preparing them for school. This isn't just a toy for fun but one that is also aimed at helping them to develop better hand to eye coordination. It will also encourage young boys and girls to explore all the fun sides of this game and it is a must have for kids who are still trying to learn the alphabet.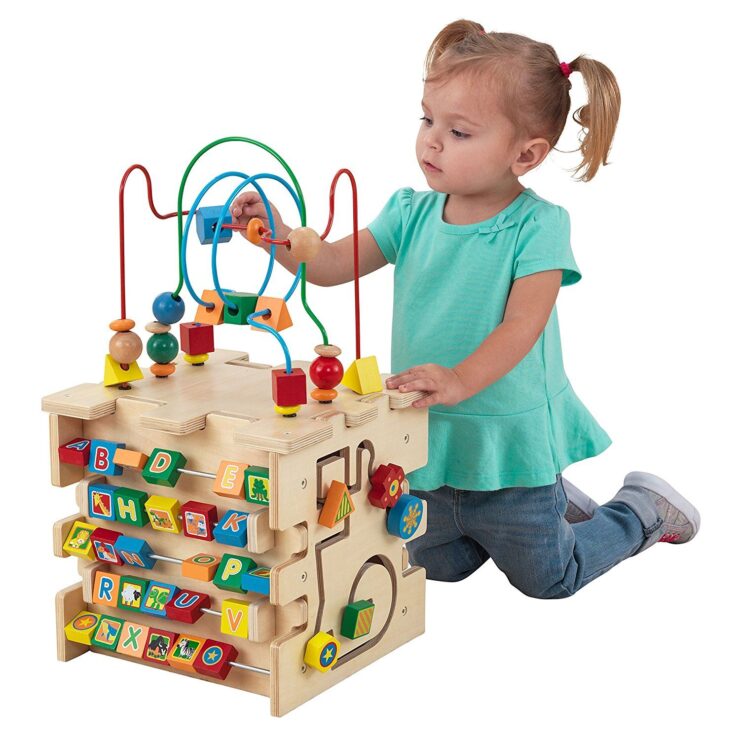 #9 Anatex Deluxe Mini Play Cube for Young Children
This is the best activity cube game that will help kids to learn as it is pivotal to enhancing their sensory development. For every kid aged two and above, this is one toy parents can count on to help them grow and develop. It features five different sides of fun which will keep kids engaged. Some of the fun toys that come with this deluxe mini play cube include; fun gears, pathfinder, abacus, rollercoaster bead maze and also learning the alphabet.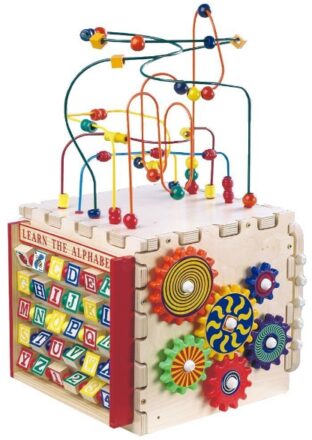 #10 Anatex Six Sided Play Cube
This is also another game that helps in enhancing sensory development in kids. It is one that every kid aged three and above ought to play with. It comes with six sides of fun and weighs about 35lbs, so it is sturdy enough not to be tipped over by enthusiastic toddlers. Parents can trust that their preschooler will always be learning as they engage with this fun toy.
The six sides of this wooden baby activity center include a rollercoaster bead maze, zig-zag panel, magnetic circle express, gears, abacus and also learning the alphabet.

#11 Ultimate Alphabet Activity Cube
This activity block for babies is a five sided learning cube which will enable kids to grow and develop. It is one that will help kids to learn about new sounds, animal names, shapes and colors which is why it is regarded as an educational toy. One impressive feature of this cube is its storage space which helps keep all the blocks tidy when no longer in use. This is perfect for parents who like trying to keep the house tidy! It is a must have for kids aged one to three years and also requires AAA batteries for operation.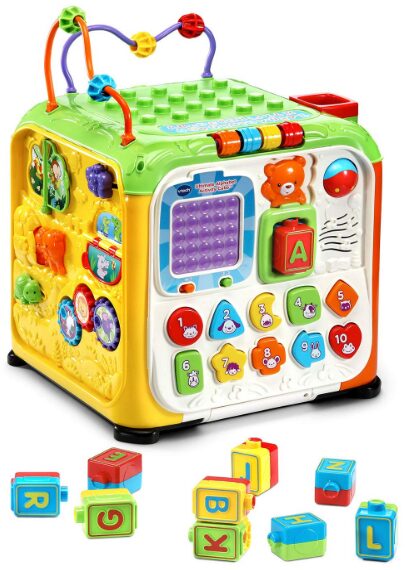 #12 Kids Learning – My First Bead Maze Activity Center
This is also considered as an educational toy as it helps to introduce kids to new shapes, numbers and more. Playing with this toy means kids can now identify, colors, numbers and shapes. The toy is also aimed at helping kids develop better hand to eye coordination, STEM learning, problem solving skills and also fine motor skills.
This kids item is certified safe as it doesn't contain any toxic or harmful materials therefore making it one hundred percent safe to play with. This is a must have for boys and girls aged one to two years and can also be given as a gift item for first birthdays or perhaps at Christmas.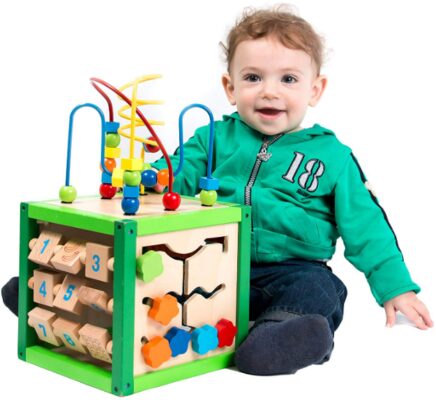 #13 Explore N Grow Playskool Busy Gears
It's always fun time and playtime when it comes to playing with the Explore N Grow Playskool busy gears. Playing with these gears means kids can learn how to press, stack, move, grasp whilst making the colorful gears twirl and whirl. One advantage that comes with playing with this game is its convenient handle which makes it quite easy to move about or transport this game. It is recommended specially for kids aged twelve months and above.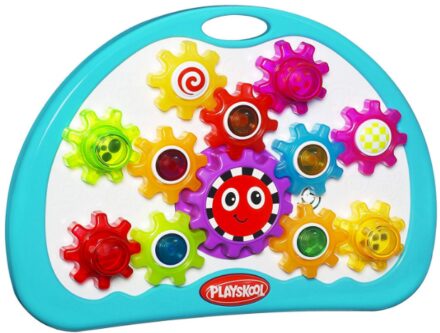 #14 Titiyogo 8 in 1 Activity Learning Toys
This eight in one fun cube for kids is one that will get them playing for several hours. Playing with this game also means kids will learn quickly – this isn't just a toy for fun but also one that will help to build up certain skills in kids. Some benefits include; enhancing cause and effect, imaginative skills, motor skills and even hand-eye coordination. Parents are sure to see a difference in their child's abilities after playing with this toy.
Safety is also of the essence when talking about this toy as it is made from non-toxic and harmless materials therefore making it totally safe for kids to play with. It is the best gift item one can offer a toddler or kid on his birthday, Christmas or any other notable celebration.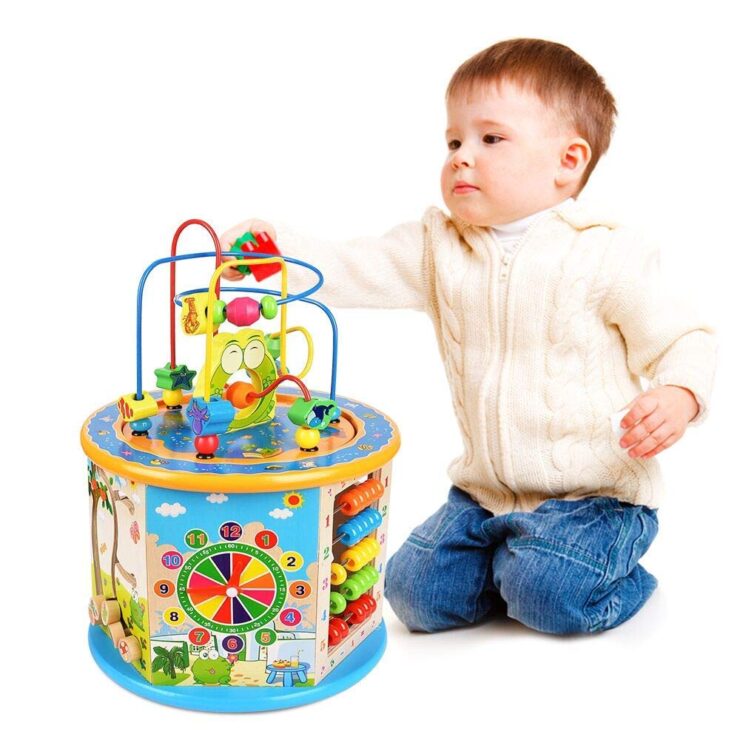 #15 Pidoko Wooden Maze Cube Activity Play
Having smooth edges means this activity cube game is safe for babies to play with as it won't hurt the hands should they slip whilst playing. This game features multiple playing sides which will provide them with several hours of entertainment and fun which is why it is recommended for homes, schools, nursery and other kid friendly areas.
Durability is one key feature of this game as it is made using high quality materials which ensures it lasts for long period of time. The toy is one that is aimed at helping little babies develop many skills including vital hand to eye coordination skills.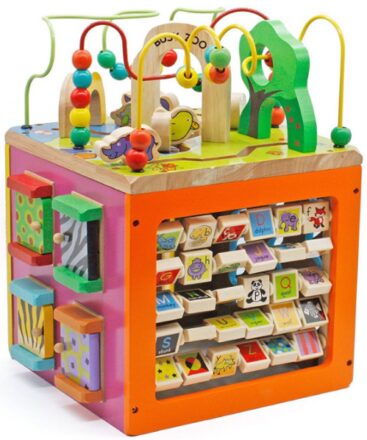 #16 Alex Junior Wooden Cube
This is a game with various sides in which every side has a different game. This makes this game so much fun for children to play with! Specially recommended for toddlers aged twelve months and above, this is one game parents can trust and rely on to help their children develop better creative and imaginative skills. Some of the activities that comes with this cube include matching characters, mirror and spin, spinning gears, racing rollers, wooden beads and curvy maze.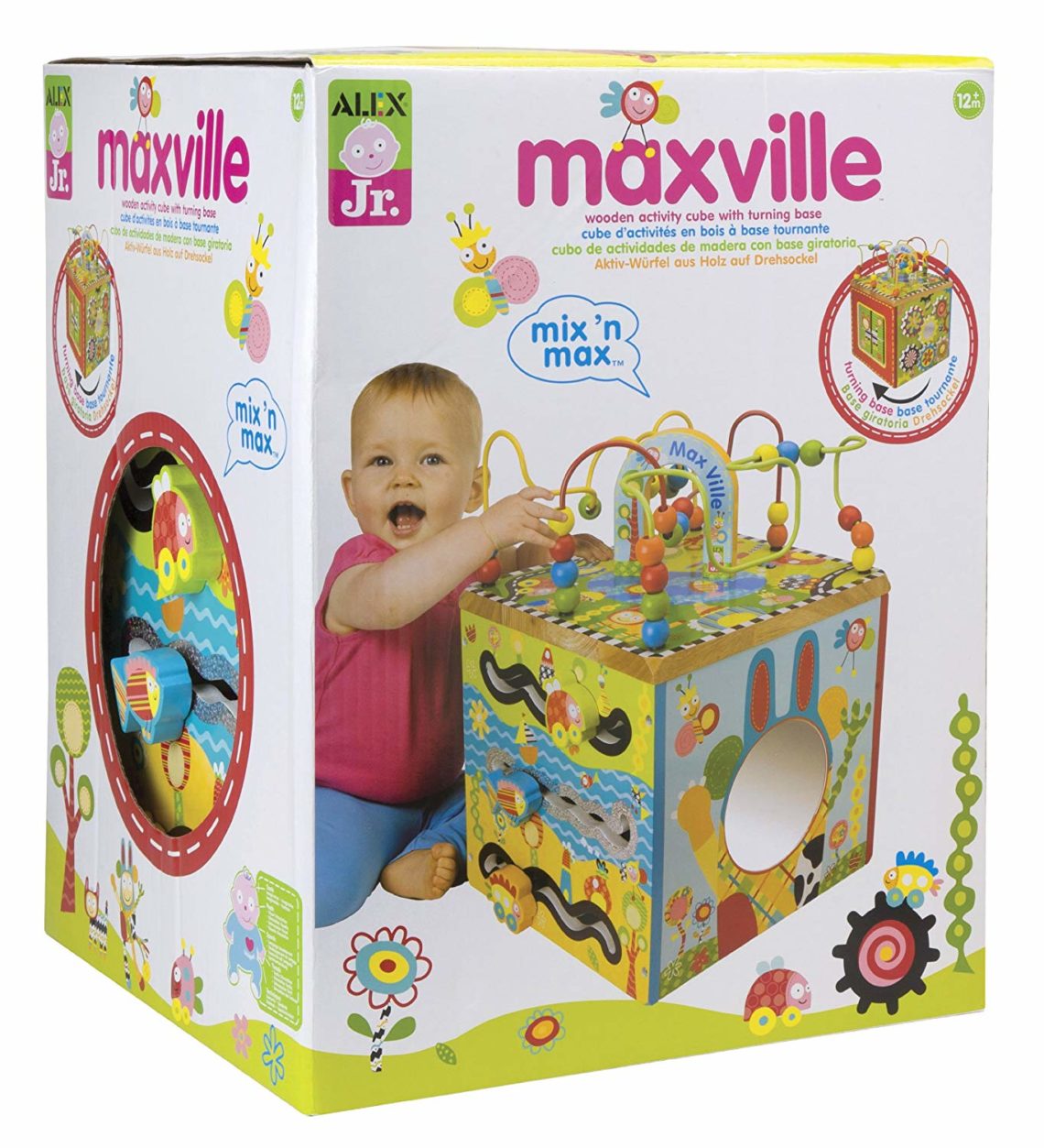 #17 Titiyogo 1 Year Old Educational Wooden toy Cubes
Safety and durability are two of the main key features of this well designed wooden activity cube for toddlers. It doesn't contain harmful substances or come with rough edges which could be detrimental to kiddies health but it is one that would help toddlers to develop cognitive and observation skills as well as increasing their attention span.
One feature that makes this game quite different from the rest is its ability to help toddlers boost their sense of sight and touch and it is as a result of these factors that this game is considered to be an educational game for toddlers. It is recommended for children aged one to six years old, so your child will have many years of fun with it.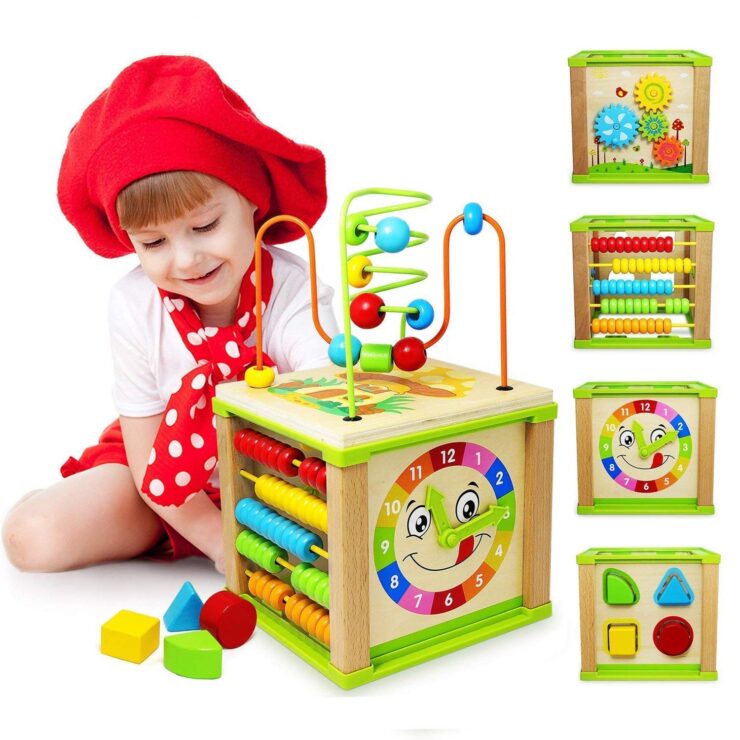 #18 Little Tikes Baby Playset Activity Garden
This is a multi-functional baby playset which encourages babies to develop fine motor skills. It is safe and durable as it is made out of premium, non-toxic materials which guarantees that kids are safe and free to play with this game. This game features a large button which plays a song, clicking bugs, mirror spinner, bead tumbler and more.
It requires two AAA batteries for operation and thanks to its enclosed environment, kids would feel safe and at home when playing with this activity garden.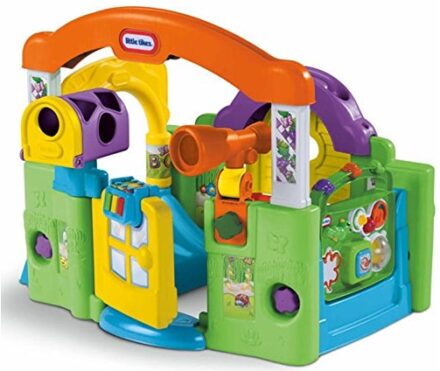 #19 Wonders Activity Center – Alex JR.
Having seven fun sides means long hours of fun when playing with this activity toy for kids. Playing with this game provides unmatched fun, learning how to tell the time and also learning the letters of the alphabet. This well-equipped game comes with everything one would need and its seven fun sides include matching characters, a clock, spinning gears, racing rollers, wooden beads and a curvy maze. It is recommended for kids aged eighteen months and above. Kids will have months of fun playing with this educational toy.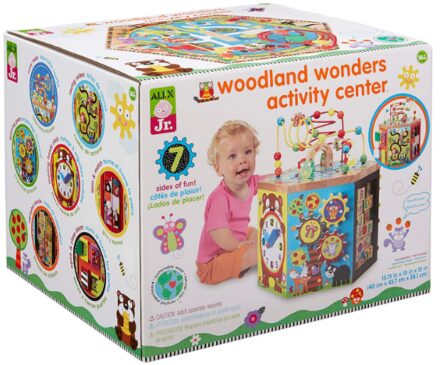 #20 Kids Destiny Deluxe 5 in 1 Activity Center for Kids
Kids will be introduced to five various fun activities when playing with this deluxe game activity center. It  comes well assembled and doesn't require any skills or tools for setup. This game would keep every toddler out there well entertained for hours. They will love playing with this game as it helps in identifying and playing with colorful and bright artwork.
Its solid wood construction makes it able to stand the test of time and its non-toxic paint also makes it quite safe for younger children to play with.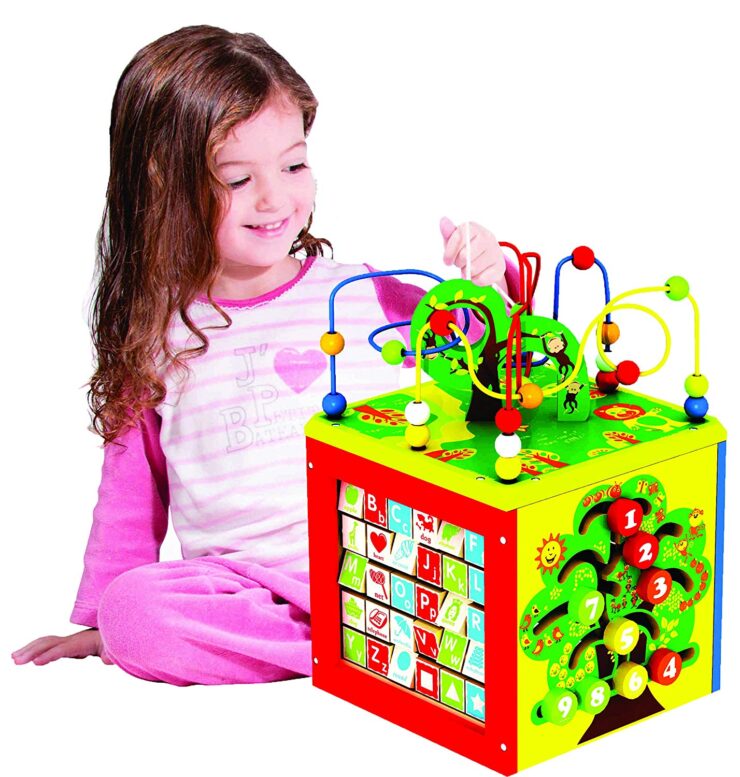 #21 Incrediblock Fisher Price Activity Center
This game is fun all through as placing a block on its main center introduces kids to a song, related sound and description. This game comes with eight words, eight songs and numerous sound effects. It is one that is quite easy to play with – simply push a block down or hit the blue triangle at its top then watch what happens next. It is a must have game for kids aged nine months to two years old.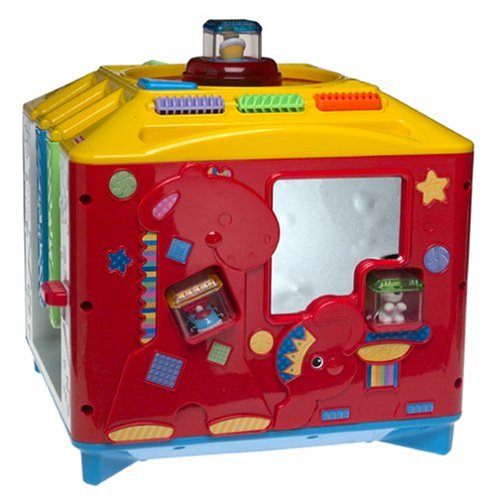 Benefits of Playing With Activity Cubes
Whether you settle for a cube with an electronic design or one with a simpler design, the main aim is for kids to make use of their brain so as to enhance their growth and development. Whether they are matching shapes, identifying numbers, sounds or colors or playing in activity gardens, parents can be sure their little one is learning and developing new skills all the time.
There are numerous benefits that come with playing with toy activity cubes and they are listed below;
Playing with word cubes helps in improving communication skills in kids as well as helping them pronounce words properly.
It aids spatial reasoning, development of fine motor skills, visual coordination and also the possibility of handling more complex problem solving situations.
Playing with innovative cubes keeps kids engaged for several hours. They are engaging in educational and productive play rather than causing mischief elsewhere.
It sparks up joy in kids as they are always excited to play with these toys.
Factors To Consider When Selecting Activity Cubes For Children
Here are some key factors which will help parents narrow down their choices when shopping for quality activity cubes for their toddlers;
Safety – this is the first factor every parent should look out for when shopping for any toy. Small sized items are not to be given to toddlers to play with as they might end up swallowing such items. Also parents should check out substances and materials used in making these cubes so as to know if they are safe to be played with.
Development and engagement – Toddlers should be able to learn a couple of things while playing with these cubes. It should also be able to teach them about new shapes, numbers and colors which in turn helps to get them ready for school.
Quality – spending money on a low quality item is just another avenue to waste money and get you thinking of the next item to buy. Check out the quality of material used as it would tell if the item is durable and also reliable. It might be worth spending a bit more and choosing something of higher quality.
Portability – portable cubes simply means toddlers can carry them along wherever they go so they can play with them anywhere. These learning toys ought to have a portable and freestanding design so ensure you check out their weight before parting ways with your money.
Number of games – the number of games a learning cube comes with should also be considered as those cubes that come with up to five or six games provide more fun and are also better at teaching children new skills. Babies will get bored easily if there are only a few games on the cube.
Size and material – even though we have stated this earlier, it is still important to check out the materials used in making these items. Make sure it is strong enough if your baby decides to chew on it or throw it! Also the size of the toy should be taken into consideration as activity toys are meant to be sturdy so they can sit firmly in place while your little one plays with them.
Conclusion
No matter what fun cube game a parent picks for their child, activity toys are quite fundamental to helping a child grow and develop mentally and in all other aspects. With the 21 best cubes that we have lined up for you, you can never go wrong in making the right choice and selecting one which would be beneficial to your little prince or princess. With these cubes, you can play a huge role in helping to shape their future as well as positively aiding their growth and development.