Getting a good child's car seat for your precious new baby is one of the most important purchases you'll make as a new parent, as you will need to find one that is both comfortable for your little one to ride in and will also give them the maximum protection in the unfortunate event that you are involved in an automobile accident.  Given that the well-being of your child is at stake, this is definitely something you must take very seriously
You'll need to buy the seat before the baby is born, as you'll need something to take them home in.  So there's no time to waste if your a family getting ready for a birth.In this review, we will be looking at some of the best Alpha Omega seats made by Safety First and recommending some of the top selling and most reviewed seats.
Considerations
Safety, safety, safety – The main purpose of the seat is to protect your child, so you need to make sure that it is safe.  We recommend that you check that the seat you want meets all safety standards form the Department of Transport and the state that you are in.
Easy to use – While infant car chairs need to be sturdy, durable and have strong connectors to fasten them to the car, they shouldn't require a the brains of a rocket scientist or the strength of a body builder to use.  When you test it out, make sure that it is easy for you to put into the car and take it out again.  Remember, you're going to have to do this over and over again, sometimes with a crying baby in hand as well.
Size – Always buy a carseat that is the appropriate size for your child, for both comfort and safety reasons.  Manufacturers will have this information about their seats online.
Always test it out before driving – Always test the thing out before actually putting your child in it.  Make sure that it is properly attached to the car, and even take a little test drive with the empty chair just to make sure that everything is ok. Expecting parents should make sure that they are comfortable with using the carseat well before the child is born; there's nothing worse than getting ready to leave hospital only to find that you're not confident with the child seat.
Never buy second hand – You don't know what could be wrong with it.  It could have been damaged, or perhaps some of the parts don't work well anymore?  Also, if it is older, it might not be up-to-date and current safety regulations.  Always buy a new baby or toddler carseat from a good manufacturer.  You don't want to skimp out on your childs future, and you will never forgive yourself if they have an accident which is worsened by a bad seat.
What's Special About the Alpha and Omega?
Safety 1st Alpha to Omega Car Seats are extended-use or 3 in 1 car seat combos with great features to ensure that your little one is comfortable and safe while riding in your car, whether its that all important first trip back from the hospital or anything else.  This is a rear facing seat that has removable supports and pads to make sure that you can customize it for your child. You can also convert it to a front facing seat, making it great value for money and long lasting. .
As such, newborns all the way up to kids as old as 6/7 years can use the alpha + omega car seat, and it gives great convenience and savings to parents as they only need to buy one seat for their child.  It also has 3 reclining positions to give extra flexibility.
How to Install Safely a 3 in 1 CarSeat
The review
Safety First Alpha Omega Elite
The Elite Convertible  is a great 3 in 1 seat with both safety and comfort as top considerations in how they are designed and built.  For newborns and babies weigh to a maximum of 40 pounds, it is used in its first form, which is rear facing seat with removable padding and supports to help keep baby firmly but comfortably positioned in the seat. It can then be used as a toddler car seat for older kids as a forward facing, with an extendable harnesses to accommodate children up to 65 pounds. Then, up until the child reaches 100 pounds, it will be useful as a booster seat.
3 modes of use

25.5 inch high 20 inch wide 22.25 inch diameter

easily adjustable 5 point harness

3 recline settings




Safety 1st Alpha Omega Elite, Nitron
Like all other Alpha and Omega car seats, this one comes with the standard 3 in 1 usage of the range, accommodating kids from infants up to weighing 100 pounds in either its front or rear facing modes.  This model also features the Quick Fit harnesses.
We also really appreciate that this model has removable and washable pads, because, as all parents know, where babies go mess, spills and fluids always follow, so this will help us keep the seat fresh and clean.
Cup holder

Harness with 5 point fasteners

Removable and washable padding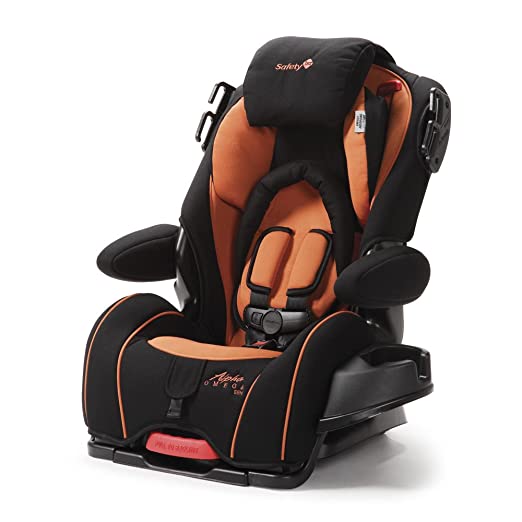 Omega Elite 65 Car Seat, Twilight
This safety 1st alpha and omega elite convertible seat is another top of the range child seat that will be great for growing kids.   It has all the standard features of the range, such as its 3 in 1 functions, reclining positions, and high-quality safety measures. The seat covers are also fully machine washable and dryer friendly, which is always a bonus.
What we really like about this one is that it is easy to install thanks to its latch technology.  Instead of using the seat belts, this easily and safely clicks into Latch-equipped cars for simple and fast install.  So if you have a Latch compatible car, then this Alpha to Omega elite seat might be the
side-impact protection 

adjustable harness

3 recline modes

washable and dryable seat cover

Easy to install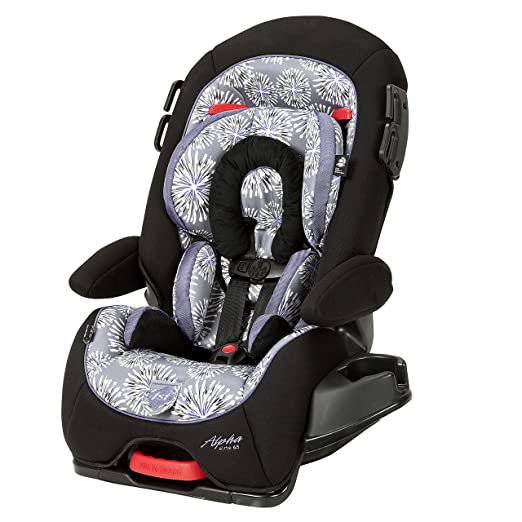 Safety First Alpha Elite, Dexter
The safety First Alpha seat is a little bit more affordable than the alpha and omega ones, but thankfully is doesn't skimp out on safety or comfort.  This will work as a rear facing seat for infants and newborns, forward facing for toddlers and  for bigger kids it can be a great booster seat .  It also has durable and safe side impact protection, and other hand features like a removable lumbar support.
Armrests can be rotated

Removable lower back cushion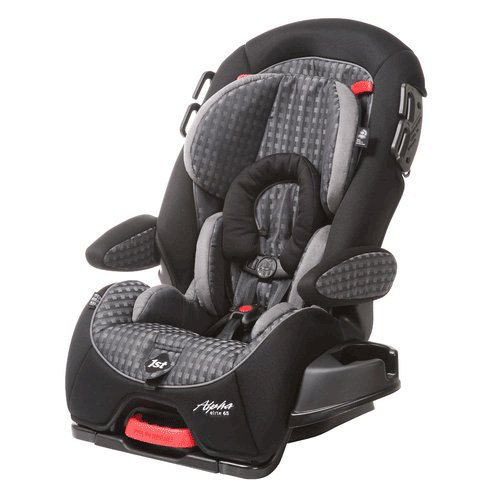 Safety First Grow and Go 3 in 1 Car Seat
Another one of the wonderful safety first 3 in 1 car seats on offer, the Grow and Go is very similar to the Alpha and Omega Convertible seats, so we decided to include it on this list.  From their first ride home from the hospital to their journeys and holidays as a toddler and a small child, the Grow and Go will get them there in safety and style.   
This has so many cool features to make it convenient for parents.  Its pads and covers are fully machine washable and dryer friendly, and they easily snap on and off for easy cleaning.  Built in harness holders also make getting your child into and out of the seat very simple.  Its also designed to take up less leg room in the back, so more room for parents in the front!
3 in 1 car seat modes

Powerful protection from side impact 

Open harness holders

Easy to use harness

Pads can be removed and machine washed

Safety 1st convertible, Triton
This Safety 1st Elite Convertible is a versatile, extended-use carseat with superior comfort and convenience features, which your child will love to ride in from their first car journeys until they have completely outgrown car chairs all together.   Babies can ride in it as a rear-facing infant carseat, while toddlers and older children can use it as a forward-facing seat and belt-positioning booster seats.
If you are going to get a 3 in 1 car seat, make sure it is a high-quality and safety tested one like this , as these are some of the safest we've come across.r
Convertible to 3 different modes of carseat  

cup holder

Adjustable 5 point harness

washable padding