Children of today spend too much time on screens and on the internet. If you're looking for ways to motivate your kids to head out and enjoy the outdoors, you may consider rigging up a zipline on your property. Ziplines are great fun for families – they bring excitement and create amazing moments for the entire family.
We have spent a good amount of time on research and editing to review the best kids ziplines to buy in 2023. This review has something that is guaranteed to get your kids (or grandkids) out from in front of the TV, video games or their smartphones and back into the fresh air.
But before we delve into the best zipline kit for your backyard, let's look at the factors to consider when choosing a kids zipline kit.
Considerations When Choosing a Zipline

1. Safety
Safety is the number one consideration to make when purchasing a residential zipline kit. Get one which meets all international safety and engineering standards such as RoHS and CE.
2. Durability
The material used to construct the zipline determines the strength of the system. Stainless steel and aluminum are long lasting materials that guarantee the durability of zipline kits. Therefore, go for kits made from either of these materials. Also, choose lines with polyurethane wheels as they eliminate cable wear.
3. Design and comfort
The best kids zipline should have an ergonomic design. It should come with a harness seat, a harness belt, a helmet, and a properly gripped handle for comfort.
4. Price
Like other things in life, there are expensive options and cheap options but a residential zipline system is not something you want to skimp on. Just go for a zipline system that has the above-mentioned features at an affordable price.
Best Ziplines for Kids in 2023
1. 90′ Eagle Series Zipline
Considered the best kids zipline by many people, the Slackers Eagle Series is becoming more and more popular for outdoor vacation activities. And with good reasons. The main advantage of this system is that it is lightweight yet it can safely hold users weighing up to 250 pounds. It features a compression 5.25 steel spring braking system which slows, and eventually stops, riders. The 90 foot Eagle Series also comes with a high-grade steel trolley that has a locking screw and sealed ball bearing pulleys that provide smooth operation. The trolley is also fitted with grips that offer a non-slip, notched finish for exceptional grip and handle.
The zipline system is easy and quick to set up and install. The trolley arrives fully assembled and there's a thorough setup instructions book that is invaluable during the installation process. Two adults following the instructions in this book can set up the zipline in less than an hour.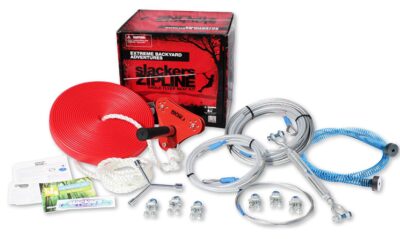 2. HearthSong 150′ Zipline Kit
Kids aged eight and up and adventurous adults will love the HearthSong zipline system, which is rated safe for riders weighing up to 250 pounds. It comes with a staggering 150-foot long steel cable that provides a long, exciting ride. In addition to the steel cable, the kit also includes tree protectors, rubber brake, carriage with non-slip handles, tree protectors, hanging hardware, adjustable/removable seat and detailed installation and safety instructions.
The cable is made from sturdy steel material which is strong enough to support heavy people comfortably. The wheels are also made of solid steel to assure users a smooth ride. The seats are adjustable and removable making it easy to customize the course to the user's preferences. Additionally, the seats are well constructed for proper support. The zipline system has speed control features that allow gradual stopping of the rider. Its basic design makes it easy and quick to install.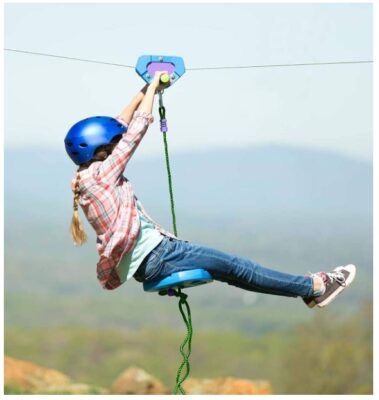 3. CTSC 95′ Zip Line Kit with Seat
The CTSC is one of the safest ziplines you can find on the market. It meets the international quality standards of CE and RoHS meaning it is safe when installed properly. Additionally, it is carefully constructed with high-quality material to guarantee the safety of your little ones. Its braking system includes a bungee cord which helps the rider to slow down and stop gradually.
The zipline features a comfortable seat and non-slippery rubber grips that help users maintain a firm hold on the zipline while playing. The rope knot adjusts perfectly to the rider's height to provide the best possible experience.
CTSC 95-foot zipline is effortless to install – you don't have to be an expert or even a handyperson to set up the system. Thanks to the comprehensive instructions included in the kit, you can assemble and install in minutes.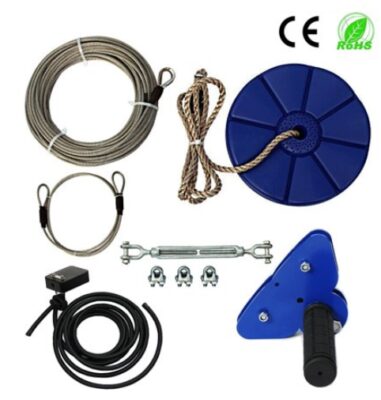 4. Slackers Value Zipline
If you're on a tight budget, the Slackers Value zipline is a high-quality zipline you may consider. While it isn't as complete as other options on this list (it includes a trolley and not a seat), it is well-made and durable. The stainless-steel cable is sturdy for maximum strength and speed during rides. It is also designed to prevent abrasion.
The cable length can be adjusted for a shorter ride and includes a carabiner for quick attaching and removing. The rubber grip handles are comfortable and offer superior grip. All the parts of this system are weather and impact resistant. Therefore, you can have outdoor fun without worrying about the weather.
The zipline comes with a fully assembled steel trolley, so you only have a few parts to assemble making the installation easy and fast. It is important to note that the system is suitable for kids aged 8 years and up and not suitable for adults as it can support users up to 140 pounds.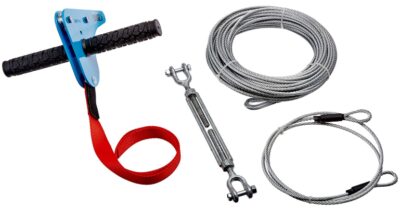 5. HearthSong 80′ Zipline with Removable Seat
The HearthSong zipline is familiar to many people. It's a complete and reliable system that includes all the gear you need to set up an obstacle-free course on your backyard. The kit contains an 80-foot steel cable, rubber brake, adjustable seat, tree protectors, hanging hardware, non-slip carriage handles and an instruction book.
The system has all the safety features of a zipline. Its rubber brake is equipped with a trigger speed control system that allows for gradual stopping when triggered. The body construction rides on steel wheels that ensure safety for riders weighing up to 250 pounds. The rope knot is adjustable so you can adjust it to fit your kid's height.
The HearthSong 80-foot kids zipline with seat can be quickly and easily strung between two sturdy trees without the need for additional hardware.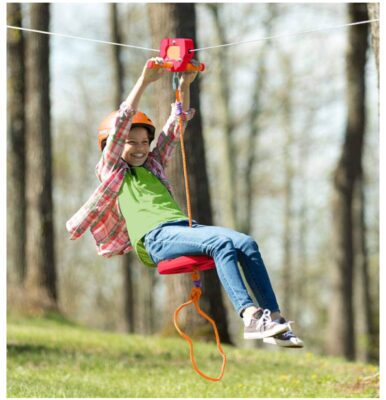 6. HappyBuy Zipline with Seat and Handle
HappyBuy is a top brand that produces the best products for outdoor activities. It manufactures the best kids yard ziplines that offer an ultimate riding experience. The package content includes a 100-foot main cable, a 4.7-foot sling cable, a heart-shaped trolley, U clamps, a turnbuckle with locking hardware and a harness seat.
Made of premium stainless steel, the main cable, turnbuckle and sling cable are durable and designed for long-lasting use. The sturdy steel material is also strong enough to support capacity up to 250 pounds. The adjustable seat of the zipline has an adjustable length that can be customized for different rider's height.
This zipline for kids is easy to assemble and can be installed in minutes. The step by step manual is comprehensive and enables you to assemble the system with ease.

7. iZipline 95′ Zipline Kit
Made in China, the iZipline 95-Foot zipline is designed with safety in mind. It includes a bungee cord which acts as the brake system. This type of braking system is convenient as it prevents the user from experiencing a sudden stop when the brake is applied. The kids backyard zipline is crafted with ultra-strong steel that can hold up to 250lbs safely. What's more, it meets the rigid CE and RoHS international safety standards.
The kit comes with everything you need to set up the system. The accessories are a seat, trolley, U-clamps, main cable and a sling cable. The trolley features sealed ball bearings that provide a safe ride as they glide across the steel cable. The handles are padded to offer a superior and comfortable grip. Worth mentioning is the seat height and rope length that can be adjusted to accommodate your kid's height.
Installation is quick and effortless. The trolley included in the pack is already fully assembled and there's an instruction manual that explains the installation process step by step.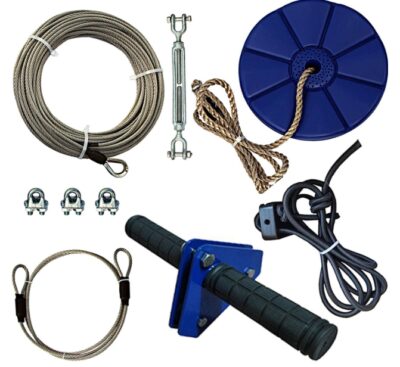 8. Fusion Climb Zipline Harness
The Fusion Climb kids zipline harness is suitable for use on a professional course and island resorts and summer camps. This makes it a great choice for your backyard if you have enough open space to set it up. Made with the highest quality standards, the zipline features a heavy duty 5,000 lb. test nylon/polyester harness and lanyard with reinforced stitching. The harness and lanyard are adjustable to easily and perfectly accommodate different sizes. It features easy pass through buckles for quick on and off. The front center loop is reinforced with webbing to reduce fraying of the loop over time.
Equipped with high strength steel and aluminum body, the kids yard zipline is light yet sturdy. The steel ball bearing pulley makes the zipline a great choice for residential and sports applications. The side plates are made of aluminum and feature sealed steel ball bearings and smooth rounded edges for pulley stability and more efficient performance.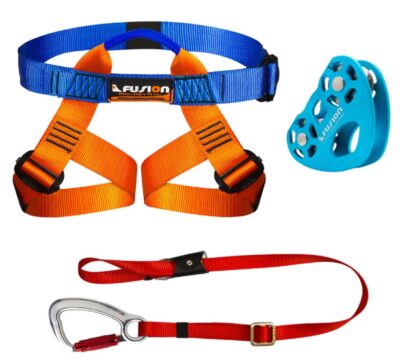 9. Fusion Climb Z-Max
Complete with dual steel wheels and ball bearings, this trolley is designed for enthusiasts of speed and adrenaline rushes. It is stable and fast, complete with four attachment points for backup tethers. The handlebars on the z-max have a soft rubber grip for efficient performance for the user. The trolley is also equipped with steel side plated for durability.
Installing the trolley on a cable is easy thanks to the split open design at the bottom. Closure can be done by locking a tether on the bottom of the anchor point. The trolley weighs just 4.27 pounds but has very high efficiency of 90 M/S.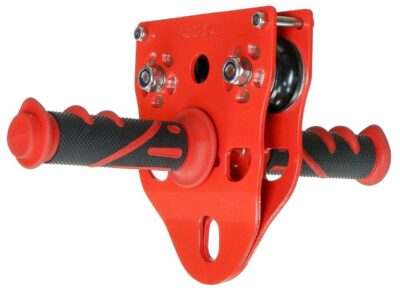 10. Adventure Parks Zipline Fun
This high-quality zipline from Adventure Parks is a great choice for parents looking to bring adrenaline-pumping excitement to their backyard. Equipped with an easy-to-grip trolley and a 35 feet cable, the zipline is strong and makes for entertaining gatherings. The trolley has drop-style handles that are easy to grip. The galvanized aircraft cable is made of high-quality metal that is resistant to abrasion for durability. This zipline is suitable for kids between 5 – 12 years and can support up to 125 pounds of weight.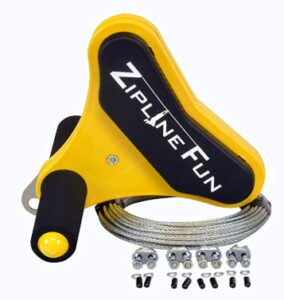 Overall Best Buy
These 10 zipline kits offer a thrilling ride up to as long as 150 feet. Some can safely hold riders weighing up to 250 pounds, so we are sure the little ones won't mind if the adults have a go, too. While all 10 are great products, the HearthSong 80-foot zipline is one that you may want to consider first.
The zipline has a great low-price tag but comes with amazing safety and comfort features. It has a well-sized seat and adjustable seat height for extra comfort and safety. It is made of sturdy material for safety and durability and can handle a load up to 250 lbs. Other elements that make this trolley the best buy include the fully assembled trolley, an effective braking system, and thorough setup instructions which make setting the system up effortless.

Are Ziplines Easy to Set Up? 
Building a backyard zipline is super easy and there are many acceptable ways of setting it up. However, just make sure you follow the manufacturer's instructions to ensure it is safe to use. Below are simple steps for constructing a zipline:
Select a distance between two trees, poles or other solid structure.
Stretch the cable between the two points
Attach the cable to one point and attach a temporary cable clamp. Do the same to the leading end.
Test the zipline and make necessary adjustments before you send a kid down.
Safety Considerations When Using a Zipline
Ziplines are fun but can be quite dangerous. To ensure your kid is safe when gliding through the zipline, avoid dressing them up in loose or long clothing as these can get caught on a branch. If the zipline is above a lake or water body, make sure the kids wear a life vest. If the kit is attached to trees, make sure they are very thick and sturdy.
What are the Benefits of Using a Zipwire?
Beyond the blood-pumping thrills of zip lining, ziplines can improve kid's strength, balance, and athletic skills.