Batman is one of the most iconic superheroes out there and one that has inspired many different types of toys. This epic character is renowned for defeating villains and battling crime with his signature theme tune 'Na na na na na na na na na na na na – Batman!'. If your child is a huge fan of batman and you're seeking a cool gift, you've come to the right place for inspiration. In our guide below we present the best batman lego sets out there, guaranteed to bring a smile and plenty of creative play. Before we reveal our top picks, here are a few handy considerations to keep in mind when choosing this type of toy:
Age recommendation – As with all LEGO sets, age is an important factor to think about. Lego pieces are very small and as such, they can pose a risk to children under certain ages. Always be sure to check out the recommended age on the lego batman sets before buying.
Budget – LEGO has been around for many years and because of this, there are many different types of toys available. From miniature sets containing only a few pieces to colossal sets that are gigantic. By setting a clear budget, you'll get a good indication of what your options are within your price range. Don't be disheartened if you have a small budget, there is always the opportunity to buy awesome lego toys.
Difficulty – This factor aligns with the other two set out above, depending on the age range and budget available, this can have an impact on the type of toy you buy. When choosing a toy for a younger child, it's a good idea to refer to their learning level.
The Best LEGO Batman Set
There are so many awesome new batman toy LEGO out there, it can be difficult deciding on just one. If you're looking for the very best, you'll find all the information you need below in our detailed reviews of the top 10 toys in this category. Go on, take a look!
1. LEGO Superman Heroes Batman: Gotham City Chase
What's not to love about this super cool Gotham City chase toy? This batman lego set comes with plenty of features to keep your child as they act out their favorite superhero scenes. The Bat cycle has two large wheels made of rubber tires as well as 2 rotating stud shooters for plenty of action. The weapon holders on the motorcycle are perfect for holding Batman's Batarang alongside his grapple gun. As seen in the Harley Quinn film, Harley's bike comes with a big front wheel too and adjustable exhausts for extra powerful driving. The hinged attachment point allows the character to fold out and hammer Batman to knock him over. Who is going to be victorious?
In the set, you'll find 3 detailed minifigures including Batman, Harley Quinn, and Dead Shot. Both bicycles measure over 3 inches and 4 inches wide making them comfortable to hold and interact with. You'll also find a ton of accessories included such as Dead Shot's jetpack for escaping. This toy is suitable for children ages 7-14 years and is certainly one of the lego batman movie toys of dreams, your children are guaranteed to love it!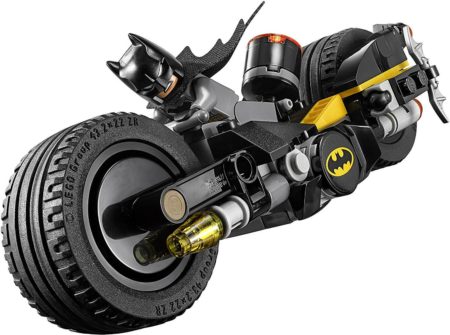 2. LEGO Batman Movie Set: Joker Lowrider Car
Kids will get to build The Joker's eye-catching custom car that comes with a bouncing suspension system as well as hidden spring-loaded shooters too with this lego batman joker set. This cool vehicle has been featured in The Batman movie and has inspired this unique toy. Your children will love interacting with the mini figurines included: The Joker, Harley Quinn, and Batgirl as they play out their favorite scenes from the movie. The toy is fully compatible with all other Lego construction sets, providing creative building at its best.
The car itself measures over 2 inches high and 9 inches long, making it suitable for children to play with. The set includes 433 pieces and is recommended for children ages 8 and 14 years old.  Packed full of color and miniature weapon accessories for each character, this is one of the most original batman toys out there.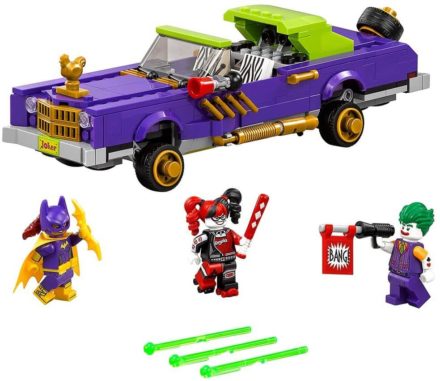 3. Scarecrow Fearful Faceoff
If you're seeking an awesome toy that stands out from the other batman cars, consider this scary Scarecrow Fearful Faceoff set for plenty of entertainment for your child. Included in this one of a kind set is a Scarecrow gyrocopter that features both front and rear rotors that spin to simulate helicopter movement. There are also two bomb-drop functions allowing little ones to get imaginative as they interact with this character from the movie as well as three green, translucent gas bomb elements. This batman set includes two figurines: Batman and Scarecrow for plenty of fun play. The additional power plant mini build allows for extra space to use the bomb elements and exploding functions. It also comes with Batman's jetpack too which comes with attached batwings for top gliding abilities. Two adjustable boosters with flames allow Batman to grapple onto his gun with ease when in combat too.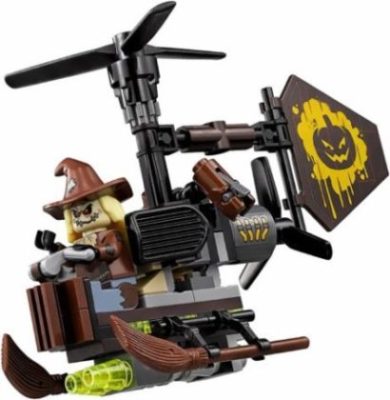 4. Batman's Crime-Fighting Car
With the batman lego toys your child will get to interact with their favorite superhero and awesome gadgets at the same time. This crime-fighting car set features huge wheels for reaching super speeds across different missions. Kids will love the look of this cool toy as seen in the Lego movie. Included in this set, you'll get a variety of characters to play with including Batman, Robin, Man-Bath, and the Kabuki Twins figures too. This lego city batman toy is completely compatible with all other Lego construction sets too for lots of creative playing and building.
The car measures over 3 inches high and is 11 inches long while in racing mode. The set itself comes with 581 pieces for construction and is suitable for children between the ages of 8 years and 14 years.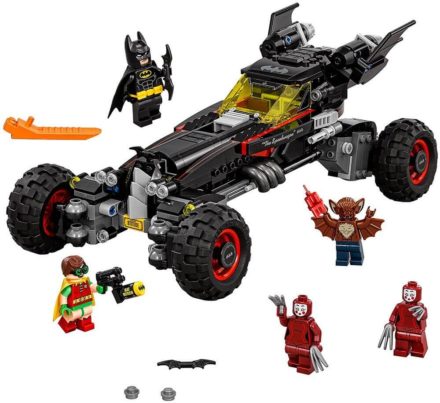 5. Super Heroes Batman Lego Set
As one of the new lego toys, this awesome Super Heroes set comes with 3 favorite characters from the movie including Batman, The Joker, and Henchman. The vehicles included in the set are the green and purple Joker's helicopter and the Batwing which carries the iconic superhero, Batman. Play as the Joker and driver the copter through the skies above the city, use the henchman pilot to launch the four flick missiles, drop the toxic laughing gas bomb or use the rope ladder to make a quick escape. Batman's transportation features two flick missiles and a bomb release function for ultimate action play.
In terms of dimensions, the Joker's helicopter measures 7 inches long while the Batwing measures over 8 inches long. Both of these toys are comfortable to handle once built and are guaranteed to provide plenty of playtime fun. We love this lego joker set as the two opposing characters take to the skies to battle it out!

6. Batman Legos Buggy Set
As one of the most popular lego batman sets out there, this awesome toy is packed full of features for plenty of playtime action. In this set, kids will get to build Batman's bat buggy which once constructed has rear-wheel suspension for drifting and zooming as well as two stud shooters for battling enemies. This batman lego set comes with a Captain Boomerang and a Batman figure for all the imaginary play, it also includes batarangs and boomerangs too.
The Batman car toy measure over 2 inches high and 4 inches long while the set is comprised of 198 pieces in total. This toy is excellent for any Batman fan between the ages of 7 and 14 years old.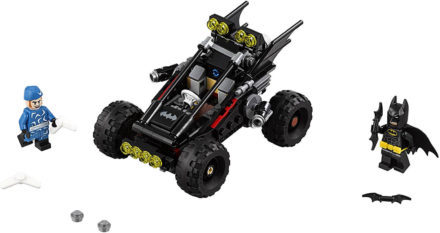 7. The Joker Steamroller: LEGO 76013 Set
Kids will love this awesome Joker lego city batman toy which includes 5 mini figurines! There's so much action to be had with the awesome characters included: Batman, Batgirl, Robin, The Joker, and Joker Goon. Inside the set you'll find the brightly colored steamroller and Batwing which includes plenty of weapons for combat. Children will love battling and playing out their favorite scenes using 2 Batarangs, a flag gun, staff, and a crowbar. The Joker's special steamroller is chunky with super cool laughing gas bombs to drop and a huge smile of course. Batman's Batwing has 4 flick missiles that can be shot easily to defeat the enemy and save the day, an opening cockpit for a quick escape, and huge, sweeping wings to be used in attack mode.
The Batwing measures over 3 inches high and 11 inches long while the Joker's steamroller measures over 5 inches high and 7 inches long. Which character will your Batman fan choose to be?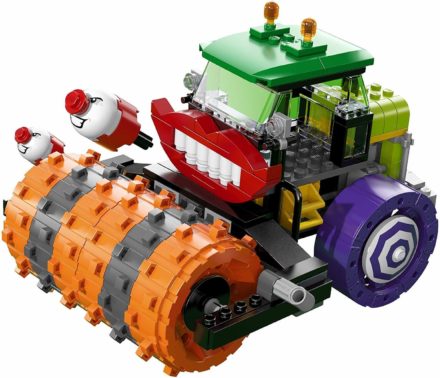 8. Space Batman Lego Set
For children that love Batman, Lego, and outer space, this could be the ultimate toy for them! Included in this set are all the pieces needed to construct an awesome spaceship that features lots of impressive gadgets and gizmos. From an opening cockpit to the two stud shooters that are equipped for battle, this spaceship is going to provide hours of entertainment. Kids can learn so much from constructing with any lego, build your model to build skills! This set also includes a wide range of cool accessories such as space Batmans space wings for gliding, an exclusive Super Jumper, and a yellow staff that belongs to Sinestro. The Green Lantern, Space Batman, and Sinestro are one of a kind figures found in this lego batwing set only, making it a unique toy for any Lego fan.
Once constructed, the spaceship measures 7 inches long and 6 inches wide and is easily held once constructed. This spaceship set is going to bring your child's imagination to the next level as they get to construct and play!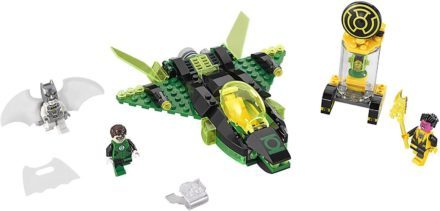 9. Mr. Freeze Exosuit Lego Toy
Inspired by the Batman movie, this lego bat toy focuses on the villain, Mr. freeze, and his exosuit! Featuring a stud-shooting gunt hat freezes those shot at, this toy brings a new side to the Batman story. Included in the set are a room for the Mr. Freeze mini figure, a Batman figurine, and a security guard too. Fans will love the opening to the blue ice prison which is finished with realistic, translucent ice detailing. Other accessories included in this lego city batman set include Batman's iconic cape, a molded utility belt, a breathing mask, and an oxygen tank too. Inside the power plant are a silo with a pipe and adjustable lever alongside a pressure meter, computer, mug, and other decorative elements. Kids will love saving the day as their favorite superhero, Batman, with this lego batman toy.
Once constructed the power plant in this set measures over 2 inches high and 5 inches wide. The ice prison measures over 2 inches high and 1 inch deep, perfect for keeping prisoners inside!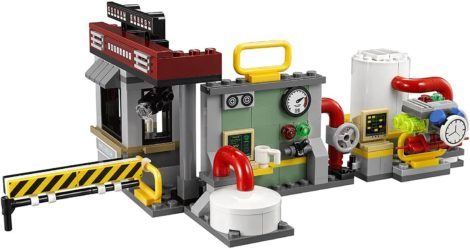 10.  Joker Balloon Escape Set
The final toy in our batman movie sets is this super cool Joker Balloon Escape Lego toy. Included in this toy are the two characters from the film in figurine form, Batman and the Joker, each equipped with their own weapons and unique accessories. Batman has a Batgun, perfect for shooting down the Joker's balloons which power his jetpack when he's escaping. Also included is a silo plant to add further elements into your child's imaginative play and realistic flame detailing on the Joker's jetpack. Which character will your child choose to play with? There are endless opportunities to reenact favorite scenes from the Lego movie with this awesome toy!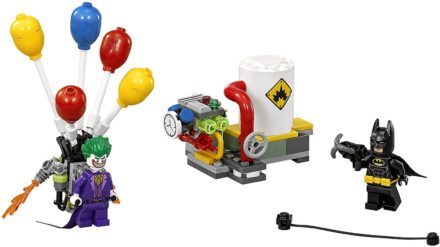 Now that we've reviewed the top batman legos sets in the guide above, it's time to present to you our favorites based on fun factor and budgeting! Below you'll find the best budget pick and our best overall toy from the lego batman car toys above. We've also answered some of the FAQs you may have regarding these sets. 
Best Overall Buy
Out of the awesome 10 toys above, it was tricky to choose a favorite. However, our top pick is this super cool Batman Spaceship which comes with unique accessories and figurines to play with. The Spaceship itself once built has an opening cockpit, wings for Batman to glide, and much more. This toy is bound to bring a smile to any little fan's face as not only do they get to creatively construct the elements but will have plenty of entertainment too.


Best Budget Buy
Coming out on top as our best budget buy is the cool Batman Buggy set. Packed full of super features, the Batman buggy is built for action. Once constructed, your child will have plenty of fun playing with this toy which is one of the best cheap batman legos available. Included is a Batman figurine equipped with batarangs and Captain Boomerang.