Wondering where to buy dinotrux toys? For those who don't know Dinotrux is a computer-animated Netflix series featuring characters that combine dinosaurs from the prehistoric world with mechanical construction vehicles. The larger Dinotrux are accompanied by smaller Reptools who are reptile-like creatures made from different mechanical tools. This kid-favorite animated tv show is sure to be a hit with your children at home, so of course, they will want to bring the tv stories home, creating their own adventures or recreating scenes they have seen watching the show.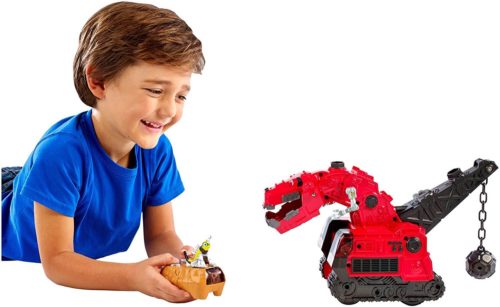 There are lots of different toys to choose from when it comes to this franchise so there are a lot of things you should think about before buying any toy with the Dinotrux logo on it.
Considerations When Choosing Dinotrux Toys
Characters – In the tv show there are lots of different characters and it is most likely that your little ones have their own favorite, so this should correspond in the Dinotrux toy they want to play with. Finding out which is your kid's favorite will keep them playing with these sets for much longer providing loads of dinosaur entertainment.
Size – These Dino trux toys come in loads of different sizes and bundles in the sets they come in. Smaller pieces could be hazardous to younger children if they swallow or get little pieces stuck in their mouths. It is better to have larger plastic toys for younger kids with fewer safety worries to think about. As with all toys it's important to ensure that the design is suitable for your child's age, therefore carefully review age recommendation for toys with smaller parts.
Materials – Each different toy comes in different materials. the diecast figures are great as they are strong and durable not normally chipping or scuffing even with lots of play. These toys are great for children who can sometimes be a little boisterous so these metal toys will withstand some of the punishment your little ones could give them.
Budget – When looking for toys in this series you are going to be able to find a number of different choices whatever your price range. These toys can be selected from coloring books, small figures, buildable construction toys, and even RC cars. Always remember that shopping around holidays such as Christmas and Black Friday can offer lots of deals on what sometimes could be the more expensive product online.
Top 20 Dino Trux Toys for Kids
1. Dinotrux Bundle
Your little ones will have hours of exciting fun playing with their favorite half-truck, half dinosaur toy from Dinotrux. This bundle pack contains 6 different die-cast Dinotrux characters that all feature rolling wheels which makes push-around play easy and fun. The set contains the characters TyRux, Garby, Ton-Ton, Ace, Revvit, and Skya. Your child can play out their favorite on-screen moments with their favorite characters or create a story of their own. The colors and decorations may vary to what is shown in the picture.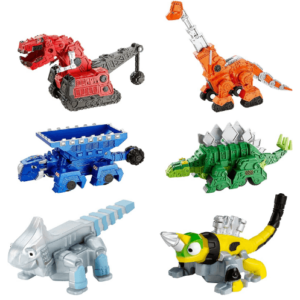 2. Reptool Revvit
Let your little ones play and work like their favorite Dinotrux character, Reptool Revit from the mechanic era of the Dinotrux show. The toy is on wheels and replicates the movement of what this character does on the animated show, complete with sounds and phrases that are unique to the Reptool Revit character. There is a spinning head that is activated by the tail which allows interchangeable drill bits to be placed, these drill bits are stored on his back as kind of a spiked reptile design. There is also a real tape measure featured in his mouth like a tongue.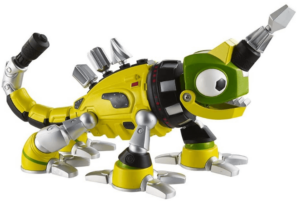 3. Reptool Control Ty Rux
Made in the USA from the best quality plastic, control your child's favorite Dinotrux character TyRux with ease using the Reptool RC controller. This RC vehicle features 5 different modes of motorized play, one being Revvit mode. In this mode it allows you to point the revvit remote control at TyRux and he will follow you around. In this mode, you can also place the remote control within an eight-meter distance and TyRux will scan and find his Dinotrux friend. In standard mode, there is more control making TyRux go forward and backward, or make directional changes by pressing the dance button on the Revvit remote.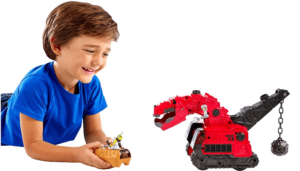 4. Dinotrux Reptool Rollers
This set contains 12 individually packaged rolling Dinotrx toys for full action-packed fun. This set does include duplicate characters of Revvit (x2), Happy Revvit, Towaconstrictor, Ace, Wrenchtools, Click-Clack, Frightened Click-Clack, Otto Wrenches, Skrap-It, Tortool, and Grouter. There is a metal ball wheel underneath which helps the Reptool Rollers move around. Your little ones can play out their favorite scenes in this wonderful role-playing toys or create new adventures of there own. These toys are also great to jazz up birthday cakes, making your kid's favorite characters be right there when the party is starting.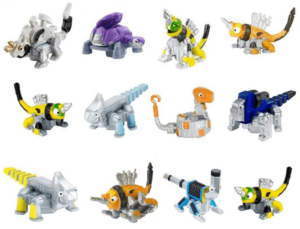 5. Dinotrux 10 Pack Set
This amazing bundle set contains 10 separately packaged Dinotrux vehicles, that all push around with ease for hours of role-playing fun. Includes all your child favorite characters, TyRux, Scoot, Ton-Ton, Pounder, Garby, Skya, Dragonflopter, Rollodon, Battle Armor TyRux, and Claw Tail D-Structs. Each of these characters features the unique movements replicating that of the on-screen personality and special abilities. A great size that your child will be able to play with, and hold firmly measuring 3 to 5 inches. Rollings wheels are attached making push-around play easier than ever.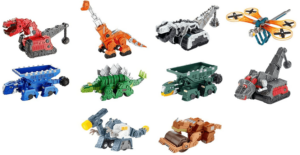 6. Dinotrux Dragnflopter
The Dragonfloper Dinotrux toy is amazing for your little ones, letting them play with their favorite character in different role-playing games. This model has an array of different fan sizes and varieties, simply choose from either a mid-sized Dino character or a pack that contains two Reptool figures. Featuring rolling wheels that imitate the same movement that the characters do on the animated show. These toys are great as they come with access to digital content downloads, taking the fun to a different space.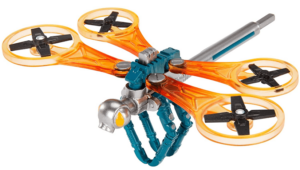 7. Tyrux Shadow Vehicle
The TyRux shadow vehicle is amazing, it moves jus as the animated character does, using a metal ball underneath that rolls along any surface. Your child will be able to recreate or invent new scenes that they will love to play with for hours, keeping them entertained for a long time. Amazingly these toys come with digital downloadable content taking the fun to a new level. Made from solid material, any child who loves the Dinotrux series will have fun safe playtime with this die-cast model.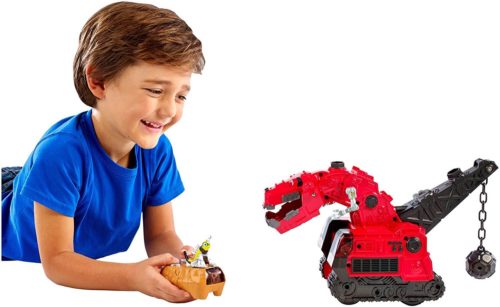 8. Dinotrux Mega Construx
The Mega Construx set from Dinotrux allows your toddlers to build their favorite animated characters. Build TyRux who has battle-damage detail, a swinging claw tail, a moving jaw, and reptool Revvit. They will also be able to build D-Structs with a moving jaw and a swinging tail. To really set the scene there is a buildable crater waterfall environment and workstation with a rock accessory. Fast and easy to build the set is great for the young builders in your home, and amazingly they combine with other Dinotrux buildable sets by Mega Construx, letting their imagination run wild combining different sections and pieces from a number of different sets.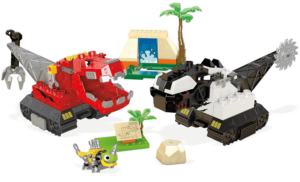 9. Dinotrux Ty Revvit Bundle
This 2 pack Dinotrux gift comes with two Dinotrux characters which we all know are better than one, including TyRux and Revvit. These two are the perfect match for recreating on-screen adventures or creating new ones from their imagination. For flexible dino-mite fun, Revvit can be attached to TyRux and then reattached. Colors may vary on the actual product but this Dino Trux will be a family favorite with your little ones.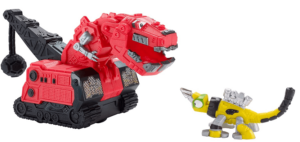 10. Dinotrux Skya's Tall Tail Slide
The Large-scale Dinotrux playset features the kind-hearted Skya and Reptool Revit that provide fun as soon as they are opened from the box. There are 6 different activation points on the sets design allowing kids to activate the motion of vehicles and different actions. Adjust the height of the platform to different levels sending the Reptools high and low, or manually activate Skya's down, up, and side to side motion, sending Reptool vehicles along the track by moving the tail. The box contains two different skyscraper figures which can be used as targets for the track.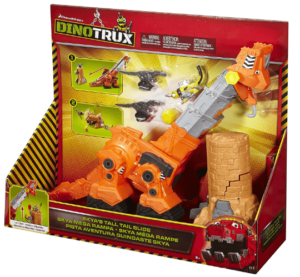 11. Dinotrux Skya Grabber
Kids can now recreate their favorite scenes with this Dinotrux toy allowing loads of role-playing action. The character has been specifically designed to move and acts like the on-screen character does, making recreating scenes or creating their own adventures more fun than ever. This graben design allows your kids to act as Skya being able to lift and grab just as the animated version does. The decoration and colors may vary on the same product.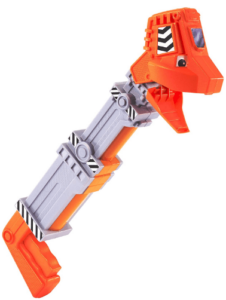 12. Ty Rux Dinotrux Moveable Vehicle
Includes 1 Dinotrux vehicle which will let your kids have a ferociously fun time playing with this half-dinosaur, half-construction creature from the animated show Dinotrux. TyRux has a pullback motor that will rev-up in all kinds of different adventures. TyRux moves uniquely to that from the show, displaying his personality and truck-ability all from the metal rolling wheel. There are lots of different vehicles on offer to collect in this set, but each is sold separately, varying lots of different colors and designs. For any little collector of these Dinotrux toys, TyRux is a welcome addition. 0 If you're looking for a fun Christmas or birthday gift, this idea is fantastic for any little boy or girl.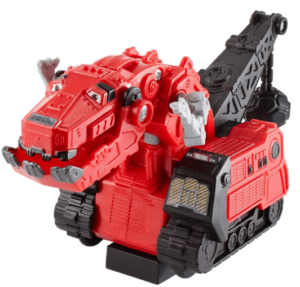 13. Ty Rux Hand Puppet
Kids can now play out their most loved character scenes and moments with this amazing TyRux role-play character. Produced with a mouth function driven by your young one's hand. Let your kids moth Ty Rex's mouth up and down picking up other die-cast figures such as the Reptool characters. Feel like you are right there with TyRux with 20 seconds of character-specific sounds, binging this character to life. Let your child imaginations run wild recreating scenes from the series or making up their own awesome adventures.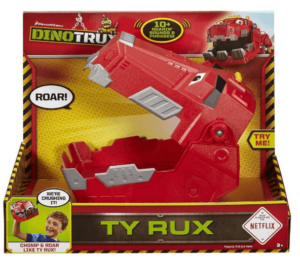 14. Dinotrux Smash And Slide Construction Site
With this construction site, toddlers will be able to play, work, and carry out exciting missions with the Smash and Slide Construction Site. This key location that is seen in the show is the perfect place to carry out construction missions with all your kid's most loved characters. Includes a Ty Rux vehicle for more ferocious fun. The environment that is used is specifically designed for Ty Rux's personality and truck-ability. Moveable parts and accessories allow Ty Rux to help create the amazing story of this wonderful location. This playset can be expanded and connected to other toys in this range, adding new characters and scenery to let your kid's imagination grow.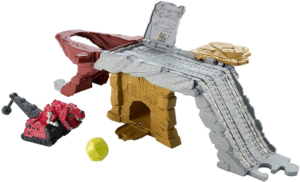 15. Revvit And Tortool Double Pack
In this pack, there are two of your children's favorite Reptools from the Dinotrux show, Revvit, and Tortool. The half-construction vehicle, half-dinosaur, from Dinotrux, delivers non-stop fun. Both of the small-scale characters replicate movements of the show, displaying their on-screen personality and unique actions. Expand the collection by introducing Skrap-it and Waldo to continue the fun. A metal ball is on the underside of each character for the best rolling action which enables your child to learn about the mechanics of kinetic energy in an exciting and engaging.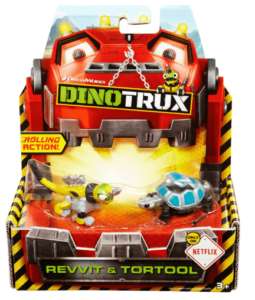 16. Dinotrux Reptools Buddies
This exciting Dinotrux gift contains two toys with talking abilities. Both of the figures have 10 different sounds and phrases bringing them to life. These toys are the perfect companions to the rest of the Dinotrux gang helping them get any job complete using their own specific half-construction, half-dinosaur abilities. These Reptool buddies have a bobblehead feature unique to them and can be posed in many different positions ideal for different role-playing games. There is a specific button on each of the toys which play the iconic sounds and phrases that are related to each of these child favorite characters. With these Reptool buddies from Dinotrux your kids will have a ferociously fun time.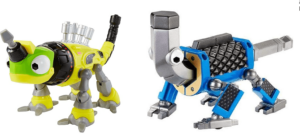 17. Dinotrux Blizzard Battlers
This 2 pack blizzard battlers pack contains both Ty Rux and D-Struct who is fashioning an arctic look. Pull back and go, the moveable vehicles will glide along any flat surfaces they come across. The moving mechanism lets the characters move just as they would on screen, making them come to life. Make way for the Dinotrux Blizzard Battlers 2-Pack inspired by Artic Island that appears on the show! For plenty of imaginative blizzard play these toys are simply great and will guarantee hours and hours of fun.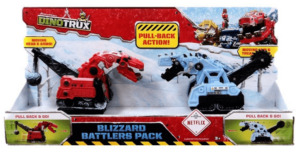 18. Dinotrux Coloring Book
This Dinotrux coloring set will excite and delight your little ones giving them hours of creative fun. The set includes a jumbo coloring book, 4 jumbo crayons for toddlers, over 30 Dinotrux stickers, and also a bonus sticker pack. Your toddler will have fun completing the activities inside the book and coloring their favorite characters such as Skye, Dozer, and Garby. IThis Dinotrux coloring book set with crayons will provide hours of fun doing puzzles, mazes, and coloring activities keeping their imagination and creative side alive. The book is a great size, leaving loads of room for messy creators measuring 8 x 11 inches. A great gift for both Dinotrux enthusiasts and painters alike, this activity and coloring book will provide loads of educational fun developing skills in those younger years. A perfect gift for birthdays or Christmas for little dino enthusiasts who love construction vehicles too.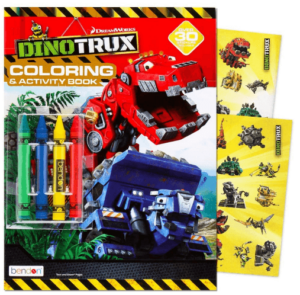 19. Arctic Diecast 3 Vehicle Bundle
This gift includes 3 of your child's favorite characters from the Dinotrux series, Ty Rex, Skyla, and Ton-Ton all in an arctic design. These figures are all made from diecast metal, making them strong and durable refraining from my scuffs or chips of the paintwork. Moving parts on each of the figures replicate personalities from the animated show giving an authentic look and feel in each character's movements. Rolling wheels help them glide across the icy tundra of the arctic scene they are from. A great gift for birthdays and Christmas, perfect for kids who are already fans of the show or just getting into it. There are hours of fun to be had with this awesome set of roarsome dinosaurs.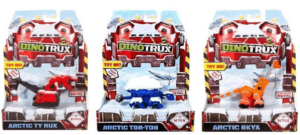 20. Dinotrux Diecast Skya Vehicle
This diecast figure is half-dinosaur, half-construction vehicles from Dinotrux. Skya this toddler favorite character features the same unique movement that she does on the animated tv show displaying her personality and special abilities bringing the fun to life for your little ones. She can see for miles into the distance with her crane-like, long neck. This metal figure comes with rolling wheels for push-around play made easy. Kids will want to collect the entire range of these Dinotrux figures from the Mechazonic era of the show. The material is strong and durable refraining from scuffs or chips of paintwork, a toy that is built to last. Ideal as a gift for both Christmas and birthdays, the perfect toy for any fan of the television series.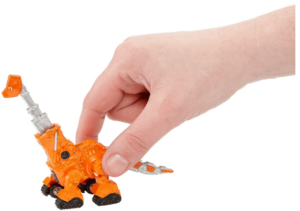 Best Buy
Our best buy is the RC TyRux vehicle with Reptool control. This awesome Rc car lets you control the mighty Ty Rex around your home. There are a few different modes you can put it in allowing for different controls. Standard mode allows you to go forward and backward pressing the up and down arrows, then turn corners with the dance button. There is another mode which makes Ty Rux follow the Reptool character around where ever you point it, or if you hide the Reptool controller within 8 meters the RC car will roam around searching for his little buddy. The vehicle has 20 sounds and phrases that are typical of the things said by the character in the animated show making this toy really come to life in any role-playing game.
Best Budget Pick
The Dinotrux 10 pack bundle is the best budget pick in our list. It offers a wide variety of different Dinotrux characters letting your child play with their favorite one, and also leaves lots of role-playing games open as there are more characters to choose from. Made from durable diecast metal these figures can battle one another and no leave any scuffs or marks with loss of paint, or even any lost pieces, like a wheel or an arm. Using these figures your child will feel as if they are in the actual television show themselves as the toys move in the same unique way that each of the characters does showing off personality traits they have on the show. With this being a 10-in-1 bundle gift set we believe it is the best budget buy.
Where Can I Pick Up Dinotrux?
Buying these toys couldn't be more simple. They are available in stores, on the high street, or online. We always recommend shopping online as with sites such as amazing there is a lot of information from both the producer of the product, telling you the functionality and how it is made. Also, customer reviews are always great to read before purchasing a product as you will receive a true human interaction with the product and how they feel after using it not having any bias towards the product with them trying to sell it.
What Kind of Dinosaurs are the Dinotrux?
In the Dinotrux world, there are lots of different kinds of dinosaurs which are all half dinosaur half construction vehicles. Here are a few of the characters and the type of dinosaurs they are: Ty who is the leader of the Dinotrux is a red Tyrannosaurus Trux which is a mix of a tyrannosaurus rex and a megaton excavator. Revvit is a yellow and green Rotilian Reptool, part lizard, part rotary drill. Dozer is a yellow Dozeratops which is a part triceratops, part bulldozer. Ton-Ton is a blue Ankylodump, this is half Ankylosaurus and half dump truck. Skya is an orange Craneosaur who is half construction crane and half Brachiosaurus. Garby is a green Stegarbasaurus who is part Stegosaurus and a part garbage truck. Ace is a silver and blue monkey wrench reptool who is part lizard part monkey wrench. As you can see there are lots of different kinds of Dinotrux and Reptools in this series, and even more that we haven't mentioned. These will keep your kids entertained for hours getting to know and love all of these wonderful characters.