Looking to buy an electric kids skateboard and wondering which one to buy? We have compiled a list of electric skateboards and compared the best on the market.
Skateboarding is one of those trends among kids that never seems to fade into obscurity! Ever since its inception in the 1940's-1950's by bored surfers during calm weather, it's been a hit amongst some of societies youngest!
Now with modern technology, it's become even more interesting. The invention of fancy new materials, miniaturized motors and more have resulted in the creation of electric skateboards. There's no need to worry about pushing these things on-foot (unless you want to!). 
Newer, modern materials make for much more durable boards which are less likely to crack under tension. Modern batteries also allow for boards to travel for several miles before requiring a recharge. 
Powerful new motors enable the boards to support larger weight capacities whilst being able to travel uphill on gradients of up to 30%!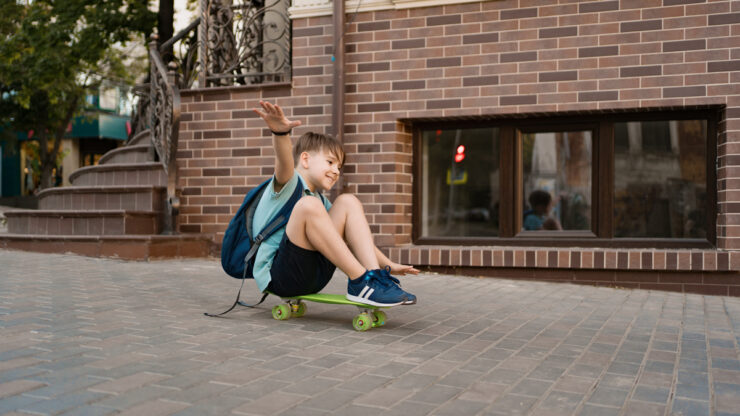 Whether you're looking for something for younger children, newer to skateboarding or something more advanced for older kids/young adults – you're sure to find it here or on our other kids skateboarding review.
They're not just for kids either, more and more adults are actually buying into electric skateboards as an eco-friendly means of transportation, this is especially useful in bigger cities where traffic can be a nightmare!
Top Picks for 2023
1.
Teamgee H8
This stylish looking electric skateboard comes with a wireless remote and fully adjustable speed settings! It's also one of the thinnest electric boards, at only half an inch of thickness. A high performance, high durability battery is inside. Allowing the board to bend and contort without risking serious damage to the device. 
It's three speed settings range from:
Slow (0-9MPH)

Medium (0-13MPH) 

Fast (0-15MPH)
And can be manually toggled with the controller! This is a great feature for inexperienced riders, giving them a chance to adapt to riding the board before moving up to a faster speed. 
It comes in a variety of colorful designs and the thick trucks allow for great maneuverability on-road!
The huge 83mm wheels offer an incredible feeling of stability and it has a unique 1-wheel motor design allowing you to push the board like a normal skateboard by shifting your weight onto the other 3 wheels to avoid resistance.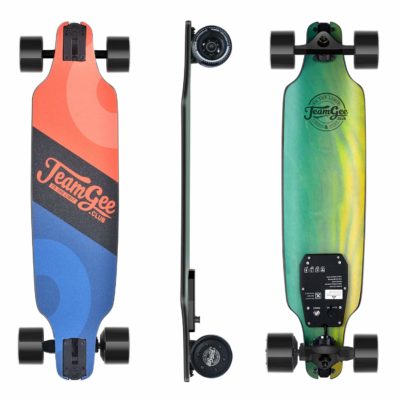 2.
Evolve Skateboards
Carbon Series
The carbon series from evolve skateboards comes in a slick black design with larger wheels. Depending on terrain/weight of the rider this board can reach between 22 to 25 miles per hour on a flat surface, making it perfect for older kids!
The larger wheels are designed for harder impact terrain such as tarmac and concrete, but it can also handle short grass and even dirt!  
It has a large LCD screen to display real time rider information such as current speed, distance and even information about the board itself. With a range of up to 12 miles this board will last for a long time.
This skateboard utilises brushless motors, meaning the motors have absolutely zero friction to fight against whilst providing torque to the wheels! Aside from being fast to ride, it's also fun to ride too, with an ergonomic design built entirely around user comfort. 
These brushless motors also mean this board can be pushed like a regular skateboard once the battery has run out of charge – no need to carry it home when you're done, you can keep riding it.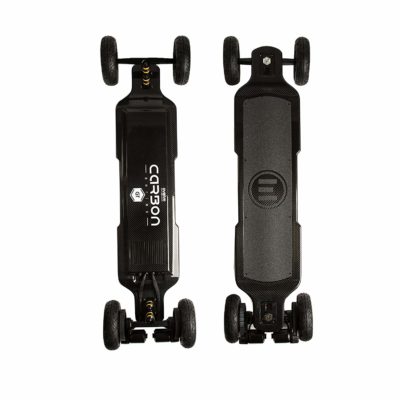 3.
BLITZART
Huracane
The BLITZART Huracane has features authentic griptape for enhanced mobility. It can travel up to 17 miles per hour and can travel up to 8 miles when fully charged. The 6 layers of maple ply are rounded off neatly on either side with a layer of super-tough bamboo. Helping ensure longevity no matter how frequently this electric board is used. 
It ships FULLY ASSEMBLED making it perfect for birthdays or christmas, removing any long awkward assembly phases whilst your child is raring to go. It's highly customisable and parts can be swapped and switched as you go. 
Tired of orange wheels? Why not try a light green or blue!
It's size, shape and weight make it perfect for beginners who are desperate to try out an electric board for this first time! With a sleek ergonomic design, your kid is sure to have the time of their life. 
The blitzart team are also frequently praised for their professional customer service, so if you encounter any issues you can count on them to help you out with your board.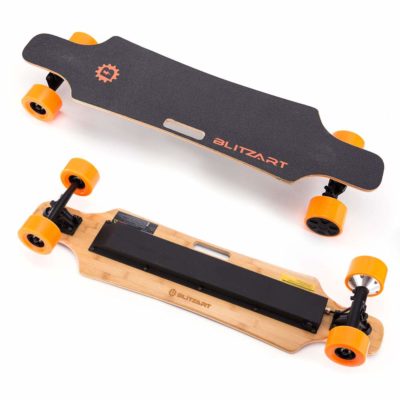 4. Miageek
Electric Board
This beautiful Miageek electric board is the perfect electric board for kids. It's made of high quality canadian maple wood, layered 7 times. This gives is the perfect amount of flex to ensure the comfort of the rider, without making it too awkward to handle on corners.
Supporting a max weight of up to 220lbs, this skateboard is perfect for kids of all ages. It has a range of 10 entire miles and can even travel at a speed of 12mph, making it ideal not only for kids who want to play, but young adults who might want to use it to commute to work too!
It has a wireless remote with an ergonomic design for user comfort. This remote is to be used in sync with the LED display present on the board, which displays important information such as speed, power mode and other important information. 
Despite being relatively powerful, you still feel in-control with this board. Enhancing the comfort of the riding experience greatly. 
This board is frequently praised for its reliability and sturdiness – it's definitely a gift that can be appreciated in the long run, rather than the short run.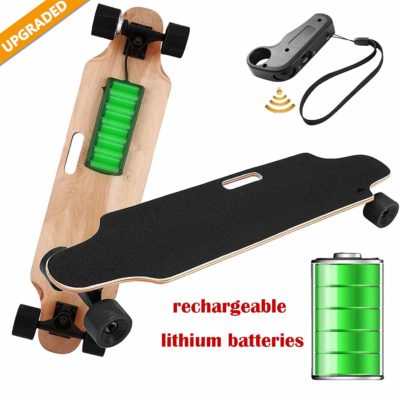 5. Swagtron SwagBoard NG-1
This lightweight board is made of a standard 7-ply maple deck. It features highly durable polyurethane wheels designed to handle rougher conditions whilst also providing a leisurely and comfortable experience to the rider. 
It's smaller design and lower top speed (11mph) make it a perfect electric skateboard for younger kids. It's 10 mile range can provide endless entertainment for children. It features real grip tape to ensure the safety of the rider (boards which do not have a gripping surface are much slippier and easier to fall off).
It has a sleek wireless LED controller which allows the user to change speeds, toggle braking and view battery and speed information. 
The wide wheel base provides a reasonable level of stability whilst refraining from comprimising the beauty of the overall design. 
Two carrying handles are also cut into the wood on either side of the board to ensure ease of transport when on-foot.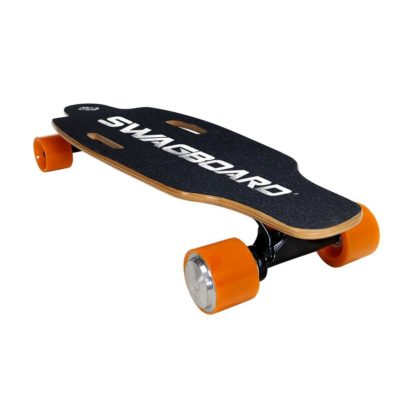 6.
Boosted Dual Plus 2nd Gen
The boosted dual plus 2nd gen is an amazing piece of technology. Capable of travelling up to 22mph and traversing 25% inclines. It even features regenerative braking, a method of breaking which converts kinetic energy into stored energy for later use. 
The regenerative braking hasn't compromised the quality of the braking either, as this board has brake-smoothing features also. 
It has a unique, bluetooth enabled remote allowing you to quickly toggle speeds & brake, giving you an unprecedented level of control. Whether you're shopping for a present for an older kid or young adult – or you're looking for your own alternative method of transport for your commute to work. This astounding piece of technology has you covered. 
It even has a range toggle function, allowing you to specify whether you wish to conserve energy and travel up to 12 miles for longer commutes. Or go all-out for 6 miles instead!
As you can tell by the specifications above, this board has been built with distance based commuting in mind. Meaning a lot of care and effort has been put in to ensure this board won't suffer degradation from regular use. 
The lights on either side of the board are incredibly powerful and provide a great deal of illumination in darker conditions. Meaning your kid can stay out and play for longer during the winter months where it starts to get dark from a very early time.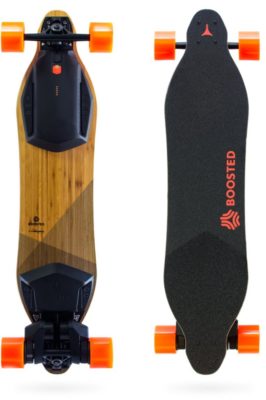 7. 
SKATEBOLT 2nd Gen
The skatebolt 2nd gen has some key strengths that make it stand out from other electric boards. The first of which being the incredible range. 
This board has a maximum range of up to 18.6 Miles. It doesn't miss out on other key features as a result of its enhanced ranger either: being capable of reaching up to a staggering 25 miles per hour on ideal road conditions, and more than capable of climbing a hill with a 25% gradient. 
What makes the incredible range of the battery even more impressive is the fact that the skatebolt 2nd gen has tail lights for safety in darker road conditions! They even blink upon braking to inform any vehicles that may be located nearby that you are slowing down.
Does this sound too good to be true? It comes with a 6 month warranty too. Meaning that in the off-chance you encounter any issues at all you can send your board back for a replacement. 
The Skatebolt is a fantastic board overall and will provide hours of fun. You'll see your childs face light up with joy when they get a feel for the power behind this board.
It has 90mm wheels that are wide enough to ensure comfort and control on-road. 
It also has a beautiful, dark design with a few key variations available, allowing you to pick the wheel colour/frame size perfect for your needs.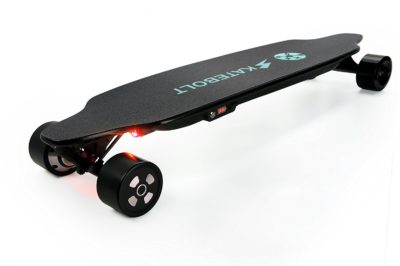 8. Razor X Cruiser
The RazorX Cruiser has a stylish, original design inspired by the skateboards of old. The sleak retro design is a blast from the past to anyone who ever experienced the early days of skateboarding. Which is where it's naming convention comes from: it's shaped like the old 'cruiser' style skateboards.
But it doesn't just appeal to adults, this cool little board can run at up to 10mph for 40 minutes of use, making it perfect for your kid to go out and enjoy the outdoors.
Perfect for younger children as this board doesn't go too fast. 
It comes officially recommended for children aged 9 and above, and its sturdy frame can support up to 220lbs! Meaning you have the potential for years of use. 
The authentic grip tape provides you the same level of comfort and control as you would on a traditional skateboard.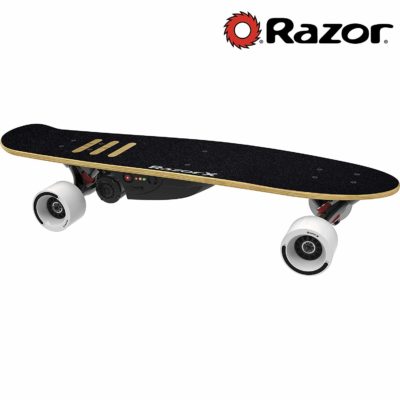 9.  Boosted Mini X
Boosted live up to their brand name as usual with this amazing, high-tech looking electric skateboard. With a staggering top speed of 20mph, this thing doesn't just look futuristic, it is futuristic. 
Coming with its own android and iOS app, and a charge time of less than two hours transporting you up to 14 entire miles. Your kid will encounter zero problems climbing hills with this electric board.
It takes around two hours to full charge.
Things going too fast for your kid? It has 3 unique driving modes to control speed and power. Ensuring they can always ride a speed they're comfortable with.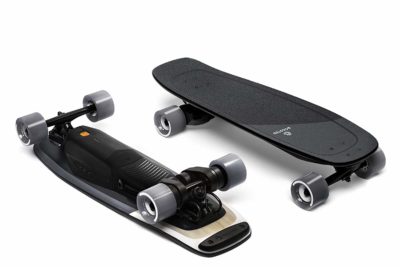 Read Also: Best Penny Boards and Mini Cruisers
10.
Alouette Phoenix Ryders
The Phoenix Ryders electric skateboard is made of maple wood. It comes pre-assembled and is ready to go when you remove it from its packaging. The 6 layers of maple are rounded off neatly on each side by a layer of bamboo to give it additional protection whilst helping retain its flexibility. 
The dual strong motors can provide a great level of torque without costing any kind of stability. The wider based trucks give a greater level of handling allowing for easier turns & the battery is incredibly high capacity.
Whether your kid is getting this to play or is using it to get to school every day, it's sure to serve them well with its sturdy and ergonomic design.
The controller even has a display built-in, allowing your kid to check up on speed and power consumption so they know when to bring it back home for a charge!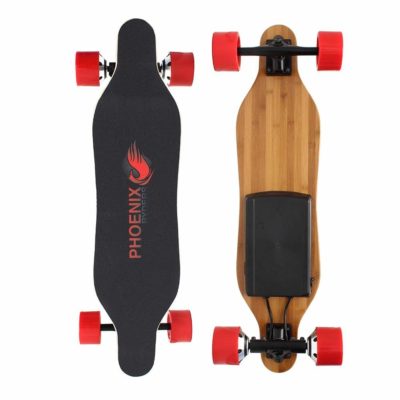 11.  Evolve Skateboards Street
The Evolve Skateboard Street is one of the more premium models of electric skateboards on the market, it has a staggering battery capacity of 31 miles before a recharge is necessary. It can even reach up to a top speed of 26mph. Its such a fun board to ride, your son will be very appreciative and will provide hours of fun.
It comes in either a street configuration or an all-in-one configuration which can handle rough terrain. It travels slightly slower and gets slightly less mileage in rougher terrain, but it still handles incredibly well and will last for a long period of time.
The terrain version can withstand some awesome rough grounds, rocky roads and uneven surfaces.
The wireless remote allows for easy acceleration and braking. It provides real time riding data too. This is a cool board for commuting back and forth to college or school.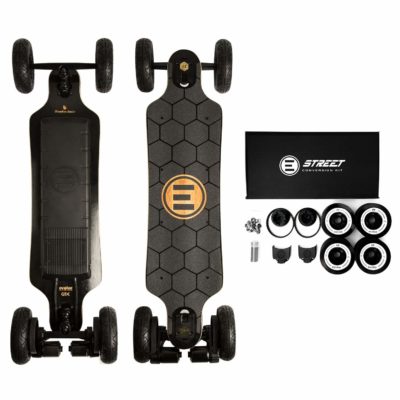 12. Maxfind MAX C
The Maxfind MAX C is perfect for younger riders. It has a smaller frame and smaller size with a weight of only 8.1lbs! With a max speed of only 8mph, you don't need to worry about younger riders going too fast.
The Maxfind MAX C can drive for 8 miles. The small frame and size of the board makes it really easy to pick up and transport back and forth to school.
This electric skateboard for kids is absolutely ideal if your child has expressed an interest in these kinds of boards but you're wary of getting a full size, full powered one. It comes in blue, black & pink, giving you some variety if you want to get more than one board.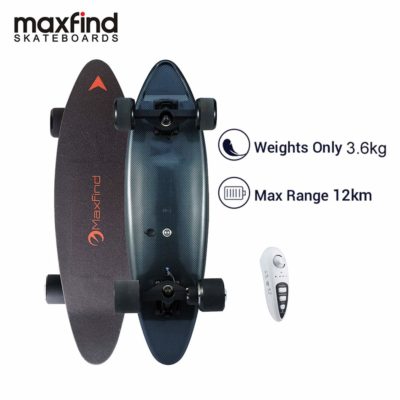 13. BACKFIRE G2T
The Backfire G2T comes with a wireless controller with an awesome OLED display for checking out board data! It can be charged in just two and a half hours and will travel 10-15 miles with its stock battery. 
The deck is very flexible and has been designed to keep the centre of gravity very low. It comes with all of the relevant accessories included. If you enable turbo mode it can travel up to a staggering 24 miles per hour.
The brakes differ in intensity based on speed, if you're travelling in a faster mode they're much stiffer and can let you slow down faster if required.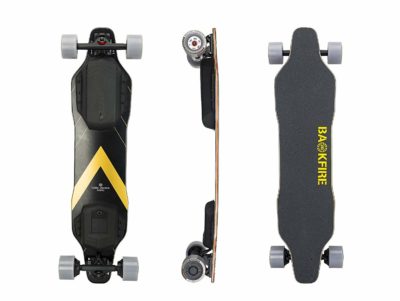 14. Huger Tech Racer
The huger tech racer is a very cool looking electric skateboard. It has a unique, pointed tail and can travel up to 20 miles on a 25% incline at an astounding 25mph. It's blue wheels look amazing with the HUGER logo ingrained in the griptape & the underside of the wood has a sleek, beautiful finish.
Apart from looking amazing and having great tech specifications, it's also really comfortable to ride & has a nice, comfortable wireless controller for dictating speed. It even has bright, LED brake lights to ensure user safety whilst near vehicles.
If you're looking for kids electric skateboards, this one looks the part and does the job!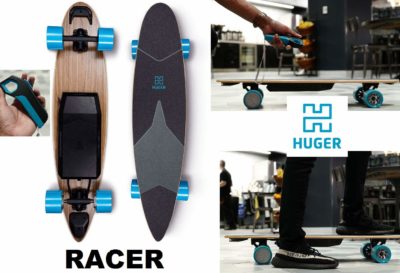 15.
Ride1UP Bamboo Classic
The Ride1UP Bamboo Classic is the most powerful of the lot. It's only recommended for older kids as it can reach speeds of up to 30mph and has a range of 18 miles, it's also a solid 5% above most of its competition with its ability to climb hills at up to a 30% gradient. 
As is the case with any bamboo board, it has high levels of flex without compromising board strength, this thing isn't breaking any time soon. 
It's absolutely ideal for younger adults or older kids who may be commuting to school or work. The unique, 80's style cruiser design provides a wide base for the feet and makes for an incredibly comfortable ride. The highly ergonomic remote control has 4 speed options and an LCD screen to display speed, battery status and distance traveled. It even has swappable wheels, an automatic on/off function for the board and regenerative braking to conserve energy!
The RIDE1UP Bamboo Classic is truly a testament to how amazing modern engineering and innovation can be, and you won't regret buying it for a second.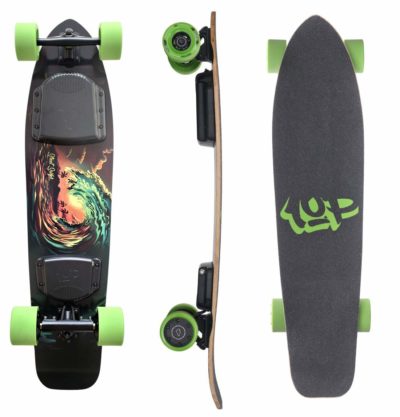 Best Overall Pick
Ride1UP Bamboo Classic
This board is fantastic! Its fast, powerful and is a perfect electric skateboard for older kids. It can hit top speeds of 30mph and looks great! The acceleration is very gradual, so you can look at that as a pro or a con. Either way your boards not going to take you by surprise.
The board design reminds us of the early 70s skateboards.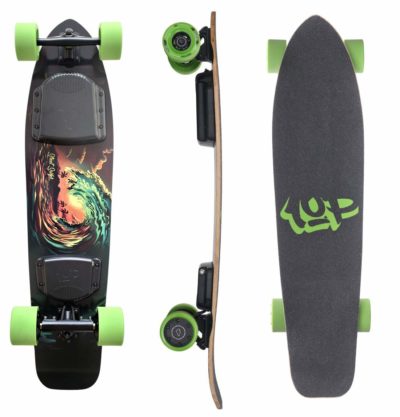 Picking The Right Board
When you're first browsing for a board, you want to weigh up a few things. 
The speed of the board, for example, if the board can run at 30mph, buying it for a younger child is not advisable. But if you have a teenager who's looking for a cool way to get to school who can be trusted to ride responsibly – then this type of board is ideal.
Design is another thing to think about, some boards may come with an option of wheel colour, picking a green wheel colour when your child isn't a fan of that colour isn't a great idea either!
Other important things to consider are battery life – will this electric skateboard be used every single day as a means of transport? Or will it be used for an hour or two every second day as a means of recreation? There's no use in buying a board with barely any range if it's going to be travelling 9 miles a day every single day!
Weight is important too, a heavier board can be a little bit more secure for newer riders who need to work on their balance! But a lighter board may be better if you can see it requiring to be carried around a lot!
Safety features are a great consideration too. If you live near many busy roads, a board with brake lights and good quality braking is preferable to a board that lacks these – you always want to minimize risk at all times!
Check out these models:
Other Safety Precautions
As always, it's important to remain safety cautious, you should consider purchasing a helmet and possibly kneepads/elbow pads. This will provide a reasonable level of protection should anyone lose balance whilst riding!
Luckily most electric boards for kids have fairly low centres of gravity and are quite wide-based, keeping the chances of a fall pretty low. But it never hurts to be prepared!
Helmet Recommendations
We can't stress enough the importance of wearing proper safety gear. Its always better to be safe than sorry.
Adult Size
This sleek design is light weight & offers the functionality you need. It has 14 vents so you'll have a comfortable ride and you can be sure you're getting the premium protection you need.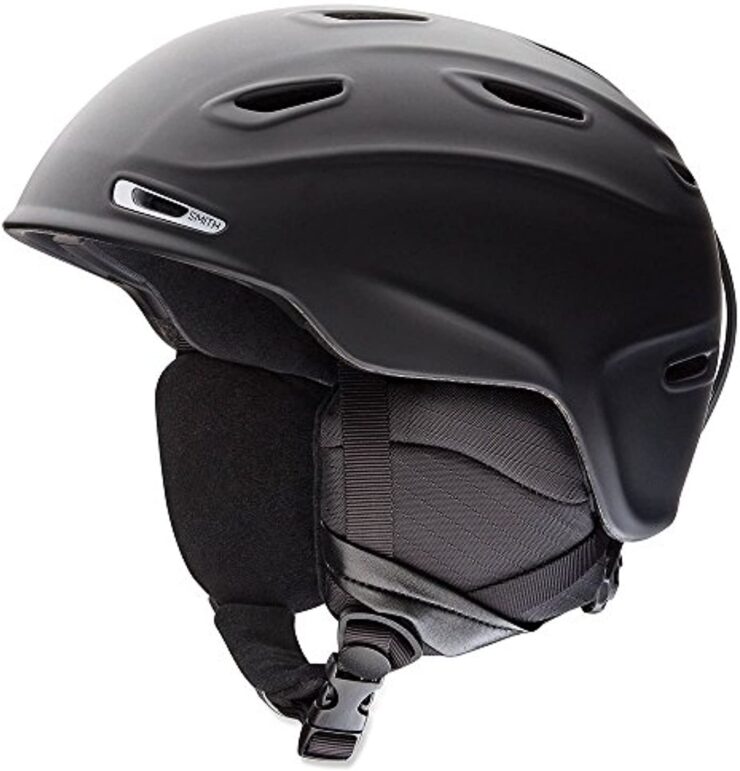 Teen Size
This helmet by Pro Tec has a very durable shell providing the safety your teen needs while riding. It is lined with EPS foam ensuring a comfortable ride.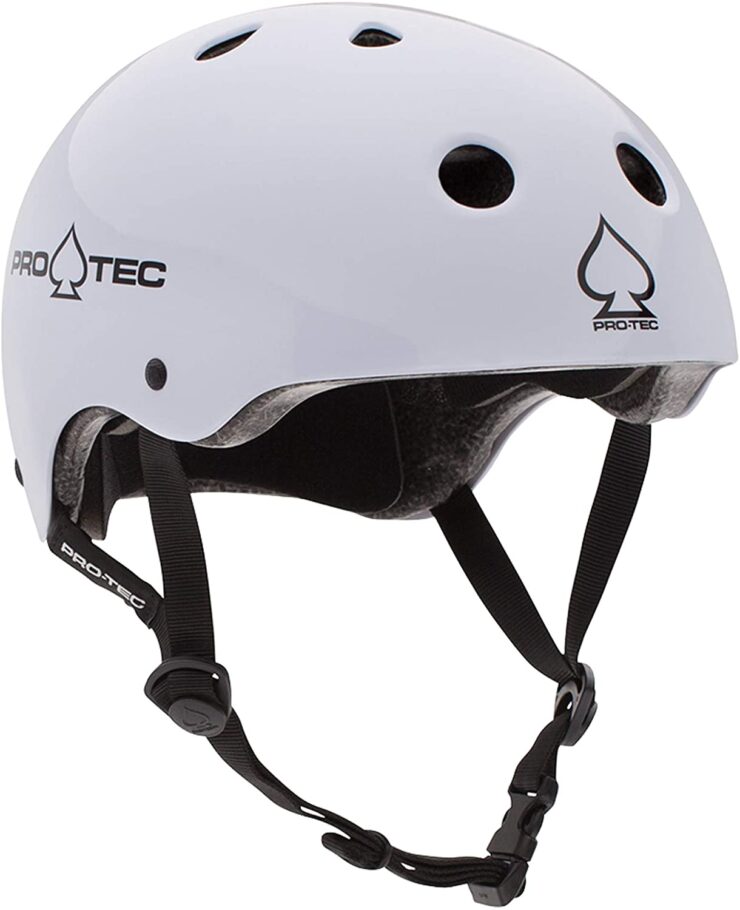 Here are some other models for you to check out: