Being a flower girl is a special occasion for any young girl, and what better way to mark this occasion than with a lovely gift? Little girls will be honored to be a part of the big day, and if you are still to ask them to take part, doing so with a thoughtful gift can be a lovely way to go about it. But, what makes a great gift when asking "will you be my flower girl?"? Don't worry if you are stuck for ideas, as here we have rounded up the top 20 gift ideas which are ideal for giving on this very special occasion.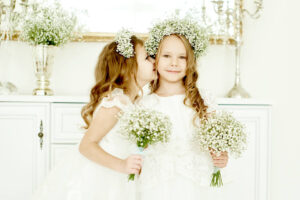 Considerations Choosing Flower Girl Gifts
There are a couple of things that must be kept in mind when choosing between the different gift options available. First, the age of the girl. In general, flower girls are aged around 3 – 8 years old, so make sure the gift you are choosing is suitable for their age and interests. Also, think about the type of gift and ensure it is suitable for this occasion. You might like to choose something personalized to help her always remember the big day in years to come. It might be nice to choose a gift that can be worn to the wedding, such as a piece of flower girl jewelry, which she can also wear afterward. Of course, anything flower-themed is also excellent and is sure to be a hit with little girls!
Best Flower Girl Gift Ideas
With the above considerations in mind, it is now time to take a look at 20 of the best flower girl presents. You are sure to find something she will love here.
1. Lillian Rose Bag

If you are looking to personalize gifts for girls, this adorable tote bag which has the title of their important role on it is perfect. The design is screen-printed onto the bag, so it is durable and won't fade over time. The tote itself is a great size for little girls, at 15″ x 10″, so it's perfect for keeping everything they might need throughout the day of the wedding. Inside the bag there are two additional pockets for storing smaller items. The bag can be filled with other gifts and goodies too if you want to make this an extra-special gift.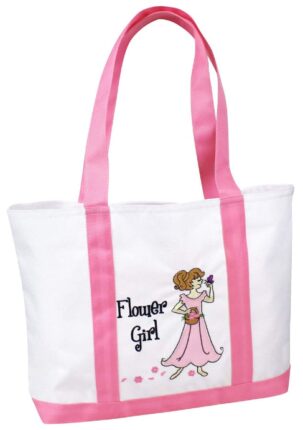 2. "I'm a Flower Girl" Activity Book

Next we have this fantastic sticker activity book which is ideal for keeping girls entertained when they get a bit restless during the wedding day. There are more than 300 stickers included, and they are reusable, so hours of entertainment can be had. The activities are well-suited to girls in the 4 – 8 years old age range, and there are more than 30 pages to keep them busy. This is one of the favorite 4 year old flower girl presents.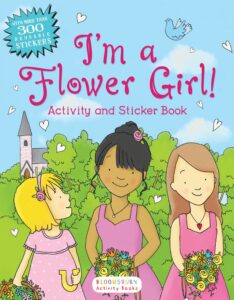 3. Girls Floral Headbands

These beautiful headbands are the perfect accessory for a young girl to wear to the wedding. The cute flower designs are sure to make her look adorable and get lots of attention from fellow guests! All three designs are included, and there are many other styles available to choose from, so you can find something which matches the color scheme of the wedding and the dress she will be wearing. The headband itself is soft and stretchy so it can easily fit most head sizes. They come packaged in a lovely box so they are perfect for giving as a gift.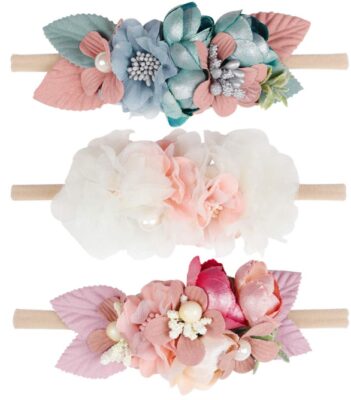 4. Baby Shoes and Headband Set

If your flower girl is just a baby, it can be hard to find an appropriate gift. However, this set is adorable and is sure to do the job. The shoes have a satin lining and satin strap to keep them securely in place, and the headband is stretchy elastic so it will fit all sizes. There are loads of lovely designs to choose from, so you can find one which will match her dress perfectly. Some of the options include gold, pink, black, rose gold, silver, and cream. A great pick for a 1 year old flower girl!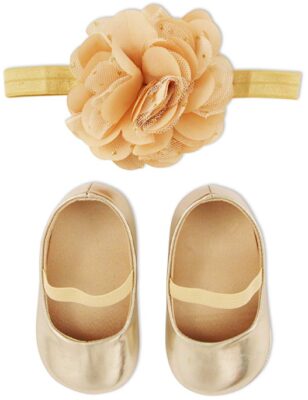 5. Most Special Flower Girl Book

If your little girl doesn't quite know what her role involves, this book is the perfect way to explain it to her. The hardcover book will tell your little girl how she's the luckiest member of the bridal party and talks about all the best parts of being involved in a wedding. It tells them how much fun they will have trying on fancy dresses, posing for photographs and carrying lovely flowers. The book is ideal for girls around 4 – 8 years old and has 24 pages. It's perfect for a bedtime story and will be treasured for years to come.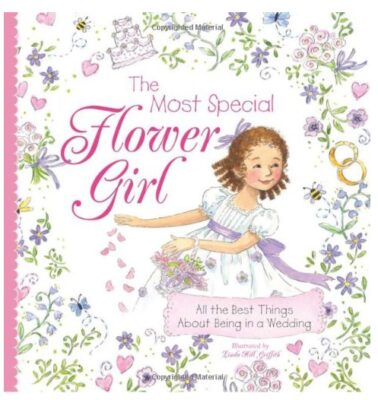 6. Miayon Floral Pencil Case

Our first flower girl gift suggestion is this lovely floral pencil case or cosmetic pouch. Little girls love having a place to keep their special treasures, so this case is sure to be a hit. She can use it to keep any makeup or jewelry she might be wearing to the wedding or anything else she needs on the day. After, it can be used to store any small objects or even taken to school and used as a pencil case. There are three nice designs to choose from so you can pick the one which best matches the theme of the wedding, or simply the one she will like best.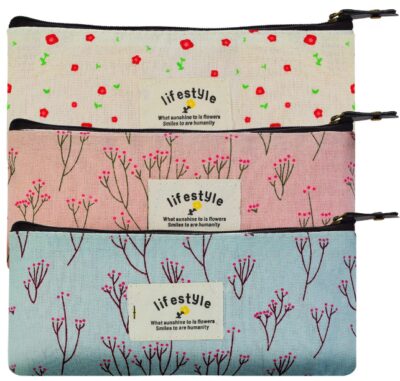 7. Sunflower Locket

If you want to give a flower girl necklace gift, this stunning sunflower locket is ideal. It has the lovely message 'You are my sunshine' on it, and there is space inside to add two photos. This is perfect for her to fill with photos from the wedding day afterward. It opens and closes well, so they can look at their photos any time they wish. The chain is quite long, but it can be closed at any point along the chain, so it can be made any length – it will fit any little girl perfectly. This necklace will look great when worn at the wedding, and any day afterward.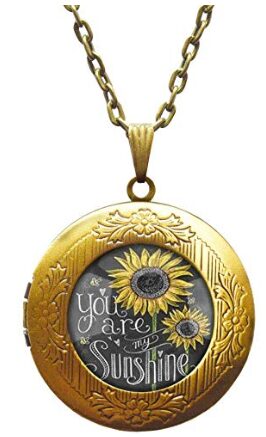 8. Color & Frame Garden Book

This stunning coloring book is packed full of gorgeous floral designs – coloring them will keep girls busy for hours. There are 64 pages and each is printed on only one side. They are also perforated so they can easily be removed from the book to frame or to share with others. The pictures are a great size at 8″ x 10″ and the paper is thick enough to prevent the color from bleeding through to the next picture. The spiral-bound design ensures the pages sit flat on the table, making them easier to color. This book is great for keeping girls amused at the wedding and will help keep them out of trouble! This another great flower girl book for 3 year olds and above!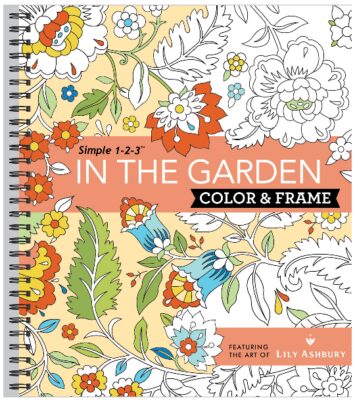 9. Amazon Flowers Gift Card
If you are struggling to find the perfect gift item, a gift card for Amazon is always a safe choice. She can pick her own item, and there is sure to be something on Amazon she will love. This one comes with a lovely flower pot gift card to make it more special, as sometimes gift cards can be a bit lacking in thought. A message can also be added to the gift card, so girls will be able to keep it and treasure it. It can be loaded with the value of your choice from $15 upwards, and there is no expiry date on the card. You might want to consider a personalized flower girl gift with the money.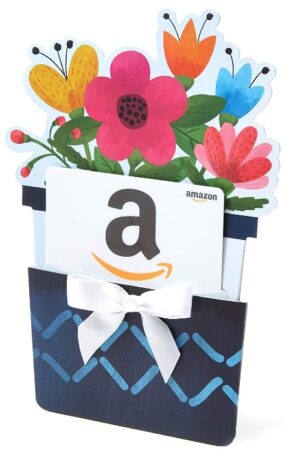 10. Flower Gemstone Necklace

This sterling silver necklace has a beautiful flower design which will look great when worn with her special dress on the big day! It can be personalized with the birthstone from her birth month to make it even more special. The chain length is 18″, which will suit most girls, and the necklace is made from pure 925 sterling silver. It is also plated with Rhodium for more shine and durability.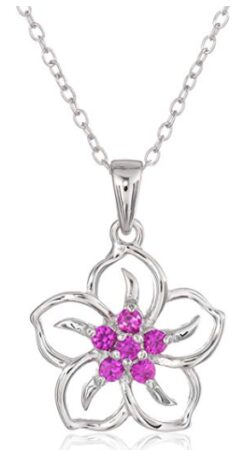 11. Lace 3/4 Sleeve Dress

If you still need to pick a flower girl robe, this one is beautiful, and budget-friendly. It has a lace bodice with 3/4 length lace sleeves and a lovely, full tutu skirt. The dress is maxi style, so it goes right down the ground. It has a zipper closure and is comfortable to wear thanks to the soft material. There are loads of different colors to choose from so you are sure to find one to complement your color scheme perfectly. The dress comes in sizes from age 2 to 14, so there should be something which fits just right too.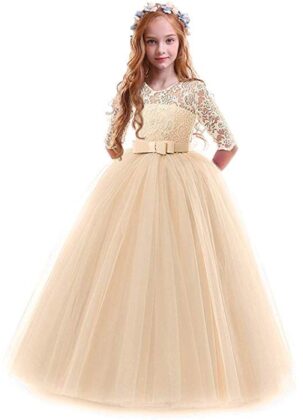 12. Origami Flower Kit

This next gift is something fun which is sure to keep girls occupied for a while as they master their new skill. The flower origami kit comes with 150 pieces that can be used to make 30 different projects. The set includes many bright colors of paper, buttons and jewels to embellish the flowers, 20 stems as well as a 40-page booklet containing full instructions for all the projects. There is something for all levels, so she can work through them and improve her skill level. Alternatively, if the girl will be too young to make the projects herself, you could make her a special bouquet of origami flowers and gift it to her whilst making the flower girl proposal.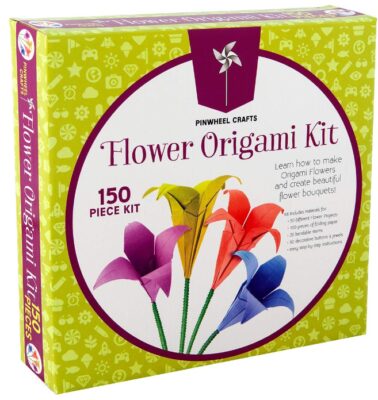 13. Bible Verse Journal

This lovely pink leather-bound journal is perfect for girls to write and draw their thoughts and feelings about being asked to perform this role, as well as memories of the wedding day. The book has 240 pages, so there is plenty of space for them to use, and the pages are also lined to make writing easier. There is a ribbon to keep the page marked, too. Inside the book, there is a page where you can write who it is to and from, as well as the date, to make it a special keepsake.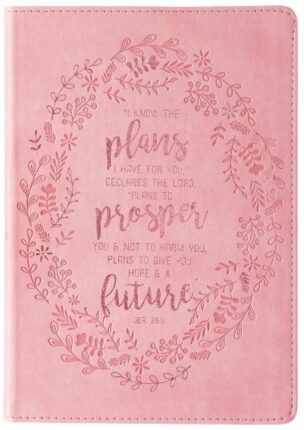 14. Flower Garden Building Set

Here we have a lovely toy which is sure to keep girls busy for hours. The set allows them to design their own flowers and put them together into a lovely garden in full bloom! This toy is great for girls in the 4 – 8 age range, and is ideal for them to use at the wedding if they get a bit restless. The pieces come in a reusable carry bag for storage, so they can be kept together easily and won't get lost. Three flower pots are included as well as a range of floral parts in many different colors and designs.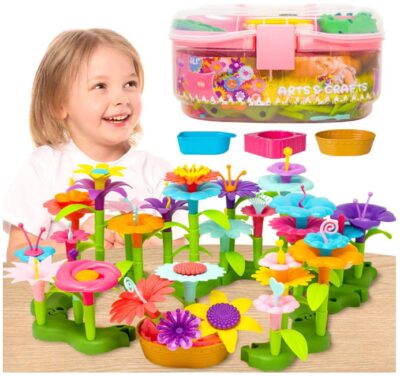 15. Flower Girl Gifts Set

This lovely gift set comes ready to give to the little lady and is sure to be something they will treasure. The set comes with a floral crown, a book, and a nice flowery bag to put them in. The book has a rhyming story inside and lots of lovely watercolor illustrations to keep young children interested. The girl in the story is crowned using a crown just like the one which is included at the end of the story – girls are sure to love this part! The crown is handmade and is adjustable to fit most children.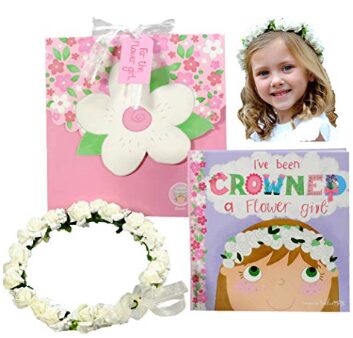 16. Flower Girl T-Shirt

If you are looking for a personalized flower girl gift ideas to tell your girl about her important role, this lovely t-shirt is perfect. It is ideal for wearing on the morning of the wedding day to keep her dress clean without anyone forgetting who she is! It comes in all sizes and there are a few different colors to choose from too – black, white, pink, red, and navy. The design is digitally printed on to the shirt, so it is long-lasting and won't fade after washing. Girls are sure to live the sparkly heart especially!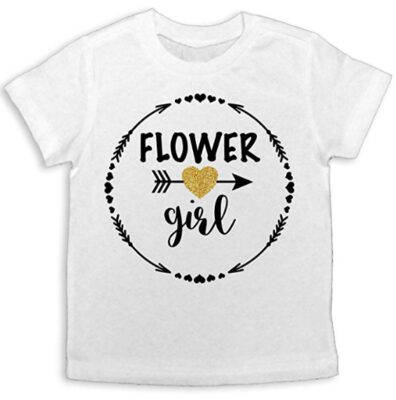 17. Paper Flowers Kit

If the girl you are buying for loves craft activities, this paper flower kit is sure to be right up her street. They are designed to be used in random acts of kindness, such as giving to friends and family or leaving around the neighborhood. The set includes with over 170 pieces of colorful paper, 12 wire stems for the flowers, leaf tags and a hanging vase to display them in. The activity is ideal for girls aged around 8 and above, but younger girls can enjoy it with a bit of help from mom and dad.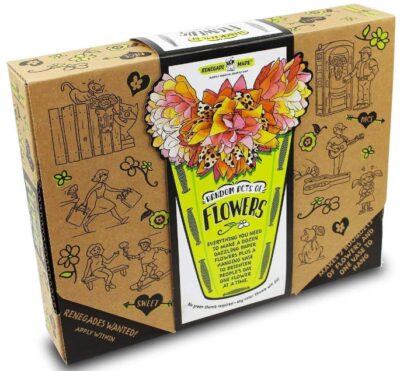 18. Happy Kisses Necklace

This stunning necklace is plated with 18K silver and features three pretty flowers. It is free from allergenic materials such as nickel, and the chain is adjustable from 15″ to 18″ to ensure the perfect fit for all ages. It comes on a floral card with a lovely message to thank the young lady for a job well done – an excellent keepsake gift for after the wedding is over. There are six different color options to choose from, so you can pick the one she will like best or perhaps one that coordinates with the wedding color scheme.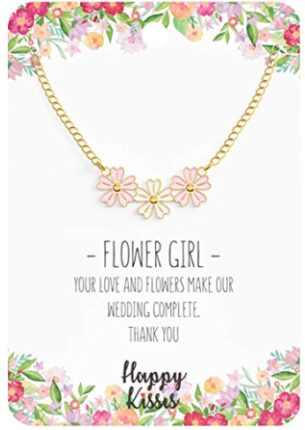 19. 4M Pressed Flower Art Kit

If your girl is going to be taking home some wedding gift flowers, this pressed flower art kit is a great way to use them. The kit comes with a flower press, double sided tape, glue and a brush, so girls can use their flowers to make cards, trinket boxes, and many other lovely items. It is ideal for girls aged 5 and up and is perfect for those who love arts and crafts. They will love making keepsakes from their special wedding flowers. They can also use fallen leaves or flowers they find at home or when out on a walk.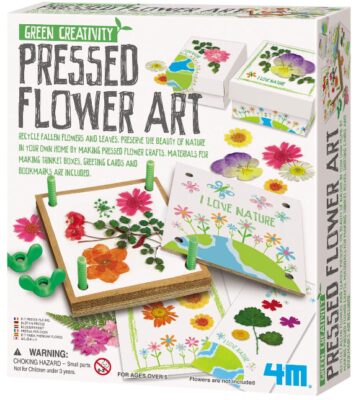 20. Make Your Own Vase & Flowers

Our final pick of the best gifts for flower girl is another craft set, this time it's to make your own vase filled with lovely flowers. It comes with a wooden vase, 25 fabric flowers, 50 buttons, lace flowers, wire, gemstones and green leaves. There is also snow clay for customizing the vase before filling it with the flowers, which also have to be assembled. Girls will have hours of fun making this beautiful craft and it will look great on display in their room afterward. If you are buying for a younger girl, you could make the craft up and gift it to them already made- they are sure to love something homemade and will treasure it forever!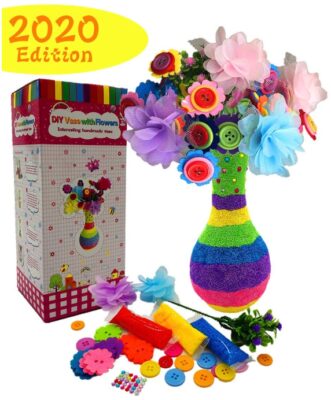 Best Gift Overall
After considering 20 different options, it is time to decide which is the best overall gift to give on this special occasion. We have decided to go with the gift set with the book and the crown, because it is a wonderful keepsake and something young ladies are sure to love. They will look adorable wearing the crown and will love to listen to the story about their important job on the wedding day. The included gift bag is a nice touch and makes giving this as a gift very easy.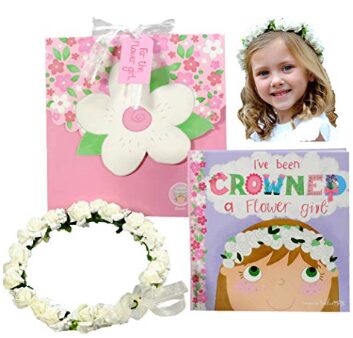 Best Budget Gift
If you are looking for an inexpensive gift but still want to choose something unique and special, the t-shirt is a great choice. It is made from quality material which is comfortable to wear and the design won't fade over time. The different color options mean there is something to suit everyone, and there are also various sizes so it doesn't matter how old the girl is, it should fit just right. She will love to wear this shirt before the wedding to remind everyone of her important job! It also makes a wonderful keepsake afterward.