Buying a gift for a special sister can be a tricky business no matter how old she is. If you want to choose something to show her how much you care, you've come to the right place, as here we have some great ideas for gifts from brother to sister, no matter how much you are looking to spend or what she is interested in. So, if you're struggling to find the right gifts for sisters, read on below for some helpful buying tips as well as 20 great gift ideas to surprise her with this Christmas, or for her birthday.
Considerations When Choosing a Gift from Brother to Sister
Before we get started with the reviews, let's first look at some important things to consider, to ensure you find the gift which suits your sister best.
Occasion & Type of Gift
Many gifts are suitable for giving at any time of year. But, you might be trying to give a particular message with your gift, so we have some funny sister gifts as well as some more serious gifts which are great for showing you care.
Budget
When it comes to gifts for sister birthday from brother, there are some cheaper options as well as those which cost a bit more. Decide how much you can spend on the gift so as not to overspend. This is important if you also have other gifts to buy. We've included gifts at a variety of price points here, but also be sure to check out our best overall and best budget options if you're in a hurry! brother to sister gift ideas
Interests
You probably know your sister's hobbies and interests quite well, so it shouldn't be too difficult to find something which suits. If you're struggling, try asking your parents or her friends for some tips and advice on buying gifts for women.
20 Top Gift Ideas for Sister From Brother
Now we know a little more about picking the best gifts, let's move on to review some of the best options out there. You are sure to find something here she will simply love!
1. Sister Trinket Dish

First on our list of sister gift ideas is this cute trinket dish, which is perfect for holding small pieces of jewelry such as earrings and rings. The dish reads 'always my sister, forever my friend', so it's great to show your sister how much you love her. It is made from glazed ceramic to ensure it is long-lasting, and it will look great on her nightstand. The dish is around 4″ square, so it's ideal if she is short on space around the house. It comes packed in a nice box for easy gifting too.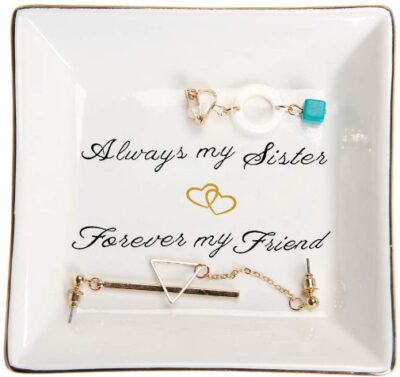 2. Savvy Infusion Bottle

This bottle comes in a choice of two sizes – 24 or 32 oz – and a range of colors, including pink, green and teal. It is BPA-free and doesn't leak, and it's also shatterproof. The bottle can be used for still as well as sparkling water and you can add a range of ingredients such as frozen or fresh fruits of your choice. The infuser is easy to clean and can also be put in the dishwasher without getting damaged.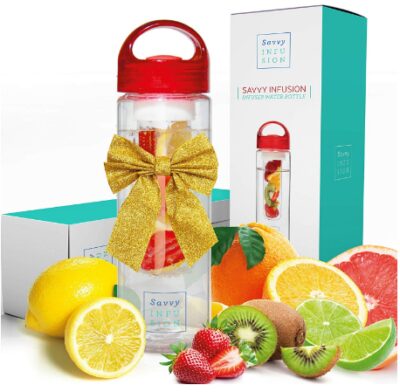 3. Bose SoundLink

If you're buying a gift for a teenager sister, this speaker is a great choice. It offers 360 degree coverage, and has high-quality, loud sound. There is a rechargeable battery inside, which gives up to 12 hours of play time. The speaker has a range of 30 feet, so the device can be in another room and still remain connected. It is water resistant, so can be used outdoors too, and it can be used to answer calls or use Siri and Google Now. If you want to create a really cool music experience for a party, you can pair two of these Bose SoundLinks together for a truly immersive sound.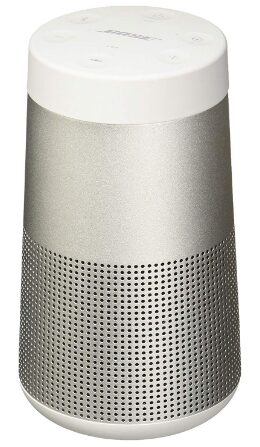 4. Ado Glo Sister Necklace

If you're looking for nice birthday gifts for sister from brother, you can't go wrong with a piece of jewelry. This necklace is fitted to an 18″ chain, which is an ideal length for most girls and women. There's a matching bracelet available if you want to make this a really special and thoughtful gift. The pendant reads 'always my sister, forever my friend', so it's perfect for reminding your sister you are always thinking about her. The necklace is excellent quality despite the moderate price tag, and it comes with many sparkly cubic zirconia gems your sister is sure to love.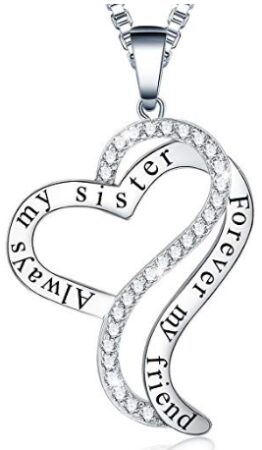 5. Lily & Drew Jewelry Storage Case

Next up we have this jewelry storage case which is perfect for traveling with. It's a great gift for young women who often take weekend breaks and vacations, and it will ensure their jewelry stays neat and organized throughout the trip. The case comes in different color options and patterns, and is packaged in a gift box as well as wrapped in tissue, so it's ready to give straight away. The case can be used for all types of jewelry and holds a good amount – 6 necklaces on loops and more in the pouches, a bar for several rings and holes for 28 earrings. There are also zippered pouches for additional items, and you can even fit a phone in the external pocket.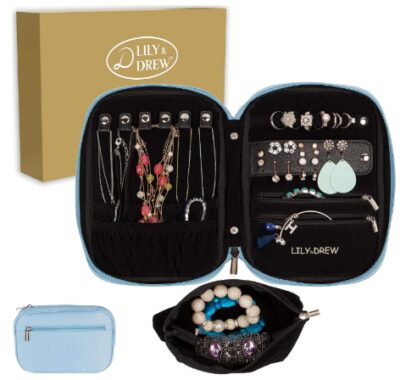 6. All Things are Possible Journal

This lovely journal bears the inscription 'With God all things are possible – Matt 19:26', so it's the perfect gift to remind your sister that God is always with her. The cover of the journal is made from faux leather and has decorative embroidery to give it a stylish appearance. There are 240 lined pages inside and the book measures 7.2″ x 5.4″. The notepad has a ribbon for keeping the page too.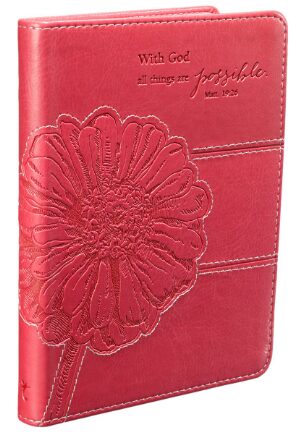 7. MarsBro Sports Bag

If your sister loves hitting the gym, this sports bag could be the perfect gift for her. It comes in a choice of six different colors, including pink, gray and black. The dimensions of the bag are 19.7″ x 9.8″ x 9.3″, so there is plenty of space for her gym gear, or for using the bag on a weekend trip. There's a compartment inside for shoes to keep them separate from the rest of the gym gear. There are also smaller zipped pockets to keep small items close to hand, such as keys or a cellphone. To carry the bag, there are carry handles as well as a shoulder strap, so girls can choose which is the most comfortable. The bag is water-resistant, so everything inside will be fine in the event of a rain shower.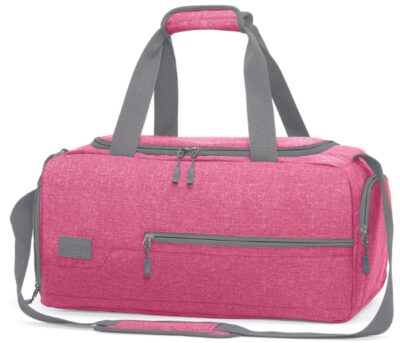 8. Umbra Photo Hanging Set

If your sister is interested in photography or simply loves taking selfies with her friends, this set provides an excellent way to display her photos. The set comes with everything needed to hang and display up to 30 photographs, so your sister can look back at some nice memories, rather than keeping her photos digitally where they will rarely be looked at. You could even include some photos of you both together to get started with. There are different colors of frame to choose from, so you can pick one which best matches your sister's style. This gift is fun to set up too – your sister will love picking out her favorite photographs and deciding how to arrange them.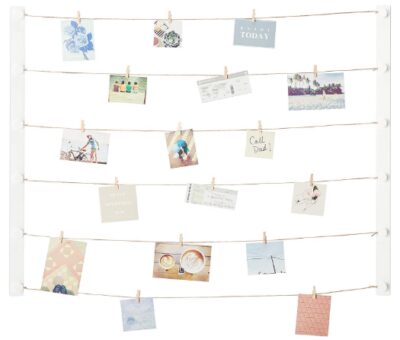 9. Verdusa Maxi Dress

Items of clothing make great gifts for women, and if you're struggling for ideas, this dress will look great on anyone! It's designed to be loose and comfortable, with an oversized design, and is suitable for a variety of occasions. It's made from rayon and spandex, and comes in a huge range of color options, such as black, orange, red and more. There are loads of sizes available too, so you can ensure the perfect fit. Your sister is sure to have loads of use from this dress and will definitely thank you for it!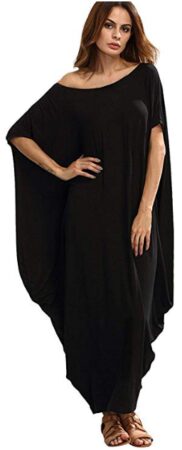 10. Samsung Galaxy Tab

A tablet is probably near the top of the wishlist for most people, so your sister is sure be thrilled with the Galaxy Tab from Samsung. It comes in three different storage sizes ranging from 32GB to 128GB. It's possible to expand the storage with a Micro SD card, to give up to 512GB of storage. The screen is just over 10″, so it's the perfect size for browsing social media, watching movies or online shopping, but it's not too big for taking out and about. The battery life is excellent, lasting up to 10 hours on a single charge. The sound quality is also great on this device, as it features Dolby Atmos surround sound.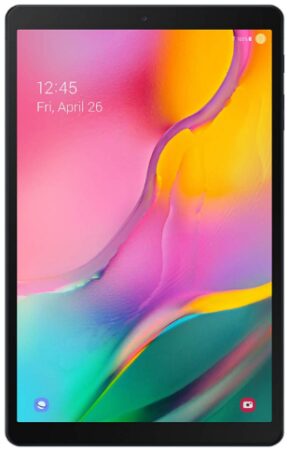 11. Shany Makeup Kit

If you're looking for a birthday present for sister who loves wearing makeup, or is just starting to become interested in makeup, this massive kit from Shany is an excellent choice. It contains almost 170 eye shadows in both shimmer and pastel shades, 6 lip glosses, 3 blushes and various brushes to apply the different products. There's also a mirror on the box so girls can check how they look. The products are not tested on animals, and they are also highly pigmented to ensure they look bright and vibrant, without having to apply too much each time.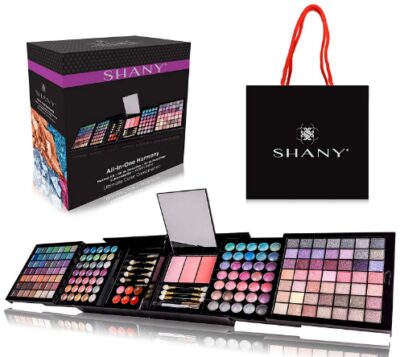 12. Tactical Pen & Multi Tool

This is a really practical gift which offers loads of functions and can also help keep your sister safe. Just some of the functions this pen offers include a bottle opener, flashlight and a window breaker which can also be used for self-defense if necessary. The tool also works as a nice ballpoint pen, and comes with refill cartridges. The pen can easily be carried in a pocket, purse or laptop case ready for use at any time it might be needed.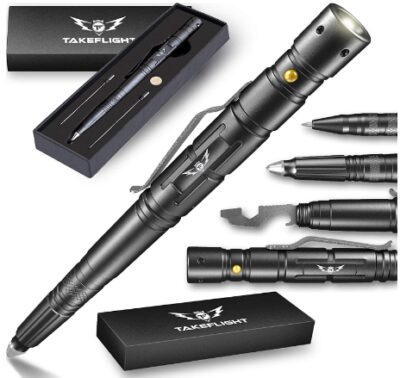 13. Mud Pie Bride Bag

If you're looking for special wedding gifts for sister from brother, how about this bag which reads 'bride' in sparkly sequins? You can choose between either gold or silver sequins and there's also the option to personalize the bag with her name and the date of the big day. The bag is made from jute and has a wipe-clean interior so it can easily be cleaned in the event of something spilling inside. It measures 16″ x 24″ x 9″ and has an interior pocket to keep smaller items close to hand. The bag is an ideal shopper or overnight bag – women are sure to find loads of uses for it.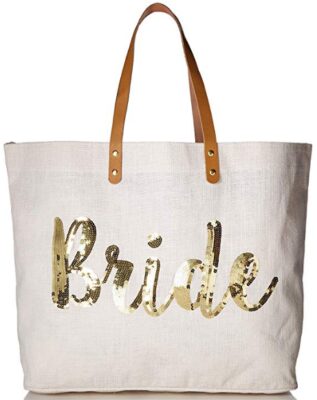 14. Pavilion Gift Company Tea Set

If your sister loves drinking tea, this cute tea set is sure to make a great gift for her. The teapot and mug stack together, so it will look great on display in her kitchen when she's not using it. The teapot holds 15oz and the teacup holds 8oz, so it's possible to have two cups from each teapot. The set will last better if hand washed, but it can be washed in the dishwasher if necessary. There's a tag around the lid which reads 'there is no friend like a sister', which is why this makes such a great gifts for sisters from brothers.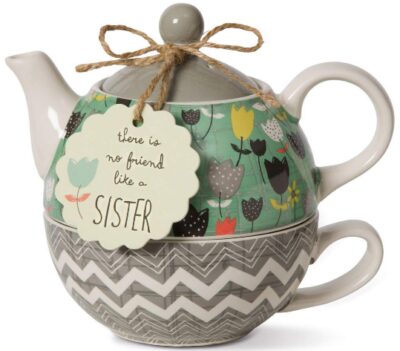 15. Staresso Portable Espresso Machine

If you sister is a great lover of coffee, this portable coffee maker is possibly the perfect gift idea. It makes delicious and authentic espresso with a layer of crema, just how it should be! The machine weighs less than 1lb, and is only 8″ tall, and can hold 80ml of water and around half an ounce of ground coffee. The machine can also take Nespresso pods, so your sister can always make her favorite type of coffee. It's perfect for using anywhere, even when camping or for taking to the office.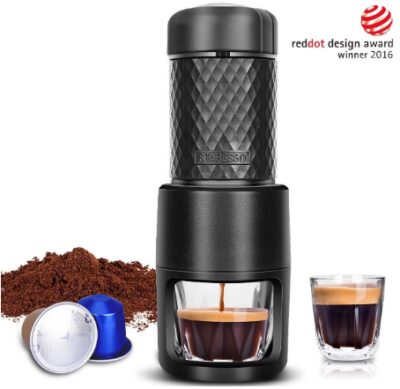 16. Letsfit Fitness Tracker Watch

Fitness trackers are very popular gifts, and this one comes at a very reasonable price point, making it an affordable option. There are five different colors to choose from, including purple, pink and teal. It can be used as a watch and date display, as well as a step counter, heart rate monitor and shows how many calories have been burned. The tracker can also be used to monitor sleep quality, as well as recording exercise data from different sports. It's possible to set an alarm on the watch to sound when long periods of inactivity are detected, to remind you to get up and about.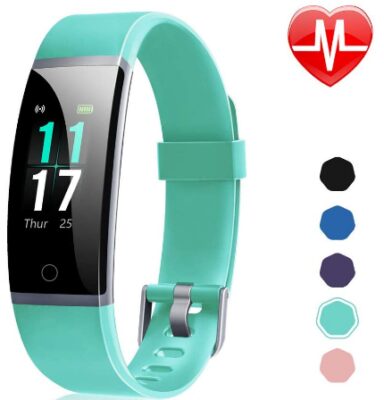 17. Canon PowerShot Camera

When it comes to gifts for little sister from big brother, there are loads of options out there. This camera is a good choice for just about anyone, and is ideal if you really want to spoil her with something a bit more pricey! It has 40x optical zoom so it can capture things which are far away, and can record 4K videos and time lapses. It has a 20.3MP sensor, and can shoot at a rate of 7.4 frames per second. The camera has built-in Wi-Fi and Bluetooth connectivity, so it is compatible with a range of devices and printers. This is a great starter digital camera for any budding photographer.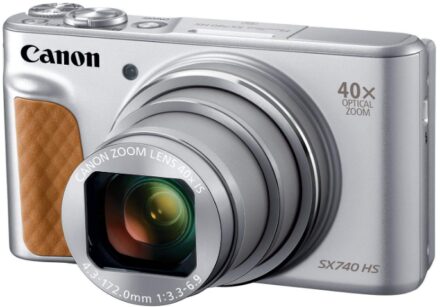 18. Instant Pot Cookbook

If your sister loves to cook, chances are she has an instant pot. This recipe book is perfect for giving her inspiration for dishes to make with it – it's packed with 500 quick and easy recipes! There are loads of different types of recipes – family favorites, vegetarian dishes, those for busy people with limited time for cooking, and recipes for beginners with limited cooking experience. Every recipe comes with a full list of ingredients to make planning and shopping easy, and there's also an exact cooking time for each dish to ensure it works out just right every time. These recipes are perfect for ensuring your sister can eat a delicious and healthy home made meal even when she is busy, rather than relying on unhealthy ready meals.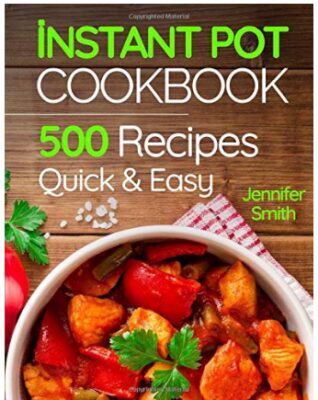 19. Best Brother Ever Mug

If you're looking for funny and lighthearted Christmas gifts for sister from brother, this mug is hilarious! It will always remind your sister how much she loves you and is sure to make her laugh. The mug is printed with the same design on both sides and is 4″ tall and 4″ wide. It comes boxed and ready for gifting, and is dishwasher safe. This is a great, practical gift which is also loads of fun.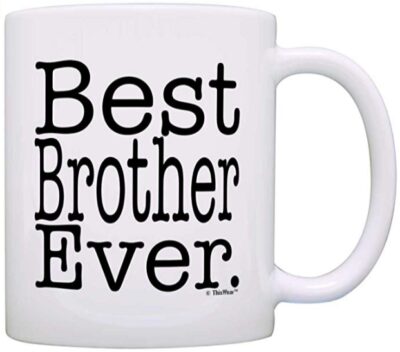 20. Apple AirPods Pro

Last on our list of sister gifts are these AirPods from Apple. Tech-related gifts are always popular, and these earphones are a top seller with great reviews. If your sister loves listening to music and is interested in keeping up with the latest trends, these are simply a must-have. They are noise-cancelling so she can hear her music better, or use transparency mode to help hear external sounds better. The headphones have different tip sizes to ensure a perfect fit for everyone. They are water and sweat resistant, so they can be used outdoors. The AirPods work well with all Apple devices and are easy to set up. They can even be used to access Siri simply by saying 'Hey Siri'. The earphones come with a storage case so they don't get lost or damaged when not in use.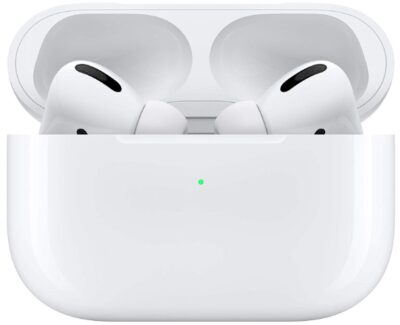 Best Gift Overall
Now we've looked at 20 of the best birthday gifts for sister from brother, it's time to decide which takes the spot as the best overall. We've decided to award that honor to the Canon camera, for many reasons. It's a gift which will appeal to a wide audience regardless of age and interests, and it has loads of features which make it a great buy. The large zoom and high-definition photography and video capabilities certainly make this stand out from other digital cameras on the market. The high rate of frames per second means this camera is also ideal for capturing high-speed subjects – it's perfect for most photography styles.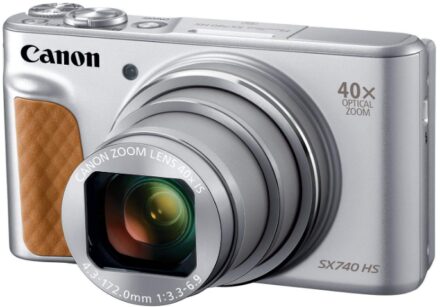 Best Budget Gift
If you don't have a huge budget to spend on your gift, don't worry as we've also chosen the best budget pick. This spot goes to the photo hanging display, for many reasons – not just the price point. Your sister will love being able to look back at all the fun times she's had with friends and family, rather than keeping her photos stored on a phone or computer where they are not often seen. It's sure to brighten up her home and it's fun to set up too. It's a nice customized gift which your sister can tailor to her own tastes, and will appeal to just about anyone, without breaking the bank.