The Nintendo Wii console is a great gaming device that really allows the player to get involved with the game. There are some great Nintendo Wii games for kids that are easy for the child to follow, with simple actions which also enable the child to learn with the game as increasingly difficult challenges are presented. Many parents also worry about their child not being active enough and too sedentary as a result of modern day living. The Wii console is a great way to encourage your child to be active in a fun way that they will enjoy. There are many suitable kids games for the Wii that involve fitness, sports or dancing that will get your child participating with the challenges and routines.
There are many kids games for the Nintendo Wii for you to pick from, but the variety of options available can make it difficult to choose the perfect one for your child. This guide aims to help you with this decision by taking you though the best kids games for the Wii. Each game is at suitable level for children to play so you can be assured that they will enjoy completing the challenges.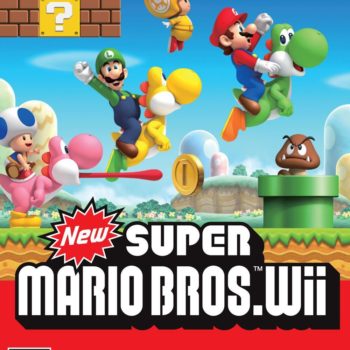 Top Tips When Choosing a Wii Game for Kids
When deciding which game to buy for the Wii that your child will also enjoy playing, there are few considerations to think about before choosing the ideal game. Most importantly, is the game of a suitable level for your childs age. If the game is too easy for your child then they will quickly bore of the game and not get the desired use from it. However, if the game is too advanced for your child then it will be too difficult for them to complete and may lead to frustration and loss of interest with the game. To decide if the game is suitable for your child then there may be an advised age rating on the box or if not there will usually be a PEGI rating indicating if the game is suitable for young children. The best games to pick are often educational Wii games for kids that will enable your child to learn and develop as they play the game.
In addition, kids will often complete games quickly before moving onto new games. They will often want to play games that are currently trending and that are popular with their friends. This may mean that you are looking for a cheap Wii game for kids that will be enjoyed but can be replaced with other games over time. With the release of the Wii U and consequently the new games for this device, means that there are many older games for the Wii that are still popular and will be suitable for your child.
Top 10 Wii Games for Children in 2023
1. Barbie Puppy Rescue
Barbie and Her Sisters Puppy Rescue is the perfect game for young Barbie fans and an ideal Wii game for kids under 10 years old. This game will provide your child with hours of fun as Barbie and her sisters; Skipper, Stacey and Chelsea, rescue dogs off the street, give them health checks, groom them and teach them new tricks before they are re-homed. The kennels can also be customized for each dog with the option of picking blankets, beds and toys giving a personalized touch to the game. During the game your child will go on a bicycle ride with Barbie, where they will solve clues to find the next lost dog that needs to be rescued. This game is ideal if looking for Wii games for little kids, with the bonus that the story line of the game is based on the movie Barbie and Her Sisters in the Great Puppy Adventure. Aimed at younger children this game is sure to become a favorite with any Barbie fan and animal lover.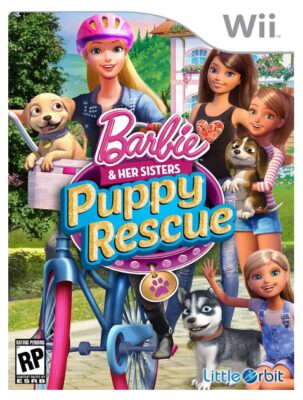 2. Pokemon Battle Revolution
This Pokemon Battle Revolution is an exciting game for the Wii that can be played as a standalone game using the games own set of Pokemon. It can also be combined with previous Nintendo DS Pokemon games; Pokemon Diamond Version and Pokemon Pearl Version, where your child can import any previously created Pokemon into the Battle Revolution game. During this game, your child will compete at 10 stadiums on the island of Poketopia and aim to become the Poketopia champion by winning all of the battles. For added fun there are 3 different battle modes that your child can play. As a solo player the Colosseum battle mode allows your child to complete a series of battles. During the Wi-Fi battle mode, your child can battle with friends and other trainers across the world. Using the DS battle mode, exciting tournaments can be set up with other friends who also have one of the Pokemon DS games. Pokemon Wii games are the perfect gift idea for any young Pokemon fans and with many different options for playing this game it will provide hours of fun.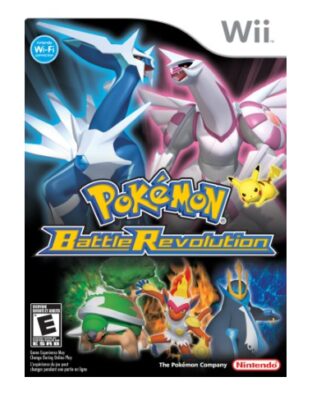 3. LEGO Batman Game
The Lego Batman Game is an exciting Batman game with a difference. This version of the game can be played as either Batman or Robin or for a different perspective the game can be played for the first time as a villain. There are over 12 villains to choose from, providing endless play possibilities. The game takes part in Gotham City with scenes that will be familiar to any young Batman fan. Although, this game does not follow a movie story line, instead it has its own unique story for the player to follow. There are multiple levels to complete and different game modes for hours of fun entertainment. For added excitement, many of the vehicles from the movies can also be built and played with including; the Batmobile, Batboat and Batwing. This Lego Batman game is the best Wii game for kids 7 to 9 years old and kids will enjoy sharing this game with its exciting 2 player mode.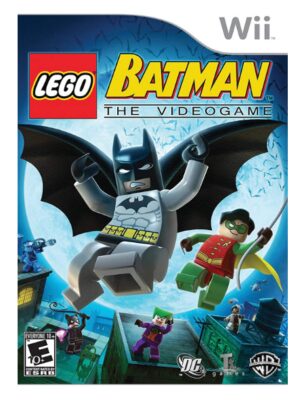 4. Wii Party
Wii Party is one of the ultimate childrens games for the Wii that all the family will want to join in and play. With over 70 mini games to play there are hours of fun to be had playing this game. This game can be played solo or the multiplayer option allows up to 4 players to join in, providing endless fun. Some of the games are competitive and other require you to work together to complete the challenge. This party game has three main modes to enjoy. The house party mode uses the Wii remote as the center of each mini game, with easy to pick up games that everyone can participate in. Party game mode has different mini games that are centered around bingo and board games that create a race to see who is the first to win. For the ultimate 2 players games there is a whole section of pairs games to enjoy with a friend. When looking for fun a Wii game for kids then Wii Party has to be top of the list.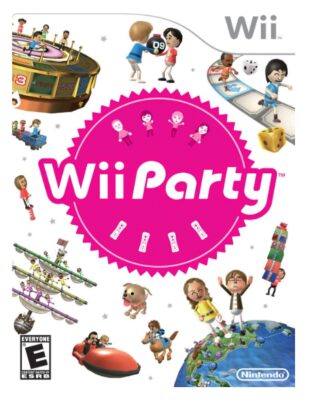 5. Cars Mater's Tall Tales
Cars Toon Mater's Tall Tales is an exciting game for the Wii that children of all ages will enjoy. With over 30 levels, this game will have the whole family occupied for hours. Based on the Disney Pixar animated series; Mater's Tall Tales, this game involves well known characters from the series, who are loved by all Cars fans. With its wide range of games it is one of the best Wii games for young kids that will provide great entertainment. There is also a multiplayer option for 4 players to play this game simultaneously, where everyone can compete against each other or play cooperatively with each other, as they work through the game together. The cars can also be customized as bonuses are collected throughout the game, for added excitement. This adventurous game can be shared with all family and friends and will take your kids on an exciting journey as they join Mater, the tow truck on many of his wild stories.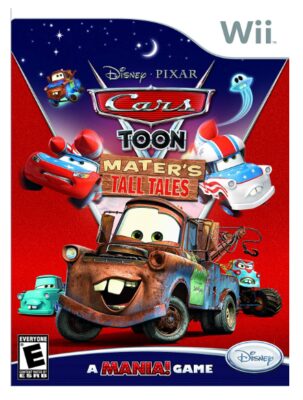 6. LEGO Star Wars Game
This Lego Star Wars The Complete Saga Game is the ultimate Star Wars game that brings together all of the Star Wars movies. The game has exciting added features so is ideal for a Star Wars fan that is looking for the best Wii game. During the game each film is represented by 6 levels for the player to complete, with additional levels and bonuses included for a more enhanced play. This game encourages problem solving as the player has to complete puzzles as they work through each of the levels. There are also vehicle levels, with one level for each movie, for added excitement. The game introduces new characters and any of the characters can be played for each level. There is also a 2 player option that can be started and stopped anywhere in the game for easy sharing with friends. As a great Wii game for kids 10 and up this exciting game would make a lovely gift idea for any Star Wars fan.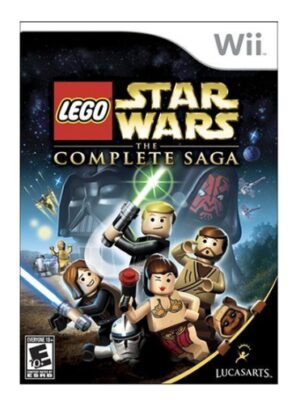 7. Just Dance 2023
Just Dance 2023 is an exciting dance game for all of the family. With the multiplayer option for up to 4 players to join in simultaneously, everyone can play and have fun with these Wii dance games for kids. There are 40 top tracks included with the game, and with the many chart hits and classic tracks included, this game will provide hours of entertainment. Once you have started playing the game it will learn your dance moves and use it to suggest a pre-made song list with routines that you will like. There is also the addition of a kids mode, making this game suitable for all ages. The kids mode has 8 exciting dances to get younger children moving. The dances have been choreographed to support the development of young children and to maintain a healthy lifestyle so you can be confident that your child will be learning as they play. As one of the new Wii dance games for kids, this active game will enable your child to learn up to date dance routines, and also provide great enjoyment for family and friends.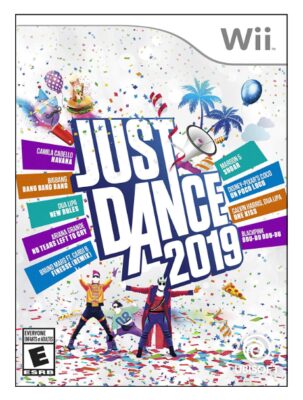 8. Wii Sports Resort
This Wii Sports Resort is a game for all of the family. Set on a tropical island there are 12 sports to pick from, so there will be an activity suitable for every member of the family. Everyones favorite sports such as; golf, canoeing, basketball and table tennis are included, along with some more unusual games such as; frisbee and swordplay. There are different levels of play for each game for added excitement. Each game starts at a basic level that is simple for every player to pick up and progresses to a more advanced level, to give all players a challenge. The game can be played solo or with the multiplayer option players can compete against each other for added fun. To avoid disappointment the game does require the Wii MotionPlus to work, which is not included in the set. As the best of the Wii fitness games for kids, these exciting sports will encourage your child to become more active and develop a healthy lifestyle.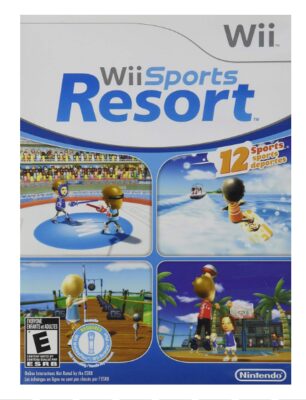 9. Mario Kart Wii
Mario Kart Wii is an iconic racing game that every young Mario fan will love to play. This game has 16 of the classic tracks from previous versions of the game, along with featuring 16 exciting new tracks for hours of fun. There are also exciting extra features included as for the first time bikes have been introduced in this Mario Kart game. The game can be played using one of the classic Mario characters, a new character that has been introduced for the game, or you can even use your own personalized Mii. Any of the Nintendo controllers can be used to play this game, including the Wii wheel and the classic Wii remote. This is the perfect game for sharing with family and friends as with the multiplayer option, up to 4 people can play together. Mario Kart has produced another classic game that every child will agree is one of the best Wii games of all time.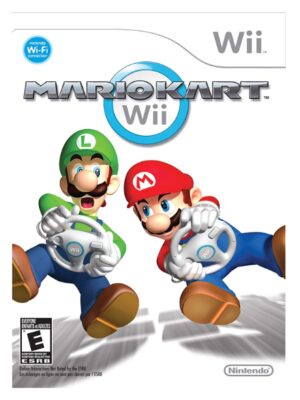 10. New Super Mario Bros.
This New Super Mario Bros game for the Wii is an exciting new Mario game that every fan will enjoy playing. Mario Bros games are always a best selling Wii game and this new version will certainly not disappoint. With many new additional extras, New Super Mario Bros will occupy your child for hours. The addition of a propeller suit and the ability of Mario to transform into penguin Mario will add fun to the game.  The game can be played as a solo player game or with the multiplayer option, 2 to 4 players can join in so this game can be shared with family and friends for extra fun. When playing in multiplayer mode it can either be played competitively or with cooperation between the player, encouraging team spirit. Characters that can be played throughout the games are; Mario, Luigi and two Toads though other favorite characters from the Mushroom Kingdom will feature throughout. This game is the best of the Wii Mario games for kids and all children will enjoy the adventure of New Super Mario Bros.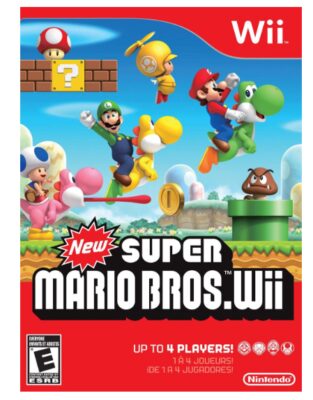 Our Best Buy Overall
The Wii Party game is our best buy game for the Wii, that will really get the party started. This a great Wii game for kids that has a variety of games suitable for all children. It is a game that everyone will enjoy, with easy to pick up mini games and fun multiplayer options that the whole family can join in with. This is the perfect game for children to play with their friends, which will encourage them to be active and to develop their social skills by working together to complete challenges. A lovely game that all children will enjoy whether playing on their own or with others and it will provide hours of fun entertainment.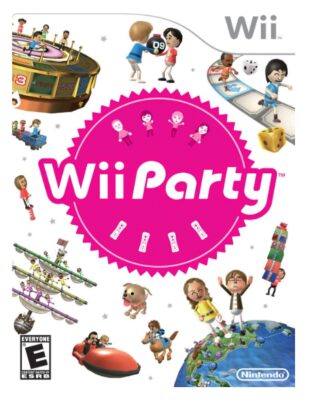 What are the Best Wii Dancing Games for Kids? 
Parents are always looking for ideas to increase their kids activity levels in fun and exciting ways. With our modern lifestyle many people are worried that kids today are too sedentary and need to be encouraged to exercise more. Wii dance games are a great way to get kids moving and enjoying exercise and there are a great variety of top Wii games to choose from. Just Dance Disney Party is appealing game for any Disney fan. There are 25 different songs and dance routines to pick from so this dance game for the Wii is sure to provide hours of fun. There is a multiplayer option for up to 4 players, which makes it the perfect game to share with friends. Parents can also create a playlist of songs based on your childs favorites and the song lyrics are shown on the screen making it easy for your child to learn the words. This Just Dance Disney Party is top game for the Wii that your child will love dancing too.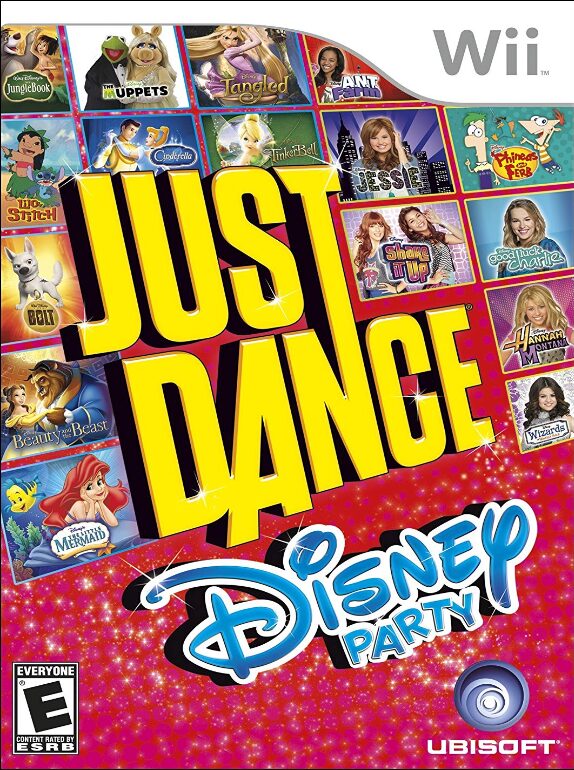 What are Easy Nintendo Wii Games for Kids?
The Nintendo Wii is a great gaming machine that is suitable for all of the family and by using the remote to perform different actions, while actively playing the game, make it a wonderful introduction for young kids into the world of gaming. There are many suitable Wii games for young kids that start with easy to follow actions and develop into more complex challenges as your child develops. Super Monkey Ball Banana Blitz is a perfect example of a great first game for the Wii that is suitable for young kids. There are 50 puzzle party games to play, where you have to guide a monkey in a ball around a maze without falling off, and there is a new jump command for added excitement. This is the perfect game for young children to use to practice their control of the Wii remote. With the option of 1 to 4 players this also makes a good family game that can be played together. A lovely first Nintendo game for a young child.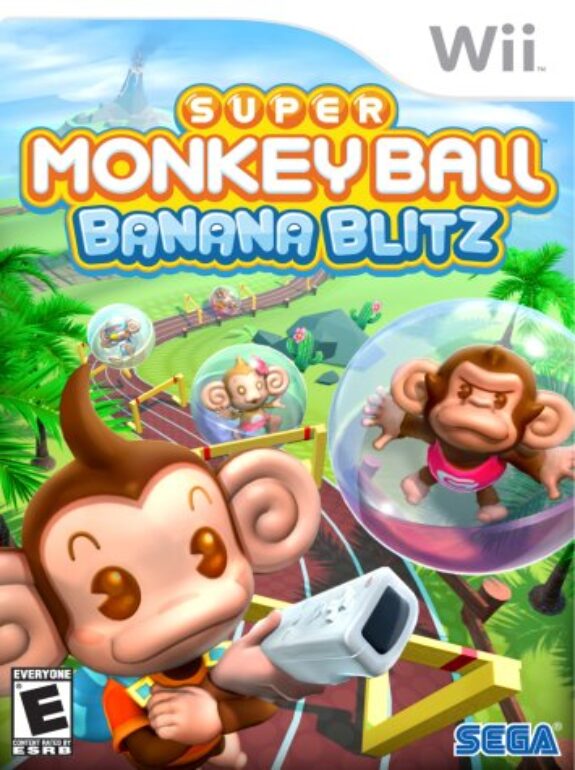 Can you Play Wii Games on Wii U?
Wii U is the most recent Wii device and it is a completely separate device from the original Wii machine. There are many new Wii U games for kids that make use of the new and exciting Wii U gamepad for the ultimate gaming experience. However, when your kids are wanting to play classic games for the Wii it is good to know that most games and Wii accessories can be played on the Wii U device. The Wii U menu will allow you to enter the Wii mode where the classic games can be played and Wii software downloaded. To do this a Wii remote will need to be synced with the Wii U device but you will be prompted on screen to do this if needed. Once you have finished playing the game you can exit the Wii mode to go back to playing Wii U games. This feature allows much loved Nintendo games to be continued to be played.
What are the Best Wii U Games for Kids?
Kids enjoy games that are easy to follow and have appealing characters that may be recognized from animated series. Games that develop with the child and increase in the difficulty throughout the game can be great for encouraging learning. A Wii U game for little kids can make the perfect family game that enables much needed quality family time. Super Smash Bros is a top Wi U game for kids that incorporates all of you childs favorite Nintendo characters including; Mario, Sonic and Pikachu, along with new and exciting characters. This game uses the Wii U gamepad for a great gaming experience, and allows battles to take place with new tricks for your childs favorite characters to learn. Each character can be customized throughout the game by collecting different equipment items. For added excitement up to 8 players can join in a battle over the internet or locally, to enable the best battle competitions. An exciting game that kids will love to play and share with their friends.