If your little lady is turning 3, you're probably thinking about planning a special party to mark the occasion. But, getting started with planning a kid's party can be tricky. There's so much to think about, and loads of different options to choose from. That's why we have compiled this guide filled with 3rd birthday party ideas for girls.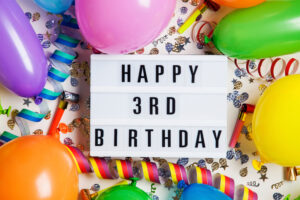 Third Birthday Party Themes
The first thing you'll probably need to think about are 3rd birthday themes and gift ideas. There are loads of possibilities here – it could be your toddler's favorite characters, animals or even a color they love. Here are some awesome 3rd birthday party themes for girl:
Princesses
Unicorns/ ponies
Pink/ sparkles
Rainbows
Disney
Bubble party
Teddy bear picnic/ tea party
Mermaids
Toddler Girl 3rd Bday Outfits
The 3rd birthday girl needs something special to wear on the big day! There are loads of cute options available, whether you're looking for a dress, a tutu outfit or a t-shirt, the choices are endless! Here, we've picked out a few of the best on offer.
Fymnsi Long Sleeve Birthday Dress
Our first 3rd birthday outfit for girl is this adorable dress. It comes in a choice of colors, such as bright pink, purple, mint green and black. The dress has a lovely tulle tutu skirt, and long sleeves which are ideal for a winter birthday. It reads 'three' in glitter writing across the front, so everyone will know it's a special day. There's also a bow on the waist to give this dress a really special, stylish look. The birthday girl will look so cute on the big day, and she can wear this dress all year round.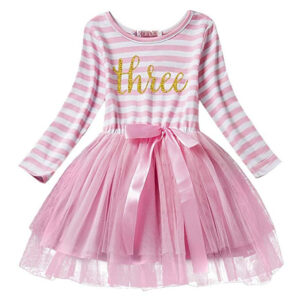 Kirei Ruffled Tutu & Tee
This cute two-piece birthday outfit includes a layered, ruffled tutu skirt as well as a tank top. The top is embellished with a large number 3, and has a fancy ribbon bow on one shoulder. The bow can be removed and used as a hair accessory if preferred. The tutu also has a large bow on the waist, and the outfit comes in different colors. It's great for twirling around in and is sure to ensure your little girl stands out at her party!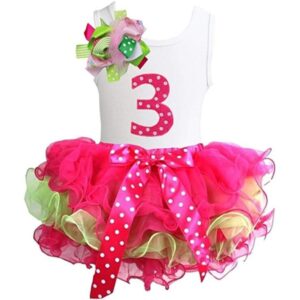 7 Ate 9 Raglan Tee
Our last pick of girls 3rd birthday outfits is this cute raglan tee. The shirt is gray with bright pink sleeves, and has a lovely, trendy unicorn design on the front, as well as the text 'three'. The quality of the printing is excellent, and it's not a transfer so it will remain in top condition even after many washes. The 3/4 length sleeves means this shirt works well for either summer or winter birthdays, and it can be worn for the whole year until she turns four. Just about all little girls love unicorns, so this 3rd bday shirt girl is sure to be a hit!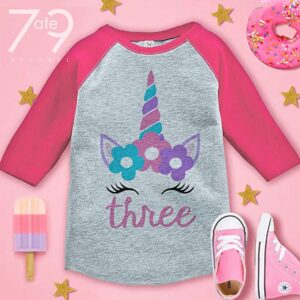 Party Decoration Ideas
Once you've picked your theme, you'll need some decoration supplies to make sure the venue looks great! We've picked out some possibilities below.
Wernnsai Unicorn Party Kit
If your 3rd party ideas for girl include a unicorn party, these decorations are a must-have! The kit comes with everything you need, so it's great for convenience. In this kit, you'll find a happy birthday banner, 30 hanging decorations, a foil number 3 balloon, 20 latex balloons in pink and white, and some ribbon to tie to the balloons. The banner and decorations are made from high quality materials which can be reused over and over again. This it the perfect kit for little girls who love unicorns – they will be delighted when they see everywhere decorated with these cute pieces!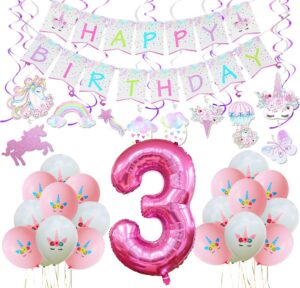 Little Miss Threenager
This banner is perfect for a sassy little girl who's turning three! It reads 'little miss threenager' and the total width of the banner is almost 10 feet. The letters are made from gold glittery cardstock which won't tear easily. The banner can be hung anywhere – it looks great as a photoshoot background, or for decorating the dinner table.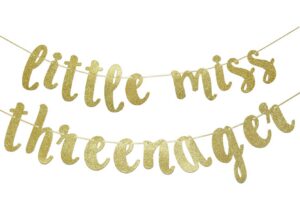 Girls Dinosaur Party Set
If your little girl loves dinosaurs, this party decorating kit is sure to be a big hit! It comes with everything you need to decorate for a pink, girly dinosaur party. The supplies included in this set are a garland, a large standing dinosaur balloon, happy birthday banner, 12 latex balloons and 24 cupcake toppers. The party table will look amazing decorated with this kit! There is no age on these pieces, so they can be reused, and girls will love to play with the dinosaur balloon long after the party is over!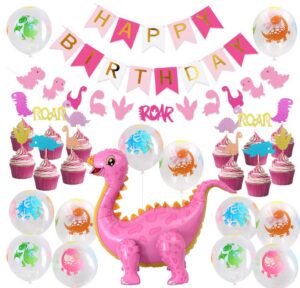 Minnie Mouse Party Supplies
Our last pick of 3 birthday ideas for girls is perfect for the little Disney fans out there – a Minnie Mouse themed party supply kit. There are loads of pieces with this set – 25 small balloon in different shades of pink, 5 honeycomb balls, a happy birthday banner, 12 cupcake toppers and 2 large Minnie Mouse head balloons. Again, there are no numbers on these decorations so they can be reused the following year if needed. There are enough pieces to decorate a large area, and they can be hung just about anywhere.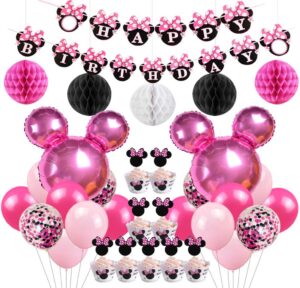 Who Should Come to the Party?

It can be difficult to decide who to invite to the party – it can be tempting to invite everyone you know! But, it can be a bit overwhelming to have too many friends at the party, and can lead to tears and tantrums. It also depends on the venue – if the party will be held at home, there might be limited space. However, if you go for a party place, there might be a minimum number of guests, in which case you might need to invite more friends.
Once you've decided who to invite to the party, you'll need to choose some invites which match the theme. Here are some ideas.
Chic Party Hat Invites
This set of 12 party hat invites are pink, black and gold sparkly – perfect for a girl's party! The front reads 'you're invited to a birthday', whilst the back has space to write the name, date, place and more. Each invite is 5″ x 7″ and they are printed on high-quality card-stock. Envelopes are also included for delivering the invites to friends.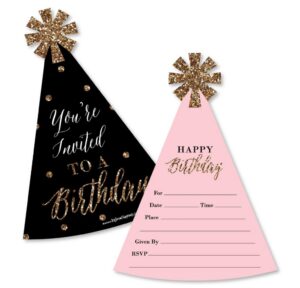 Mermaid Invitations
If your girls third birthday party ideas include a mermaid party, these invitations are simply perfect! There are 15 invitations in this pack, so it's perfect for larger parties. It comes with envelopes, and each invitation is 5″ x 7″, and they are postcard style. They are printed on matte card stock which is heavyweight to ensure they won't tear easily – even with 3 yr olds! These are perfect for letting guests know the theme of the party.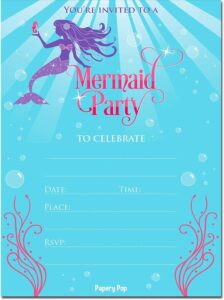 Unicorn Invitations
If your little girl is planning to have a unicorn party, these are just what she needs to let her guests know! There are 12 in this pack, and they come with lovely rainbow striped envelopes. Girls will love the stunning design of these invites, and will be keen to give them to their friends! There's space to write the name, date, location, time and RSVP on these invitations, and they are also made from recyclable paper and environmentally-friendly ink.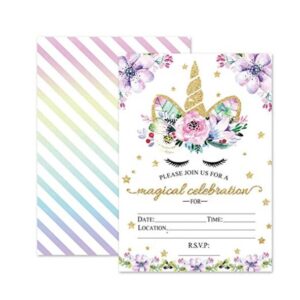 Party Food Ideas
If you've chosen your 3rd birthday party ideas for girl, don't forget to start planning some snacks! Think about when the party will be held to help figure out how much you'll need. For toddlers, a party over lunchtime is ideal – they can first play for an hour then spend some time having snacks and drinks, and of course some cake! Don't forget to choose some awesome tableware which matches the decor of the party! Here are some suggestions and ideas.
Frozen 2 Party Plates
Frozen 2 is a huge hit with little girls, so they are sure to love a Frozen-themed party! This set comes with enough for 16 diners – square plates, napkins, paper cups and a plastic table cover. There are also decorations included with this set such as a banner, balloon, candles and fall leaves to scatter on the table. There's even a special badge for the birthday girl to wear!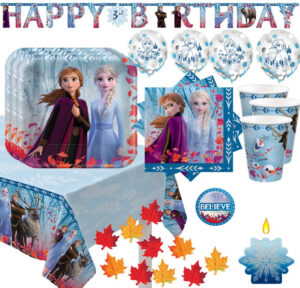 Spirit Riding Free Party Supplies
This set is perfect for horse lovers! It also has enough pieces for 16 guests, with two different sizes of plates, napkins, paper cups and a table cover. All the pieces are high-quality with stunning colors and images, and there's even a birthday banner included. Everything can simply be thrown away when the party is over to make clear-up easy!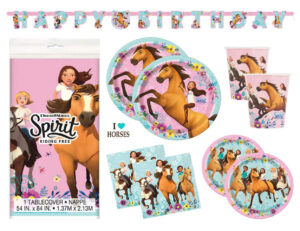 Unicorn Tableware Kit
For those planning a unicorn themed party, this tableware and decoration kit is a must! It comes with everything needed to serve 16 guests and decorate the dining area. There are paper plates and cups, napkins, paper straws with decorations, a table cloth, balloons, a unicorn headband and a bracelet for the birthday girl to wear. The party table will look stunning when decorated with these items!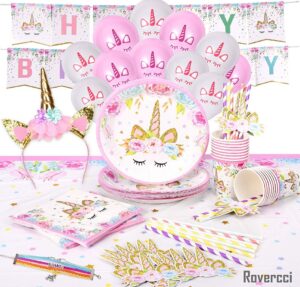 Dinosaur Party Table Supplies
Next up, we have another dinosaur themed pick. This bumper pack of supplies comes with over 150 pieces and is again designed to cater for up to 16 guests. In this set, you will find everything needed for the party table, as well as some decorative pieces. For lunchtime, there are cups, napkins, dinner and dessert plates (32 plates total), pink cutlery and cutlery bags. To decorate the table and surrounds, you'll find a dinosaur banner, two tablecloths, 20 balloons in 4 different styles and some ribbon.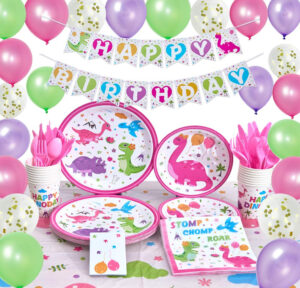 Peppa Pig Party Pack
Finally, we have a set which is perfect for fans of Peppa Pig! Again, this set is perfect for up to 16 party guests, and it comes with cups, napkins and plates as well as some fun extras. For example, this pack also comes with 16 Peppa tattoos! There are also candles for the birthday cake, Peppa Pig balloons, honeycomb hanging decorations and swirl hanging decorations – so there's everything you'll need to make the party table look stunning! There is also a small bonus 'life of the party' badge which is perfect for the birthday girl to wear, or for a prize for a party game.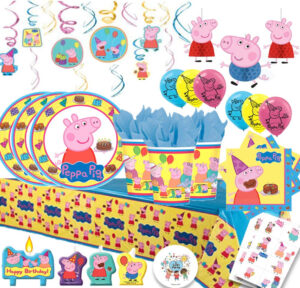 What to Get a Girl for Her Third Birthday?
This is a big question, with so many great toys and gift options out there. We have a whole list of great gifts for 3 year old girls, but here are some fun ideas.
LeapFrog Leaptop
Our first girls 3rd birthday idea is this cool laptop from Leapfrog. It comes in either pink or green, and is a toy which is both educational and fun. The laptop has keys for every letter, which can teach kids their ABCs, but it also has other modes such as music and games. In fact, there are 16 different songs they can dance along to! The laptop can be customized to teach your child to spell their own name too. Toddlers will love to be just like mom or dad with their own laptop!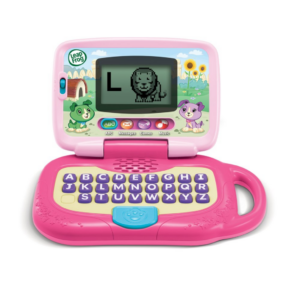 LeapFrog Ice Cream Cart
Here we have another excellent toy from LeapFrog, this time it's an ice cream cart! It comes with a magic scoop which really picks up the ice creams! There are menu cards included which challenge kids to remember and copy the orders, great for improving their memory skills. The cart helps kids learn to count to ten, and can also be used to teach them about colors, numbers and the flavors of ice cream. The cart can be pushed around, and will play music as it moves along.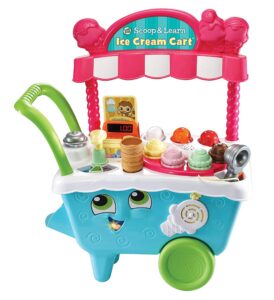 LEGO Duplo Minnie's Party
Duplo is an excellent toy for toddlers, and this Disney Minnie Mouse theme is sure to appeal to little girls. This set has just 21 pieces, making it an excellent starting point for introducing toddlers to LEGO. After building, girls will have hours of fun playing with this set – it comes with Minnie's car and Minnie and Figaro figures. This set is recommended for kids aged 2 – 5, so it's perfect for girls turning 3.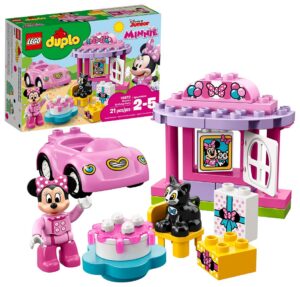 Article Reviews for 3 Year Old Girls 
Educational Toys for 3 Year Olds
Personalized Gifts For 3 Year Olds