Are you looking for the best high chair for 2 years old? You're on the right page.
With so many high chairs on the market, choosing the perfect one for your growing baby might be challenging.
You may have the budget needed to buy any model. You may even be familiar with most of the reputable brands out there.
But if you don't know what to look for in a high chair or how to sift through the dozens available to you, it's likely you'll choose the wrong one.
Fortunately, with this article, you'll learn the most important things to consider as well as the most suitable high chairs for your child.
Here are some of the factors to put into consideration when choosing a high chair:
---
When Choosing High Chair for Your 2-Year-Old
---
As with choosing any baby product, there are a few things you need to consider, especially if this is your first time buying such a product.
In the case of a high chair, you need to look for specific features. You don't need all the features to be present in the, just a few that will really satisfy your baby and make your life easier.
For example, you don't want to have a high chair that you'll have to clean/wash after every meal.
You want something that'll still look neat and maybe just a wipe if need be. It makes your life easier.
So, when looking at the best high chair for 2 years old, here are some of the things you should look for:
Ease of Cleaning
Choose a chair that's easy to clean. In most cases, chairs that are made from plastic are the easiest to clean.
Those that have too much padding might cause you a headache when you discover you have to wash/clean them after every meal.
This is because the chairs designed this way have crevices and creases where food easily gets stuck. Therefore, the best option is the one that doesn't have bits where food can get in.
Sliding Tray
Most people ignore this but it can be a great feature. When the tray slides easily, it's easier for you to clean.
Also taking your baby in and out of the seat will be easy too since you can remove and place the tray back in after your baby is seated.
Seat Recline
This isn't as important as the first two. But it's good to have as it makes it easier for your baby to seat up as they get older.
Not only that, but your baby could be relaxing in there while you carry out your household chores.
---
Best High Chair for 2 Year Old (2023 Reviews)
---
1. Envee Baby High Chair with Toddler Playtable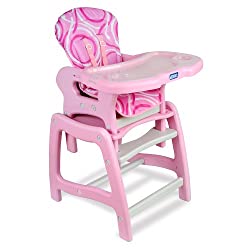 Another great high chair for a growing baby is the Envee Baby High Chair With Toddler Playtable. It comes with a reclining feature, just like the Graco high chair.
This is great if your baby is still very young. Sometimes you just want the baby to be in the seat while you cook.
When your baby is still small and just beginning to hold their bottle, having a recline position is going to keep them engaged and give you time off to attend to some other stuff.
The truth is that you may be surprised how often your kid will fall asleep in it. And as they grow, you may eventually stop using them.
The seat is quite strong and sturdy, so your baby is going to get a lot of years out of it after which you can store it for your next baby.
The Envee chair comes with straps to keep the baby restrained too. But because this is an older baby you're buying for, it may not come into much use, even if your baby is self-feeding.
You can convert it to the desk when your baby no longer needs to use the high chair.
Verdict on Envee Baby High Chair With Toddler Playtable
The installation instruction that comes with the unit isn't too clear, according to many reviewers.
However, there are not many parts to it and since assembly is self-explanatory, it shouldn't take you more than a few hours to set up.
And compared to the model above, this one is much lighter and easy to move around from one room to another.
The downside of this high chair is that it isn't as portable as other smaller models so traveling with it may not be realistic.
But since you're only buying this to use at home and not primarily travel with it, that shouldn't be a big deal.
Another downside is that the food tray is a little difficult to push and pull and the instructions don't help either.
However, from my research, not every user is facing this problem. So, if you are seeing this, you can find the manufacturer's contact information on the packaging or assembly manual.
Once you call and let them know what the problem is, they should help you get it resolved.
2. Ingenuity SmartClean Trio Elite 3-in-1 High Chair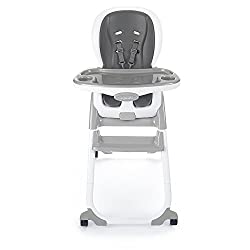 Have a baby that's growing fast?
Then the Ingenuity SmartClean Trio High Chair is a good one that'll accompany your baby on that fruitful journey.
Because it's convertible from a full-size chair to a toddler chair, your baby can use it from 6 months up to 5 years of age. This is a long time and money saver.
You could use it for two babies at once.
You can set the younger baby on the booster while the older one uses the toddler table. Thus, you're getting so much value for your money.
The tray detaches and is dishwasher-safe, so it's easy to clean, the seat pad can simply be wiped clean too.
There are 4 positions to adjust the tray to, which is great for suiting your baby as they hit different milestones in the age ladder.
3. Graco TableFit Rittenhouse High Chair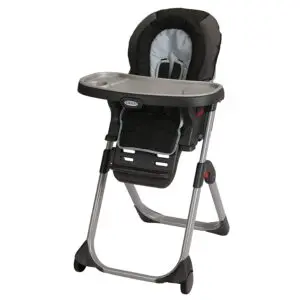 The Graco TableFit Rittenhouse High Chair is one of the popular high chairs on the market, from a reputable manufacturer.
It's a convertible high chair for your baby, which saves you money on buying different models as your baby grows.
Instead of investing in different models, you pay all the costs upfront and enjoy it for a long time.
Secondly, it keeps your house neat and does not overwhelm baby products. This is a nice thing for you if you have more than one child and want to keep the house tidy.
There is no setup involved when you buy this unit, everything comes pre-assembled in the box, which helps in taking out the stress and saves those valuable minutes/hours.
This is especially great for first-time parents.
Overview of Features
The tray on the high chair can be removed and cleaned with ease, making it better than other high chairs I've reviewed.
All the scrubs and particles from food can easily be cleaned and the tray wiped for another use. Again, there are two trays to make your life easier.
Many a time you won't have time to wash the tray once your baby is done eating. In such a case, you can simply use the other one when it's another feeding time.
You can adjust the height of the seat and enjoy the reclining feature too.
Not many baby high chairs come with a reclining feature, which is important in distributing your baby's weight across the seat to reduce the pressure points on muscles and joints.
Moreover, that is good for putting your baby at a bar height table so you can eat together with them.
With the adjustable feature, you can adjust the tray and seat to accommodate your growing baby. Sometimes, your baby can even fall asleep in the seat without compromising safety or comfort.
There are only two wheels on the chair, compared to some other high chairs with four. This is a great design decision from the manufacturer used to preserve the safety of the product.
Some parents want to have four wheels so they can roll around with ease.
However, having four wheels is only going to lower the stability of the chair and become shaky when your baby rocks in it.
Another point for this is that once your baby is placed in it, they can't climb out of it. This is also good for safety.
Verdict on the Graco TableFit Rittenhouse High Chair
First, the chair comes with an adjustable footrest. If you like your baby to seat longer at the table, it'll help them stay comfortable.
The chair is on the big side too. So, it may not be a good option if you're living in a small apartment. You may want to look at the Envee Baby High Chair With Toddler Playtable as it's smaller and more compact.
However, if you have space to accommodate this, it's still one of the best you can get for your 2-year-old child. In addition, it folds nicely so you can still save space.
If you're really concerned about the space, you can simply pack it up if after every meal.
4. Inglesina Gusto High Chair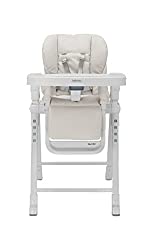 The Inglesina Gusto High Chair is lightweight, easy to store, travels easily, and wipes clean.
The good thing about not being heavy is that it may be difficult to move around on carpet so maybe you need to carry it.
You can fold it into a small portion and throw it in the trunk. You can also preserve space when you fold it and let it stand freely. So, if you have limited space for storing it, this is a good one.
The seat cover may not be washable though, and you may not be able to move it from one room to another compared to the other models.
If you are planning to use it in the kitchen, for example, then you're good to go.
The tray has a removable layer, which makes it easy to clean the tray itself. You can also remove the cover on the seat too, for easy cleaning.
You can push it backward too, to allow for more comfort for your baby.
There is also enough legroom for your baby as the leg support goes up and down while the built-in leg separator keeps the baby snugly fit.
Verdict on the Inglesina Gusto High Chair
The chair has only three adjustable heights. This is great for feeding your baby solid and bottle.
While the highest height may not reach the breakfast bar, it's suitable for a dinner table height. This is what most people use anyway, and why it's probably designed that way.
Finally, it comes in several colors and should blend well with your kitchen, living room, or where you want it installed.
Final Words
Just like other gears like strollers, car seats, cribs, etc., the baby high chair is also a very essential item to buy for your baby. It provides the perfect place for your baby to sit and eat.
It's a great way of creating a better connection with your baby when you eat together right from the onset.
When your baby reaches 2 years of age, the importance of the high chair increases. This is because it helps you and your baby enjoy time together at the dining table, twice or thrice daily.
And just like selecting other baby products, you should look carefully at each high chair before choosing one.
This will acquaint you with all the features of each model and while it's the most suitable for you and your baby.
Hopefully, this article has given you some tips on what to look at when selecting. The recommended models are great for your baby at this age, so just choose those fit your preferences and lifestyle.
Check out some other picks from Amazon also: