We all know that getting kids to take an interest in a sport or activity can have its challenges, from the 'coolness' of that sport to the physical, financial and time-consuming demands of it. Getting your child into a healthy, sociable and above-all enjoyable outdoor sport stuff is an important consideration when raising them in today's increasingly sedentary environment. The benefits to be reaped from children pursuing a sport are well-attested by everyone from doctors and nutritionists to teachers and psychologists. Little wonder then that a glut of products is available on the market all aimed at encouraging and developing your child's interest in sports.
One of today's most popular sports is of course basketball, going from the Fresh Prince shootin' some bball outside of the school in the 90's to Lebron James current world-dominating stardom. With basketball's cultural impact it's little wonder that more and more children are taking up the sport. It will increase your child's stamina, flexibility and physical coordination in a fun and competitive manner whilst boosting their confidence as their skills increase, what's not to love about that? Added to this, basketball requires little expensive equipment and can be practiced wherever there is a hoop so if space is an issue then there's bound to be a basketball toy that's right for your child. From kids adjustable basketball rings to wall-mounted junior basketball nets, let's take a look at what we think are the ten best child basketball sets available on the market.
Top 10 Kids Basketball Hoops
Lifetime Youth Basketball Hoop for Older Kids 
This freestanding basketball setup is everything that your kid needs to take their game to the next level. Crafted from durable materials including a high-density backboard and ring, this set can stand up to some serious play. The adjustable basketball pole spans from 5.5 feet up to 7.5 feet which is ideal for both guaranteeing a long period of use as well as challenging your child to grow their skills as they progress. Simply fill the base with water or sand and the freestanding basketball stand can be set up virtually anywhere, from a garage or driveway to a backyard. The durability of its materials guarantees that it will stand up to most outdoor weather conditions as well as the inevitable bumps and shunts that come with your basketballer practicing their growing skills. The versatility of this set means that there is no need to purchase both an indoor and large outdoor kids ball game set. Anyone looking for an outdoor children's game could do a lot worse than the Lifetime Youth set.
Age – 12 years old +
Height of product – Adjustable from 5.5 to 7.5 feet
Setup Features – Adjustable pole, backboard, breakaway steel rim
Weight and Dimensions – 2.4 x 32 x 7.8 inches ; 27.8 pounds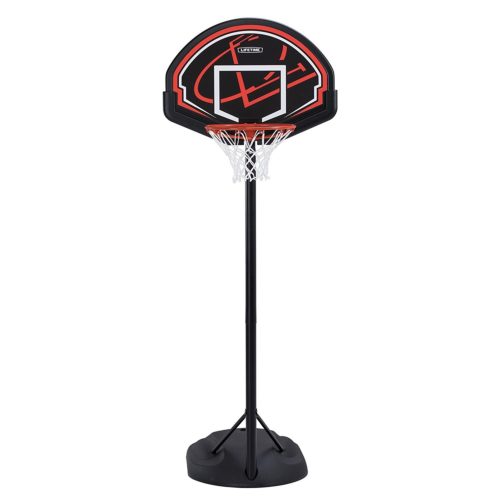 Little Tikes EasyScore Basketball Set Younger Kids
Even Kobe Bryant had to start somewhere, and if your little superstar has hoop-dreams then this basic child's basketball set is the ideal place for small beginners to get their big start. With its bright colors and accessible height this basketball set for toddlers will instantly appeal to young children who can start shooting hoops right away and the 6 adjustable heights (from 2-4 feet) means that it will work equally well as a game set for a 2 year old as a basketball activity for a 5 year old. However, the main advantage of this is the oversized rim and backboard which give your child an easy target to shoot at, giving them a fun way to increase their coordination and confidence. Bearing in mind the safety of these small kids, the stands rounded plastic edges, weighted stability and the small toddler-friendly balls that come with the kit all ensure that will be a safe, enjoyable preschool basketball hoop for your kid to enjoy.
Age – 1.5 – 5 years old
Height of product – Adjustable from 2 – 4 feet
Features – oversized rim and 3 junior size basketballs
Weight and Dimensions – 23.8 x 22 x 61 inches, 7 lbs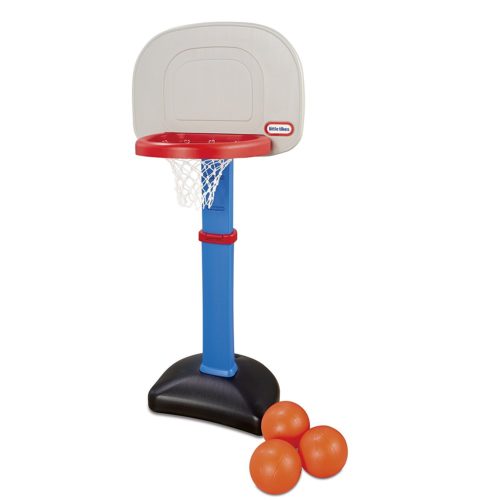 Little Tikes TotSports Easy Score Basketball Net
With its eye-catching pink color, this junior basketball ring for girls set is sure to attract kids aged from 1.5 to 5 years old to learn the skills necessary for basketball. The oversized rim will present an easy target for young girls to practice their hoop-shooting skills thus increasing their self-confidence and enjoyment of the game. This product is an attractive package that will gradually increase motor-skills and coordination in a crucial stage of child development. The child-friendly construction means that they can really get to grips with the physical skills they need to progress in safety. Due to its size, it can be set up indoors if you wish thus allowing you to keep an eye on your budding superstar making those shots.
Age – 1.5 – 5 years old
Height – Adjustable from 2 – 4 feet
Features – Includes an oversized rim and junior size basketball
Weight and Dimensions – 23.8 x 22 x 61 inches ; 7 pounds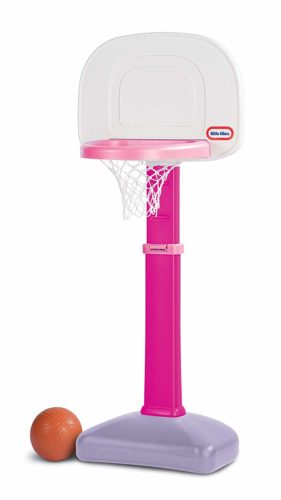 Fisher Price Grow to Pro Basketball Stand
This cool-looking junior basketball ring is a step up from the Easyscore Basketball and is intended as a stepping stone for pint-sized beginners to start practicing their skills and will see their self-esteem given a major boost on top of their growing stamina and coordination. The extra height-adjustments take this from a small kids basketball hoop to a basketball stand for 12 year olds whilst the durable plastic construction and sand/water-filled base means it can be used as an outdoor set making it a very flexible option to consider. Perfect for use as an indoor play basketball and as an outdoor play basketball this colorful, well made basketball toy for children is definitely an option to consider.
Age – 2 years old and above
Height of product– Adjustable  from 3 – 6 feet
Features – Adjustable stand and child-sized basketball
Weight and Dimensions – 22.4 x 46 x 10 inches, 1 lb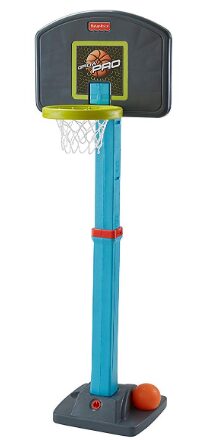 Youper Mini Adjustable Portable Basketball Rim & 2 Balls
Young children are automatically drawn to anything involving electronics and with its flashing lights and electronic noises this sure to grab your child's attention which is great for avoiding the pitfalls of kids attention spans, ideal! Fitting onto virtually any door, this small basketball hoop and backboard can be set up anywhere indoors whilst accommodating players of different ages and heights. Battery-powered flashing lights and an electronic announcer make this a great option for getting kids interested in playing basketball and the scoring system is perfect for groups of children playing together which will help to increase your child's sociability. Another feature of this adjustable children's set is the automatic score-keeper so your child can concentrate on perfecting their shooting skills in a fun and active way.
Age – 3 – 10 years
Height of product – 17 inches
Setup Features – 17″ x 13″ clear polycarbonate backboard, 10″ rim, two 6″ inflatable basketballs and pump
Weight and Dimensions – 17 x 13 inches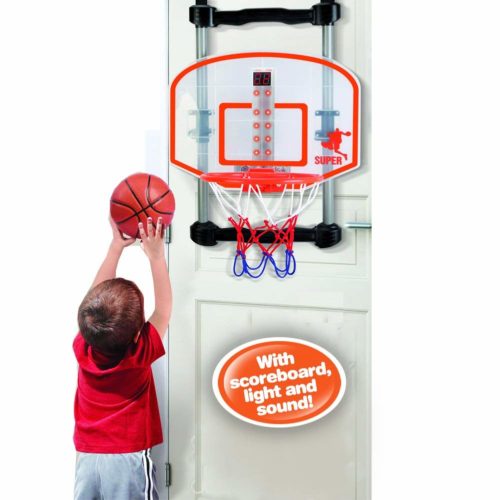 Little Tikes Adjustable Toy Basketball set
Another great outside hoop option, The Little Tikes Adjust and Jam Pro Toy Hoop featuring a breakaway rim, weighed-down base, and five separate height levels. Sliding from 4 to 6 feet this set comes complete with an easy-to-shoot kid-sized ball and an oversized backboard which will give the player a nice large target that is perfect for learning about rebounds in the game. As it is suitable to be set up outdoors this will encourage competitive play that may not be suitable indoors, a great start for growing your child's social skills. The plastic construction is a great feature for the safety-minded parent, avoiding the dangers of colliding with metal or harder materials. Again, the weighted base and collapsible rim are another great safety feature on this basketball goal
Age – 5 – 10 years old
Height of product – Adjustable from 4 to 6 feet
Setup Features – Adjustable stand, backboard, kid-sized ball
Weight and Dimensions – 34.25 x 29 x 90 in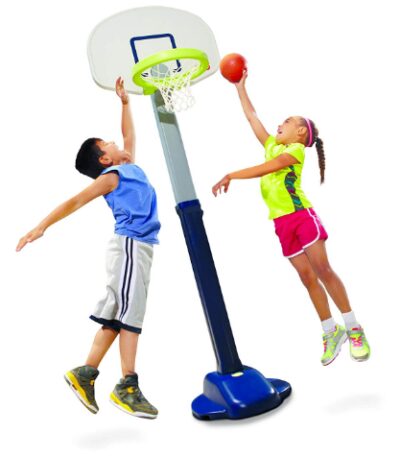 Spalding NBA Indoor Mini Baske
tball backboard
If you have an older child or your little athlete has grown into a junior athlete, you may want to consider purchasing a wall-mounted or door-mounted youth basketball goal. This door-mounted 1/4 scale NBA hoop is bound to attract the interest of kids with a passion for basketball with its official Spalding NBA branding and indoor convenience (perfect for hallways or kids' bedrooms). Indeed convenience is the name of the game with this junior basketball backboard and rim, simply fitting over the top of a door to provide a challenge to your child's dexterity and coordination skills. Unlike other sets, the backboard's foam padding will prevent any scuffing of doors it is attached to and included in the price is a 4 inch rubber basketball so this makes it a great convenient option for any parent looking for a kids hoop.
Age – 5 – 13 years old depending on where fitted
Height of product – Can be mounted on any suitable door
Setup Features – Door-mountable backboard, breakaway rim and 4″ basketball
Weight and Dimensions – 18.3 x 10.5 x 3.43 in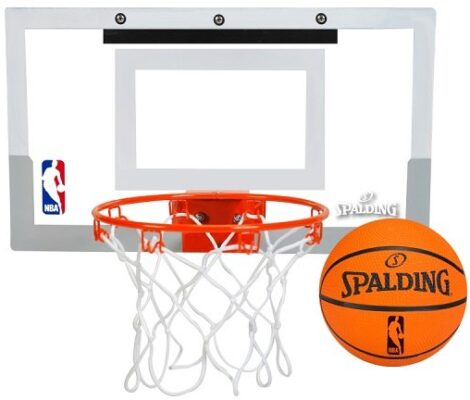 Kids Basketball Stand with Backboard 
This portable adjustable basketball kit is a versatile, well-constructed option for older kids with a host of attractive features on offer. The all-steel base and stand when coupled with the nylon netting mean that this product will be used for years to come whilst also withstanding the slam-dunks your child is sure to be practicing on it. A useful feature of this children's basketball set is that it is mounted on wheels which makes it a convenient option for moving in and out of garages or storage rooms. Adjustable to a maximum height of 8 feet, this will see your child's competence as well as confidence skyrocket as they progress to making those long shots at the basket with ease.
Age – 12 +
Height of Product – Adjustable from 5 – 8 feet
Setup Features – Heavy-duty steel stand, durable backboard, nylon basketball net
Weight and Dimensions – 29"(L) x 22"(W) x 76.5"-97.5"(H)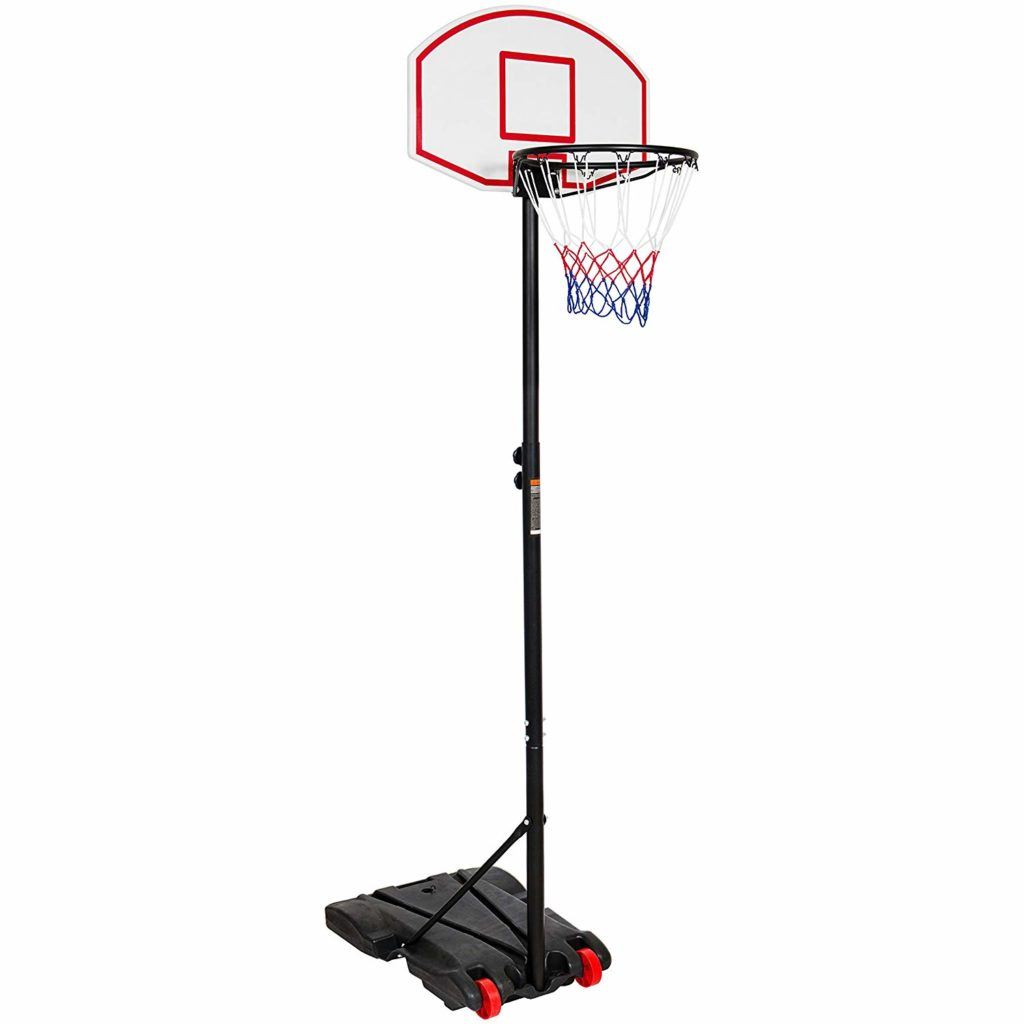 Wall Mounted Mini Hoop – Mini Pro 1.0
A great option for someone for whom space is an issue, this steel-framed backboard and hoop set can easily be mounted on a wall indoors or even outdoors. Shipping with a child-friendly miniature ball this is a great way to get your kid started in basketball while also saving space to boot. It is a slickly presented product with professional looking graphics on the backboard that will meet the approval of the most discerning junior basketball player. Ideally constructed to be installed on a bedroom wall, this kids rim set features a breakaway hoop that will handle any amount of slam dunks it is put through. The backboard sits 6 inches away from the surface on which it is mounted which will help to avoid damaging the surface of the wall.
Age – 10 + ideally but as it is wall mounted, could work for smaller kids
Height of product – 18 inches
Setup Features – Wall mountable basketball backboard, breakaway rim, kid-size basketball
Weight and Dimensions – 18″ x 12″ x 1/4″ , 9 lbs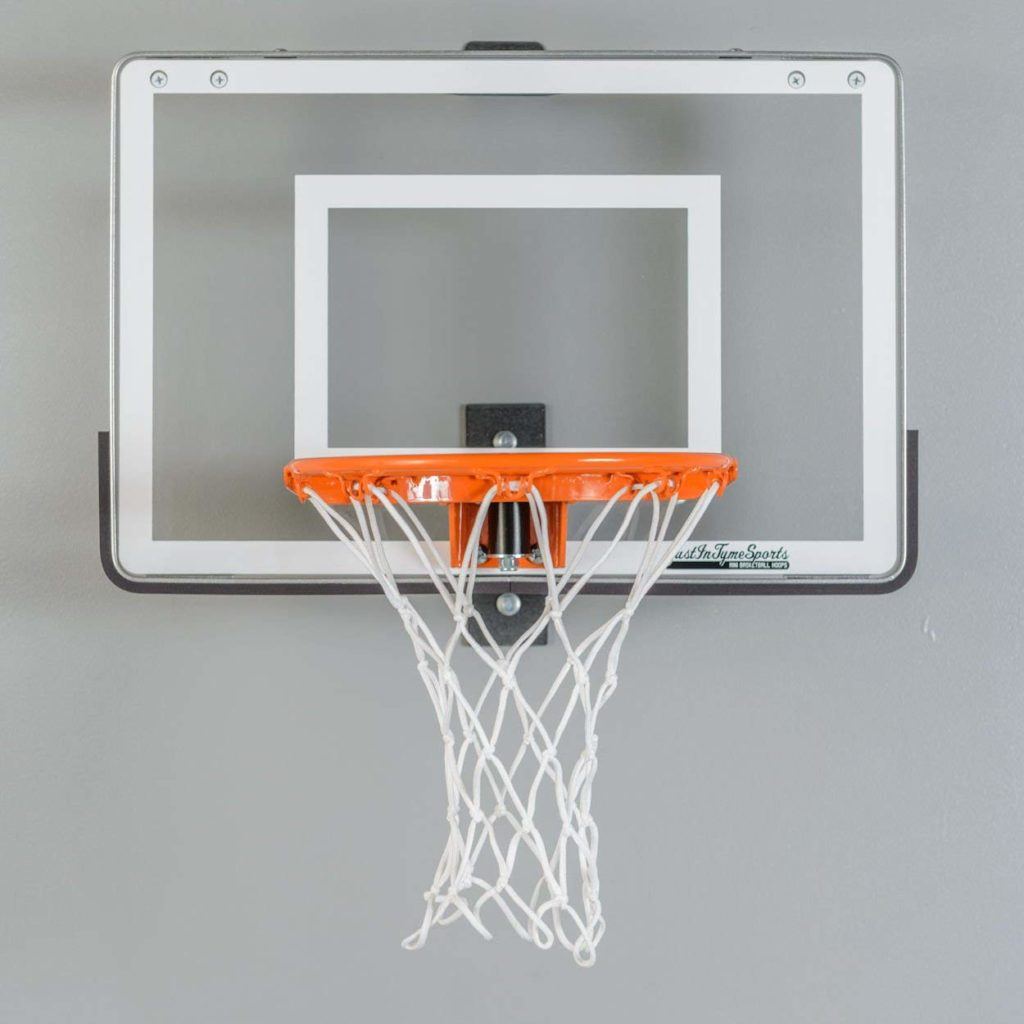 Lifetime Pro Court Basketball System
If your child has taken a serious interest in basketball then this could well be the hoop and backboard set for them. This basketball stand and hoop set is a great option for anyone looking for an outdoor children's hoop set or even a large indoors setup. Requiring minimal construction, you just assemble the stand and fill the base with sand or water unlike other sets of this size which require the use of concrete, this product combines convenience with sturdiness. On top of this, kids will love its professional appearance, the classic rim and nylon net coupled with the shatterproof backboard and fade-resistant graphics give it a great appearance. This could be a great option for when your budding Kobe is ready to take things to the next level,
Age – I would recommend this for 10 year olds and above, but for those who love the game might be fine with starting with this hoop.
Height of product – Adjustable from 7.5 to 10 feet
Setup Features – Adjustable basketball pole, shatterproof backboard, classic basketball goal
Weight and Dimensions – 34.5 x 44 x 8.3 inches, 56.4 pounds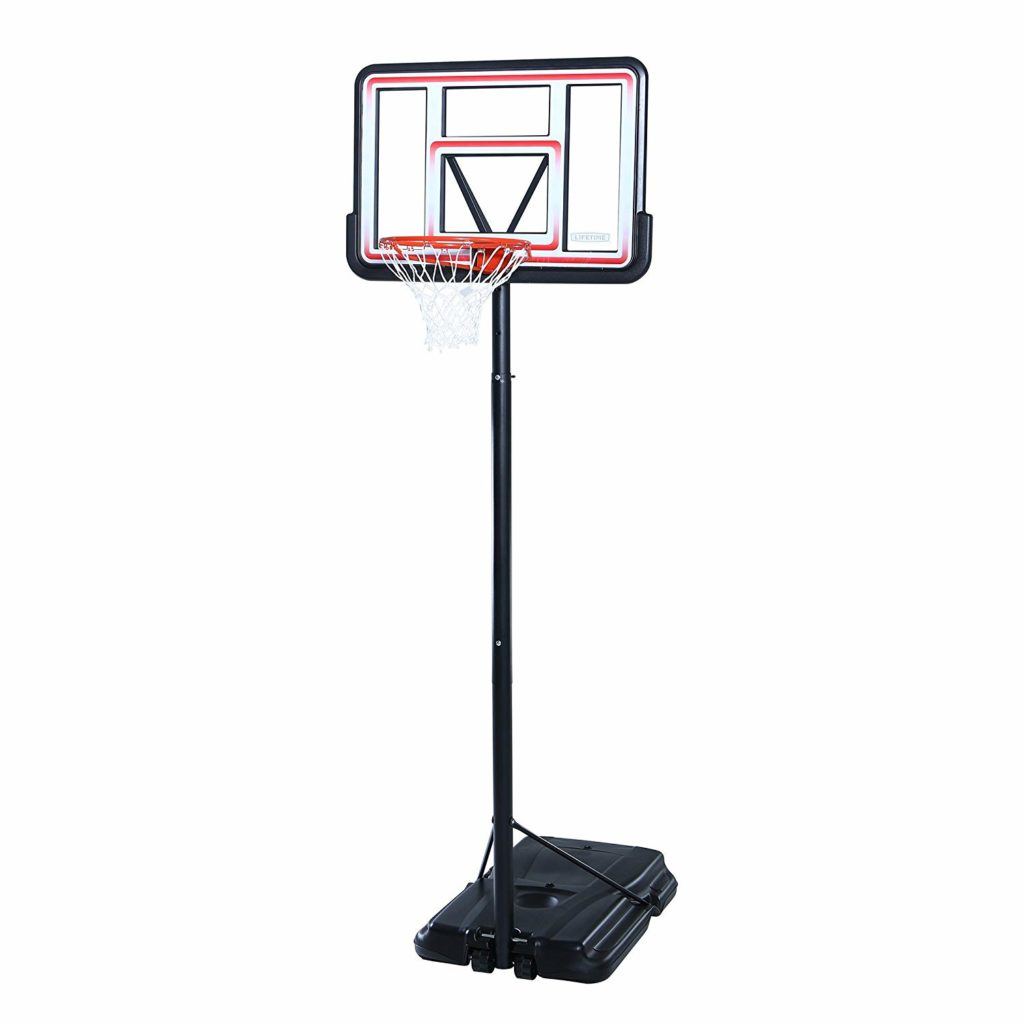 Best Overall Pick
As you can see, there are a wide variety of different options for any parent looking to give their child a headstart in their pursuit of basketball skills. Ranging from toddler-friendly playsets to professional-level outdoor options, there is bound to be one for your child to enjoy and grow from. As with any sports equipment for children there are numerous things to consider when purchasing any product such as safety, convenience, and product features. A big consideration is the product lifetime, the size of your child is very relevant to the choice of system you might purchase and with rapidly growing kids you don't want a product that they will be towering over and bored with in a few months time. Adjustable sets are great in this regard, able to grow in increments as your child grows physically alongside their basketball skills meaning they can shoot higher and higher baskets. Added to this are your space considerations in where your set is to be installed, is it going to be used indoors or outdoors? Is it going to be used by several kids or just one? Taking onboard these considerations I feel that the Lifetime Youth Basketball Hoop is an excellent all-rounder for any parent. Well-designed and solidly constructed from durable materials this adjustable set can be set up in most driveways, garages or yards with ease, making it one of the best basketball goals on offer.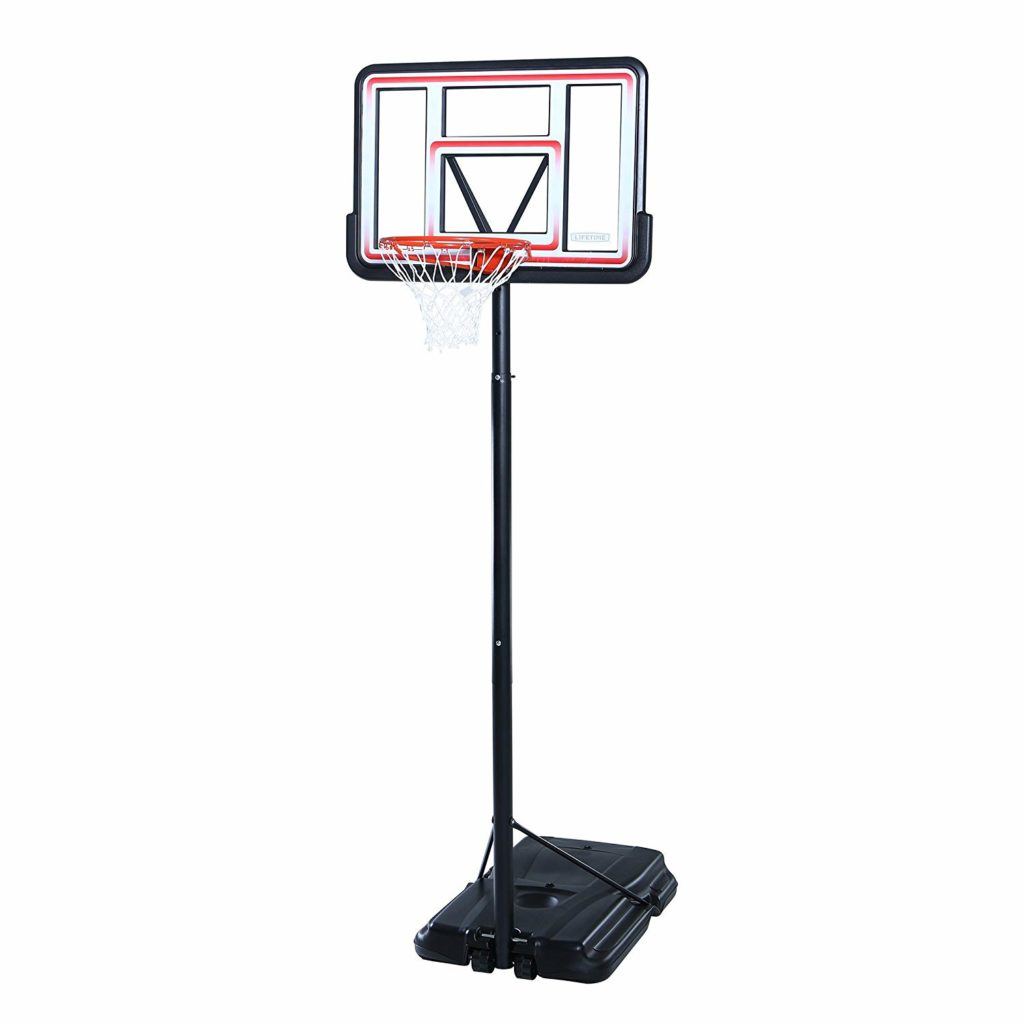 Best Budget Buy
For the younger budding baller there is no need for a towering professional-looking setup, a safe basic set that can be played with indoors fits the bill nicely. Something that can be weighed down securely with a breakaway rim to avoid accidents is a fantastic option and the Little Tikes Adjust and Jam hoop meets these considerations very well. It can be easily assembled and installed both indoors and outdoors which makes it a really flexible gift for any child, perfect for larger indoor rooms as well as yards/driveways.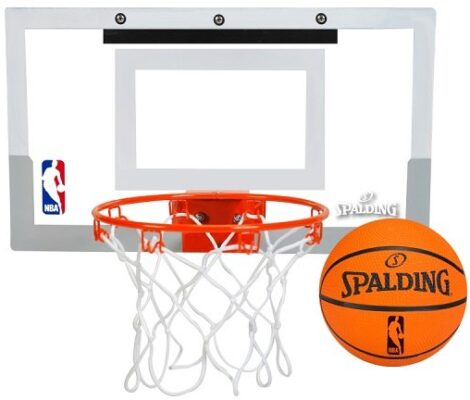 FAQ
What are some of the safety considerations in choosing an Outdoor set?
Kids, in general, can be rowdy when playing sports and anything that can be done to avoid accidents is to be commended. The first factor to be borne in mind is the proper installation and following the instructions carefully. Don't cut corners when assembling and consider factors such as where the system is being placed, will it be near breakable materials? Another important factor is the stability of the product, this is especially important for free-standing ones. Any free-standing setup should have a base that can be weighed down, usually with water or sand. This will avoid the stand being toppled over by children or weather and causing injuries or property damage.
What is the best basketball rim height for my 4 years old?
An issue for kids under 5 years old playing basketball is the upper-body strength required to properly propel a ball to any great height. A small child simply won't be able to shoot at a rim over 5 feet which should be considered the upper limit of the height setup. Having a hoop setup that is too high for them will inevitably lead to frustration and a lack of interest in the game. Aim to have it fixed at around 5 feet to ensure a manageable challenge for them.
What are the advantages of an adjustable basketball system?
The short answer is "lots"! The most obvious advantage is the products lifetime can be extended as the child grows but on top of this, it can be adjusted for different styles of play. Some days your kid may feel like making challenging 3-pointers and on other days they may simply want to make easier slam-dunks or free throws meaning that the versatility of an adjustable system really shines through.
What are the advantages of an indoor basketball hoop?
Compared to say a garage basketball hoop, an indoor set can be installed usually on a wall or door allowing for play indoors. This avoids play being dictated by weather conditions, it's rarely too hot or cold to play indoors and with smaller children, you can monitor their activity at all times. Also, they are usually a cheaper option compared to larger outdoor sets which may require more involved installation than an indoor option.
Should I buy a hoop for my 6 years old boy that is adjustable or not?
There are some adjustable hoops and some that are fixed hoops, so depending on if the child's interest in basketball is serious most likely the deciding factor. Some children love BBall and if you want them to enjoy and progress then a fixed board might be worth considering, which can be mounted and capable for handling slam dunks or rough handling.