Popcorn machines are a great addition to the home because they can produce a fun and healthy snack in just a few minutes. If you are looking for the best kids popcorn maker machine, check out our article.
As parents, we know that you will want to research every purchase for your family to make sure that you are selecting the best item. To help you with your decision, we have put together this guide to the best popcorn makers for kids available on the market. We will cover considerations before you buy, round up eight of the best popcorn machines, and select our top gift picks so you can take the stress out of choosing the best purchase for your home.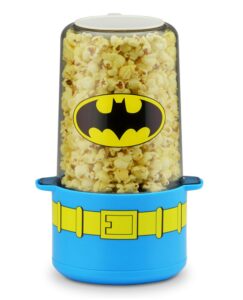 Considerations choosing a Popcorn Maker for Kids
As with any purchase for your family, it may help to consider a few key factors before you make your decision. 
Capacity: whether you are planning to provide snacks for a whole class of kids or an on demand treat for your family, think about the capacity of the machine you will need. Popcorn stuff makers come in a wide range of serving sizes, but larger capacity models will also take up more space in your kitchen. 
Size: these appliances range in size from compact to giant, so choose a maker that will fit well in your kitchen. Consider where you will store it, on the counter top or in a cupboard. Larger items may need a permanent home on a counter or island top, whereas smaller models can be tucked away more easily in a storage unit.
Popping time: kids are not known for being patient, especially when they are waiting for a snack! Quick popping machines may take up more of your budget but you will be thankful for the speed when your child is asking you for a treat. Little ones may love to help make the popcorn, and a faster popping time means their attention span is more likely to last the task.
Design: popcorn suitable for kids are available in a variety of designs, from toy themes to more neutral styles. Think about what would fit well in your home as well as a design that will appeal to your children. This is especially important if the machine will be on display in your kitchen! 
Type: in this guide, we will look at two main types of popcorn maker: air and oil. Hot air popcorn machines do not require the addition of oil and result in popped corn that is free of saturated fat. The type of maker you choose depends on the result you are looking for and it is a good idea to consider both before making your purchase.
Top Popcorn Machine for Kids
1.  Deluxe Electric Popcorn Popper Machine
The Stir Crazy Deluxe Electric Hot Oil Popcorn item from West Bend offers a capacity of 6 quarts, providing enough corn to satisfy the whole family on movie night! Its sleek red and black design will fit in with most kitchen decors and it is small enough to be tucked into a cupboard for easy storage. With 1000 watts of popping power and a motorized stir rod, an even popping result is ensured and automatic reversal stops kernels from getting stuck. The maker has a removable heating plate that is dishwasher safe so cleaning is a breeze. The clear vented cover means kids and adults can see the machine in action, and the cover can be used as a popcorn serving bowl. It even has heat resistant handles for easy and safe carrying. This would be a great choice for your family home.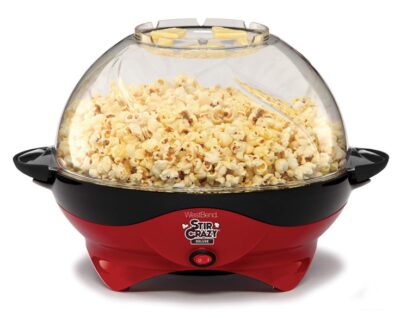 2.  PopLite Maker
The PopLite Hot Air popcorn Popper from Presto is a popular budget model of maker. With faster and more even kernel popping than microwave popcorn, this compact machine provides up to 18 cups of popped corn in just two and a half minutes. The PopLite pops with heated air instead of oil, meaning the corn is a healthy and low fat treat containing no saturated fat. Use regular or gourmet kernels and the machine will pop the corn right into your serving bowl – with virtually no unpopped kernels left over. The included butter melter doubles as a handy measuring cup with this sweet and compact design. With built in cord wrap at the back of the popper, the PopLite can be stored and tucked away in even a small cupboard space.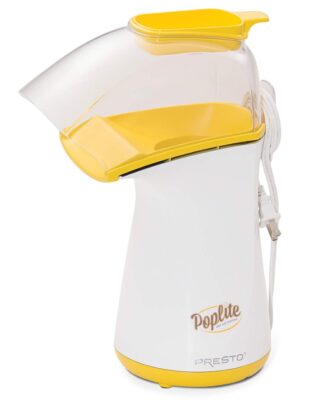 3.  Disney Pixar Stir Popper
For a cute and kid themed popcorn machine, check out this Pixar Collection Stir Popper from Disney! Featuring cute cartoon pictures of 15 of your favorite Disney Pixar characters, this popper is sure to delight your little ones as they watch the corn pop. It is fast and functional, popping up to 10 cups of corn in just five minutes, so your family will not have to wait long for a tasty snack. The motorized stir rod means that kernels will not get stuck to the bowl while the machine is in use, maximizing the popped kernels. The maker features a durable nonstick heated surface for easy cleanup and comes with oil and popcorn kernel measuring scoops to ensure a perfect result every time it is used. Easy to operate, the Stir Popper needs only kernels and oil in order to produce a perfectly popped treat. Your little ones are sure to love looking at Nemo, Buzz Lightyear, Wall-E, and tons more familiar characters.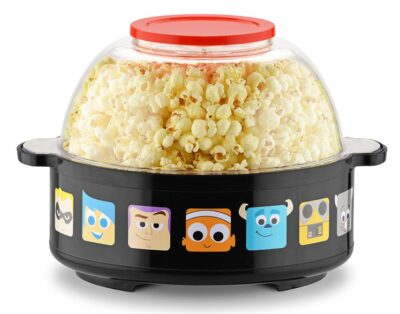 4.  Mini Popcorn Machine
This Hot Air Popper from Aicook has an adorable retro popcorn cart design and is sure to bring a smile to your little ones' faces! Its sweet colors and vintage themed shape mirror the popcorn carts that were wheeled into movie theaters during intermission. Designed to use air for popping instead of oil, the Aicook popcorn maker produces a healthy snack free from saturated fat and preservatives. Its innovative design means that the heat is continuously circulated to ensure kernels are evenly popped. Its miniature size is cute and compact, standing at just under 16 inches. It can be easily tucked away for storage, or you can display it on your counter top for a fun addition to your family kitchen! The Aicook machine works in just 2.5 minutes and has a 95% kernel popping rate. It is the perfect choice for family nights in, kids' parties, or just an after school treat.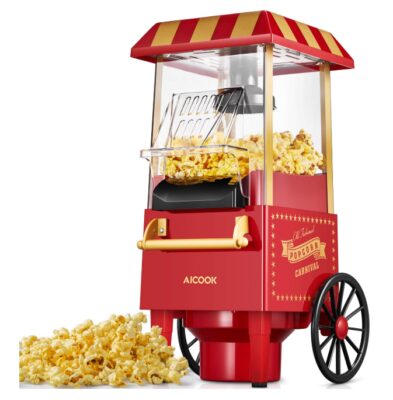 5.  Super Heroes Stir Popper Machine
Got any superhero fans in your family? If so, check out this adorable Mini Stir Popcorn Popper from DC Batman! It is capable of popping six cups of delicious popcorn in under five minutes, so your tiny superheroes will not have to wait for their fuel! The Mini Stir machine features a simple and cute Batman design with a light blue 'suit', yellow belt and of course the iconic bat symbol. Its nonstick heating plate is a breeze to clean up after using, and it is incredibly easy to use. Simply measure the perfect amount of corn kernels and oil using the cups supplied, attach the top, and turn on the popper. Once finished, the clear cover can be used as a serving bowl. This would make the perfect gift for any little superhero and is simple enough for older kids to operate with supervision. The popper is also available in other popular superhero designs, so you are sure to find one to delight your child.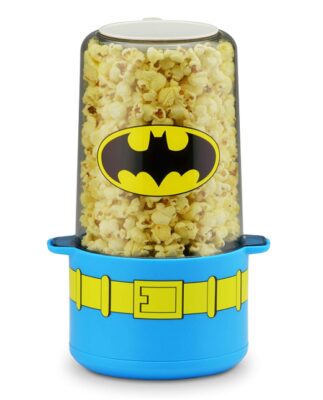 6. Stanley Cup Hot Air Machine
This NHL Logo Stanley Cup popcorn machine is an ideal gift for a young sports fan. Its sleek silver design is an exact replica of the iconic Stanley Cup and can make delicious popcorn in minutes. Standing at 17 inches tall, the trophy opens up to reveal a hot air popper, while the bowl of the cup doubles as a serving bowl. This machine uses heated air instead of oil, producing a healthy snack that does not contain preservatives or saturated fat. Its five air vents ensure that air is circulated within the popper and kernels are evenly cooked. This cool sports themed maker comes with a measuring cup and a 32 page recipe book for lots of popping inspiration. Imagine gathering as a family to watch your favorite NHL team play with this awesome popcorn metal maker next season!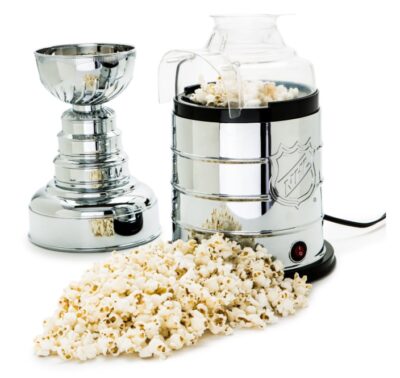 8.  1200 Watts Popcorn Popper
If you are looking for a more sleek looking popcorn item, check out this Hot Air Popcorn Machine from Homdox. It features a modern and compact black design with a clear domed cover that doubles as a chute for the popped corn. The Homdox popper is very easy to use, simply add the required amount of corn kernels and switch the machine on. The transparent cover allows you to observe the popping process, which takes just two to three minutes. The hot air method evenly and completely pops each kernel thanks to the innovative aluminum turbine chamber, which results in a popping rate of up to 98%. Once finished, the popped corn is automatically passed through the removable chute and is ready for flavoring or toppings to be added. The machine is easy to clean with a soft cloth and can be stored easily due to its compact size of under 12 inches.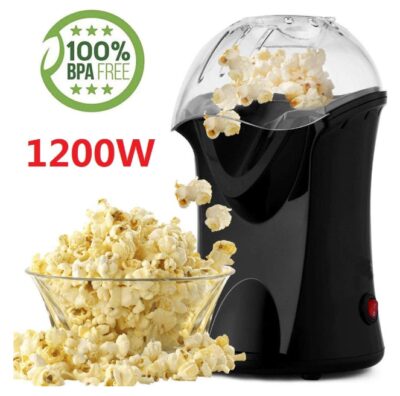 Best Overall Pick
We know that it can be overwhelming when faced with so much choice, so we would like to present to you our best overall buy. We have selected our top pick based on features, design, and value. Our best buy for a kids' popcorn machine is the Stir Crazy Deluxe from West Bend. It offers a large capacity popper of six quarts, meaning you can make enough for the whole family in one go. There are numerous design features to ensure even and complete kernel popping, including the motorized stir rod and automatic reversal. As an added bonus, the clear vented cover doubles up as a serving bowl, saving on cleanup!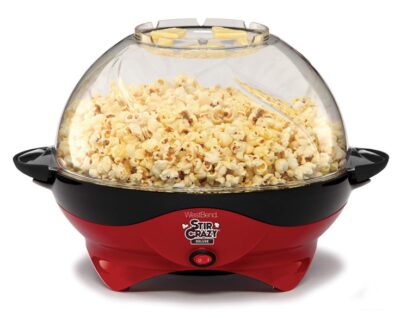 Best Budget Buy
Even if you are on a budget, you can still find a popcorn popper for kids in our guide. For our best budget buy, we have chosen the PopLite Hot Air Popper from Presto. For under 20 bucks, this compact popcorn maker will churn out up to 18 cups of gourmet or regular corn in under three minutes. Faster than making microwave popcorn, the PopLite Popper uses hot air rather than oil so the resulting popped corn will not contain any saturated fat or preservatives. This budget buy is perfect for making after school snacks for your little ones!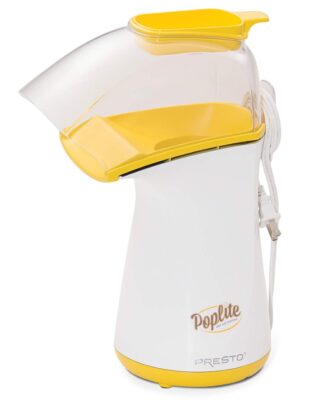 Other Interesting Article you Might Like to Read: