Boys and girls of all ages can be cat-lovers, so what better gift for them than a toy cat? We've chosen a range of great products here to help you find the perfect present for your young cat-lover.
There are interactive toys, which are great for preparing children for getting a real pet. We've also chosen some plush cats, perfect for snuggling up with at night!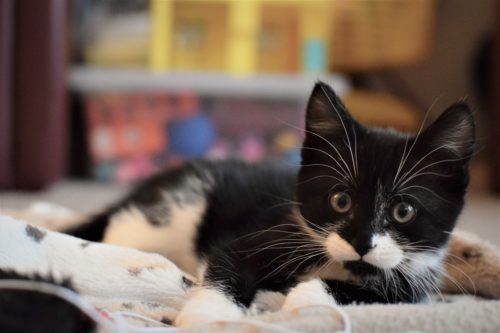 Considerations when Choosing Children's Cat Toys

The first thing to think about when buying a toy cat for a child is the type of toy they are interested in. Decide whether they prefer stuffed animals, plastic figures, or interactive toy pets. Also, consider the brand – FurReal and Kitty Surprise, for example, are well-known brands producing high quality toys.
Bear in mind the child's age too, when shopping for a toy cat. Some toy cats are for toddlers and will likely bore older children quickly. Other toys have small parts and aren't safe for younger children. Also, think about how long the child will play with the toy for – make sure it is age-appropriate so it will last longer.
Top Picks for Kids
Here is the list of the best cat toys for kids in 2023:
1. FurReal Friends Kitty
This FurReal Friends cat is ideal for children who would love a real pet but aren't able to have one. She interacts just like a real cat – show her her kitty toy and she will pounce! The cat robot toy can also make sounds – she meows and will love to lay on your lap and purr. She can also sing a meow melody if you press her paw!
The Fur Real cat Daisy is great for playing with or cuddling. She has soft fur just like a real kitten but will love to jump up and play, too. The FurReal kitty can pounce and wiggle her paws – kids will be amazed how realistic she is! Children of all ages will love this fun, interactive cat toy – she will provide years of fun for little boys and girls.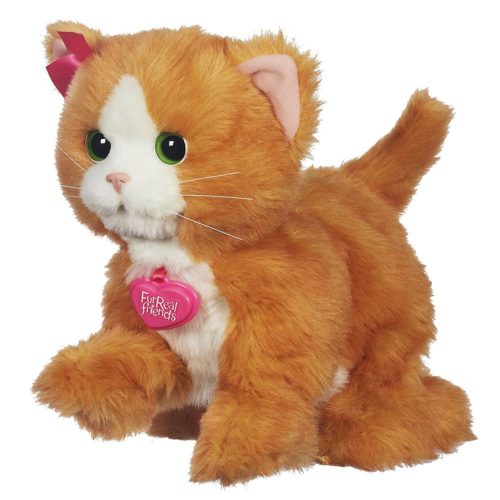 2. Nat and Jules Plush Maine Coon Cat
This large plush cat stands at over 11″ long, making it perfect for cuddling up with!  comes in a choice of breeds and colors, so you can choose one to match a real cat, or simply your child's favorite.
The stuffed cat is very soft, just like a real cat! It is filled with a mixture of beans and stuffing, to give structure whilst still being soft and cuddly. The legs can be moved slightly allowing the cat to adopt different positions.
The realistic stuffed cat would make an excellent gift for boys and girls of any age. It would also be excellent for adults who have lost beloved pets, thanks to the life-like appearance and size.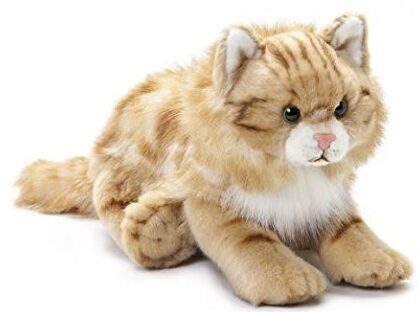 3. FurReal Friends Lulu the Kitty Cat
The FurReal cat Lulu is great for kids who love to look after animals. She comes with a comb to help keep her looking great. There's also a special adoption certificate with the cat, so kids will feel like she's their very own.
The robot cat toy responds to touch, by moving and making realistic sounds. She loves to get her whiskers or head scratched! Lulu is around the same size as a real cat, although she's much lighter. Young children will love having their very own, realistic cat to care for.
They'll be so relaxed when she rolls over for a tummy rub and amazed to see her wash her facing using her paw! The interactive cat toy can also open and close her eyes, and turn her head. Young children will really feel like they have a special friend with Lulu.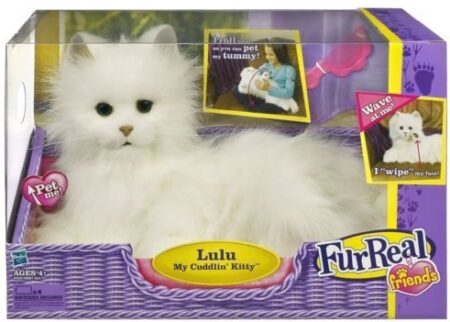 4. Aurora Large Plush Cat
This cat plushie comes in a choice of sizes and colors, meaning you are sure to find something your child will love. It is soft and cuddly, perfect for bedtime! The cat is filled with stuffing fabric rather than beans, making it feel more realistic and cuddly. It also comes with a nice pink ribbon tied around the neck.
The calico cat stuffed animal measures an impressive 28″ long. It's safe for use by children over the age of 3 years, although younger children will love to cuddle up with her under supervision. The cat comes from well-known manufacturer Aurora Plush, so you can be sure the quality is high. It's an excellent toy for any little boy or girl who loves big kitties!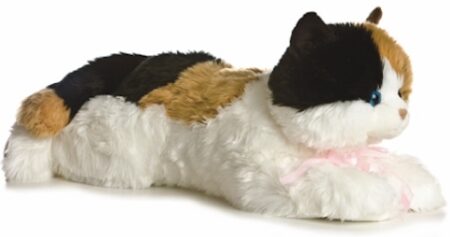 5. CP Toys Cat Figurines Playset
This cat playset is excellent for any young cat lover who loves to play with figures. The 38 piece set includes 16 cats of all different breeds and colors, as well as over 20 accessories. Accessories include a moving swing seat, a carry case and some food and water dishes.
The cat figurines measure just over 2″ long, and around 1.5″ high. They are great for kids aged around 4 and above who love cats. If you have a child who loves all animals, there's also a Dog Academy playset, which is on the same scale so they can be combined together for even more fun.
The toys are made of durable plastic, which is intended to be played with rather than displayed. This makes it great for children of all ages, even those who can be a little rough on toys! It will provide many hours of entertainment and enjoyment for any young cat fan.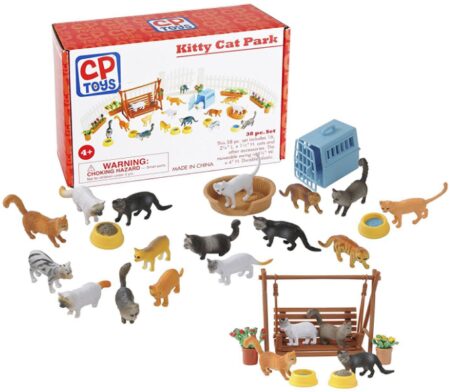 6. LEGO Creator Cat and Mouse
This 3 in 1 LEGO set can be used to make a mouse as well as either a cat, a puppy or a rabbit. This means kids can enjoy taking the model apart and rebuilding it into something new. It is ideal for those aged 7 years and above and contains just under 300 pieces.
This is a great cat boy toy, although girls will enjoy building it too. The toy is ideal for anyone who loves animals – kids will love turning their cat into a rabbit! Building LEGO models is a great way for young children to spend quality time with parents.
The LEGO toy kitten is great as a model to display, or as a toy. There are interactive elements such as movable whiskers and eyes and a mouth which can be opened.
The cat's legs can also be posed, making it a really expressive toy which will never get boring! The cat stands at around 4″ tall once built, making it the perfect size for playing with or displaying proudly.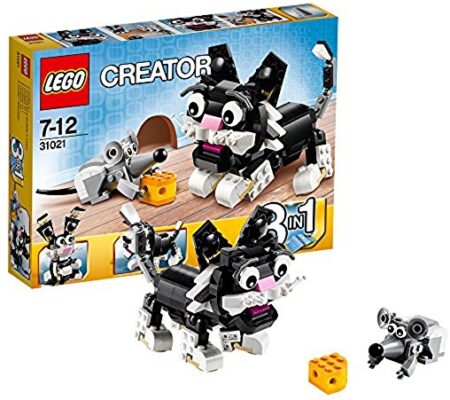 7. Kitty Surprise Siena
The kitty surprise plush features a mommy cat with a surprising number of kittens inside. There will be either 3, 4 or 5 kittens, one of which can meow. Kids will love playing all sorts of games with their mommy cat and kittens once they've been 'born'. They're perfect for imaginative play, or for just cuddling up with. Kids will love to look after their baby kittens!
The kitten surprise comes in a range of colors and styles, so choose your favorite or collect them all! The toy kittens come in a variety of colors to match their mom – kids will be so excited to find out what their kitties look like! There's also a Puppy Surprise available, perfect for little dog lovers. The toys are recommended for those over the age of 2 years old and are perfect for boys or girls.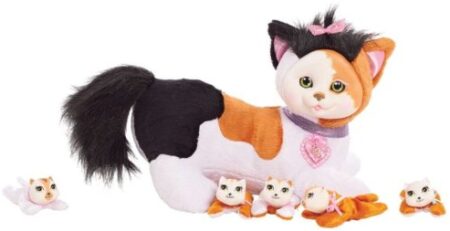 Conclusions
We have reviews some awesome cat toys, for boys and girls of all ages. It's difficult to choose the best cat toy for kids because there are so many different types to choose from.
However, one toy which stands out is the FurReal Friends Daisy kitty. She's sure to be loved by everyone and will provide years of fun. The interactive pet toy is great for those who are thinking about getting a real pet for their child – it's a great way to show them how to look after an animal!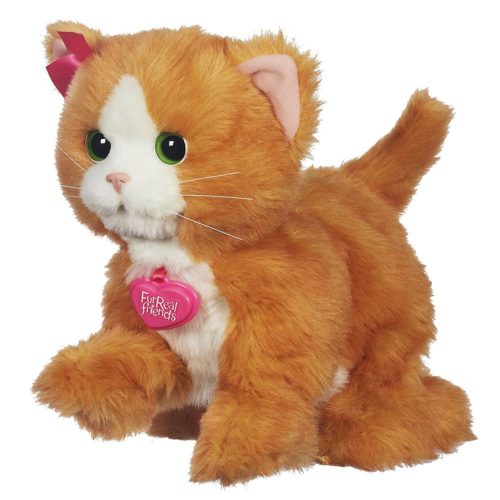 We also handpicked some other great cat toys available on Amazon. Check it here: