A carefully chosen toy gift for your child to use in role-playing games is a fantastic way to encourage their creative development, they can spend hours and hours using their imaginations and playing with it independently or with others.
Get them practicing story-telling and vocabulary through play and in turn increasing their empathy, turn-taking, and cooperation and you're onto a winner. Kids love to pretend to be someone else whether it's a fantastical character like a pirate or princess or a more realistic one like a nurse or firefighter. Many kids love the game of doctors and nurses and it's a great way to get them talking about body parts and learning new vocabulary. Getting them to ask questions and listen to other people's answers encourages communication skills as they play at diagnosing and treating symptoms.
A wonderful toy prop you can purchase for your little one is a stethoscope, ideal for helping them immerse themselves in their imaginative, creative play. Why not combine a stethoscope with a toy doctors playset for a wonderful role-playing experience, take a look at our review article on kids doctor kits.
Get involved with your kid's imaginative playtime by gathering materials for a pretend hospital or doctor's clinic in which they can role-play. In addition to a stethoscope, notepads, banners, band-aids, bandages etc can all be added to the mix to get their imagination fired up. In this article, we are going to take a look at some of the best stethoscopes we feel will be a great addition to your kid's playtime.
Best Picks in 2023
1. Kids Learning Resources Stethoscope
Suitable for ages 5 years old this comes complete with fun facts and instructions on how to use the stethoscope included on the packaging. It is a sleek looking and attractive children's' stethoscope that could well serve as an introduction to a future career in medicine for your imaginative child.
Perfect for playing at being a doctor or career day at school, the Learning Resources Stethoscope fits snugly into small ears and can be used for detecting and listening to heartbeats. The metal and rubber construction is sturdy and will resist the drops and bumps that come with children's playtime. As they play they can be learning about real-world scenarios, what doctors do, illnesses and their treatment etc.
What's great about it: The facts and instructions included with this product are a nice touch and it is reasonably priced. Some reviewers have noted that it is a very sensitive stethoscope so take care your little one doesn't listen to anything too noisy and hurt their ears.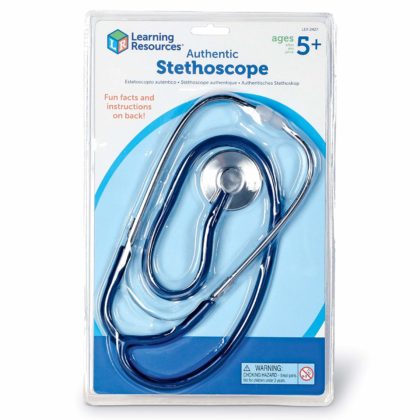 2. Everdixie USA Dual Toy Head Stethoscope
This is a realistic-looking stethoscope constructed from quality materials like light-weight aluminum, chrome-plated metal and PVC tubing which means it can stand up to repeated use by young children. They will love the lifelike look and feel of this stethoscope and the bright pink tubing may appeal to girls looking for an attractive toy prop in their role-playing.
This is a functioning stethoscope and other reviews have praised the quality of sound that can be heard through it, an added element of realism that kids will enjoy. Get them listening to their own heartbeat to learn about fitness and exercise or have fun listening to other people's or pets' heartbeats. As it is a functioning prop they can also get to grips with how it works, reviewers have noted the head of the stethoscope must be turned 180 degrees to select the correct function.
What's great about it: Great quality sound and adjustable head make it a durable addition to any child's imaginative game. The stylish pink color is a fun addition too that kids will love.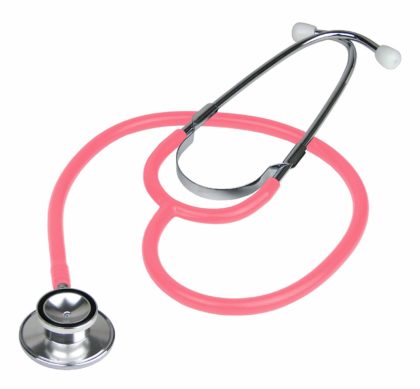 3. Stethoscope for Kids – Real Stethoscope
Toy stethoscopes are an affordable gift idea for children with an interest in medicine or biology and this kids stethoscope will delight with its professionally constructed features including a chrome-plated stem and chest-piece and a functioning listening bell at the end of the tube.
No need to worry about safety during playtime as this stethoscopes construction is of great quality using sleek, stylish but above-all durable materials. It is a great addition for make-believe playing, get your child to write down the names and symptoms of their pretend patients to introduce some purposeful writing to their playtime.
What's great about it: Chrome-plated, metal construction means it is a hard-wearing product that won't easily bend or break in a child's hands. The sleek and professional appearance will appeal to kids also.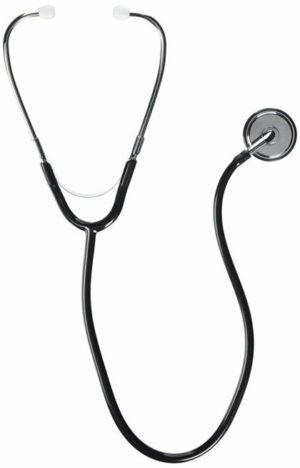 4. Yellow Color Stethoscope for Girls
What better way to get your child taking an interest in health, exercise and their body than with a fun, colorful children's stethoscope such as this one? Specifically designed for kids role play, this will have them learning about how the heart and lungs work in no time whilst importantly having fun at the same time. 
If combined with a role medical costume your little emergency worker can really let their imagination run riot as they play out fantasies or helping out sick or injured people and pets. Give your child a notepad for them to write down "prescriptions" for their patients as they listen to what is wrong with them to help further develop their context-led learning.
What's great about it: This is a really fun and interesting looking stethoscope for kids that will really stand out. It's bright yellow coloring will encourage youngsters to pick it up and involve it in their role-play activities.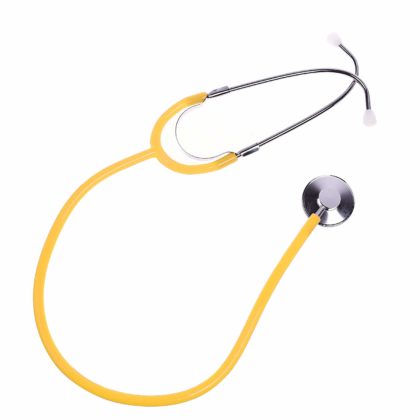 5. Dual Head Stethoscope For Children's Role Play Cosplay
This blue stethoscope can help to alleviate any anxieties your child may have about an upcoming visit to the doctor. Most people have their own memories about visiting the doctor and being intimidated by the strange procedures and equipment. Allowing your kid to familiarise themselves with the idea of medical equipment and their uses is an effective method of combating their doctor-related anxiety.
Produced in an attractive blue color your little one will love to wear this around their neck getting into the part they are playing whether it is a doctor, paramedic, nurse or even a vet. This is a great way you can get involved with your child in the playtime activities, allowing them to listen to your heart and chest and vice versa.
Getting them to ask you diagnostic question such as "Where does it hurt?", "How do you feel?" "How long have you felt sick for?" encourages verbal communication, empathy and adds to their vocabulary.
What's great about it: Perfect to be used as a working stethoscope, the adjustable head is a nice feature that kids can wrap their head around when listening for heartbeats and other sounds.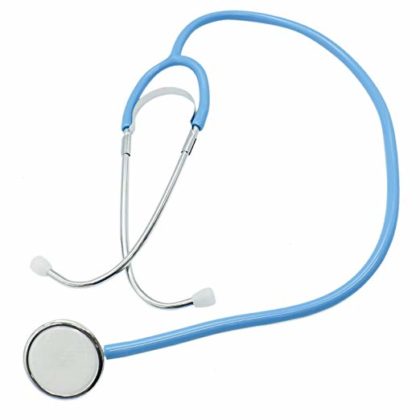 6. EMI Professional Deluxe Sprague Rappaport Dual Stethoscope 
An affordably-priced professional stethoscope, this could easily be used by older kids 7 years old + when involved in their imaginative playing. Kids will fall in love with taking their game to the next level with the real-life prop of a working professional stethoscope.
Teach your child how to properly and comfortably attach it to their ears, how to adjust the dual head listening end for both sides used for low frequency or high-frequency sounds coming from the body. Comes with an accessory kit, the adult and pediatric diaphragm assemblies can be removed and replaced with adult, pediatric, and infant bells meaning even more for your children to get to grips with and understand.
What's great about it: This has an ergonomic design which means it can be worn for longer periods of time without causing discomfort in the wearer. The accessories kit provided means that it can be used as five different kinds of stethoscope making for a very versatile model.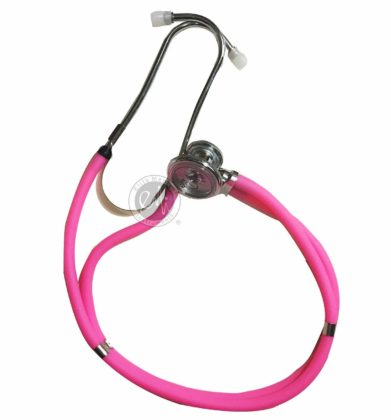 7. Kids

Stethoscope For Role Play or Listening to Heartbeats
With no detachable or small parts, this can be used by children from the ages of 3 years old +. This could be used as a great teaching tool for your kids or just as a realistic prop for them to use when pretending to be involved in medical matters.
Use your imagination in utilizing this to enhance their sense of hearing as they learn to focus on quietly paying attention to subtle sounds coming from the earbuds. Getting them to listen to other people's heartbeats and their own can foster an understanding of caring for themselves and the idea of their internal health. Social empathy is also encouraged through interacting with and listening to others.
The black PVC tube is sleek and professional-looking and the metal listening well-made from solid materials so it is a good quality product designed to last.
What's great about it: Realistic looking with a good quality finish, kids will be impressed by the grown-up look and feel of this design which makes it even more fun for them to use creatively.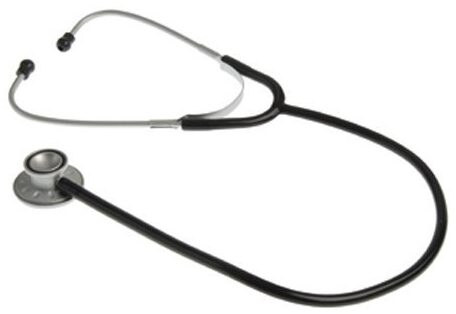 8. BCP Green Color Stethoscope
For kids, the closer a toy or prop is to reality, the more the more satisfaction they gain from playing and interacting with it. They love models and detailed figures of their favorite things and role-playing toys are certainly no exception when it comes to this.
Featuring a cool-looking green listening tube this particular play stethoscope would look great as part of a doctor or nurse costume or just as a standalone prop in an indoor game. Suitable for ages 8 years old it would make an ideal addition to a dressing-up box in a classroom or a children's costume.
What's great about it: The green color of this working stethoscope has a nice medical feel to it that children will appreciate it and the low price tag is a bonus also.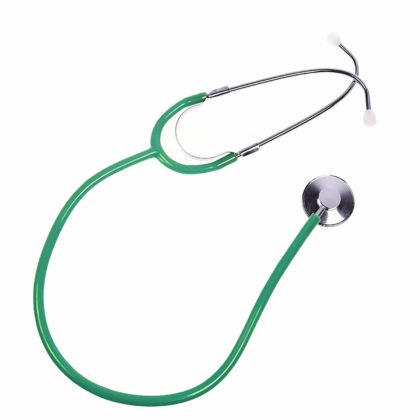 9. Buorsa Real Working Stethoscope For Kids Doctor Role Play Dual Stethoscope
This is an eye-catching bright pink stethoscope with fully-adjustable earpieces meaning that kids of different sizes can comfortably use this product.
If your kid is expressing an interest in learning about the duties and responsibilities of being a doctor then giving them a functioning stethoscope will instantly lead to hours and hours of in-depth, creative, and fun pretending. The added bonus is the introduction of teaching them about their bodies and allaying fears of visiting the doctor.
This specially-constructed piece of equipment has a very thin diaphragm on the listening bell which means that whoever is playing with it can easily detect and listen to even the faintest noises.
What's great about it: This can be adjusted by hand to fit different face sizes so that both you and your child can take turns using it. The rubber-tipped earpieces don't put uncomfortable pressure on the ears and when combined with a kids doctor kit with working stethoscope this is an attractive consideration.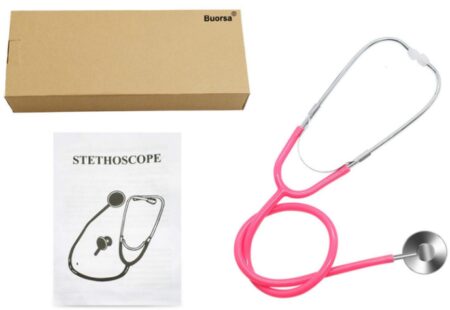 10. Wyltec Deluxe Orange Toy Stethoscope
This lightweight but high-performing stethoscope is a solid option for a parent wanting to get their child their first stethoscope. Reasonably priced this durable, latex-free piece of equipment will attract the attention of budding young carers with its vibrant orange coloring and aluminum construction.
The adjustable earpieces are designed to be comfortable to wear and the specially made non-chill listening pad won't be uncomfortably chilly against you or your kid's skin. Ideal to be used as part of a kids' doctor kit.
What's great about it: Other reviews have praised the quality of this stethoscope in comparison to its price, great quality at a low cost. Lightweight aluminum construction means that it isn't too heavy for young children to wear for long periods of time.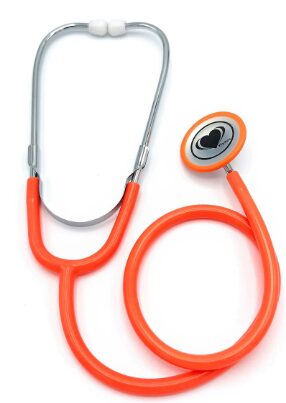 Things to Consider When Purchasing a Kids Toy Stethoscope
As with any product being purchased for a child be aware of safety considerations. The product should have an age-guide and you should double-check that there are no small parts that could be hazardous for a child to use. Be aware for example of detachable ear-pieces that could be choking hazards or sharp edges on any metal parts that could be dangerous.
Check that the product is sturdy enough to be used by children who are playing, delicate, expensive equipment isn't ideal to be used in this way as it may be broken or damaged. Something with a simple, solid design of durable materials is best.
Familiarising yourself with how a stethoscope works and how it is used means that you will be able to instruct your child properly on its use and you can answer any questions that they may have about it.
Kids always appreciate a parent getting involved in their games and any tips and encouragement you can offer will go a long way to igniting a real interest in their activity and picking up on things you may be trying to teach them about health, empathy, listening and problem-solving. Combining the children's stethoscope toy with other real-world props is a fantastic way to provide your child with an immersive educational playtime experience.
Best Overall Pick
The Learning Resources Stethoscope is by far one of our favourite due to its superior quality, features, and functionality. This would make an ideal gift to a child who loves to play doctor and would like to be one someday.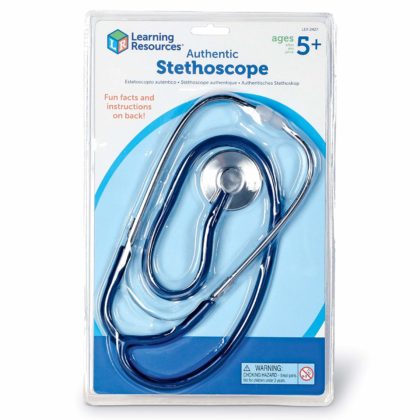 Check out these great toy ideas for children who like to play doctor: