Deciding gifts for kids is not that challenging because when they do not know the outside world, they have all that you have got for them. If your kid is not going outside or in any daycare or kindergarten, he won't have many conditions. Therefore, you can make them whatever you want.
Children are curious about the world. Therefore, they are interested in everything that you will bring. Wouldn't it be better to use educational toys instead of regular ones? Such toys and games will build their mind and make them interested in such things. So if you want this experience to be beneficial and useful for your children, here are some suggestions that will help you out.
These toys won't only bring a lot of fun but will also improve the learning and growth of your children.
1. GiiKER Super Slide Barin Games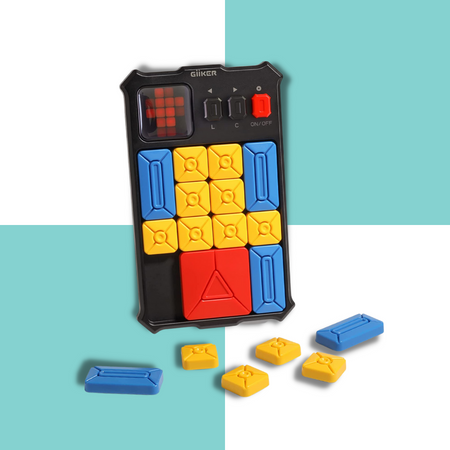 According to research studies, playing mind games activate one's brain and makes one intelligent. Furthermore, such games also improve cognitive functioning and memory. Therefore, this brain game would be a better choice for your child.
This is an interactive gaming console design that has a jigsaw puzzle. You will see the LED on the top left of the console. Follow the LED and set your game. Your goal is to set the jigsaw puzzle so that the big square blocks lay in the automatic detection area. The best thing is that it provides you with some clues. So if you are stuck anywhere, you can get help from the learn mode.
Furthermore, if you believe that you are very good at the game and it is becoming boring, there is a challenge feature. This will let you challenge yourself to play the game within a time limit. After the challenge, you will get a rating that goes from failing to super. So you can decide where you stand. You can either be super at the game or just an average player or you are failing at it.
This gaming console will help the kid grow critical skills. It will provide the children with 500 plus built-in games. Thus, you won't be playing at the same level all the time. As the kids start playing and solving the puzzle, the difficulty level will increase. Thus, it will improve spatial reasoning among young children.
2. National Geographic Mega Fossil Dig Kit
Although mental growth is important but there is more to life than just maths. So if you already have a lot of mathematical games and you are looking for something different, here we have that for you. The fossil dig kit. Whether your kid is bored with mathematical games or you are looking for a wide range, this will surely be a good choice.
The package offers a complete dig kit where you will have a dig bick packed with various fossils. Furthermore, there will be a chisel and also a brush, and magnifying glass. Thus, the players will use the chisel to dig the brick and then use the brush to dust off the extra mud. Finally, they will look at the fossils with the help of their magnifying glass.
This is an interesting game as it lets the kids learn about paleontology. Moreover, it is equally beneficial for both girls and boys. In addition to the game, there is also a learning guide that consists of 16 pages. The information about each specimen is provided in this learning guide. Moreover, it also illustrates the process of fossil formation. So this is a complete educational guide.
3. Melissa and Doug Shape sorting cube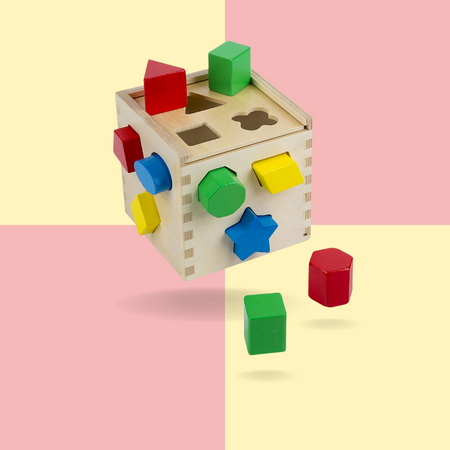 If your children are underage which means they are not on a level to learn about fossils and understand the math they need simpler games. Having young children does not necessarily mean that they cannot do educational stuff. There are games according to their age and mental abilities. So here we have a shape assorting game.
This is a wooden toy, therefore, even if the kids throw them away, it won't break down easily. And because it is wooden, do not assume that it will hurt your children. Young children have very sensitive skin and the designers of the game also know that. The game is designed for children between the ages of 2 to 4. Therefore, this structure is friendly for children of that age.
The package includes a wooden lock with empty spaces where the kids have to insert the shapes. There will also be 12 easy-to-grip shapes with bright and beautiful colors. Thus, the children will insert specific shapes in fixed positions. This game will let them learn about shapes and colors.
4. National geographic earth science kit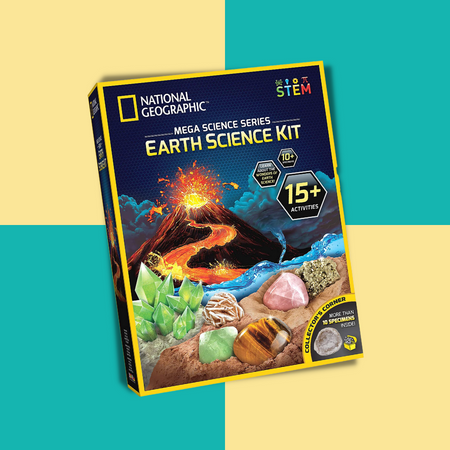 Here we have another interesting game for young children. This is not just a game but a set of 15 different experiments. So if you plan on buying different games, you will surely love this. If you think that your kid is more interested in science, he or she will surely love this set. This set is more suitable for children above the age of 4.
What you get in this set is a dueling water tornado, growing of crystals, building erupting volcanoes, geological dig kits, and much more. Kids can share this with their friends or take them to their school to let others know about its interesting features. This will let the children have a deep and lasting impression of earth science. Furthermore, it will help them develop their interests.
The best thing is that there won't be any mess for parents. You can do scientific experiments for children but the mess is not easy to handle, however, not with this one. It is a clear game with easy-to-understand guidelines. The children will learn and grow and will stay out of trouble. Furthermore, the parents can relax and chill while the kids are busy exploring the secrets of the earth.
If these weren't enough, check out some other awesome toys from Amazon also: