Do you need a present for an upcoming birthday or maybe you're looking for a present for your nephews Christmas. Whatever it is, you can't go wrong with Lego.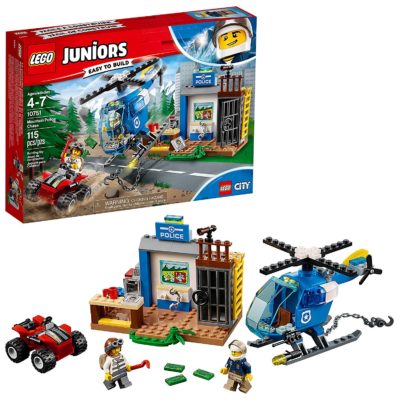 It is so important for kids to have unstructured, free time where their imaginations can run wild. And if your kid is a lover of all things police related, Lego is the best toy to allow their imaginations to truly flourish. 
Think about it, your child can create a lego police station in the middle of their bedroom. And surrounding that they can build whatever buildings come to mind.  Within their new lego city impressive cop chases can take place, great robberies may happen or high authority prisoner escorts will need to be executed. 
The lego world isn't just for fun, parents should be aware of the educational benefits playing with lego bring to. There are lots of different skills that can be developed by playing with LEGOs. For example manipulating all the different blocks into the right positions will help develop Fine Motor skills and Persistence. You've also got creativity, Imagination, problem solving, history & more.
The opportunities are limitless with lego. In no particular order, here are the latest sets.
Top Lego Police Sets in 2023
1. LEGO Police Station
Every city needs a police station to keep the bad guys at bay. Your child's face will light up as they unwrap their new headquarters that can be used to lock up the non law abiding citizens.  
This product includes 3 policemen, 3 policewomen, 3 crooks and a police dog for a total of 7 lego figures. It also comes with a police motorbike, police car, police helicopter and a crooks tow truck. Enough to create a full on bank heist scenario. 
Due to the size of this collection, it can take some time to finish building it. However this will teach persistence and dedication. You will probably have a harder time getting your child away from this set than convincing them to build it. 
For the younger child aged 5-8, we recommend making sure an adult accompanies them with the building part of this set. Otherwise it might get a little frustrating. For kids aged 8 and above, they will have no issues at all.
A really unique selling point has to be the secret escape routes in the building which only add to the fun and create new opportunities for adventure.n
Overall this set will keep your child engaged and extremely happy.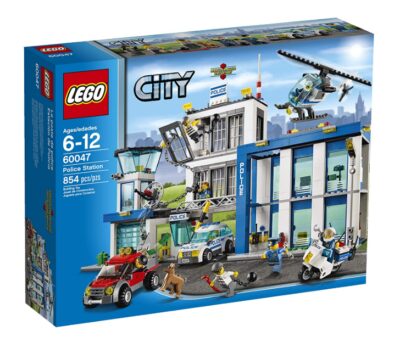 2.  Mobile Police Force
For the more intense criminal activities, a mobile police station is essential. All Lego cities need a place to command the various police squads out on patrol. Park the Mobile Police Unit near the crime scene, raise the satellite dish and antenna, and track down the crook! 
The Mobile Police Unit features a mobile jail, two policemen and a crook. The set also comes with some roadblocks too, so your child can reenact their favourite police chases on TV. 
This truck makes a great addition to the Police station listed above. 
Another great thing about Lego is the instructions that come with them. It teaches your children to figure problems out themselves.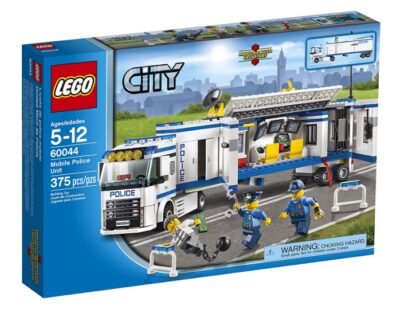 3.  Police Station Bundle Kit
Inspire kids to create their own drama in their LEGO City by adding a well needed crime deterring police station to their collection! 
Not only does this kit come with a police headquarters, it also comes with a police car capable of catching criminals in hot pursuit and a police helicopter that can man the skies, giving vital information back to the cops on the ground.
This set is slightly bigger compared to the one we listed first but this lego city police set will be great for those larger LEGO Cities. At 894 pieces, your child will be occupied for hours.
So for hours of fun, we highly recommend buying this great bundle kit.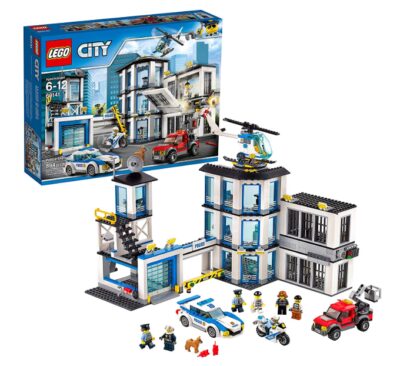 4.  Command Center Vehicle
This Mobile Command unit is perfect for action packed police chases! Providing hours of fun for your 6-12 year old, this set is well worth the $49.99. 
With this set you'll get four lego figures and a lego dog. There has been a lot of details put into this set, especially inside the trailer unit. The figures feature new designs which will mix things up for your child. 
Putting the set together is quite simple, a six year old will manage it just fine. 

5. Prison Island Building Set
Inspired by alcatraz, this set allows your child to create their very own LEGO City Prison Island! This 754 piece collection comes with a helicopter, police & crooks' boats, a hot air balloon and 8 figures. 
Your child will be thrilled as this collection opens up lots of new opportunities during their cops & robbers playtime. Bad guys have multiple escape options such as the hot air balloon or the escape boat but with the watch tower at hand I'm sure they can be stopped in their tracks!
And if they do slip through the cracks, there is always the helicopter that can prevent an aerial escape or the speed boat to catch an escape by boat!
Another benefit of this product is the history it was inspired by. This item provides a great opportunity to teach them about Alcatraz.
So pick up this lego jail set today!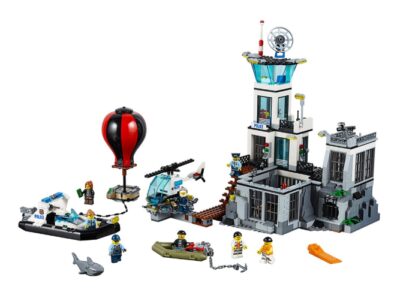 6.  Prison Chaser Vehicles
This set is a perfect collection for beginners and is priced accordingly. Most young boys appreciate a good car chase and this set gives them the ability to reenact just that! 
Suitable for children aged between 5-12, this is great for children new to lego.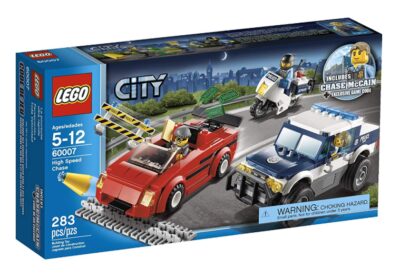 7. Heavy Lifting Helicopter Toy
This chinook is a great addition for any lego police sets. This heavy Lifting helicopter can load up vehicles via the rear door. This new ability to transport your police via the skies allows police chases to happen further afield. 
This helicopter is huge, it has two sets of rotors and looks the part among any police force. The back gate does flap down making it easy for jeeps to drive in.
There isn't a crook out there that can outrun the heavy Lifting helicopter.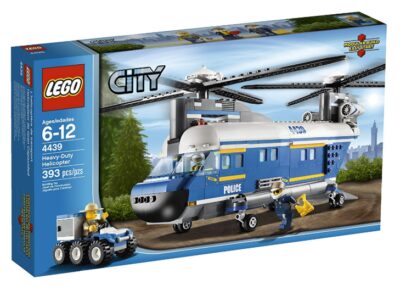 8. Police Car Chase Set
With this next set in our roundup, your child will get the chance to build a High Speed Building Helicopter that can roam the skies and give police on the ground the information they need. 
If a crook has been spotted, who's better to catch them than Chase Mcain? Chase McCain is the main character in the video games LEGO City Undercover. 
This set comes with a crooks sports car filled with stolen Loot. Its the perfect combination to reenact cops and robber scenes from the game.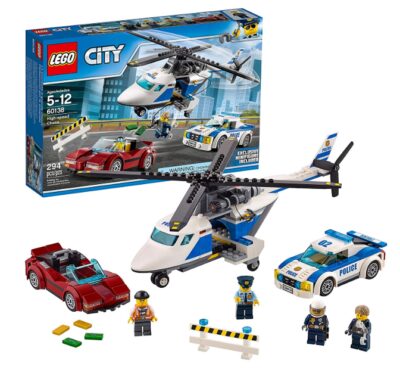 9. Burglars Break-in the Museum
Recreate the mean city streets and let their imagination run wild with this break-in museum set.
This set comes with 6 figures, 5 police and 1 crook. All of the figures feature great detail. 
The helicopter had two rotors & can fit one pilot inside. One great feature is the light on the helicopter, that actually does light up. This adds to the wow factor of the set. 
The robbers van in this set is very unique as compared to other vans that you would find in your average lego set, this one is very sporty looking. 
The swat police tactical van also looks great. There are two seats inside and the back opens up where you can put the recovered stolen merchandise. 
The most iconic piece in this set has to be the museum, we haven't had a museum set before. It's kind of small but looks great. The front door is protected by a laser bar system but that wont stop your crooks when there is vines growing at the side, making the rooftop easy to access. 
This is a well designed police set that is well worth the price.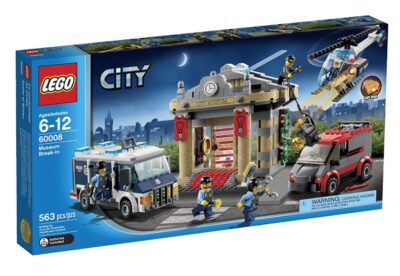 10. Police Interceptor Toy Vehicle
This is another popular set that features the motorised series Lego are testing out. 
Your child can pursue law breakers with this high speed 4×4.  A unique feature has to be the pull-back motor, your child will love watching it fly into action. 
It is more suited towards the 6-10 year old age group.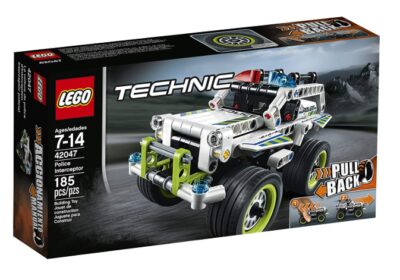 11. Escaping Tow Truck
This set includes one big build and three smaller builds. You will find one motorbike and a dirt bike included. Both are small builds and make a great starting set. There is also a really nice looking tow truck included that will provide lots of fun. 
The smaller details of this set are what sets it apart. For example the piece of chain is a nice addition and the safe is surprisingly detailed.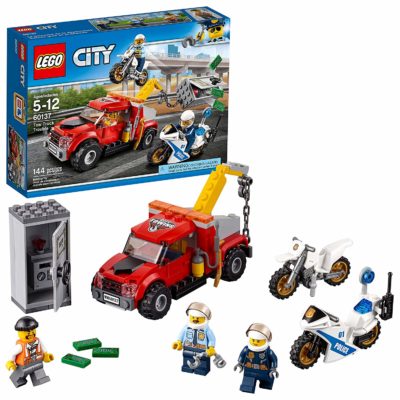 12. Easy To Build Helicopter
This is a great beginners set for those younger boys and girls who keep wanting to play with their siblings Legos. Marketed towards 4-7 year olds, this easy to put together set will go down a treat. 
It comes with a huge frame piece making the assembly easy. Picture it now, your 4 year old flying this helicopter round the living room while making helicopter noises.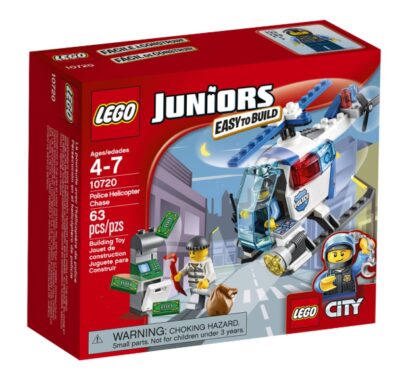 13. Patrol Boat Unit
This patrol boat unit allows your child to keep the waters safe from crime! This patrol boat is perfect for ensuring those wicked crooks can't escape justice. 
The patrol boat has a jail cell inside that can be used to lock up criminals until the boat can be docked. 
It's the perfect addition to prison island building set we listed above. 
The big boat even floats, but unfortunately the little one does not.  There are only 200 pieces in this set too meaning it isn't hard / won't take too long to build. It comes with a solid base, making it more durable and easier to assemble.
If your child likes more complex sets, this one isn't for them. Build time should only really take around an hour or so.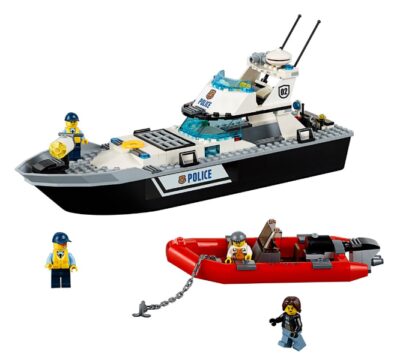 14. Mini Police Collectibles
Another small set that compliments any growing collection. It includes a cool ATM, a quad bike, 
5 figures including a police dog & some lego cash. Suitable for ages 5-12.
If your youngster is simple looking for more figurines, this is a perfect little combination set.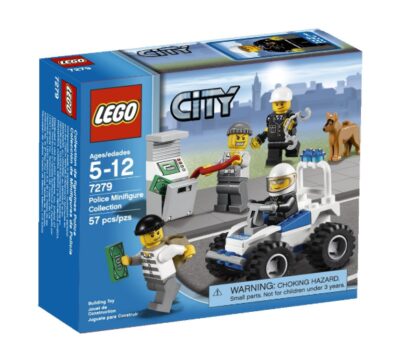 15. Starter's Building Set
Another variation of the set above. This set features a police ATV, police dog, one policeman, one police women and 2 crooks.
Features a police ATV with room for the dog figure in the back, a also includes a wall section with ATM breakout function, opening door on the back and space to hold money bills.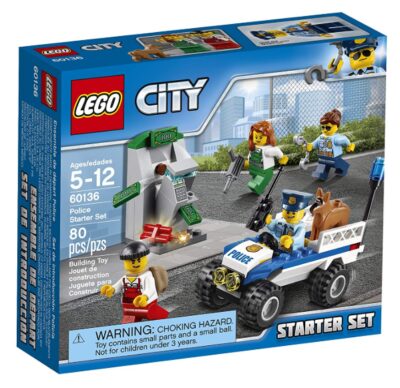 16. Police Truck Chase
The Junior series contain slightly bigger bricks that makes them easier to handle. This is a fantastic introductory set that any 4-5 year old will be thrilled with. It contains a police truck and a bad guys motorbike.
There are also two figures in the set, one crook and one policeman. Just enough to create amazing adventures with!
Your four year old will manage just fine with this set, it contains 90 pieces, so it shouldn't take too long to build either.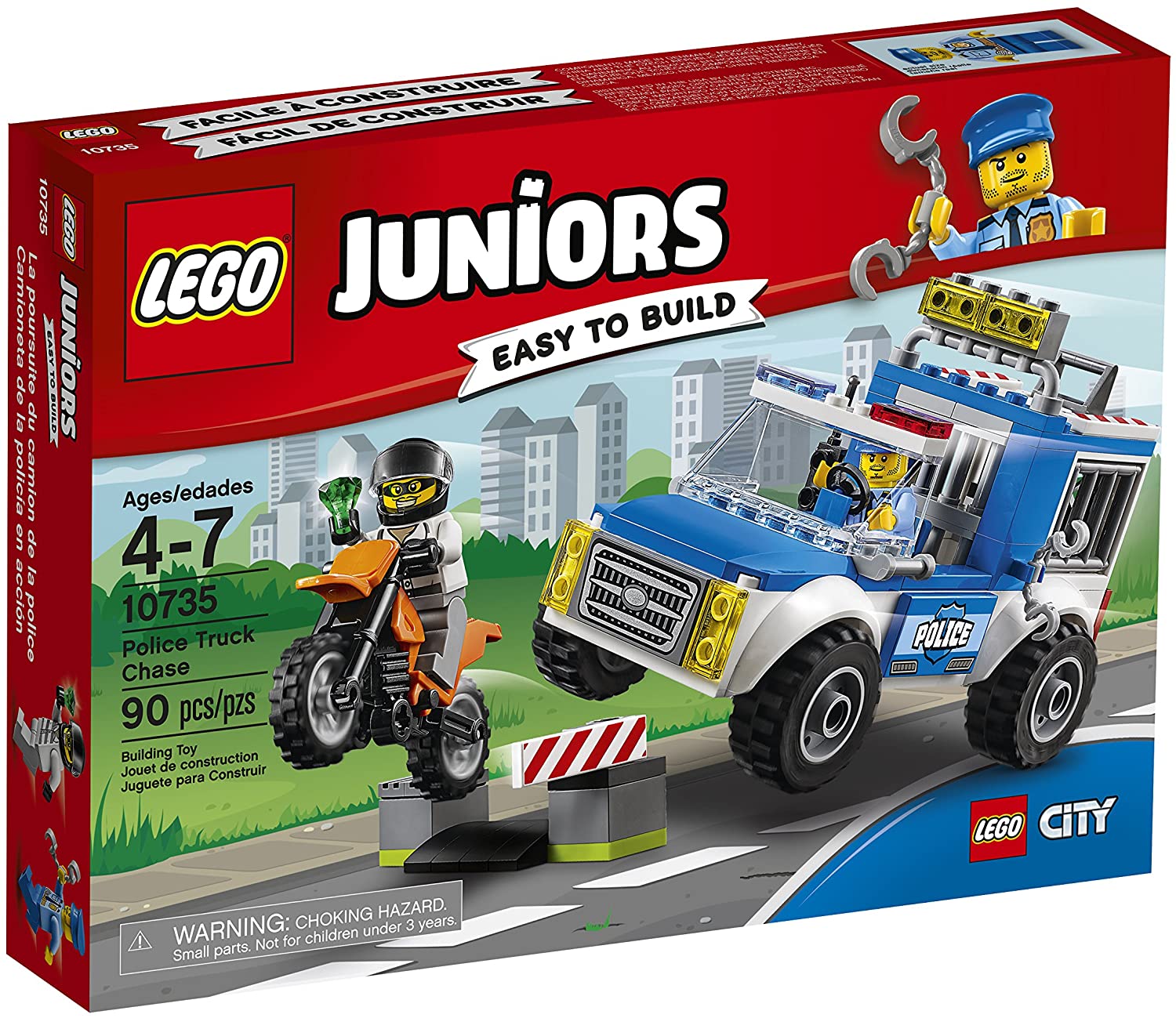 17. Patrol Unit Vehicles
Bring some law and order to the nightly bathing sessions & patrol the seas with this great little set. The police van can set up and act as a surveillance station while the police dinghy can patrol the seas (bath). 
A great bonus with this set has to be all the accessories that come with it. 
The Lego 60045 Police Patrol is a great model.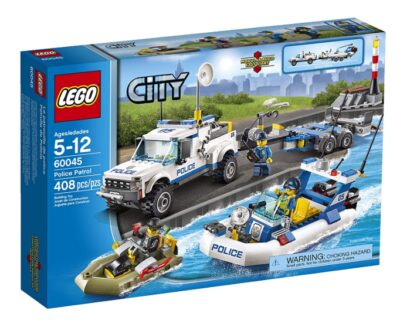 18. ATV Chase Building Kit
At a low price point this set makes a great starter set or a great gift for somebody's birthday. With lego there is no need to splash out as every little piece adds to a growing collection. This set would be a great addition to any collection. 
It's very easy to put together, the box recommends the set is good for ages 5-12 but a four year old will not struggle with assembly. This is a great budget lego set.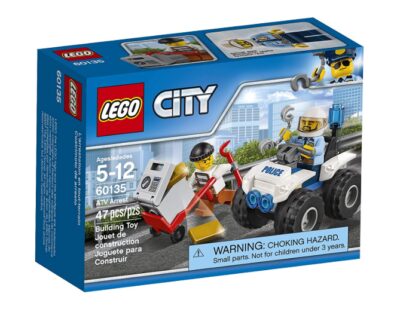 19.  Burglars' Bulldozer Break-in
This set is another perfect beginners set. It provides everything your son / daughter needs to recreate a bank heist. 
The bank features two levels, with an ATM on one floor and a safe on the other. Both can be attached to the bulldozer, making it easy for those crooks to pull them from the wall.
They won't be able to get far though, the armoured police van will be in hot pursuit!
A helicopter is also included to further enhance the action.
Plus I'm sure it won't take long before the crooks start stealing whatever loot they can get their hands on from your child's other sets.
This is a great little set to play LEGO good & bad guys with.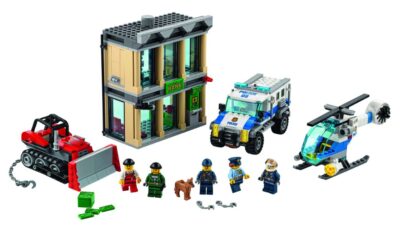 20. Police Airbase
This set has 529 pieces to build a police airbase with a range of fun accessories for the kids to enjoy! There's a bunch of innovative little features, a policeman with a jetpack, a police motorbike, a crooks getaway car and a police parachute jumper. 
This set is absolutely great and provides a lot of value but the best thing about it has to be the airplane. 
Just imagine the potential adventures that can take place with this set. Your child can build their very own police airport that features a 3 storey air control tower, jail cells and an airplane. 
The airplane has an opening undercarriage that allows the policeman to parachute out. Which will guarantee a smile on your little ones face. 
Overall you can't be displeased with this set. The LEGOs are of high quality, like always. You get 530 pieces, making it a great build that will provide hours of fun. There is also some great unique little features included that really make this set stand out.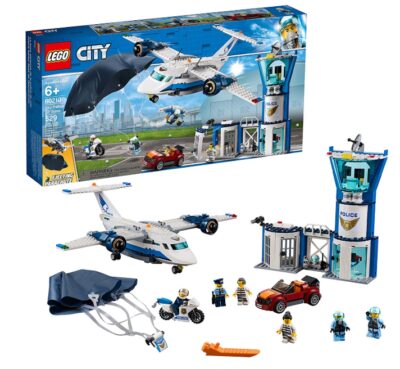 Criteria Used in Evaluation of the Best LEGO Police Sets 
When buying a lego set for any child, you need to consider your child's age, ability and interests. 
If you really want to see your child's face light up with joy there's no point buying them something too advanced or a lego theme that doesn't interest them. 
If your child loves everything police related, they'll be bound to have heaps of fun with everything listed above. 
Just make sure the set you choose matches their skill level or be prepared to help guide them through the building process. Which can be a great bonding experience and teach them vital teamwork skills. 
One great advantage of a lego set has to be the educational benefits that come with them. Young boys and girls learn best when their having fun! 
Overall Best LEGO Police Set
All the sets that made this particular list are there on merits, they are the best you can purchase. 
If we had to choose the set for a complete beginner we highly recommend the Alcatraz set or the Museum set. Both sets will give your child everything they need to conjure up imaginative forensic investigations or high speed police chases. 
The design is great in both and your youngster will be ecstatic. 
If you're looking for something slightly cheaper, we recommend choosing the police car chase set. Again, the design of this set is great and if your child has played the games, he will love it even more.
Introducing your kids to lego
Generally if your child has stopped putting everything they can get their hands on into their mouths, you can start introducing them to LEGO.
Younger children aged 2-5 should be bought the LEGO Duplo sets. The bricks in those sets are made larger so children with smaller hands can handle them easier. 
Younger children lack the motor skills and dexterity to put the smaller pieces together. So we don't advise buying ordinary sets until your confident your youngster isn't going to get frustrated or have difficulties.
If your child is aged 4-8 and are coping okay with the introductory lego set you should start moving them up to the LEGO junior set. These sets are the  ordinary size but tend to include some pre-assembled pieces that make the assembly process easier.