There are loads of reasons to get your children using and actively working with a microscope. You have probably thought of many already, but personally, I have found that exploration under the microscope or giving the time and respect to the smaller things in life will create the seed for them to appreciate the bigger things around them.
The point of view a microscope offers is unique and helps develop a keen eye, attention to detail and focuses the mind, which is ideally what we want all children to grow and develop.
There are many different types of microscopes and they range in price, quality, and durability. A good one should last years of repeat use and handling, but this isn't always easy to find with a growing number on the market with often saturated quality.
Here at the StarWalkKids we aim to help with finding the ideal one for your kid's needs and offer some buyers guide style information, which makes things a little easier.
National Geographic Dual Microscope 
This is a dual microscope and high quality as you would expect from the national geographic. This is an all-in-one children's microscope and is great as a gift to get them started.
Type – This is a dual microscope and functions both as an instrument for viewing 3D slides as well as the normal slide. This is good for kids who like exploring everything without limitations.
Dimensions – The overall dimensions are 6x5x10 inches and it weighs 2 pounds. This is a great size and kids of all age ranges can use easily.
Features and Accessories  – There are loads of features (50 total) with this microscope and the main one for me is that this has everything to get started as a first time user. There are:
Optical glass with 2 lights and the 20-50X magnification is great, especially with the illumination component this makes the object stand out clear.
10 slides included
10 blanks
23 containers for storage
learning activities and guide
cover for the dust
instructions and a mini geode
Brine experiment included with a petri-dish that watches each stage of a growing shrimp specimen under the microscope.
There is usually a 2-year manufacturing guarantee, but this can differ from seller to seller.
This is a great all-around kids microscope and with all the features and functionality included this is an ideal gift for the young scientist. The 3D function makes it fun and allows for anything out the garden to be under the microscope. This is ideal for children aged 8 years and older, but children as young as 5 years have been known to use this, just not ideal for ones who have a habit of nibbling on things.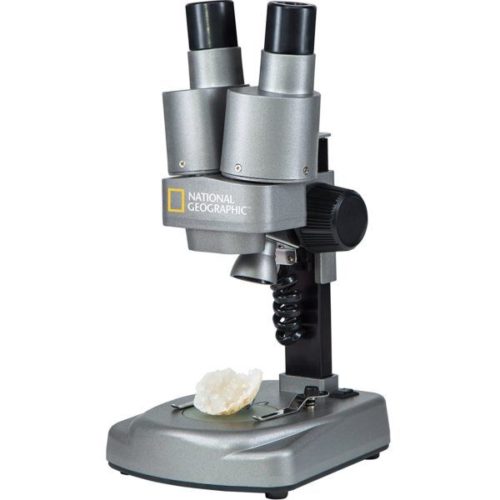 Omano Compound Monocular Microscope 
This all metal construction is ideal for kids who want to continue to get enjoyment for years to come. This one comes with all the gadgets and is fantastic for exploring macro specimens.
Type – This is also a dual purpose device and can be used with macro objects and specimens as well as slides for getting into fine detail. This is anther all glass optics type with a 40x100x400x magnification and is considerably better than the other reviewed earlier.
This uses a LED light and is ideal for long-term use and for focused use. This requires 3 AAA batteries and can easily be moved around, both fully mobile and easy to use.
Dimensions and Weight – This is both larger and heavier than the national geographic microscope. This weighs 6 pounds and is 14x8x14 inches, so might be a little heavier to move around.
Features and Accessories  – This has loads of different awesome kid features and the accessories make learning fun, just like school. Here are some of the highlights of each:
5 blanks slides
10 slip covers
dye
test tubes
lens paper
great book
slide stains
cleaning tools
petri-dishes
There are loads of features and everything a child would need to get started with. Each connecting part is easy to use and easily attaches to the other, so the monocular dissecting begins with wide field WF10x eyepiece. This Omano OM117L-X would be suited for children aged 6 years and older.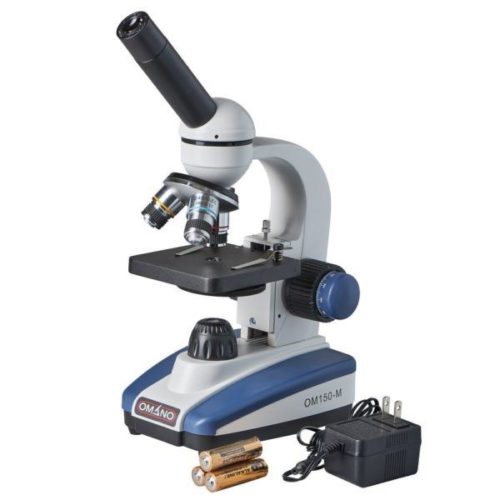 Nancy B's Science Club Microscope 
This educational kids microscope is part of the Nancy B's club activity and journal lessons. This comes with all the beginner's instruments and guides to get learning with.
Type – This is a 2-1 monocular microscope that has a magnifying capability of 400x, which is similar to the last one reviewed.
This particular one is encouraging and explains step-by-step as a guide with activities for exploring the small world of science.
Dimensions and Weight – The dimensions are 8.8 x 9.2 x 4.2 inches and the weight is 1.2 pounds, which is much lighter than the others and ideal for moving around.
Features and Accessories – Some of the best parts of being one of the students at Nancy B's club is:
Great zoom
2 in 1 light
close views with 30x100x400x magnifying options
book with 22 entries and fun-filled science experiments
the creative element with activities like writing, drawing and analyzing
parent free learning tool
tweezers, petri dish, test tubes, 7 cover slips and eye covers made of rubber, batteries (not included though)
40+ parts in total included with LED lighting, stirring rods and loads more
This is ideal for children 8 years old and above, but this becomes not ideal when they reach teenagers. However, for children between this age range, it's perfect and my child got one.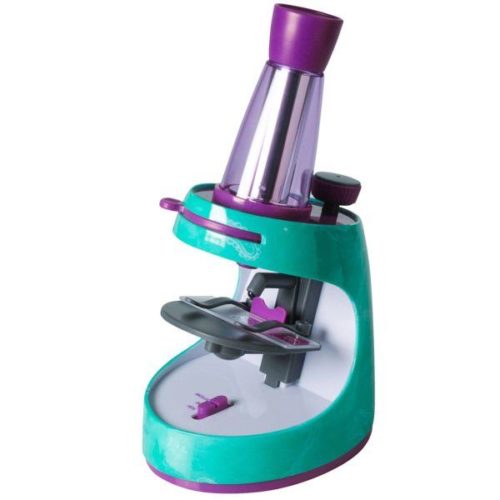 My First Lab Microscope
This scope is for the older kids who like using them at class and wants to develop their skills before the rest.
Type – The MFL-06 duo type is ideal for the child who knows what they are doing. This has a real award winning one and positions #1 in many reviews and not only here.
The duo-type allows this to be used in a number of ways from micro to 3D and as the child grows, so will the available options. This doesn't have all the activity books, journals or accessories, but for the real biologist in the making, this won't be a problem.
Dimensions and Weight – This is designed for portability and ease of use on the move or at the table at home. The device needs AA batteries and makes on the move with this easy, which is similar to all the others.
The dimensions are 5.1 x 6.1 x 12.2 inches and it weighs 3 pounds and is second lightest overall.
Features and Accessories – This comes with loads of stuff in the box and is ready to use on arrival. There is also:
5 slides and 4 already prepared
labels
slips
test tubes
teasing needles
plastic dropper
stains and red/blue dye
Magnification is 40x 100x 400x and is equal to a top of the range in this review in comparison.
There are lots more also, but this is hours of fun and detailing everyday items as well as the obscure, which under the microscope can only highlight. This is for children aged 9 years and older, but with guidance, any child can use with same boundaries.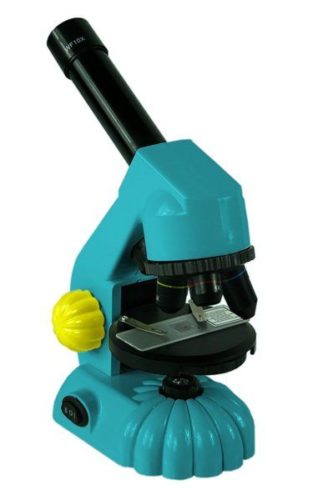 Further Considerations – still unsure what Microscope to buy?
There are many different types of constructed microscopes and some offer slightly different features, but these are the things you should get when picking one:
The lenses should be made of glass and not plastic as sometimes others types can be.
Everything metal is ideally what you want to get, everything from frames, screws, and gears.
For the long-term use you should get a microscope with a good paint job and reagent resistant is perfect because it lasts longer with vigorous use.
Make sure the parts are easily movable and the ball bearing types for moving are good and easy to use.
These are some key factors when deciding and this sometimes challenging to figure out when looking online, but that's why we are here to resolve your query. We have picked the best out of the bunch and made sure to choose the top rated and then compare them, which makes sure you get a good one.
There are many individual parts that make the whole of the microscope up
There are different microscope optics options and each of these has been selected from the international standards known as "DIN".  These are good options, because if something happens to a component then they can easily be replaced.
Eyepieces 
There are different eyepieces, both in size and width. The ideal one for a child is the wide field type, which is easy to use and handle. These are usually 18mm and good for positioning the eye. Children as young as 2 years old find "wide field" good to use and fun, without being annoyed with the thinner types. The eyepiece can only magnify the object and not improve quality or overall resolution.
Resolution quality 
The resolution and ability to focus on a distinct part is the ability of the objective lenses and not the eyepiece which is sometimes a common mistake. The higher powered objectives make for better quality with increased detail. The most common configuration for frequent users and hobbyists are 40x100x400, which gives a great starting point to begin your focus.
Single monocular or binocular 
There are two main types for looking into and some refer the monocular while others prefer the binocular. Choosing the right one for your child isn't clear cut and there is advantages/disadvantages of each type.
The frequent users usually use the binocular microscope type, which is more comfortable with extended use. This isn't necessarily going to be an issue with you and your families purposes, especially if this is a new hobby.
Lighting 
We have come out of the dark ages and stepped into the light and this is the same for microscopes. Make sure to find one with a light, it makes it easy to see and use. All of the ones below have been chosen specifically for their child-friendly use, which is why they each have a light fitted.
There are 4 main types of lighting used at present in modern times:
Tungsten is the cheapest and constant form of light but has some negatives also. This is because of the yellowish tinge of light it produces, which can affect some scopes, but not necessarily an issue with children or inexperienced users.
The common tungsten also comes with loads of different bulbs, because they are so common. Replacing then becomes an issue, which can mean finding and picking a little tricky to the beginner. These are usually the best type of lighting, cheap to buy, easy to replace and install.
Fluorescent is common and cheaper to run, but more expensive to buy initially. The fluorescent light is similar to the sun and mimics nature, which is ideal for looking down a microscope.
The fluorescent lighting usually operates at a low-temperature (90 Fahrenheit), which is ideal for examining a specimen that requires lower temperatures, like pond dwellers for example.
The difference between brightness is comparable and the 10-watt fluorescent bulb will produce as much light as 33 watts compared to the tungsten bulb.
LED bulbs are the most common with professional users and they come fitted as standard. They are good when paired with cordless types because they last for a very long time and make changing in the near distant future less likely. They are also rechargeable and great for the user who is frequent users.
Halogen used to be very common, but recently less so and these seem to be less common throughout the microscope community as new types come onto the market. They offer a very bright white light and can be good in certain circumstances, however, this is not ideal for kids.
Focus and clarity 
Once all the other factors have been thought of then the next is the focus, which brings everything into the light for you to see. These are usually managed by a handle or a slip clutch, which allows you to alter the zoom.
There are 2 main types of focus types and these are:
Coarse – This is the most common and comes standard with most devices, which can be adjusted with a turn of a knob.
Fine – The finer the clarity the better the microscope and these are becoming the standard for manufacturing companies. The finer types offer an easy to use the design for children and this is preferred if the budget can stretch to accommodate.