Every toddler loves a play tent where their imagination can run free with themselves. There are loads of different types and each offers a slightly unique experience, both in design, color and dimensions. There are loads of themed tents, each with a slightly different twist and depending on what your child is into at the moment, I'm sure you'll find one to suit.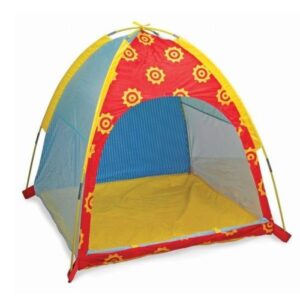 I remember when I was younger, as I'm sure you do too, when you put together your own home made version made from sheets and pillows and dad would be upset and mom would be gently easing the situation, but apart from this the fond memories remain and that is why you should ensure your child gets a fantastic play tent to enjoy with their friends.
Considerations
Make sure to pick the right size and get one that will be ideal for their playing needs. Sometimes the bigger is better however some homes don't always have enough space, so deciding on whether this is going to be an inside or outside one is important.
Some tents have UV protecting fabric and offer a high level of protection, so if they are planning to use their tent outside, make sure to get one that shades and protects from harmful rays.
You can always get a tent to encourage the transition for them being resistant to sleep on their own and make a den out of the tent, which is what a friend did. She made it like a little bat-cave and her little toddler was quite happy and content being batman over night.
Kiddey Toddlers Play Tent
This is 100% polyester made tent and the fabric is tough to tear, but soft to the touch. Your will be glad to hear this is waterproof so even if a light summer shower occurs they will be warm and dry in the tent, which has a front-flap for keeping snug. This can be used for any party or gathering and children love to hang out telling stories.
The design itself is an easy pop up and go design, which is ideal for when the kids need to play in a safe hideaway. This is easy to carry and you will be able to use on almost any occasion whether at the beach or in the back garden. Parents like using this for when the mosquitoes and bugs are out in force, it's a great way to keep them out of harms way.
This is specifically for toddlers and for ages for 2 years and older, so younger will need assistance.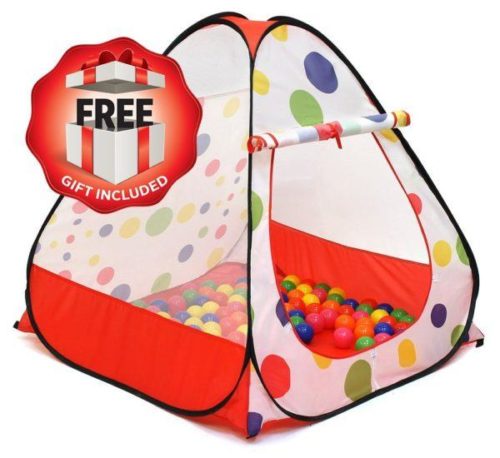 Toddlers Princess Play Tent
This princess tent is really perfect for your special little one and this is by far one of the cutest in the review. The hexagon shaped ideal for playing in and a few kids can fit inside with a parent squeezing in as well.
The tent is easy to assemble and will be a castle tent in no-time at all, just set-up with a few brief adjustments without needing to get tools. This play ten is without windows as such and the open feel reminds me of some distant land from ancient times.
This can be carried along really easily and comes with a handy bag for accessing when it's convenient, so days out will be fun with this tent. Afterward, if the tent does get all sandy and needs a good clean this can be done with a cloth and some mild cleaning soap.
This tent comes with lights and can brighten up any day or night, it's a real treat for your child. Play tents with light are a favorite of mine because at night the child can make it their special place to read and ponder the day's events.

Toddlers Playhut Thomas the Train Tent 
This Thomas the tank engine themed play tent is a stunning pop-up tent to make the train-engine lover ecstatic.
The twist and pop-up technology in the design makes the set-up instant and is patented to this specific one. They have made this really easy to assemble and put away so more time can be spent playing and having fun dreaming of driving a real engine.
I like how this tent can be used for connecting to tunneled tents and crawl tunnels, which allows for extensions for when the time is right. Sometimes we parents can't resist the temptation to go that little extra to make sure our children have the best.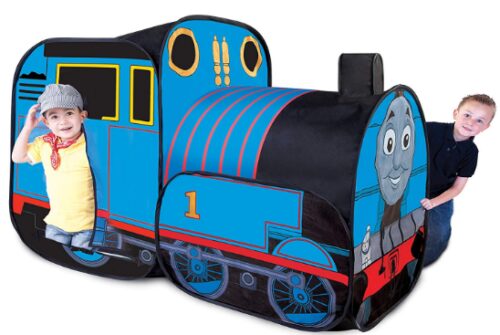 Kiddey Play Tent and Play House

This brightly colored tent is ideal for hot summer days with a great two-door system for letting both air pass from one side to the other, which lovely when temperatures are high.
The color is bright and will put a smile on the face of any passing child. You can fit several children in this tent and there is heaps of space if you're looking for comfort.
The tent is ideal for outdoor use as it includes ground stakes to prevent it from blowing away.
The design is strong and sturdy making for long wear and tear, which is generally how toddlers like to play.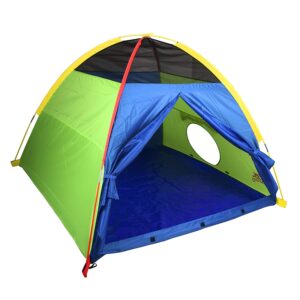 Overall Best Pick
the 'Toddlers Princess ' is the best in my opinion for the beautiful design, lights and overall quality. You will not regret choosing this and your little toddler will spend hours play and reading in the hub of wonder. 

                                        Overall Budget Pick
The 'Kiddey Toddlers' is another great pick, but at an affordable price, although the difference is not huge this is cheaper and gives an overall value for money.