Choosing a musical toy for your toddler can be complicated. There are such a wide range of products, it's difficult to know what's best for your toddler. Here, we have given an overview of the different types of musical toys for toddlers. We have picked a few of our favorites of each type and shown their features to inspire you.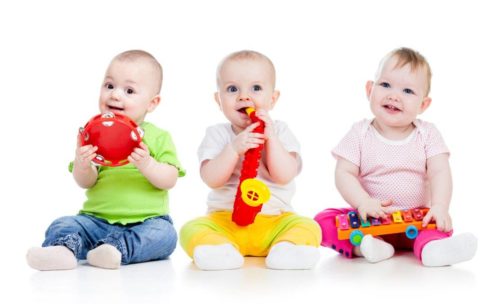 Considerations
Think about what type of toy you are looking for. Do you want an electronic toy which plays music by pressing buttons? Or are you thinking about getting your toddler their first musical instrument? There are loads of different types of music toys available for toddlers, so we have included a range of styles in this review.
Think about the age of your toddler before choosing a musical toy for them. If buying for a younger toddler, look for a product which helps young children meet their development goals. Older toddlers will appreciate something a bit more complicated, such as a toy resembling a real instrument. Toddlers love to copy older children and adults. So if an older sibling or parent plays a musical instrument, your toddler will love to have a toy version to join in.
It's important to think about safety when buying any toys for a toddler. Make sure there are no small parts which can come loose, and ensure all electrical components are well secured. By choosing a well-known brand, you can be sure that current safety standards will have been met when the product was made and tested.
Band-in-a-Box
This Melissa & Doug wooden toy is a great introduction to musical instruments for your toddler. The box includes 10 pieces, so it's great for sharing with friends and siblings to start your very own band! The toys are made from high quality materials with durable paint, which can stand up to your toddler's enthusiasm.
These musical toys are great for 2 year olds, to help develop their sense of rhythm. They will also love to dance along as mom and dad play the instruments! The wooden musical instruments come with their own storage crate, to keep them safe to be enjoyed for years to come.
There are other options including fewer pieces if you are looking for something a bit smaller, and there is also the option to have a name printed on to the maracas for a really personal gift.

KidiBeats by VTech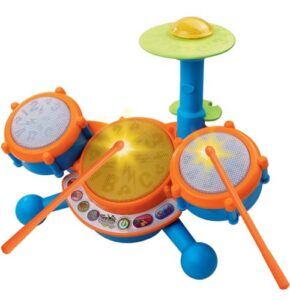 This is a great electric drum for young toddlers to have their first experience of playing the drums. It resembles a real drum set, coming with a cymbal and a pair of drumsticks. The toy features nearly 10 songs to play along to in a variety of musical styles to inspire your little one. It also helps kids learn about numbers and letters, as it has various modes of play.
The musical toy is great for pre-schoolers, as it helps with sensory development, as well as being great fun to play with! It is a great introduction the drums for young children – it's a great way to get them interested in playing at an early age. It's also much more durable and less noisy than a traditional drum kit.

VTech KidiStudio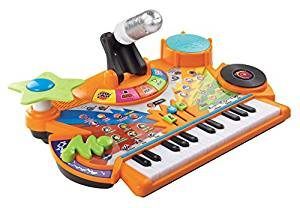 This VTech toy for toddlers is great for developing musical skills at an early age. It allows kids to record their very own songs and listen back to them, and even change their voice. Children can learn all about melody and keeping a rhythm with this fun and educational toy.
The KidiStudio is great for allowing your child to explore different musical sounds, which are similar to real-life instruments. There are over 40 sounds to be discovered, meaning it will give your child years of entertainment as they create and record their own music.
The musical toy is great for 3 and 4 year olds, but kids a bit younger and older than this will get some enjoyment from it too. Your child will love putting on performances for family and friends and it is a great toy to use at parties and playdates.

Bonwayer Instrument Toy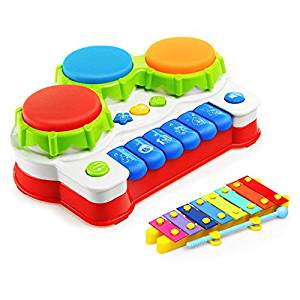 This fun musical instrument toy would make a perfect first birthday gift. 1-year-olds will love to press the buttons to discover new musical sounds, and the toy has different modes to keep kids interested for longer. It can teach your child animal sounds and colors as well as showing them how to play the piano, xylophone or drums.
The toy is great for taking out and about to keep your child amused on the go. It can be enjoyed by babies as young as 6 months, and it has 2 pieces which make it perfect for siblings to share. Or, parents could play a duet with baby for extra fun bonding time.

Car Carrier by VTech
This push-and-pull car toy is ideal for teaching youngsters about numbers, colors, and animals. There is a sensor which recognizes when a vehicle or animal is placed inside the carrier, and it plays different music and phrases accordingly. This interactive element is great for keeping children interested, as well as teaching them to recognize different items.
The toy comes with a walkie-talkie radio, to encourage imaginative role play. All babies and young children love to play with a pretend phone so this added feature is sure to be a hit with everyone! The car carrier is great for toddlers, who will love to pull the string and watch the car come rolling behind them.

Kilofly Set of 12 Instruments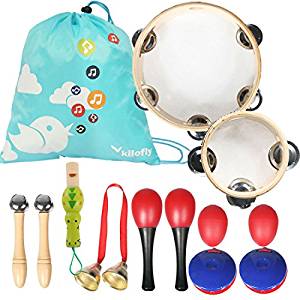 This is a lovely wooden instrument set which comes with its own storage bag to hold everything safely together. These instruments sound just like the real thing, making them perfect for developing early music skills. They are great quality and easy to clean, meaning they are very parent-friendly, too!
The instrument set is great for toddlers aged 1-year-old and above, although children will enjoy this toy for many years beyond then. It is great for use with family and friends or individually. Because there are 2 of most of the instruments, they are great for encouraging your child to copy a rhythm. Take one toy each and play out a simple rhythm and see how your child responds. This is a great way to develop their music skills, in a fun manner.

WolVol Musical Cube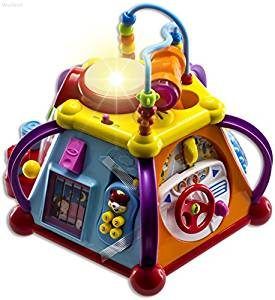 This is a great music-playing toy with many different functions to keep your child entertained for hours! Parents won't get tired from listening to the sounds this toy makes, as they are calmer and quieter than many other baby toys, which often get a bit irritating.
There are lots of opportunities for imaginative play with this activity center – your child can drive, use the phone or sing their favorite song into the microphone. The bright, bold colors and strong plastic design make the toy perfect for younger children to enjoy safely too.
There are around 15 activities for your child to enjoy on this toy, and it also features light effects, to really keep your child entertained.

LeapFrog Tea Set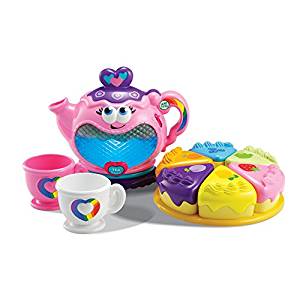 This cute singing tea set is great for toddlers to host their very own tea party! It lights up in different colors and plays several great tunes to keep your child entertained whilst they drink their tea.
The toy can be used to teach your child about different colors, by using the cake which comes with the set. Your child can also serve their friends the slice of cake which matches the 'flavor' of the tea by choosing the same colors.
The songs played by the teapot help teach your child manners – a feature rarely found in toys. They can also learn this by taking turns to pour tea with their friends, or serving their toys a cup of tea and some cake for role-playing fun.

Step to Step Dance Mat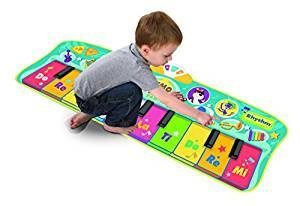 This is a great toy for toddlers who are able to stand and jump well – they will love running along the mat to make their own piece of music. It is a great size at almost 50 inches long, meaning it is perfect for playing along with friends or siblings.
The toy offers 10 different musical instrument sounds, making it great for teaching your child about instruments at an early age. There are also lights and different voices, sure to keep your child occupied and entertained for a long time!
The dance mat features 3 different play modes, so there's something to suit all tastes and age groups.

Best Overall Buy
VTech's KidiStudio is one of the best toddler music toys on the market. It is great for teaching your child a range of musical skills, in a way which is really great fun. Toddlers will have years of fun making and recording their own songs and performing for friends and family. This toy is worth investing in for the range of musical opportunities it gives, and it will be enjoyed for years to come.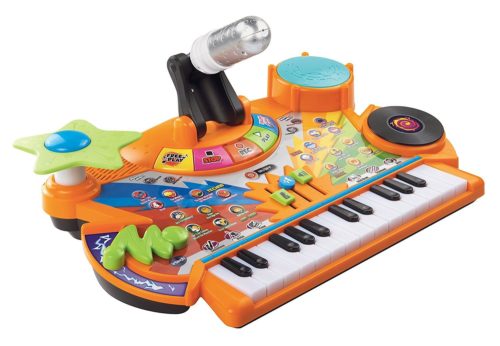 Best Budget Pick
If you are looking for musical fun on a budget, LeapFrog's Tea Set is a great choice. It offers your child lots of unique learning opportunities as well as promoting imaginative play. Toddlers will love to make tea for all their toys and friends. They will have so much fun they will learn without even noticing! The toy is great for introducing table manners, as well as teaching color recognition in a unique and interesting way.