If you're a parent to a child these days, you're bound to have heard the name Shopkins mentioned. Probably repeatedly. Sometimes on a daily basis on television and frequently by your children! Yes, they are toys, but what exactly are they? Firstly, they are small but they are highly sought after by children, and are little collectable toys that come in a massive range and variety, almost too many to count. They are made of plastic and come in a range of bright colors and designs, and are little figures and characters that are made in an individual design with its own unique identity, style and name. There are common, easily found varieties, but there are also some rarer versions, that come in limited editions, special editions and are much harder to find. You can also buy other Shopkins items and merchandise such as kids clothes, stickers and cards as well as magazines and posters.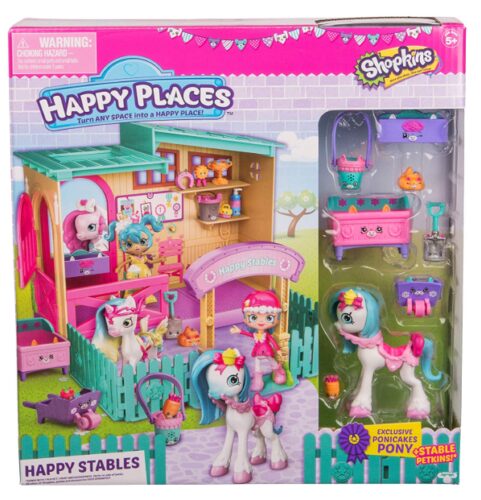 Some of the more well known Shopkins characters come in familiar designs and styles, such as a pretty lipstick called Lippy Lips, and a chocolate chip cookie called Kooky Cookie – the names are quirky and memorable, and you can see why children love these little colorful characters. But if you're thinking of buying some Shopkins toys for your child, or niece or friend, where is the best place to start? Where do you find the best Shopkins toys on the market? This helpful guide will get you started with plenty of Shopkins related ideas…
Considerations When Buying Toy Shopkins
What needs to be thought about when buying Shopkins related toys or merchandise? It's important to think about what items they might already have because you'd rather not end up buying them duplicates (although some kids love trading these with each other for new ones). It's also important to consider your budget, but this won't be hard because you can buy lots of Shopkins related items for a range of prices, so there is something for everyone. Another consideration is what item to actually buy – a toy? Jewelry? Shopkins adorned clothing or bedding? A Shopkins craft kit? Think about the child you're buying for and what their preferences are and this will guide your purchase more closely.
Best Shopkins Toys Reviewed in 2023
Now we know how to pick the best Shopkins playsets, let's look at some reviews of the best ones out there!
1. Shopkins Shoppies World Vacation BFF Dolls
As well as actual Shopkins collectables, you can also get Shopkins dolls, which are really fun and popular with children. In this set you get four Shopkins dolls that are really bright and funky, with amazing detail and they are also articulated dolls, so can be posed and moved for hours of fun. The characters in this set are Rainbow Kate, Bubbleisha, Jessicake and Donatina and the theme is all about holidays and vacations. It also has extra accessories including two exclusive Shopkins, a brush to comb their amazingly colorful hair, four suitcases, one for each character, four doll stands and a passport for extra vacation fun. This set will prove to be a really fun toy for any child and they will have lots of fun playing vacation with their new dolls.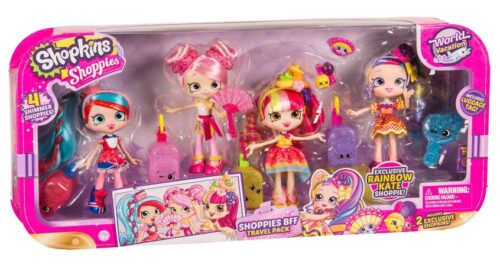 2. Shopkins Shoppies Pack of 3
Popette, Bubbleisha and Jessiecakes are three much loved Shopkins shoppies dolls characters. This pack of three Shoppies come with two exclusive Shopkins, a fashion back, a VIP card, three doll stands and a brush as well. These are fairly new to the Shopkins scene, so they are much sought after and many young children will be determined to get their hands on them. Bubbleisha comes in her signature pink, Popette in a lovely canary yellow and Jessiecakes in her recognizable bubblegum blue color, so any child would enjoy having this range of collectible dolls with their fun accessories. The dolls are adjustable and poseable also so your child is guaranteed lots of fun and playtime with these dolls, and they can also enjoy sharing the Shopkins fun with friends.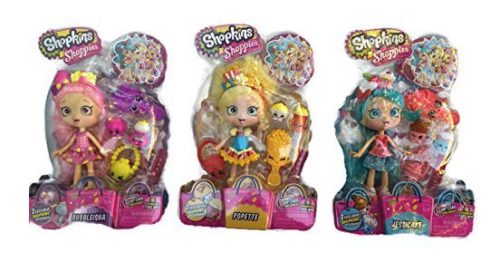 3. Shopkins Super Mall
On this list, one best rated Shopkins toy is this Shopkins Super Mall. Even the words 'super mall' will have your child very excited to receive this for their birthday or as a Christmas present. This massive set comes with four exclusive Shopkins and has a wide range of features and details that are really enjoyable for children. It is a great playset for you to play with the Shoppies as it has an elevator, and three separate levels built into the Mall so they can 'visit' lots of shops and explore what's on offer. There are a range of 'shops' for them to visit, such as a boutique, food court, cinema and other stores and several of the features in this set have moveable parts so there is an added element of excitement and fun. There is lots on offer with this toy and it promises hours of entertainment.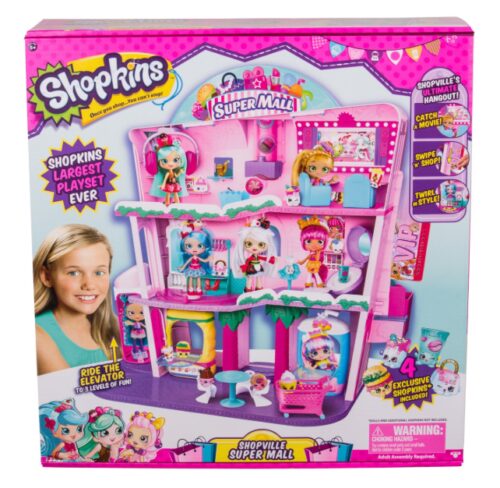 4. Shopkins Smoothie Truck Playset
A bright, pretty and fun toy, the Shopkins Smoothie Truck Playset is quirky and entertaining. This unusual playset offers something a little different, and comes with two exclusive characters, a blender (to make smoothies with, of course!), a VIP card (for use with the app), as well as two stools for the Shoppies to sit on to enjoy some smoothies made by Pineapple Lilly Shoppie, who is bright and cheerful with her amazing hair. The entire truck can be used with any of the Shoppies dolls, so Pineapple Lilly can invite and entertain her Shoppie friends and offer them a range of tasty smoothies.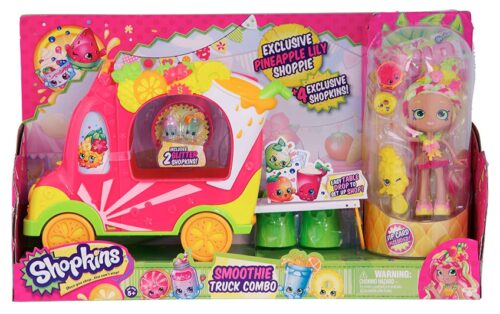 5. Shopkins Ice Cream Playset
There are loads of accessories with this extensive Shopkins Ice Cream Playset. It's a great choice for any child as a birthday or Christmas present because it comes with a wide range of features, including two Shopkins, cooler bags, a Big Softy Ice Cream Dispenser, a tray and an ice cream scoop – all you need to make the perfect ice cream as you play on a hot summer's day – or even inside during the winter! The Food Fair Cool & Creamy packages offers eight Shopkins, all in a range of pretty colors and designs so there is something for everyone. Not only are you buying your child one of the most fun Shopkins games for girls to have playtime with their friends, but you're also expanding their Shopkins collection, so they will be more than happy.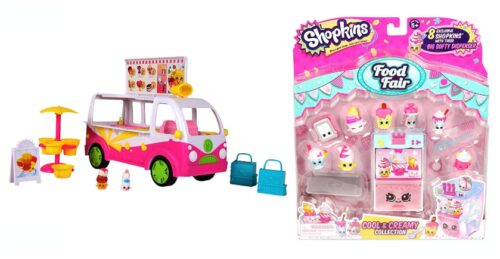 6. Shopkins Supermarket Playset
One of the best selling Shopkins toys is this Supermarket Playset, because it comes not only with the usual items to improve and expand the Shopkins collection, but it also has fun elements such as a slide and a shopping trolley (which is compatible with all other Shopkins items). There is a really lovely collectors guide, for your child to look up the names and compare all the Shopkins that they have and trace their collection as it grows. It also boasts four rare Shopkins and two Shopkins exclusives also, and these surprises are contained within the Playset, so there is so much to enjoy. This Mini-Market is a great toy for any child to enjoy playing with, either alone or with friends.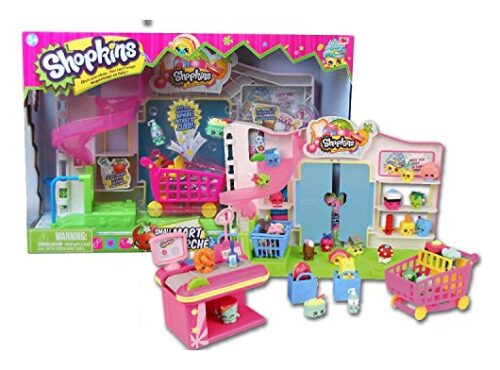 7. Shopkins Cutie Cars Car Wash
A complete shift in the world of Shopkins and we have the Cutie Cars Car Wash. You get a large range of items in this Shopkins cars set, as the playset comes already with an exclusive color changing car as well as a matching Shopkin mini. Included also is a deco brush and collectors guide book. The fun of this toy is that when you use your car wash to clean your pretty Cutie Cars, they will change color depending on the temperature of the water! There is a Spa Wash, a Deco Station and also a Scent and Dry Station for the cars to go through for hours of cleaning fun. This set also comes with four more Series Three Cutie Cars so your car wash will be busy and fun. They've even thrown in a Blizy Keychain for another added bonus.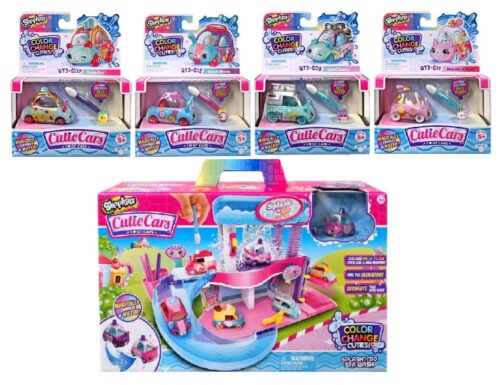 8. Shopkins Happy Places Mansion
This toy house is amazing, and can actually be used in a 360 degree format, so more than one child can enjoy it at the same time. If your child is keen to find new Shoppies, they will certainly enjoy this Happy Places Mansion. If your child is a true fan of Shopkins, and has a large or growing collection of Shopkins, this amazing toy house is a great place to store them and to play with them. There are four sides to play and interact with, and it comes with a garage ramp, a doll stand, fourteen separate Petkins, three rugs, two pillow and a a Lil' Shoppie. There are seven rooms filled with fancy, luxury items for the Shoppies to enjoy and the soft accessories add a real sense of plushness and coziness to your playtime.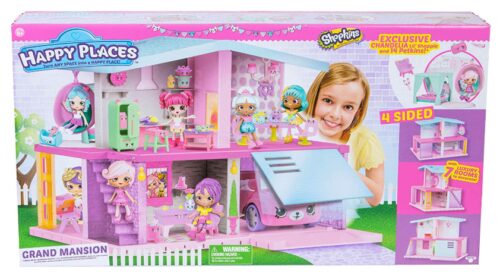 9. Shopkins Happy Places Kitty Classroom
Paige Pencil is the Shopkins star of the show in this Shopkins Happy Places classroom set. It is a great little welcome pack, and offers one Lil' Shoppie as well as a cute Petkins (they really are SO cute) and also comes with two tiles and a catalog to track your collection. This is a good gift for a Shopkins fan who loves school or likes to be organized, because it is very much about organizing your notes and belongings, as little girls so often love to do. Brightly colored and fun, this cute little set would make a great present for Christmas or a birthday party for any Shopkins lover.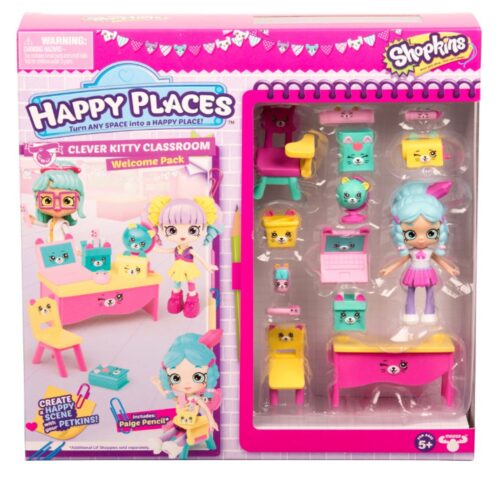 10. Happy Stables Playset
There is almost an endless choice of Shopkins Playsets, but if you want one with a particular theme, especially for a little girl who loves ponies and horses, then the Happy Stables Playset is a sure bet to make them happy on their birthday. It can hold several ponies and comes with seven stable-themed Petkins, so any horse lover will be happy with this set. It can be turned around and used on all four sides for 360 degree play and can be set up and adapted into any shape or layout that you like. It has lots of accessories and features, including the playset, a pony (aptly named Ponicakes!), seven accessories and an entrance sign as well as six fence parts. There is a wide range of adaptability and choice for this toy.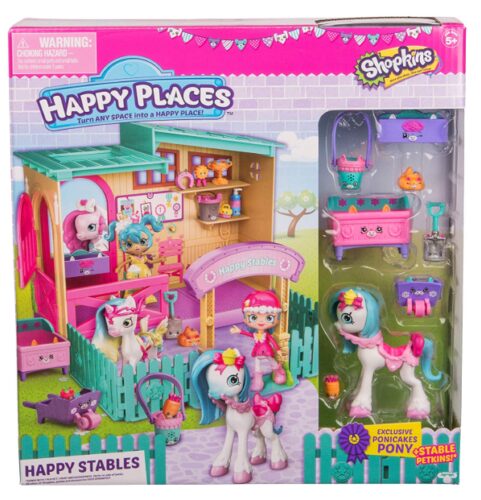 11. Shopkins Happy Home
Of course, we've had Shopkins Supermarkets, stables, classrooms – but there has to be a Shopkins house, doesn't there? There is lots to enjoy in the Shopkins Happy Home as it has many features and aspects to explore. There are four rooms with a special ladder that joins the levels together and there is endless creativity and customization as there are over forty five stickers to decorate your play house as much as you like. This Happy Home Playset comes with a Lil' Shoppie, a Doll Stand and a staircase, as well as six Petkins and a wide choice of fun, colorful stickers. This play house is really exciting and children will really enjoy the fact that they can make it truly their own, with their own unique decorations and placement of stickers. It is compatible with all other Shopkins items.

12. Shopkins Season 4 Collection
The Shopkins characters come in a range of season releases to collect – and kids are usually more aware than parents about which season they have or have not collected yet. But the other issue is, where do you actually store all of these delightful little nuggets of pretty plastic? Often, they get lost or discarded because of their size, so parents are always worrying how best to keep them all together safely. It might be a more sensible choice of present, but both children and parents will thank you for buying this collectors case for Season 4 Shopkins. It holds a massive amount of characters, up to 60 Shopkins and comes with 8 Glitzi Exclusive versions, so it is a really good Shopkins themed gift. It's a great place to store, display and transport your Shopkins whenever you like.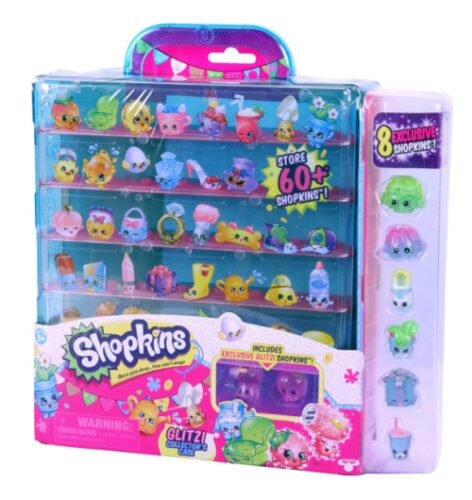 13. Shopkins Shoppies Macy Macaron
This is a very recent exclusive in Shoppie dolls and is truly what it says on the package – a Super Shopper Pack. The character that comes with this set is Macy Macaron, so there is a french food twist on this theme which children will enjoy. It has over twenty separate pieces, so you are purchasing lots for your money and the items inside are from the Exclusive Shoppie and Shopkins range – so they are very sought after. Hidden inside this set, and sparking even more curiosity from your child, are two other Shopkins to discover. An added element of excitement is the Limited Edition Stack Le Macarons…you are tempted to discover if you are one of the lucky children to have them in this set. This set is particularly glittery and shimmery and really pretty. It comes with one Shoppie, sixteen exclusive Shopkins, 1 VIP car, a brush, a bag and one doll stand.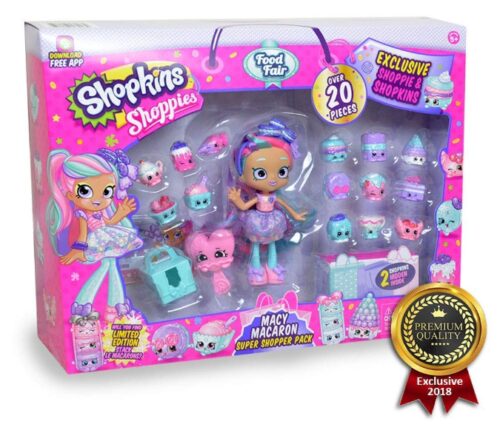 14. Happy Places Pretty Pony Showjumping
Everything that your child might want to play pretend pony showjumping is included with this Happy Places Shopkins set. There are two tiles included to click and collect together (this means your Shopkins world will expand) and it also has a helpful catalogue with special features and Shopkins tips. Hidden inside there is a limited edition Petkin, so any animal lover will enjoy this because there are also another three hidden Petkins included also. Overall, there are thirteen Petkins in this amazing set, so your child can enjoy arranging and playing a range of games and scenarios with this wide range of accessories. It comes with show jumping items such as jumps, flags a storage crate, riding shoes and a pretty riding cap. Everything you need to create your Showjumping Happy Place.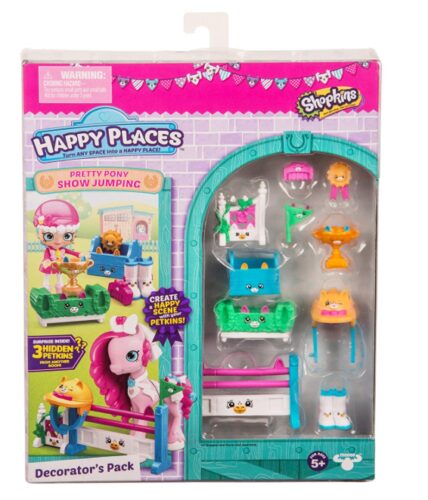 Our Best Buy Overall
Shopkins Cutie Cars Car Wash
One of the best Shopkins toys on this list has to be the Cutie Cars Car Wash. It's Shopkins, but with a difference. It might be a good choice of gift to get a child that you know enjoys collecting Shopkins, but might not have this exact item because it's less mainstream than the others and is a little more unique with its features and details. Because it comes not only with the color changing car and matching mini, it also comes with the other series three Cutie Cars it really offers quite a substantial amount of fun for your money. The kids will really enjoy playing with the different sections, from the Spa Wash to the Deco Station or the Scent and Dry sections too. We felt that this toy offered something different with Shopkins that your child would really enjoy for a long time.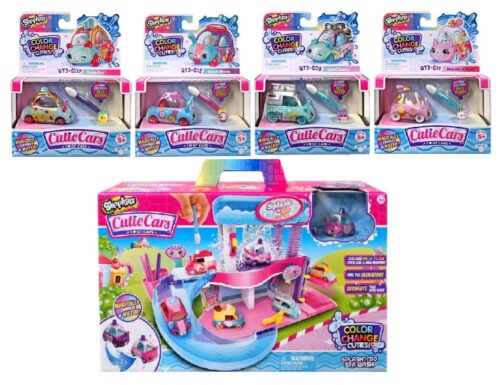 How Much Do Shopkins Cost?
Shopkins vary widely in cost and budget. Because at their very basic, they are simply plastic miniature figurines based on items you buy in the supermarket, they can be very affordable. A set of ten mini Shopkins can cost as little as a few dollars, while you can spend a lot more on the accessories, playsets and more substantial products from the wider range of merchandise. It's really up to you. Small playsets are quite affordable also, only around twenty dollars or so, and when you consider how much worth you get as regards playtime and entertainment (not to mention adding to the collection) then is really is a good investment in a toy. Much larger houses and substantial playsets can be sold for upwards of sixty dollars, but again this would be a toy that would be enjoyed for years and by several children in the family and is also a place to house a Shopkins collection.
What are the Benefits of Collecting These Toys?
Sometimes parents despair at having to spend money on these small, unusual toys – but there are more benefits to them that you might realize. Obviously children love them, so when you buy one as a gift you're certainly making them happy and excited, but what other benefits are there if you collect Shopkins?
Firstly, the small details and features of the Shopkins dolls collection can enable children to hone and develop their fine motor skills as they maneuver, pose and play with the items and play make believe in their pretend landscapes. It also teaches them to have respect and responsibility for their belongings and toys, because they are encouraged to properly keep, store and maintain their collection so that they never lose any of their Shopkins.
There is also an element of social interaction and speech development because they will play pretend scenarios with their Shoppies and will also sometimes swap or trade duplicate Shopkins with other children, so this fosters communication and self confidence too. When it comes to maintaining the collection, they will also learn how to do sequencing and logic as they keep track of their collections or even manage one of their Shopkins Supermarkets and buy and sell supermarket items. All of this fosters improvements in confidence and imagination as they play with their Shopkins toys.
What are the Different Types of Shopkin Toys?
As you've probably learned from reading through this exhaustive list of Shopkins toys and merchandise, they come in a wide range of styles, shapes and sizes and provide a range of fun experiences for children. You can opt for a Shopkins mini pack, which offers several mini surprises that you can add to your colorful collection and watch it grow. They also are useful for engaging in a range of pretend play in any Shopkins setting.  Other options are the Shopkins Special Editions, which are a little more quirky and special and come in a range of themes and styles – these are a special gift, one for a birthday or Christmas, as they are rarer to find and slightly more expensive. Whichever you buy, your child is bound to be a very happy one.