Kids tactical vests are perfect for kids to wear when participating in all kids outdoor activities, from role play to combat battles and even family outdoor adventures. These vests are functional and durable as they are often designed to last for a number of years, making them a great value gift that will get plenty of use. You may also come across these great vests being referred to as either utility or combat vests and you can be certain that they are all vests that are suitable for kids outdoor play.
With many kids spending too much time indoors and in front of screens, parents are often eager to find toys and accessories that encourage kids to be more active and to enjoy more time playing outside. These outside games are essential for all kids development, as they allow kids to role play and use their imagination while exploring the great outdoors.
This is where tactical vests are perfect, as they are ideal for holding all kids belongings and keeping everything inside their pockets secure. The vests also ensure that kids can keep their hands free so they enjoy participating fully in many exciting activities.
As there are a huge range of tactical vests available to choose from it can be difficult to know where to start. This article will take you through the top 15 vests that are suitable for kids to help you pick the perfect vest.
Considerations when choosing a kids tactical vest
Age
Fortunately most of the combat vests available come as a one size vest where the size can be adjusted, making them suitable for a wide range of ages. This makes choosing the correct sized vest easier and also means that the vest will last for a number of years as it grows with your kid. The age range that each vest covers will depend on the brand of vest so you will need to check before buying the vest to ensure that it will fit.
Color of vest
There are many different colored vests available for you to choose from with black and camouflage colors being the most popular. However, there are also purple vests available for girls who love to participate in outdoor games so you are certain to find the perfect vest for every kid.
Accessorizes included with vest
Many vests come as the vest alone, which is perfect for the needs of most kids. However, for kids that are interested in army combat games and Nerf battles might find the vest sets more appealing, as they come with darts and have accessorizes for storing the darts during battles. Many of these sets are compatible with the popular Nerf blaster products so you should check what toy guns your kids like playing with so that you can choose the perfect vest set.
15 Best Kids Tactical Vests
1 . NERF Tactical Vest Set
For all adventurous kids who love playing outdoor combat games this wonderful Nerf Tactical Vest Set is an essential buy. Along with enabling kids to really look the part, it is also practical for helping them to carry their Nerf toys and has safety features that will put all parents minds at rest while they play. This fantastic kids Nerf vest set comes with: vest, safety glasses, 2 quick reload clips, mask, wrist band and 50 soft bullets, which makes the perfect addition to every adventure game. Parents will be reassured that that the safety glasses will protect their kids eyes from any accidents and kids will like that this popular Nerf vest with accessorizes are compatible with their favorite Nerf blaster. This is the perfect vest for all kids over the age of 8 years old and for ease of use there should be no sizing problems as this one size vest features handy adjustable straps.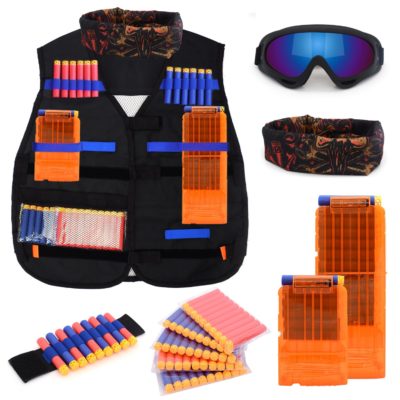 2. All Terrain Combat Vest
There are very few jackets that are as practical as this All Terrain Combat Vest with 9 exciting pockets, making this wonderful vest the ideal clothing item for all girls and boys who enjoy activities outside. While this vest is perfect for kids combat play, it is also be great for walking, camping or any other outdoor play. All kids will find this great vest appealing with its latest army green and brown camouflage pattern that is stylish and attractive to young kids, so you can be certain that they will get plenty of wear from this kids military costume style vest. Kids will enjoy the 9 pockets that the vest features, so they can easily carry all of their adventure equipment with them. With the one size vest fitting most kids between 5 to 13 years old there will be no disappointment from getting the wrong size and as kids grow the straps on the vest can be adjusted to grow with them.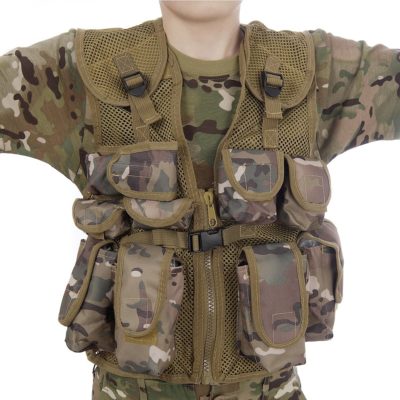 3. KAS Army Vest
All kids want to look the part when playing combat games with their friends, so this exciting KAS Army Vest is the perfect gift idea for all kids who enjoy playing outside. This brilliant vest is practical as well as being stylish and appealing to all kids with its woodland camouflage coloring, making it a top choice when looking for kids army costume clothing. There are 9 handy pockets, all of varying sizes, which are ideal for carrying water bottles, play equipment and other survival resources. This exciting Army vest is perfect for all growing kids as it will last from 5 years old through to 13 years old, just by adjusting the straps, making it the perfect long term present that will be enjoyed for years. Kids will love this durable vest that is made from 600D PVC and they are sure to wear every time they play outdoors.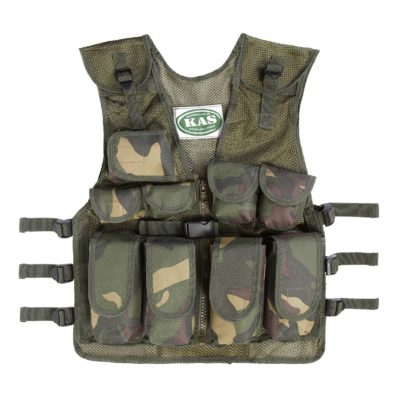 4.  
GSKids  Adjustable Vest 
This Gskids Adjustable Vest is a great value kids utility vest that is perfect for all outdoor fun. Kids will enjoy this vest is comfortable to wear with its rounded collar design, so they will not notice that they are wearing the vest all day, even in summer. The smart black color of this vest makes it ideal for both girls and boys to wear with any outfit, so they will enjoy wearing the vest every day. If black is not your kids preferred color then there are other great color options available. Whichever outdoor activity your kids enjoy they are sure to find a use for this vest and enjoy using the multiple useful pockets that are great for carrying items and equipment. Parents will love that this vest is quick to dry so kids will never have to be without their vest and the adjustable straps ensure that fit of the vest can be altered as your kid grows. This is a utility vest for the whole family as there are small, large and extra-large sizes that fit from 3 years old through to adult.

5. 600D Nylon Vest
There are many different options of kids tactical vests to choose from but if you are looking for a great quality vest then you should consider this 600D Nylon Vest. Parents will love that this brilliant vest is functional and long lasting, while kids will love that it looks cool when used for playing outside and is lightweight and comfortable to wear. There are many great features that this vest includes in its design so all kids will find the vest appealing, no matter what activity they want to use it for. There are multiple fixed pockets of varying sizes that are perfect for carrying a range of items and keeping hands free. In addition, this vest has the option of adding removable pockets so the vest can be customized for your kids needs. No detail has be left out of this vest as the collar even has padding to provide protection for the neck, making the vest the perfect option for all kids games.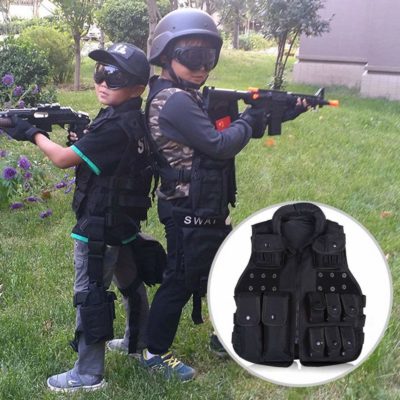 6. 
Hely Cancy Tactical Vest Kit
All Nerf loving kids will enjoy this appealing Hely Cancy Tactical Vest Kit that comes with all the accessorizes kids could need to create an epic battle with their Nerf N-Strike blaster gun, making this the perfect gift for all kids who enjoy combat games. This top of the range Nerf gun vest for kids comes with a high quality vest, tactical mask, safety glasses, 6 refill darts, a 12 dart reload clip and 8 dart wrist band, which will make all adventurous kids the envy of their friends. The vest is adjustable with great Velcro straps that allow the vest to fit most kids and means that it will grow with your kid for long lasting use. Kids will feel cool in this blue camouflage patterning found on top of this vest and the hand mesh pocket enable kids to carry additional kit items if needed, making this attractive vest practical for all kids playing fun.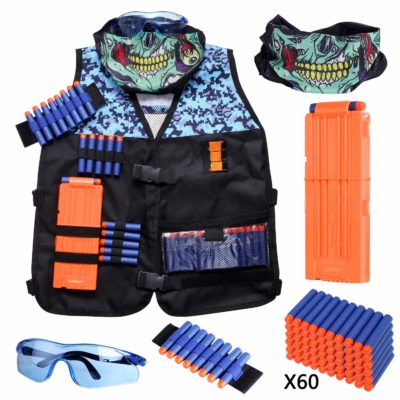 7. Yamix Nerf Rebelle Vest
There are many girls who love Nerf blasters too so they will be excited by this wonderful Yamix Nerf Rebelle Vest that comes in an appealing purple color and allows girls to join in with all combat fun. This vest set comes complete with all the accessorizes that kids need to get started with Nerf gun battles, so it is a popular combat vest choice for all beginners. Alongside the great purple vest with adjustable straps, the vest set also comes with 60 reusable darts, wrist dart holder, tactical mask and protective glasses. Parents will be reassured that the set comes with protective eye wear so they know that their kid will not get hurt during the fast paced battles and kids will enjoy that the vest has multiple clips that are ready to store plenty of refill darts. The darts that come in the set are suitable for all Nerf guns as well as other brands of soft bomb gun, so kids are sure to get plenty of use from this brilliant set. This is the best girls Nerf tactical vest for all active kids.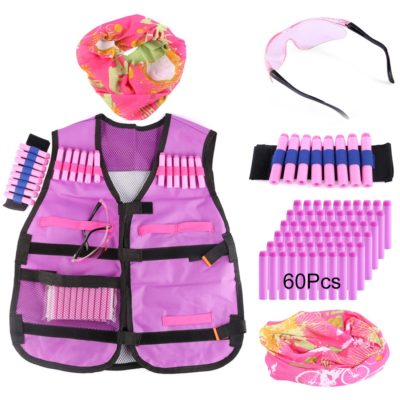 8. KAS Vest and Helmet
This unique KAS Vest and Helmet set provides the perfect utility vest for all active kids who love outdoor adventures. Kids army style camouflage is a popular color with everyone who enjoys combat games. The protective helmet included also comes with a camouflage cover that will protect kids heads, along with letting them look the part. As well as being stylish the vest is also very practical with 9 variable sized pockets that are perfect for carrying water bottles and all necessary equipment that kids may need for exploring, making this the ideal vest for kids to wear on days out. This one size vest will fit most kids between the ages of 5 to 12 years old and the adjustable straps mean that kids will get years of use out of this durable vest. As one of the best kids military style vests you can be sure that all kids will find this option a great combat kit.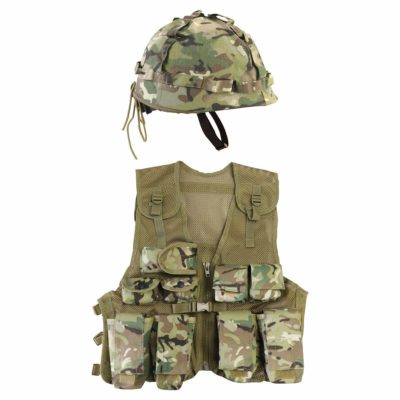 9. Waistcoat Protective Jacket
If you are looking for a top quality tactical vest for your kid then this Protective Jacket by Vbestlife is a great option as it is durable and will withstand all kids play. With a simple black design the jacket also has many appealing features that make it practical for all kids outdoor games and adventures. This lovely jacket is made from 600D oxford cloth so is tear resistant and will continue to look like new. Kids will also find the jacket comfortable with the v-shaped neck line, so they will be happy to wear the jacket all day, making it the perfect option for family days out. There are also many pockets and pouches so kids can easily carry their belongings and with molle straps on the jacket other accessorizes can be hung, which makes the jacket adaptable. This black jacket comes in a small and large size and the adjustable straps ensure that is fits most kids. As one of the best kids combat vests this will make the perfect gift idea for adventurous kids.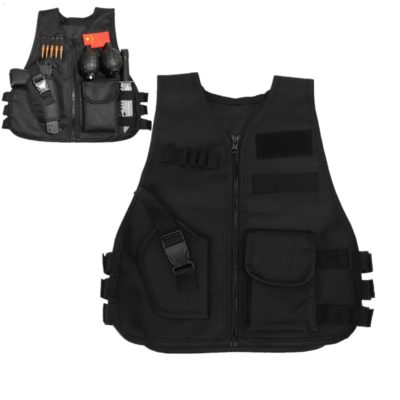 10. Filfeel Shooting Clothes
All kids who love outdoor activities will enjoy this Filfeel Shooting Vest that is both attractive and practical for all kids games and adventures. There are 4 different colors to choose from for this camo vest but the camouflage option is sure to be a hit will all kids. You will not struggle to get this vest to fit your kids as this one size adjustable vest fits most kids between 8 to 14 years old with the side hook and loop straps ensuring the perfect fit. Kids will get long lasting use from this durable nylon vest no matter what activities they use the vest for. This brilliant tactical vest for boys is a great option with the multiple pockets of different sizes that can each be secured with their hook and loop fastenings to ensure that the contents are kept safe during all outdoor activities.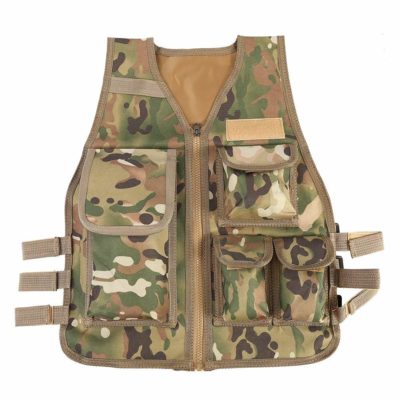 11. Small Discoverer Cross Draw Vest
This Cross Draw Vest is a parents top choice of combat vest for kids that is great value and practical for every kids needs. The vest has adjustable side straps that ensures that it fits most kids between the ages of 5 to 12 years old meaning that kids will get years of use from this incredible vest. Kids will love the woodland camouflage color of the vest that is currently one of the most popular colors for kids combat games and all outdoor adventures. This top selling vest is made from 600D PVC making it a durable option for boys combat games. There are even 9 pockets of variable sizes included to ensure that kids can comfortably carry all of their belongings on every adventure. This is the perfect military style vest for boys and girls that is certain to become a favorite clothing item.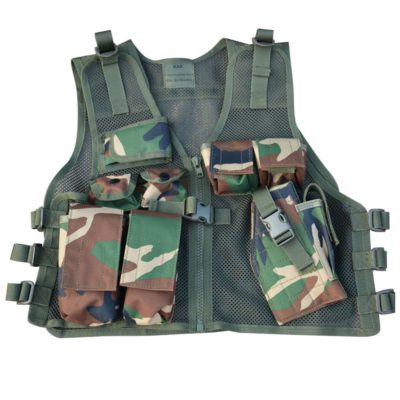 12. BestHuntiner Breathable Vest
With so many different tactical vests to choose from it can be difficult to pick the perfect one for your kid but this brilliant top quality Breathable Vest by BESTHUNTINER definitely deserves consideration as the perfect all round durable combat vest. This amazing vest is perfect for all kids as it comes with many practical features, as well as looking stylish and appealing to kids. This vest comes in 4 different colors but the sleek black option is sure to be a top choose with most boys and girls. Kids will love the 9 pockets of differing sizes that are included on the vest, ensuring that they can carry all of their battle equipment and belongings safely, while keeping hands free for battle fun. As one of the best kids army vests that fits all kids between 5 to 13 years old this is a great value option that is suitable for years of outdoor adventures.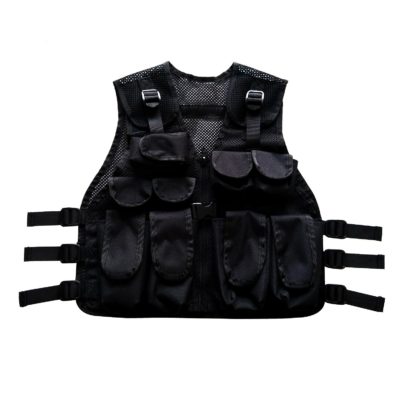 13.  KPV NCIS Stealth Vest
For all kids who aspire to become a NCIS agent this KPV NCIS Stealth Vest is the perfect option for all role play fun. The wonderful black vest comes with 4 interchangeable Velcro badges for a realistic look, so kids can use the vest for dressing up and parties. Kids will enjoy that this smart black vest comes with multiple pockets that are perfect for holding their toys, so provides great imaginary role play fun. This great jacket is perfect for kids between the ages of 5 to 12 years old as it includes adjustable side and shoulder straps for long lasting use. This is a unique stealth vest that is perfect for all kids play so you can be sure that your kid will love their NCIS vest.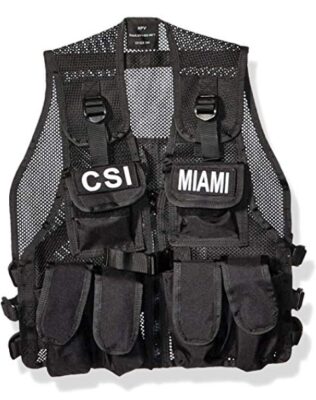 14. Kids-Army Explorer Vest
Army vests are always popular with kids who enjoy combat games and outdoor adventures as they are usually high quality with appealing camouflage coloring. This Kids Army Explorer Vest will certainly not disappoint as it looks great and has all of the features kids could want enabling them to look the part during many exciting Nerf blaster battles. There are 2 different color options for this lovely vest but the army camouflage coloring is sure to be a popular choice for all boys and girls. Again this is another one size fits most vest with adjustable straps to get a snug fit but this vest is aimed at older kids as it fits from 6 to 16 years old. This means that your kid is certain to get many years of use from this wonderful vest. There are also 9 brilliant pockets included on the jacket so all your kids Nerf supplies will be kept safe when playing. This is definitely one of the best kids military vests that will be a popular choice with all kids.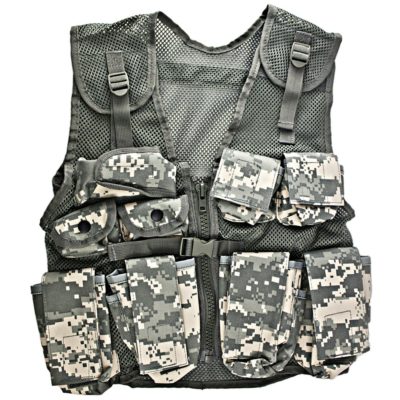 15. 
Storybook Wishes Multi Pocket Vest
This Storybook Wishes Multi Pocket Vest is another popular tactical vest choice for kids who enjoy playing with Nerf guns. The modern camouflage color gives the vest an army feel that is sure to be a favorite with all kids. There are even 8 handy pockets that are perfect for holding all kids combat toys and belongings, making this vest suitable for wearing all day long. Parents will love that kids will be able to get long lasting use from this vest with the adjustable straps that ensure that the vest grows with your kid from the age of 5 to 13 years old. This is a great army style tactical vest that has buckles and zips to give a secure fit and mesh shoulders to keep kids cool during all outdoor play.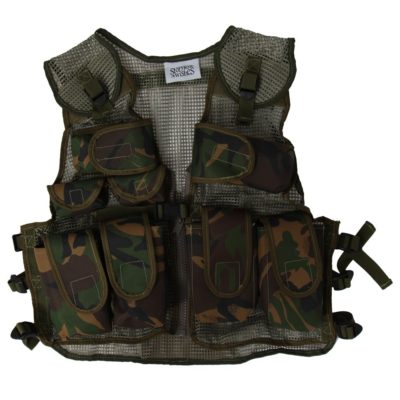 Best Overall Vest
The Nerf Tactile Vest Set is our best overall buy as it is the perfect vest set for all kids no matter whether they are starting their Nerf collection or already have an established toy range. This brilliant set comes with everything kids could need to enjoy Nerf battle fun. Along with the top quality vest the set also includes: mask, safety glasses, 2 quick release clips, wrist holder and 50 soft darts that are compatible with Nerf N-strike and many other guns. For added appeal the vest is adjustable to fit most kids from the age of 8 making this the perfect tactical vest choice.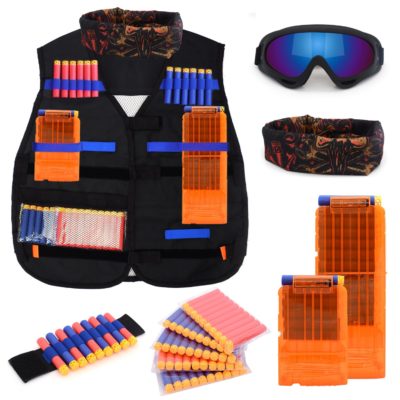 Best Budget Vest
Our best budget buy is the Besthuntiner Breathable Vest as it is a great value vest that is durable and practical for all kids needs. The smart black color option is a popular choice for this vest that is appealing to both boys and girls, as it makes a vest perfect for all combat fun and role play scenarios. The vest is very practical with the 9 variable sized pockets that are included along with the vest being breathable and comfortable for kids to wear. With adjustable straps to ensure that the vest fits all 5 to 13 year olds, the addition of high quality buckles and zips ensure a secure fit for the wearer. All kids will realistic vest and it will quickly become their favorite item of clothing.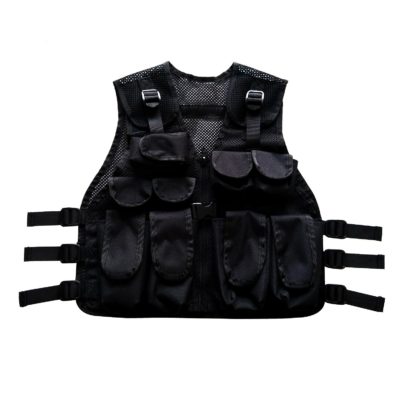 More Articles Related for Kids
Battery Powered Nerf Gun Review
Pink Nerf Gun for Girls Review