Every parent knows that their child needs a place to sit and play. There are loads of table and chairs to suit their size and I have put together a review of the best that the market has to offer. My kids play for hours at the table using it as a platform to create games, drawing, making and planning their next adventure.
Kids need a cool and safe environment where they can come together and play around and it is parent's responsibility to prepare such a place.
There are certain things that determine what makes a good toddler table and chair, so through extensive research, I have put together the best top 5 that are extremely safe, well made and with a beautiful design.
Plastic Kids Table & Chairs
This cute fully assembled kids table and chairs set is a perfect size for toddlers. It has been crafted from durable plastic and is beautifully designed and if you looking for a table for a small space, this can be your perfect choice.
The chairs are easy to climb for your kids and the table's surface is very easy to clean. There is an empty place underneath the table so you can put the chairs in when they are not in use it is a great option for rooms where there is a limited space.This comfortable and colorful set is easy to move and will let kids have their learning activities.
The table is really sturdy, even when a two-year-old who wants to try to climb on it, it will not tip over. Each piece is a molded piece of plastic which makes it nearly impossible to break and it is also great for outdoor use in summer time. Kids always like to have their own things and this cute set make them feel like they have their own furniture.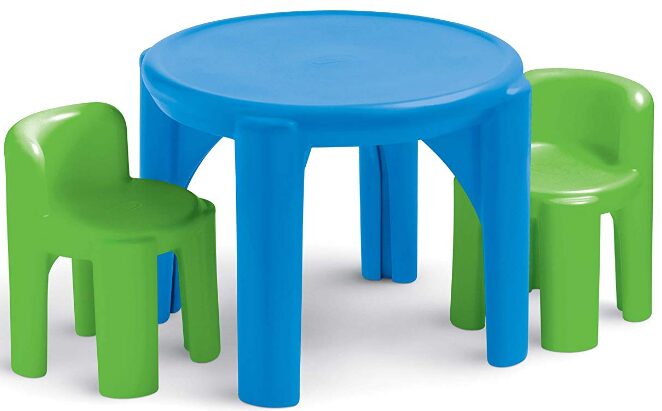 Kids Round Table and 2 Chair Set
Getting your children a miniature table and chair set is one of the best ways to provide them a cool place to eat, a spot to play, doing their homework and most importantly a kids table can improve children to empower them to seat themselves and rise as they need to.
If as a parent you are looking for such a table and chair set, then this is a great choice. This brilliant table and chairs set are very easy to assemble and all the legs on the table and chairs easily screw on and off to make it even easy to travel with. you will be pleasantly surprised to see how it accommodate kids to their elementary years.
This little girl round table and chairs are made from composite wood and sturdy. This is smartly designed, its construction has made it durable enough for eating on, leaning heavy on, coloring pictures, drawing animals, playing with hard blocks and the thick legs keep it steady on almost any surface. It is packaged with details and a step-by-step instruction and comes in different colors.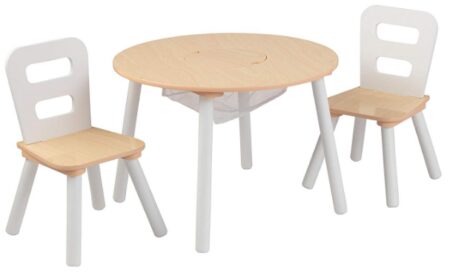 Kids Disney Minnie Mouse
If you have a princess at home and you want to give her a gift, then be sure that your sweet little girl will absolutely love this Disney table and chairs.
This cute Minnie table set can be used on a daily basis. It's Metal Tubular steel construction with a vibrant color allows your child to enjoy her dine and her playtime.
With the washable Vinyl surface and the smooth texture, you can easily clean and wipe all the stains on the table.
This solid awesome Minnie set is very easy to move and fold, so the table and chairs can both be folded and stored in any small hidden space. Also, the safety locking mechanism will protect your child from getting any unwanted nips from the folding mechanism.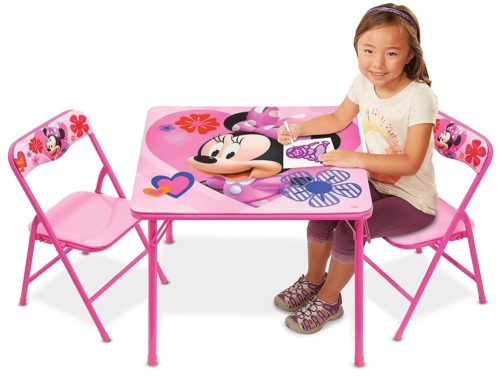 Step2 Traditions
For Kids a quality play table is priceless and for a parent who needs a good-sized table for a play area too
The Step2 Tradition set is one of best-selling Kid's table set. This furniture set has a large 27 inches by 27 inches surface and 2 comfortable chairs with very sturdy legs to ensure kids and toddlers safety.
It's high dense Poly construction has made it extremely durable, so it can be used daily for years and for the next generation of kids.
The set is super easy to assemble and it is also very light in weight, so you can move it from room to room without any problems, even outdoors to the garden.
The Modern colors are meant to coordinate with any decor, you don't need to hide them when guests come over because they look good almost anywhere.
These perfect multi-purpose items are a good choice for busy toddlers and preschoolers, so they can eat, play, craft and have other activities for hours.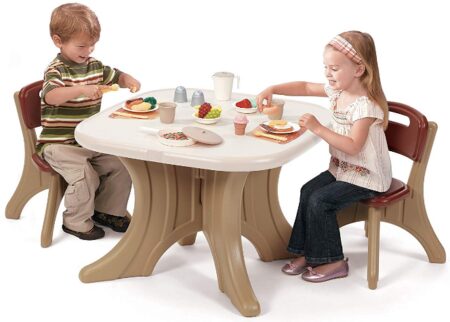 Kids Delta Children Table and Chair Set
The Delta Children's Set is an absolutely beautiful table set for a child's bedroom or playroom.
It comes with 24 inches by 24 inches colorful graphics table with a hidden convenient built-in storage in the center of it and 2 coordinating chairs which each can hold up to 50 lbs.
The product is made of an engineered wood and solid wood with the scratch – resistant finishing.
It is very easy to assemble and has a lightweight to move and for your kid`s protection, it meets all safety standard set by the CPSC.
The furniture is suitable for toddlers, preschoolers and the colorful graphic of kid's favorite characters are splashed all over the set and it will encourage a fun environment for your little one to eat learn and play.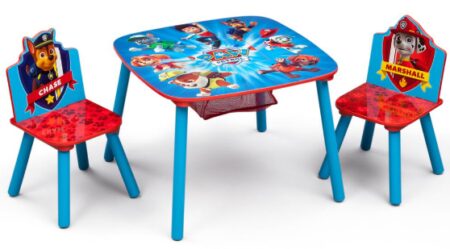 Overall best toddler activity table Set for Girls
Toddlers will love this table and chair set with Minnie Mouse imprinted onto the table. The pink color is bright and star-like and for girls its a perfect little table. This easy to fold and carry table is sturdy and has a solid locking mechanism, so your little girl can lean on the table in safety.