Looking for the best 5 month old baby toys? Wondering what are safe toys for babies aged 5 months old? In this review of the best interactive toys and educational activities you be sure to find excellent toys and games for babies to play with.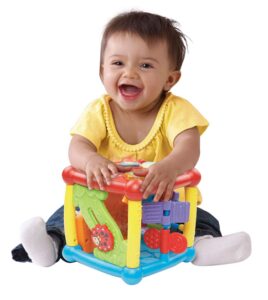 Considerations When Shopping for Toys for five month old baby
Safety: When buying toys for newborn babies or other ages, safety is always the most important consideration. You want to have peace of mind that you are giving your child a safe, secure toy that will not fall apart or have any aspects of risk or danger connected to it. Most reliable toys nowadays of course have been created according to industry standard safety regulations, so you can look for this when you make your purchase. Age guidelines are almost always written on the packaging also. 
Material: Your house is probably coming down with infant stuff and toys, and you will quickly learn which materials are the most durable, reliable, child friendly and of course which ones are the easiest to keep clean! As a parent, that almost becomes the first question you'll ask about a toy – will I be able to keep this clean? You can get soft, plush toys for touch and feel activity time, or shiny hard wearing toys that are tougher and more durable. There is lots of choice. 
Price: Active educational baby toys and activity items for 5 month old can sometimes cost a bit, but they are usually worth the investment, because if they are well made and designed they will last for several of your children as they grow, and you won't have to repurchase a similar toy in the future. You can get smaller, more affordable items or you can splurge on something very interactive and state of the art with all the 'bells and whistles' that will be a big investment but will last for ages. 
Age: Make sure you purchase an age appropriate toy – this might sound obvious but it can be easy to get excited and buy something really amazing and then quickly realize that it is too advanced or grown up for your five month old. Always pay attention to the manufacturer's recommendation regarding age. 
Function: Basically, most toys for this age group will be designed with a certain function in mind, usually to stimulate vision, responses or they might have an auditory function. Some toys will have several functions and these are definitely good choices. You will soon learn which function your child enjoys the most. 
Gender: At this stage of development, gender for toys isn't always the first consideration, and more frequently, people opt for gender neutral toys and are shying away from the sort of preconditioned idea that there are 'boys' or 'girls' toys, and that any child can play with any type of toy. But really, there are still traditional toys for gender types that you can opt for. 
19 Top Toys for 5 Month Old Baby
1.
VTech Baby Rattle and Sing Puppy
This bright and cheerful toy features lots of design aspects that make it an excellent choice for a 5 month old baby toy. It is one of those really good developmental toys because it has a range of features that keep baby interested as they play. It has a rattle that is easy to hold and the cute puppy sings aloud delightfully.
There is a special music action button that plays a range of noises, music and sayings (over twenty, actually) and this will make your child happy and stimulated. There are tactile elements also, with a range of textures and materials making up the ears, rings and other parts so there is lots to enjoy. It needs batteries so make sure you get those sorted when you purchase.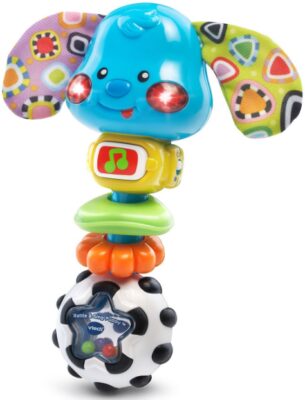 2. Summer Infant Activity Seat
This toy benefits child and parent, because not only does it keep them busy and engaged, but it also is a safe place for them to play if you have housework or chores to do and you want them to have a change of scenery from their playpen. It shifts into three separate configuration stages, firstly a support seat with foam insert, an activity seat stage and finally a booster seat with safety straps – they've thought of everything with this design. It can rotate fully and there are a range of six colorful, exciting toys on the detachable bar as well as a helpful tray for snacks and it even has two cleverly designed cup holders. This offers great activities for babies to learn touch as they play and is one of the best toys for 5 month old baby girl.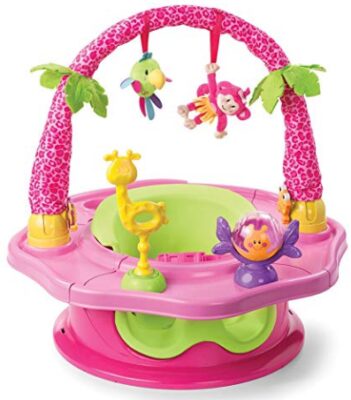 3. 10 Baby Rattle & Teether Set
What are one of the most  5 month old appropriate toys? Rattles and teethers of course! If you're on the hunt for teething toys or a gift for another baby, this set offers everything you need. The teethers come in a wide range of bright, vibrant colors and they have a selection of fun shakers and rattles to stimulate and entertain your little one.
They are safe to use anywhere and also come with a bright, easily stored box that keeps them safe from dust and dirt. In case you're wondering they are made of ABS material which is totally friendly for the environment. There are a range of shapes, so your child can find the best one that they like and they can munch happily away to their hearts content. They are also a great way to teach your child the shapes and colors as they grow, develop and learn about the world around them.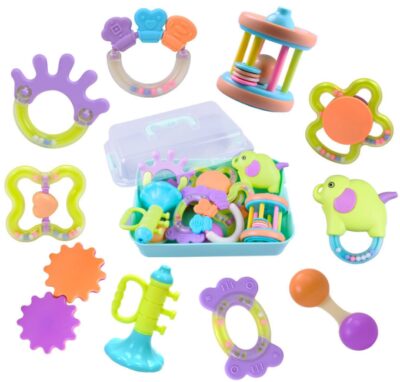 4. Manhattan Toy Atom Rattle & Teether Grasping Activity Baby Toy
This is a really funky toy that will provide hours of fun for your child. It is one of those totally safe baby toys and has a great multi-sensory aspect as it provides a range of sensations for them as they explore and develop those all important motor skills.
They have clever sliding rings that rattle and shake, and the long arm stems that stick out are made of flexible teething material, so as babies generally tend to do, they can have a munch and a chew of this toy in a completely safe manner. The colors are bright and pleasant and the product is made of BPA free materials so it is totally safe for your little one. It is best hand washed and one of the top toys for 5 month old baby boy or girl.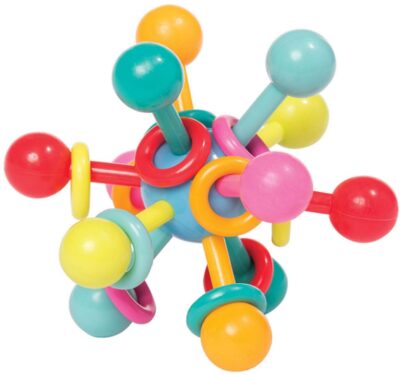 5. Skip Hop Explore and More Roll Around Rattle Toy
This is one of those good toys for a 5 month old infant to kick at! It's really cute and sweet, with a pleasant design and nice bright colors, too. The little hedgehog is sure to make them smile and allow them to enjoy some fun and laughs. The body is really easy for them to grab hold of with their growing fingers, and has lots of holes and areas for them to easily hold it and learn how to build strength and dexterity in their hands. Because it is round it can roll around easily and you will probably hear a few squeals of delight as they enjoy the beads shaking and moving about.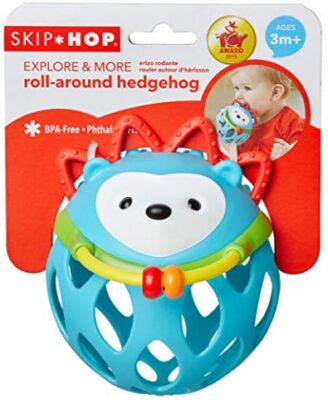 6. Bendy Ball Rattle Toy
This sensory stimulus toy is one that will really entertain and engage your child for hours on end. It is sturdy and well designed, but it also has a flexible material so the child can grip, bend and squeeze it as they play. There is also no need to worry about safety as the materials that are used to make this toy are completely BPA free and it is also made of smooth material that is very easy to clean and maintain. There is a fun little ball inside that rattles around and provides fun for your baby and the toy is also not too big that you can't fit it into a diaper bag, or even a handbag if you're taking them on an outing or traveling.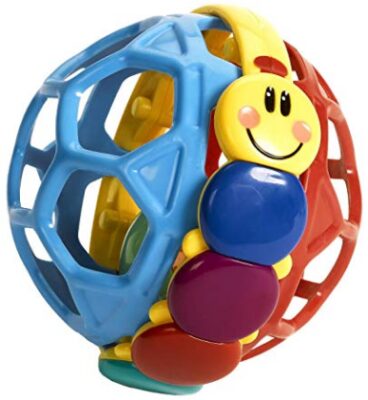 7. Coolecool Baby Rattle
This is one of those really engaging toys that is on the list of our best toys for a 5 month old baby. It has so much going on, it is hard to know when to start! It allows the infant to learn how to look and learn, improving their observational skills using the multicolored beads and little reflective mirror to see themselves and learn about themselves as they play. Their vision is improved and progressed also, as the brightly colored ball will really help with this, too. Because it is created with baby's developmental motor skills in mind, any child can grasp it easily and they will enjoy the happy noises and shakes that it makes.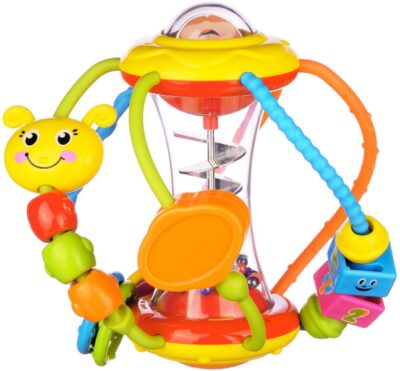 8. Nuby Bug A Loop Teether
Nuby is a brand that most parents already know and trust, and they are synonymous with teething items for children. This is a ring version of a teether, and has a cute bug motif with bright, stimulating colors. Ring items are one of those toys suitable for 5 month old baby, it is a great choice. It will provide gentle encouragement and massage to the gum area as the ring is made of helpful, safe flexible material that won't irritate or inflame. As the child's teeth come through, it will provide much needed relief for them. It comes in a range of colors and the makers do suggest that it is wipe clean only, rather than dish washing. It is also helpfully BPA free.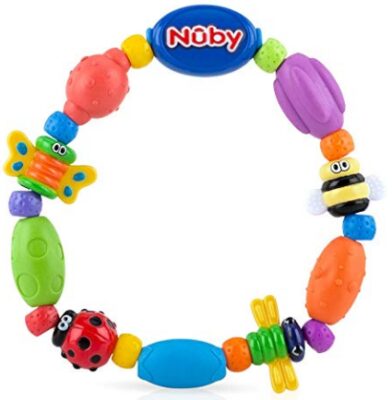 9. Fisher Price Infant to Toddler Rocker
Another brand that shouts quality for parents. It is also an item that will stand the test of time, and will see parents through several infants in a row, so it is a useful purchase. As play toys for infants go, this rocker is a delight and they will be safe and occupied for as long as you need them to be in this product. It has two reclining levels and has a vibration setting to stimulate and soothe them if they feel upset.
There is a useful kick stand at the front that unfolds to make the base secure when you wish to take it out of the rocking position. There is also a toy bar that has swinging toys on it that they can hit and swing at in order to explore all the fun. The bar is easily detachable also. A final selling point and a godsend for parents is that the seat pad is fully washable – hooray!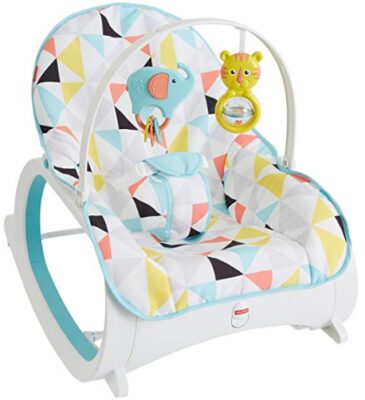 10. Bright Starts Rattle and Shake Barbell Rattle
You might not be a parent reading this, you might be someone who hasn't got a clue about babies and is genuinely wondering what are good toys for a child turning 5 months old? You can't really go wrong with a simple rattle, especially one that is brightly colored and shakes to make sounds. If you want to buy a simple toy for a child but don't have a huge budget, then this particular Bright Stats Rattle is a good choice.
It is covered in colorful beads and has a handle with grippy texture, so they find it more easy to hold as their motor skills improve. There are mirrors and beads to make it extra shiny and fun and it is easily carried around inside a diaper bag to occupy your little one when they are feeling restless.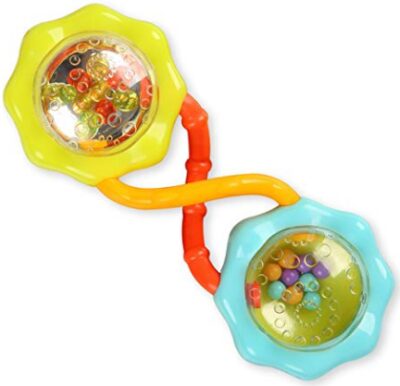 11. VTech Happy Lights Bear
Even a two month old baby would enjoy this beautiful, cheerful bear. He is soft and plush and really cuddly, but offers more in the way of stimulation for your growing baby. He is made of really soft fabric that is totally safe for little ones and he also plays a lovely range of songs and sounds that will occupy and engage your child when it is in the mood to explore and play. The buttons on the front are large and easily accessible for little fingers and when pressed, they light up and make lovely noises. There are over thirty five melodies for your cherub to enjoy as well as some phrases and counting of numbers, too. There is a helpful velcro strap that allows you to strap the toy on to something secure to keep it within baby's reach.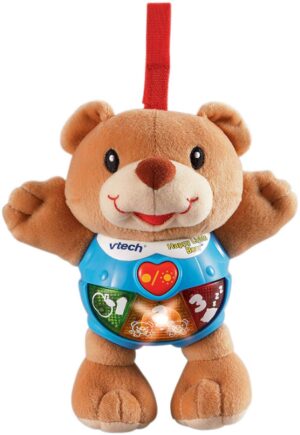 12.
Wishtime Rattle Teether Baby Toys Collection 
It can be a struggle to decide upon infant gifts that are useful and suitable. There are so many 5 month old baby toys on the market that it can be really hard to choose. This selection of hand grasp teethers are a really helpful option for a baby shower or just a baby gift when the little one arrives. It is totally BPA free and fully tested to all safety standards. There are nine separate pieces for you to choose from, and they are designed to assist with motor skill encouragement and help with hand/eye coordination also. They make interesting noises and are completely non-toxic and safe. They are all able to be chewed when baby is going through teething so they are a great item to buy for a newborn and older.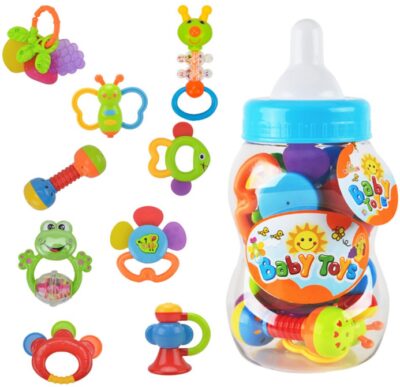 13. The Very Hungry Caterpillar Teether Rattle
Ok, so who else loved The Very Hungry Caterpillar when they were little? It's hugely popular even today, and any item that has it's motif is always much loved and very popular. One of the best toys and soft play item for 5 month old infant might just be this gorgeous Caterpillar, as if it has just come straight out of the book itself. It has a teether on one end and lots of textured sections making up the body of the caterpillar that baby can enjoy and explore as it plays. This is an especially nice gift for a baby if the parents are going for a gender neutral animal theme in the nursery.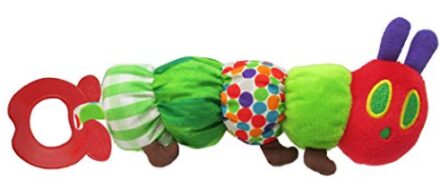 14. Little BamBam Giraffe Teether Toy
It is easy to wonder what toys can a 5 month old play with? Usually they are constantly putting anything and everything into their mouths due to the constant teething that they are going through and its best to get them a toy that is safe to chew on. This teether toy is great at offering relief for sore, inflamed gums that are pushing in new teeth and it is created using silicone that is soft and durable and completely safe for baby to chomp on.
It has lots of clever little lumps and bumps in all the right places in order for baby to find the teether interesting and also something that they can explore with their mouth and find relief. It boasts to be very smooth so there are no areas where germs can hibernate or cause hassle by making your child ill. It can even be put in the freezer for an extra soothing feel and has a lifetime guarantee.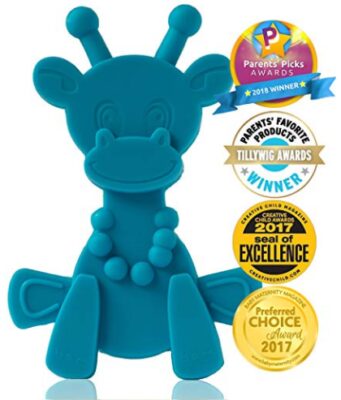 15. Skip Hop Bandana Buddies Baby Activity and Teething Toy
This is one of the cutest soft toys and unique gift for 5 month old babies that we could find. It has a real plushness and soft texture, with a range of textures and patterned fabric in a range of bright, eye catching colors. It also of course has the addition of a teether on top of the various interactive, sensory aspects of the design. It has some pretty patterns too, which are designed with early baby visual development in mind, so it has the traditional black and white and stripey, zig zag designs that babies just love. The girls and boys learning toys teether itself has a bandana feature, so it can be detached and wrapped around a parents' wrist so that baby can enjoy it while bouncing on their knee.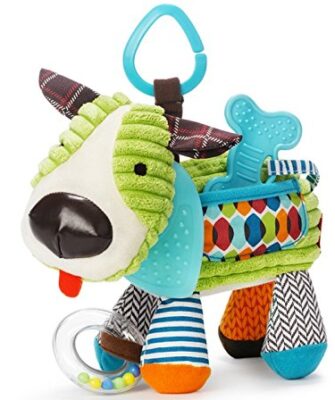 16. Manhattan Toy Winkel Rattle & Sensory Teether Toy
This is one of those age appropriate toys and sensory item for 5 month old with a special twist – literally! This organized tangle of tubes is soft and interesting to keep your child interested and engaged when they are teething. It has an intricate maze of soft, pliable strings that are safe and durable for chewing on and the central section has a built in rattle. Because it has so many tubes, little fingers will easily be able to grasp on to this toy while they get some biting and chewing done to satisfy their sore gums! This toy has even won awards, including the Oppenheim Blue Chip Award, so it is obviously one worth considering.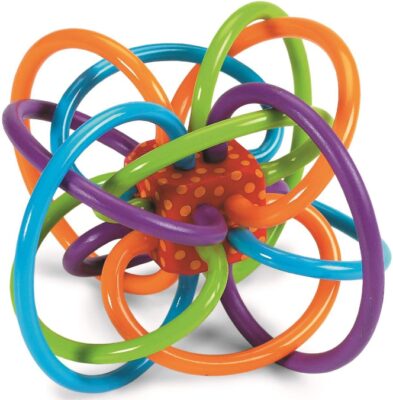 17. VTech Tummy Time Discovery Pillow
VTech are well known and respected in the industry for making high quality brain development toys and gifts items for a little boy or girl aged 5 months old. This clever toy pillow is a great idea because it keeps all the activity toys within easy reach of the child, so that they can play and explore without the frustration of their toys going out of their reach. It is small enough to be transported when you are on the go, and it has so many features that you child will never be bored of this activity center.
It is particularly good for using during 'tummy time' when you want your child to develop and grown in strength and coordination, and it gives them a focus to play with. There are light up piano keys and there are musical toys and noises to entertain and delight your baby.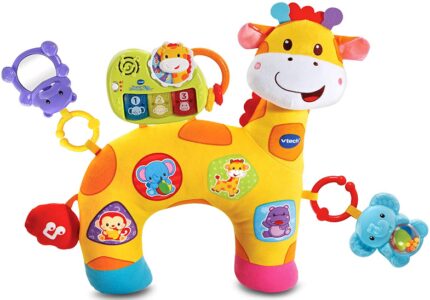 18. Manhattan Toy Baby Whoozit Toy
This is a great example of one of those interactive soft toys that your baby will really enjoy. It comes from an award winning collection, and Whoozit is a brand that certainly has a following. This toy for a five month old is a true multi-sensory style toy, and it has a bright, interactive and cheerful face for baby to smile and laugh with. It has a massive range of features that can engage and occupy your child, such a crinkly fabric that makes an interesting noise, loops to hold and feel, a mirror for playing peekaboo and rattles ans squeaky toy parts also.
Your child will laugh and smile when they look under the fluffy red nose and find their own reflection staring back at them. It has a helpful loop that attached on to a cot, crib or a stroller or even in the car on the baby seat while travelling.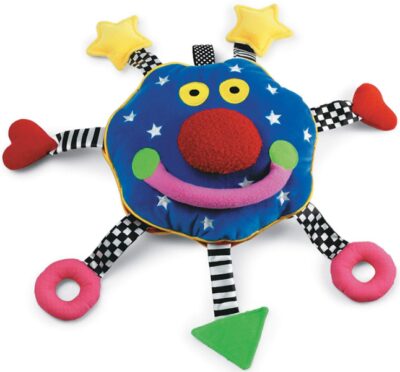 19. VTech Talk & Go Farm Rattle
VTech again have come up trumps with this cute animal themed interactive rattle. There are so many games newborn babies like to play with, and this one with bright colors and animal sounds is a lovely one. There is a build in motion sensor that baby can activate easily and it will then play songs and sounds to entertain them and the baby will develop an awareness of music and sound as they play with this cute toy. It boasts over forty songs and happy sayings and it is easily lifted around and held by your child. There are three sections that hang down for the baby to easily grab onto and play with so there is a lot to enjoy in various ways with this toy.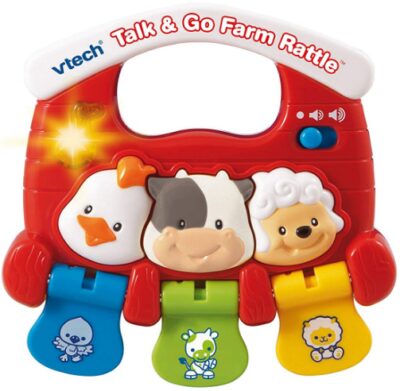 Best Overall Pick
We felt this bear was ever so cute and a really useful practical gift for babies who are 5 months old. It is also so durable and seems like it would last a long time. The softness of the fabric along with the integrated interactive buttons means that it can be cuddly and soothing, but also exciting, colorful and fun. We liked that it can be transported anywhere by using its helpful strap and the fact that it has over 35 songs to play means that it won't be repetitive or boring for the baby. The added extra of teaching the baby numbers and fun phrases was another great aspect to our overall best buy.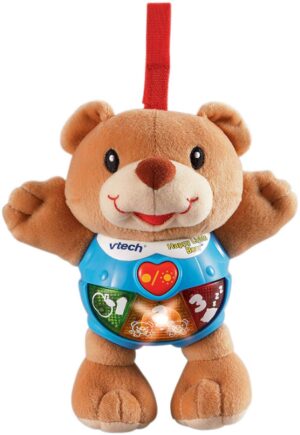 Best Budget Buy
We felt this was a good budget choice for a five month old baby toy because it really was quite an inexpensive toy but had a lot of features that would be useful for a parent, and enjoyed by a baby. It is a simple item, but effective as a rattle and we liked the bright colors and interesting shapes that it makes. The fact that it was easily gripped by an infant was also a good aspect and the fact that it was easily transported in a diaper bag was another bonus.